Shahrah-e-Faisal is a large road in Karachi, Pakistan with wide streets. The road name was changed from Drigh Road to Shara-e-Faisal in a show of respect to King Faisal of Saudi Arabia. Major multinational companies and institutes like SKF Paskistan Ltd and IBM World Trade Coporation are located along Faisal highway.[1] Karachi Shahrah-e-Faisal 
| Title | Description |
| --- | --- |
| Information | |
| Location: | Sindh, Pakistan |
| Type: | Road |
| In Urdu: | شارع فیصل |
| Details | |
| Founded: | 1924s |
| City : | Karachi |
| Drigh Road Name was change to: | Shahrah-e-Faisal |
| Shahrah-e-Faisal : | From Hotel Metropole to the Star Gate |
| Hotels near Shahrah-e-Faisal: | Ramada Plaza Karachi Country Inn,Avari Towers,Hotel Royal Palace |
| Shahrah-e-Faisal is: | 18 kilometer long |
| Province: | Sindh |
| City District : | Karachi |
| Coordinate: | 24° 51′ 35.44″ N, 67° 03′ 14.45″ E |
| To avoid getting stuck in traffic jams, use following routes: | MA Jinnah road, Lasbela towards Nishtar road (Garden), Kashmir road & Shahra-e-Quaideen. Corridor-3. I.I. Chundrigarh road & Shahra-e-Liaquat. Mauripur road |
| The cost for the construction of the flyover is estimated: | Rs. 50.5 crore |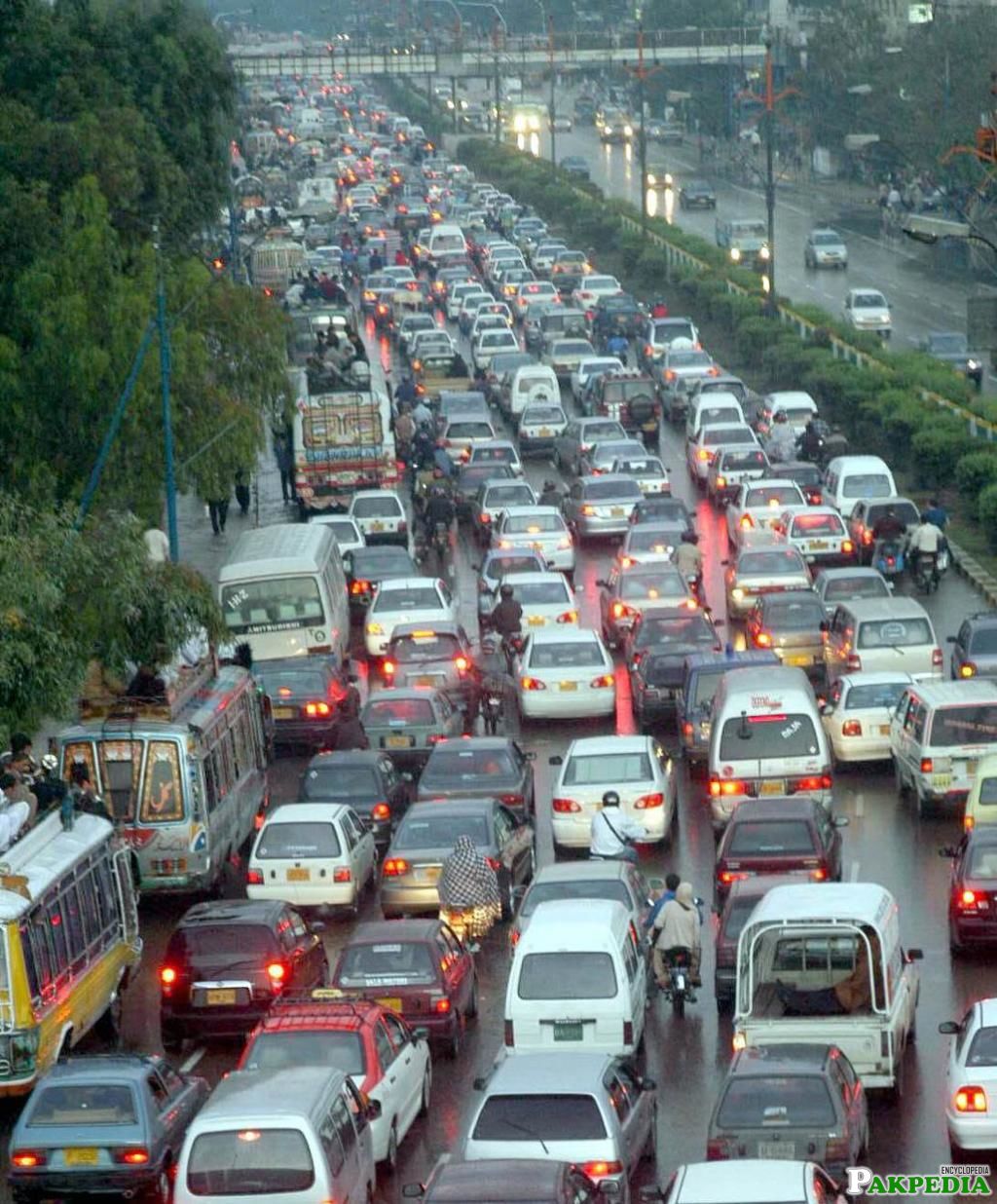 History

It is not clear when it was built but the first Air India flight took off on October 15, 1924 from Karachi's Drigh Road Aerodrome.The name was changed to Shahrah-e-Faisal after the Islamic summit held in Lahore in 1974.
Shahrah-e-Faisal was part of the National Highway in the 1970s, and thus belonged to the Government of Sindh. In the 1980s the Government of Sindh transferred it to the Karachi Metropolitan Corporation. An estimated 0.25 million vehicles move through Sharae Faisal daily.Shahrah-e-Faisal's sound construction and durability are held up as an example among Karachi roads. It has withstood wear and tear because of strict compliance with standards and because its large number of drainage outlets. It received a major upgrade and extension in the early 1980s.
Notable Places InShahra-e-Faisal
One of the major tourist attraction in Shahra-e-Faisal is the Pakistan Airforce Museum and park which holds a display of various aircrafts, radar, weapons and fighter aircraft that have were used by the Pakistan Air Force. Shahra-e-Faisal is home to Pakistan's largest international and domestic airport ''Jinnah Internatinal Airport'' and "Drigh Road Railway Station" which is the fourth important railway station in Karachi.
Development
2012 – Solar-powered streetlights are to be installed along the Shahrah-e-Faisal by Karachi Metropolitan Corporation.
2014 – the majority of traffic signals have been removed with only two remaining on this road. The conversion of Karachi's Shahrah-e-Faisal into a signal-free road began in 2010.
2016 – A new traffic management plan for Shahrah-e-Faisal.
2016 – rickshawsAuto rickshaw#Pakistan were banned on Shahrah-e-Faisal for causing accidents and traffic problems.
2016 – As part of the Karachi Mega Infrastructure Development Projects sideways, green patches and footpaths are being constructed along Shahrah-e-Faisal.
2016 – Karachi Metropolitan Corporation will spend Rs 70 million on the replacement of old bulbs with energy saver mercury bulbs. The first phase will be carried out on Shahrah-e-Faisal.
2017 – Thousands of trees and hundreds of electric poles have been uprooted by Local Government Development Project Directorate from Shahrah-e-Faisal in order for the road to be extended by 40 to 50 feet on both sides.
Induced demand

Contrary to prevailing wisdom in the 60s, road engineers noticed back then that new or bigger roads were not solving the traffic problem – they were, in fact, causing it. The concept came to be known as induced demand which states that after supply increases, more of a good is consumed. This is obvious if we just look at all the road expansions made in Karachi in the past; they offered temporary respite but drivers were soon complaining of traffic delays.[2] Why expanding road will not ease traffic in karachi
Expanding lanes or building new roads will be counterintuitive as more people will be encouraged to use these roads, thereby increasing congestion. A 2009 study conducted by the University of Toronto across many cities over a 20-year period concluded that if a city improved its road network by 10%, the congestion in that city increased in tandem by 10%.Better roads lead to more capacity which attracts more vehicles and results in chronic intensification of traffic. For example in Dubai, which has the finest road networks, acute traffic chaos is common and it often takes hours to get from one place to another.
Traffic from other routes
A newer, better, and bigger road attracts drivers who would otherwise be using slower alternative routes, increasing the flow of cars on the new road. This underpins the Braess's Paradox, which states that building a new road can actually make every single journey slower since every driver will try to utilise this road in hopes of reducing their own travel time.
In the case of Karachi, imagine if Shahrah-e-Faisal is improved to offer the smoothest flow of traffic. Drivers will automatically start taking that road more frequently to shorten their travel time – they will avoid the slower service roads and longer alternative routes to get to their destination. Within a short time, this new vein will become blocked with thousands of new drivers, ultimately causing a massive blockage.
Traffic jam at Shahrah-e-Faisal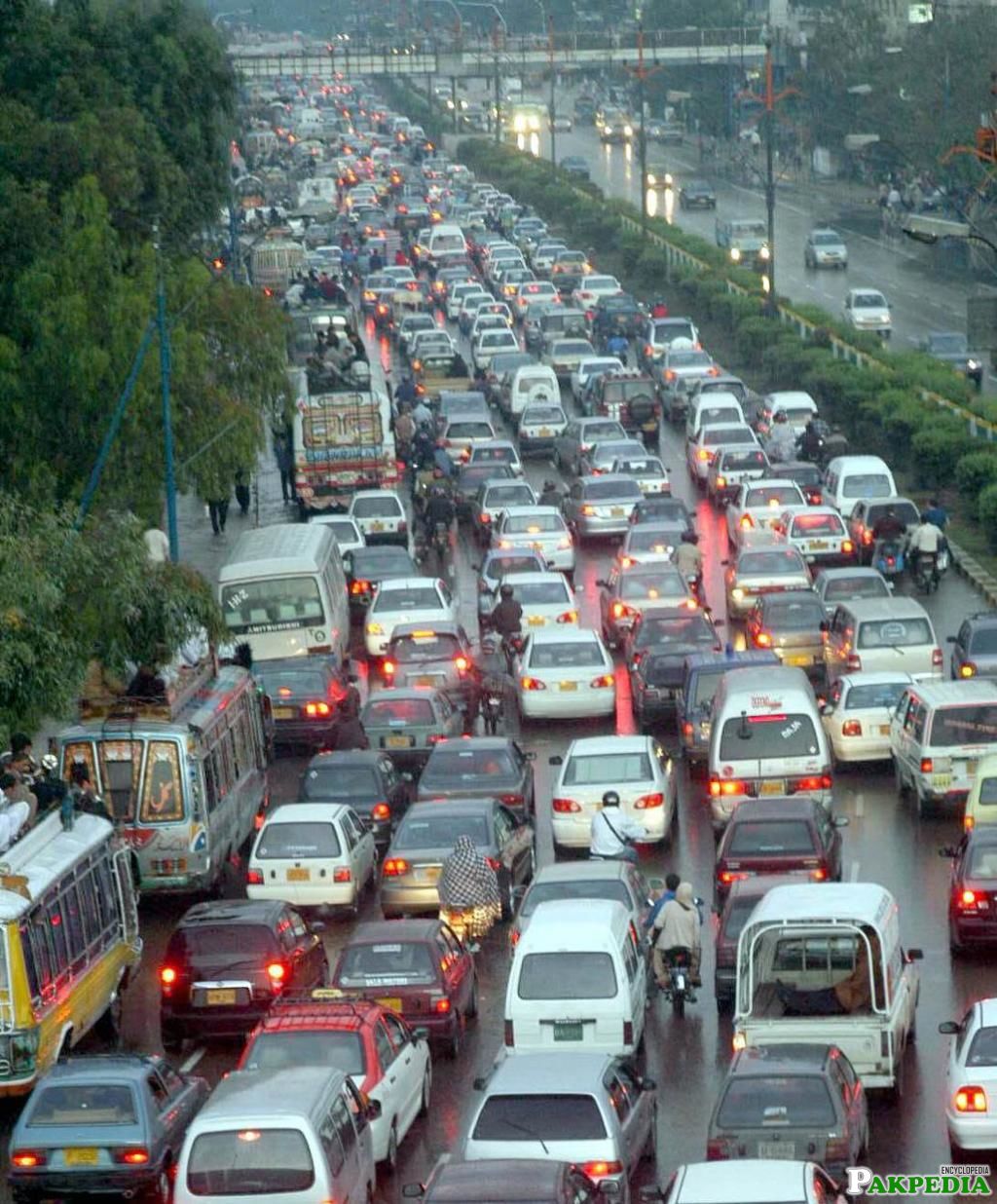 Karachi, being the biggest city of Pakistan, is always under the process of expansion. Since Karachi is ever expanding, so one problem is solved another lies in wait for the people.
Karachi has been facing traffic jam problem since long. Main problem of traffic jam in Karachi is that there are so many vehicles on road. Lots of new vehicles are registered daily and they come on the roads, which is why number of vehicles increases in city. As all know very well that traffic jam in Karachi has become a normal routine, especially between 5pm to 9pm on Shahrah-e-Faisal from Karsaz to Drigh Road. There is no way an ambulance can go through in which a serious patient is being taken to the hospital.
People reach their destinations after spending several hours in traffic jam on this road.[3]Traffic jam at Shahrah-e-faisal
Hotels inShahrah-e-Faisal
Ramada Plaza is located near the Jinnah International Airport and guests are offered free shuttle service while the Regent Plaza is about 15 minutes from the airport and offers complimentary breakfast service. There is access to free WiFi throughout the hotels.For the best hotels in Shahra-e-Faisal at ultra-affordable rates .
Ramada Plaza Hotel Karachi
Country Inn
Avari Towers
Hotel Royal Palace
RamadaHotel
The hotel is located at Shahra-e-Faisal at a distance of 1.4 km from Jinnah international airport. Ramada hotel is well known as Ramada plaza Karachi airport hotel for being one of the best options for domestic and international travelers travelling through Jinnah international airport. The hotel is close to lyari express, at 13.8 km from Tariq Road and at a distance of 18.2 km from Karachi Zoo[4] Ramada Hotel
Country Inn
Country Inn Hotel Karachi is located at main Shahrah-e-Faisal, in the heart of Karachi. Free WiFi is available at the hotel.
Country Inn Hotel Karachi room rates are affordable. The hotel offers deluxe, executive deluxe and standard rooms which are fully air-conditioned, spacious and enjoy 24-hour room service. Each room also has a LED TV with local/international channels and a fridge.[5] Country Inn  hotel
The onsite restaurant serves traditional Pakistani food, continental and Chinese cuisines which guests can enjoy in the spacious dining room or outdoors in the garden. Guests can also enjoy light snacks and drinks while relaxing in the lounge.
Comfort Inn Guest Hous
Comfort Inn Guest House is situated in Shahrah-e-Faisal, in Karachi, Pakistan. Comfort Inn offers great value for money to travellers on a budget who are looking for low-cost and convenience. The hotel offers free WiFi access in the lobby and the rooms.
Comfort Inn Guest House consists of Single, Twin and Family Bed Rooms.Each room in the hotel is air conditioned and fitted with an en suite bathroom with a hairdryer; as well as a flat-screen TV and fridge. Complimentary breakfast is served daily. The Guests can order a variety of Pakistani Dishes which is served to them through room service. Also shared Kitchen Facilities are available for the guests The hotel has a meeting facility to host corporate events. Laundry/Dry cleaning services are also available at a fee. The premises are guarded by security personnel and onsite parking is allowed. Comfort Inn Guest House is located near the hub of Shahrah-e-Faisal and is in close proximity to both Tariq Road and Hotel Faran.[6] Comfort Inn Guest House 
Avari Towers
Avari Towers Karachi is a 5 star hotel at Shahra-e-Faisal Karachi.Avari has 17-story ultra-modern structure is located at Fatima Jinnah road which is the centre of Karachi's commercial business district. It features a spa and gym overlooking the pool and lush green lawns. Free WiFi is available.[7]Avari Tower Karachi
Avari has divided the rooms and suits in six categories which are penthouse suits, business class suits, business class rooms, World traveler rooms, and lady avari rooms and suits.
Points of interest nearby Shahrah-e-Faisal
Allah Malik Restaurant – Shahrah-e-Faisal[8]Allah Malik Restaurant  
Al-Malik Restaurant & Pakwan Centre
Oxford Islamic Scientific School
Golden Town Madina Masjid
New Pearls Grammar School
Jamia Masjid Aqsa
Irshad Sweets and Bakers
Kakakhail CNG Station
Shamsi Mosque
Al- Meezan Bank Shamsi Socity Branch
Allam Iqbal Govt. College
Universities
Makka Masjid