Shahid Nazir in Talk Show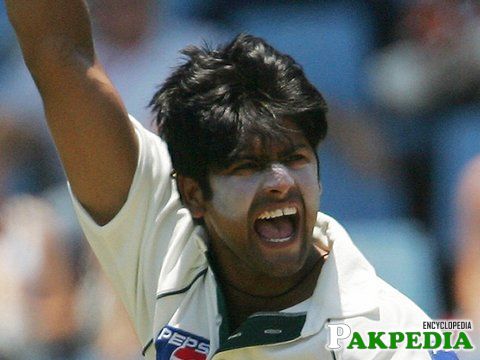 Shahid Nazir Good Player
Shahid Nazir In Test Match
Shahid Nazir on Pitch
Shahid Nazir Old Photo
Career
Early Career
His pace and ability to swing and seam the ball, extravagantly in helpful conditions, meant he played a vital part in Pakistan's only triangular triumph in Australia (the Carlton & United series in 1996-97) in the final stages though his contribution was overshadowed by the emergence of
Mohammad Zahid
and the blistering pace he generated earlier in the tournament. Essentially that period - match-fixing rife, Wasim and Waqar in confrontation, Aaqib Javed on the decline and splits in the team - marked Nazir's best opportunity to cement a place for himself. He didn't and was soon plying his trade - albeit very successfully - on the domestic circuit. At some point, all that domestic success had to keep him in the frame, especially with Pakistan's first-choice pace attack after the 2003 World Cup so injury-prone. It eventually did with a recall to the squad in 2005; he didn't play any role for some time but with Pakistan missing three front-line pacers on the tour to England in 2006, there was always a chance that he would return. So it was, at the third Test at Headingley - a ground ideal for his brand of bowling - that Nazir returned to Test cricket, over seven years after his last Test.He made his Test debut for Pakistan against Zimbabwe at
Sheikhupura
in 1996, and immediately received much criticism from the spectators whose local favourite Aaqib Javed he was thought to have replaced. However, the crowd soon got behind him as he took 5 wickets in the first innings.
[1]
Pakistan v Zimbabwe- Sheikhupura
He played in a number of Test matches for Pakistan over the next 3 years, but appearances became more intermittent and he was dropped in 1999.
Tour of England
Shahid Nazir made a return to the national team on 8 June 2006 when he was officially added to the Pakistani squad for their tour of England after an injury to
Shoaib Akhtar
.
[2]
Shahid-Pakistan-squad- cricinfo
Indian Cricket League
In 2008, he signed with the Indian Cricket League and played for the Lahore Badshahs. Shahid Nazir has not played international cricket since January 2007.The emergence of Mohammad Asif and
Umar Gul
affected Nazir's hopes of a comeback, which he jeopardised further by joining the unsanctioned Indian Cricket League.With his international career failing to take off, the Faisalabad born bowler signed up for the rebel ICL.