Shadab Khan Batting Action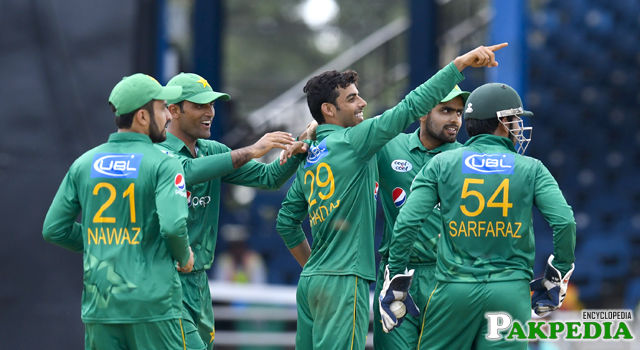 Shadab Khan And Pakistan Team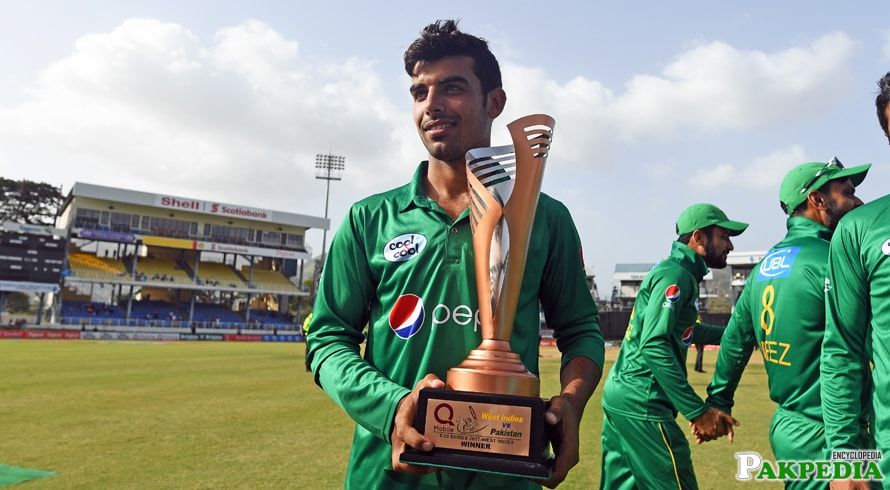 Shadab Khan With Trophy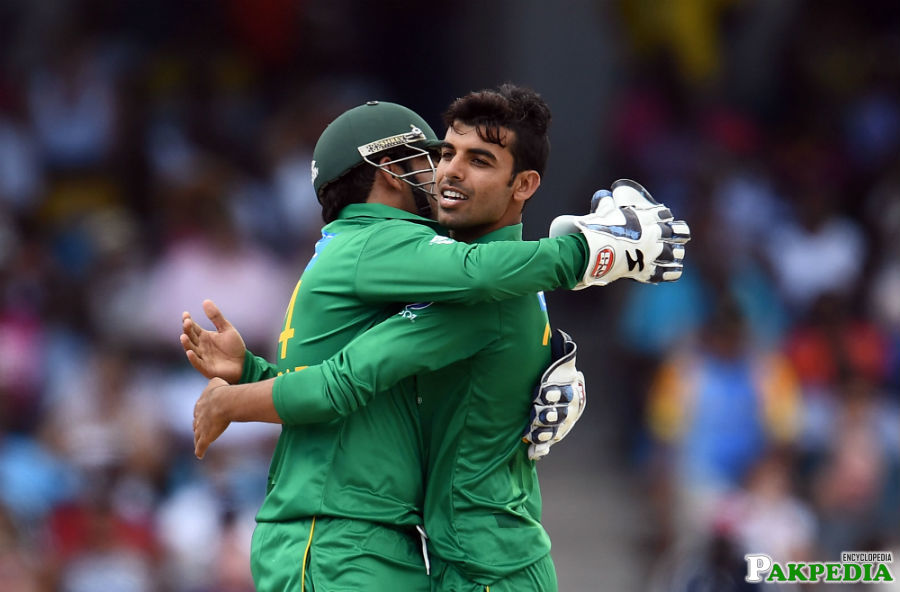 Shadab and Sarfraz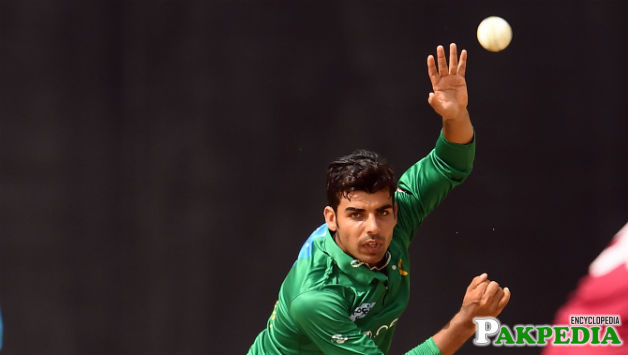 Shadab Khan Bolling Action
Profile
Shadab Khan born in 1998 in Mianwali has already created ripples with his leg-breaks at the under-19 level. Coming from a city which has produced stalwarts like Imran Khan and Misbah-ul-Haq, Shadab moved to
Rawalpindi
at the age of 12 and started picking up the nuances playing for his school team. He accelerated his growth and while being at the NCA, Lahore, he got valuable inputs from former greats like Abdul Qadir and Mushtaq Ahmed. He was selected for the under-19 World Cup in 2016 and ended up being the joint highest wicket-taker for his team. He picked up 11 wickets from 6 games at a terrific average of 19. Not exactly like a typical spinner, Khan loves to toss the ball up. The run up to the crease is from a wider angle and then suddenly bends in to come close to the wickets to get the ball to drift away from the right-handers. His consistent performances ensured defending champions Islamabad United drafted him in for the second edition of the PSL. Shadab impressed immediately with his guile and flight and ended the campaign with 9 wickets from 8 games. That prompted the selectors to award him a T20I cap against the Windies in march 2017. His figures of 4-0-7-3 in his first game won him the Man of the Match award. Though his Test and ODI debuts were not as ceremonious, Shadab has a long way to go.
[2]
Shadab Profile 
Career Information
Test debut  vs West Indies at Kensington Oval, Apr 30, 2017
Last Test    vs West Indies at Kensington Oval, Apr 30, 2017
ODI debut   vs West Indies at Providence Stadium, Apr 07, 2017
Last ODI     vs West Indies at Providence Stadium, Apr 11, 2017
T20 debut   vs West Indies at Kensington Oval, Mar 26, 2017
Who is Shadab Khan
Makes Him So Special
18-year-old Shadab Khan is the talk of the town among the cricketing fraternity after his sensational debut against the West Indies. Hailing from the small city Mianwali in Pakistan, Shadab has already made quite a name for himself during his brief spell in international cricket. Incidentally, legendary all-rounder
Imran Khan
and Test captain Misbahul Haq also come from the same town of Mianwali. However, Shadab's journey to international cricket has been far from easy. Infact at one point of time he even considered leaving cricket due to peer pressure. His family was not supportive of cricket and they insisted that he focus more on cricket. But young Shadab was not the one to give up easily. Encouraged by his coach (in domestic cricket) he performed brilliantly for Pakistan U-16 team. This earned him accolades all over and went on to earn him a call for the U-19 side. And soon enough he was playing in the U19 World Cup for Pakistan where he impressed everyone with his variations; especially his googly. Herein, he ended up being the joint highest wicket-taker  as he scalped 11 wickets at a terrific average of 19. However, he still had to bide time for an international debut. But then in the Pakistan Super League (PSL), this year, he shot to limelight. He picked up 9 wickets in 8 matches for his franchise Islamabad United. His performance in the league led to him being picked for the West Indies tour. Shadab produced an outstanding debut performance as Pakistan completed a comfortable six-wicket victory over the West Indies in the first fixture of a four-match Twenty20 international series. 18-year-old Shadab's bowled impressively which earned him figures of three for seven, the most economical spell in the history of T20 international cricket by a debutant. His figures of 4-0-7-3 in his first game won him the Man of the Match award. A look at his bowling will reveal that Khan loves to toss the ball up and invite the batsman to play his shots. The run up to the crease is also from a wide-angle which gets the ball to drift away from the right-handers. His google, which got him high praise, is also impossible to pick at times. As of now one can hope that the youngster continues to develop his talent and keep his focus. Meanwhile, apart from his skills with the ball, Shadab is also useful with the bat, lower down the order. He is a very good fielder too. 
[4]
Shadab Khan Special 
Pure Gold Says Dean Jones
No player has made his T20I debut with so much success as Shadab Khan of Pakistan. The leg-spinner has picked up seven wickets in his first two T20 internationals and led Pakistan to victory in both matches against West Indies. He was handed his debut in March in the first T20 international in which he picked up three wickets for seven runs. He picked two wickets in his first over itself. The debut performance was no fluke as he led Pakistan to second straight win in the second match, picking up four wickets. The 18-year-old had impressed one and all with his performance and before this the spinner had impressed coaches in the
Pakistan Super League
. Dean Jones and Wasim Akram, coaches of the Islamabad United, for which Shadab played, were impressed by him. "The very first time Akram and I saw Shadab in the nets, we looked at each other and said, 'this boy is pure gold'," Jones told PakPassion. "He is an interesting player to coach and I have said this before as well, that for an 18-year-old-kid he has the head of a 30-year-old on him. He has pretty much hit the ground running and yes, he will get whacked a few times in his career but Pakistan have something special there." 
[5]
Shadab Pure Gold 
 "He did come in with a few technical difficulties with his action and run-up, and we helped him with it during the PSL. We spoke with him about, and gave examples of Shane Warne, whom he admires a lot. We also mentioned the technique of Mushtaq Ahmed to him as well. Then we also brought up the name of Stuart MacGill to show him how all of these spinners got close to the crease," he said. Shadab's success has been mainly because of his wrong'un which troubled the batsmen in West Indies and also in the PSL. Most batsmen failed to pick it up and were either bowled or struck on the pads."We had to get him to straighten his run-up a bit to achieve this, we had to get him to train on special 'dance' steps to accustom himself to a straightened run-up. These were dance steps marked on the carpet of his hotel room so that he could practice before going to sleep and within a week or so, he was all set with this revised run-up and ready to go. He went from an Abdul Qadir type approach to the crease to a much straighter one now," Jones added. 
[6]
Shadab Says Dean Jones 
Shah Rukhs Team Picks PSL
Find Shadab Khan For 30000
ST. LUCIA – Bollywood star Shah Rukh Khan's team in the Caribbean Premier League (CPL) drafts has picked emerging player from the PSL 2017, Shadab Khan.Shadab Khan was picked by the Trinbago Knight Riders for $30,00, that is equal to what paceman Wahab Riaz got from Barbados Tridents and double to Kamran Akmal's price ($15,000), who was picked by St. Lucia Starr. The signing has an interesting background as KKR CEO had on behalf of SRK stated Thursday that he (SRK) doesn't even know a league is being played in Pakistan. The statement referred to a rumour that KKR has offered a three-match series with PSL Champions Peshawar Zalmi on a neutral venue. Twitterati was never behind while trolling contrast of statement and the act. 
[7]
Shadab Shah Rukh's