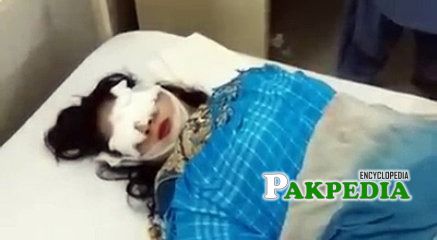 Samina Sindhu after being shot
Samina Sindhu
Samina Sindhu during her performance
Samina Sindhu who is killed brutally in an occasion
Funeral of Samina Sindhu
Biography
Samina Sindhu was one of the most popular stage performers of Pakistan in the contemporary times. She was shot dead by a young man while singing on a stage. The reason was shocking. The idiot had asked her to stand up immediately. She complied by saying that it may not be possible for her to complete the entire show by standing because she is pregnant. Hearing this, the drunken youngster pumped three bullets in her body. This incident is saddening to the core. A pregnant woman was killed just because she couldn't jump on the order of a man. The killer here is Tarique Ahmad Jatoi. Samina was six months pregnant. With her, the unborn baby is also dead. It is a double murder. 
[1]
Biography Biography
Murder
Samina Sindhu was shot dead during a festive ceremony in Kanga village near Larkana on Tuesday 10th April 2018. Twenty-four-year-old Samina Samoon, also known as Samina Sindhu, was allegedly shot dead by Tarique Ahmed Jatoi while she was performing at the gathering. She had reportedly refused to oblige his 'request' that she stand up while she sang. The accused, who was allegedly intoxicated, had badgered the victim to comply before he shot her dead. Samina was rushed to the Chandka Hospital, but could not survive her injuries and was pronounced dead. The slain singer's husband told journalists that she had been six months pregnant with their child. He demanded that the first information report should mention that the man who shot her and two of his accomplices are  accused of double murder: that of the woman and her unborn child. 
[2]
Murder Murder
Reason of Murder
Her husband told SAMAA that the couple had gone to perform at the aqeeqa ceremony of the son of Niaz Junejo, the reader of a sessions court judge. They earned their living through such performances – Samina would sing and Ashiq would play the harmonium. "Niaz asked my wife to stand while singing and also dance," he said. "She was pregnant and said she couldn't dance. She rose to stand up and continued singing. In the meantime, Niaz, who was inebriated, provoked his friend, Tariq Jatoi by saying that he just sat and watched while Samina refused his demand." According to Ashiq, Tariq opened fire then and a bullet pierced through her body. "Some of us took Samina to the hospital," he said. "The police beat up the other musicians of our team who had been left behind and also snatched Rs35,000 from them." 
[3]
Reason of Murder
Murderer of Samina Sindhu
The suspected murderer of artist Samina Sindhu, Tariq Jatoi was presented in the court on Thursday 12th April 2018. Police has been granted his seven days physical remand. The investigation officer DSP Liaquat Abbasi claimed that three shots could be heard in the video as an evidence of the murder. Sindh Human Rights Defenders Forum Chairman Ali Ahmed Palh, during a press conference, claimed that the murder of Samina Sindhu is target killing. He alleged that police have neither included terrorism act nor possession of illegal weapons act in the FIR that favours the accused. He claimed her murder to be an act of terrorism as she was killed publicly. 
[4]
Murderer of Samina sindhu