The Samadhi is a beautiful blend of Hindu, Sikh and Muslim architectural styles. It has gilded fluted domes and cupolas and a complex railing round the top. The front of the doorway has images of Ganesh, Devi and Brahma, the Hindu deities, cut in red sand stone. The dome is heavily decorated with Naga (serpent) hood designs, a rich and fitting tribute to Hindu craftsmanship. The wood panels on the ceiling are covered with stained glass work and the walls have rich floral designs. The ceilings are decorated with glass mosaic work. Maharaja Ranjit Singh's ashes are contained in a marble urn in the shape of a lotus, sheltered under a marble pavilion inlaid with pietra dura, in the centre of the tomb. The Maharaja does not lie alone there. Surrounding him, in smaller knob-like urns, are the ashes of four sati queens (burned alive on the pyre with their husband) and seven slave girls. The ashes of two pigeons, burnt while flying over the pyre, also have their place in the Samadhi. [1] It has gilded fluted – domes and cupolas
| Title | Description |
| --- | --- |
| Information | |
| Location: | Lahore, Punjab, Pakistan |
| Nickname: | Samadhi |
| Type: | Historical |
| Local Language Name: | رنجیت سنگھ کی سمادھی |
| Coordinates : | 31.5893°N 74.3113°E |
| Details | |
| Near by: | The Samadhi was built next to the iconic Badshahi Mosque |
| Build in: | 19th century |
| Construction started by: | By his son, Kharak Singh |
| Completed by: | By his youngest son, Duleep Singh |
| Completion date : | 1848 |
| Has been kept: | Pakistani government |
| Damaged by: | Earthquake in 2005 |
| Building combines elements: | Sikh, Hindu, and Islamic architecture |
| Front of the doorway: | Images of Ganesh, Devi and Brahma |
| Monuments: | Two small monuments |
| Associated monuments: | Maharaja Kharak Singh and grandson Nau Nihal Singh, along with their wives |
| located adjacent: | Gurdwara Dera Sahib |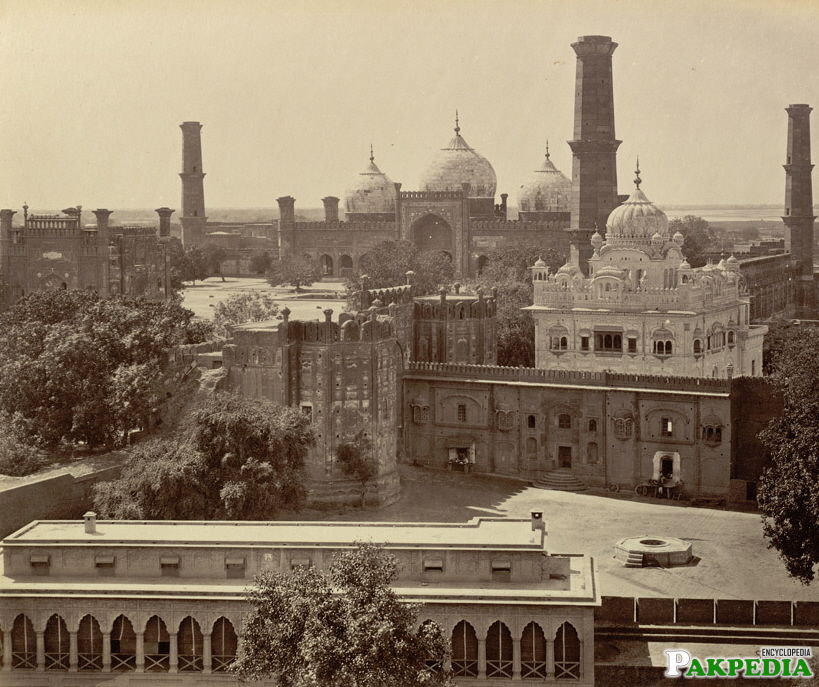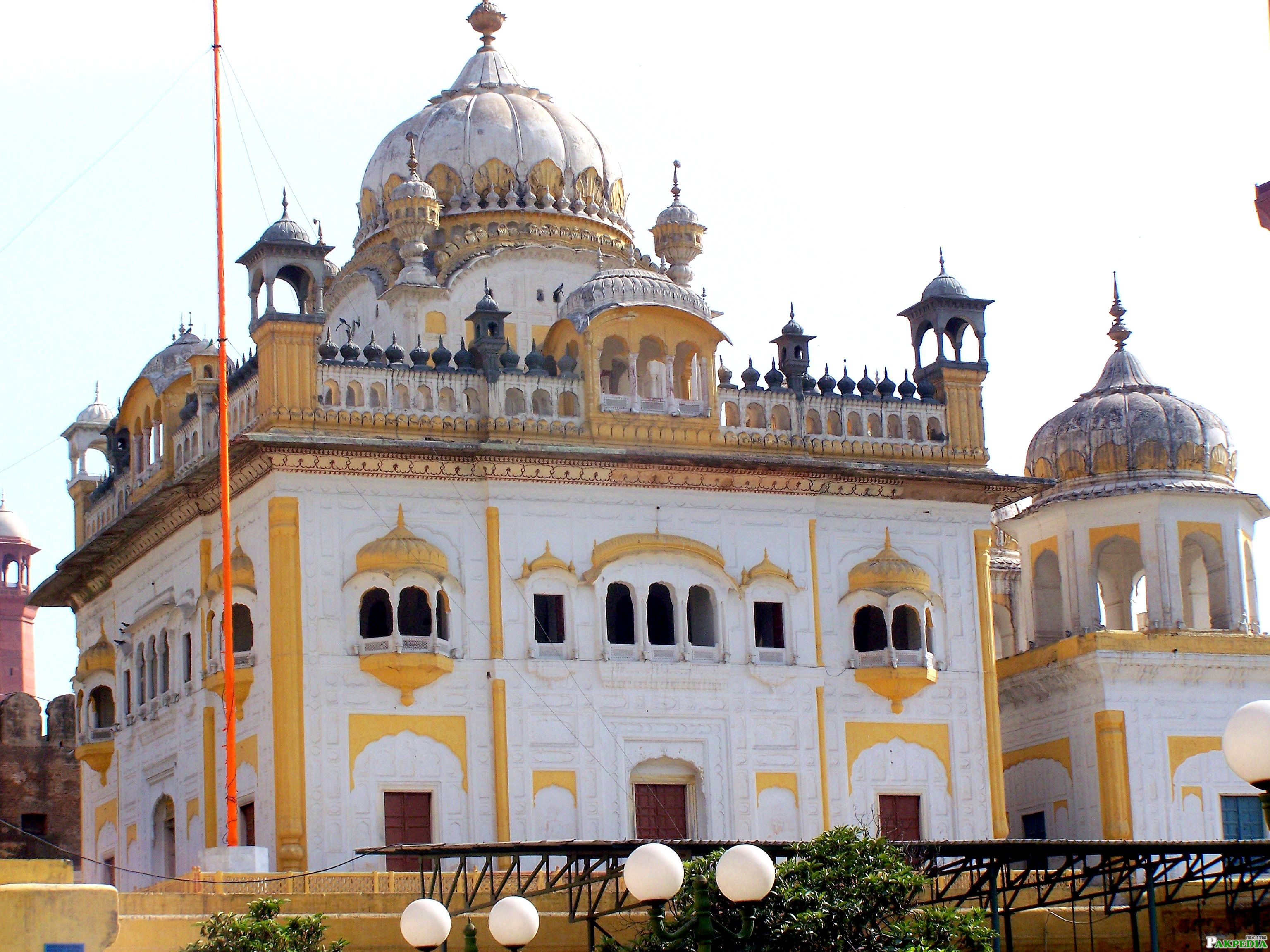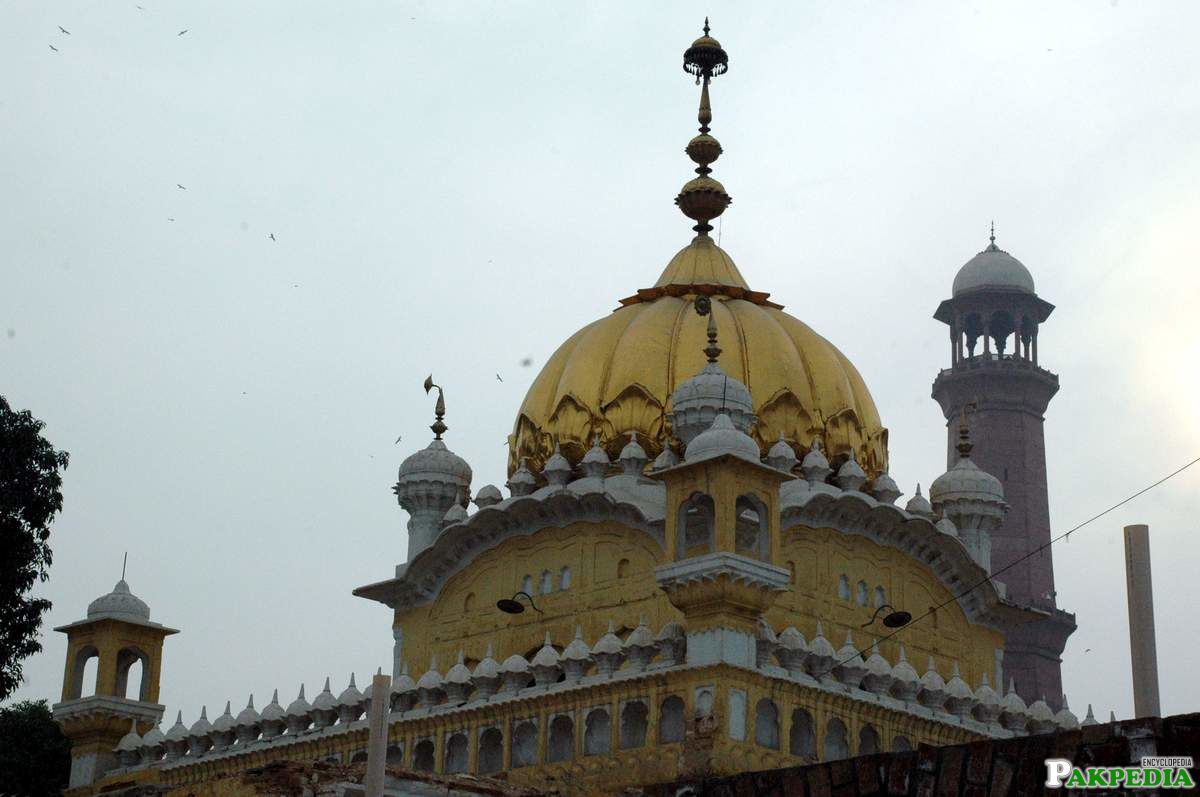 Detail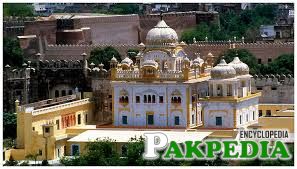 History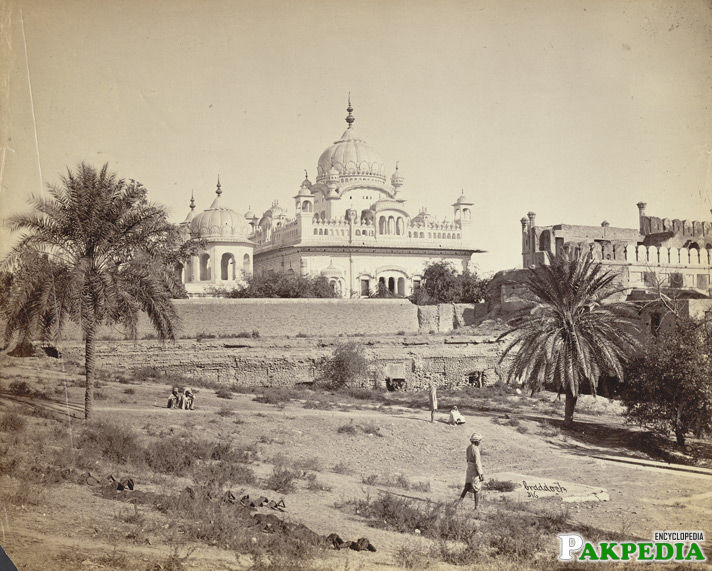 In the early half of the 19th century, Maharaja Ranjit Singh came to power in the Indian subcontinent and was the founder of Sikh Empire. He established his empire in Punjab region. His empire existed from 1799 to 1849. Ranjit Singh was born in Gujranwala, Punjab on 13 November 1780. The Sikhs ruled much of Punjab at time under the Khalsa system, who made factions among the territory, known as misls. Maha Singh, father of Ranjit Singh was the commander on a misl who around his headquarters at Gujranwala controlled a territory in west Punjab.[2] His empire existed from – 1799 to 1849
Located
It is located near the Lahore Fort and Badshahi Mosque in Lahore and banks upon the only existing Mughal era gate, the Roshnai Gate. Its construction was started by Maharaja Ranjit Singh's son, Kharak Singh, on the spot where Ranjit was cremated, and was completed by his youngest son, Duleep Singh, in 1848.
Construction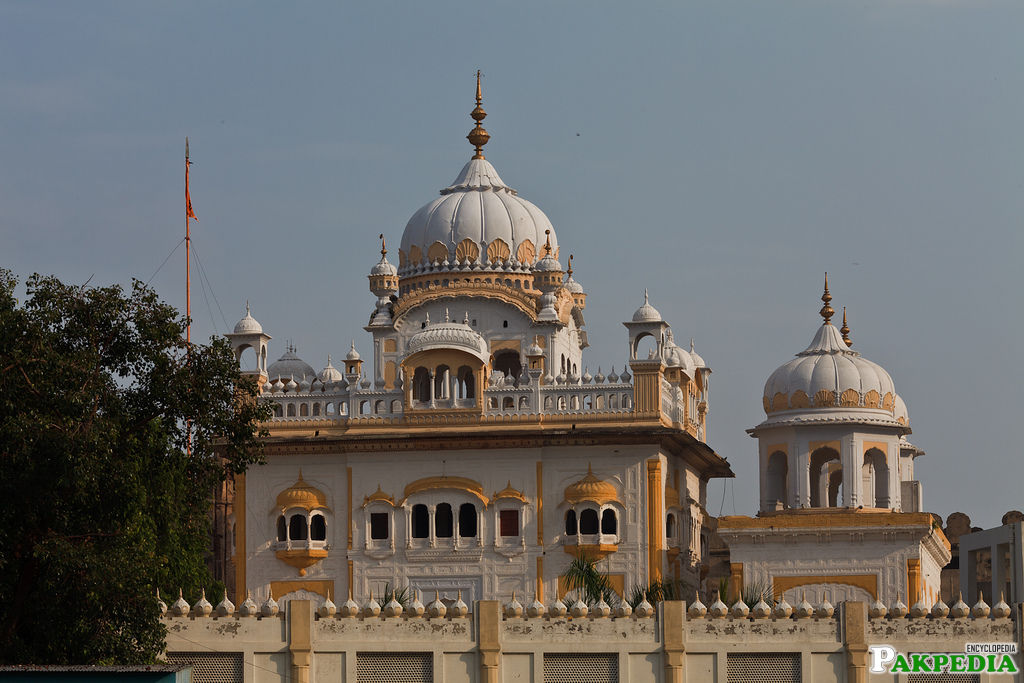 This Samadhi was originally built on eight pillars. Due to depreciation of the building over time cracks appeared in the pillars. The British government, under the orders of Sir Donald Macleod, late Lieutenant-Governor of Punjab, erected thick iron rings around all the old pillars and raised eight additional pillars. The entire building is now supported by sixteen pillars. There are indications that some of the material used in the construction of this building was taken from the Mughal buildings, especially the Fort. The large marble door frame of the main entrance the Samadhi, ornamented with pietra dura work, corroborates that it has been taken from the Sheesh Mahal of the Lahore Fort. Similarly, about 21 other marble door frames at different places in the building apparently also came from some other Mughal buildings in the Fort. This is also proved by the fact that while building the Hazuri Bagh pavilion, Maharaja Ranjit Singh got many pieces from Jahangir's tomb in Shahdara.[3] There are indicatio  – of the material
Tourist site

The possession of this place is with the Evacuee Trust Board. The ensemble, which also has the Shrine of Guru Arjan Mal — the fifth Guru of the Sikhs — is not easily accessible to the public and is not a tourist site. One has to route through several permissions and security checks before entering this complex. Within the site it now has arrangements for hosting innumerable Sikh Yatrees (pilgrims) coming from India and other countries on their religious days. In my opinion, it should be a tourist site, so that people from all religions can visit it as they visit the Data Darbar or any other Muslim shrine. Within the enclosure of the Samadhi long bearded Sikh priests will be found reading the Granth, or the Sikh scriptures, over which is reverentially waved a fan of peacock feathers, an emblem of sanctity. The sitar, so fondly heard by Nanak from his faithful disciple Mardana, is played and sacred hymns, describing the deeds of their gurus, are sung with fervour. The Samadhi is a religious place of Sikh visitors. After partition of 1947 the place is a must visit site for the 'yatrees'.[4] Within the enclosure- of the Samadhi
Associated monuments
Two small monuments to the west of the main building commemorate Maharaja Ranjit Singh's son Maharaja Kharak Singh and grandson Nau Nihal Singh, along with their wives. The building is located adjacent to Gurdwara Dera Sahib, the place where martyrdom of Guru Arjun took place.