With Sanam baloch
In drama serial 'khani'
Salma celebrating her birthday with her daughter
Salma in a morning show
With her Daughter
Biography
Salma was born in
Karachi
city and she is residing in the same city. She completed studies from Karachi and joined showbiz after completing studies. She has done Master's in history from the
University of Karachi.
Salma was interested in entertainment field since childhood and she has done lots of hard work to became an accomplished actress. Salma made her acting debut in the TV serial 'Dhoop Mein Sawan' of
PTV
. She was married with Azfar Ali who is also an actor. They have worked together on screen too. Salma and Azfar worked in the TV serial 'Sub Set Hai' of PTV Prime. They also have a daughter named Fatima. Unfortunately after 11 years of their marriage, they got divorced in 2012 and Azfar married another actress
Naveen Waqar.
Salma is raising her daughter alone now. She often appears as a guest in different morning shows. 
[1]
Biography Biography
Azfar Ali Ex husband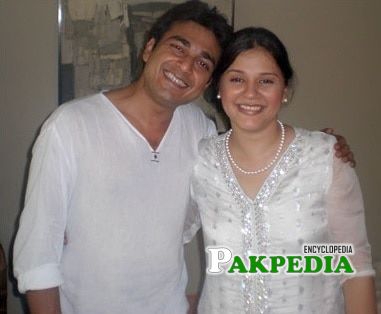 Azfar Ali is a Karachi-based director and TV artist behind some of the most groundbreaking Pakistani TV productions of recent times. Having had professional training from the US and UK, and a rewarding experience in the local industry, Azfar stands as a unique blend of talent; innovation and provocative satire that is finger-pointed almost universally back at him. His influences run deep into Pakistani TV history through the 90s and first decade of this century. He has remained Vice President of ARY Music (Formerly The Muzik) from ­­­­2006 to 2007. He is also working with Geo as an executive producer for AAG TV, and is currently the head of AAG Films. He has studied Graphics Design from Barnet College London; and Concept Writing and Idea Development from Miami Advertising College, USA. Azfar Ali was Married to Salma Married for 9 years. The divorce took place early in 2012. Azfar was reportedly married to Naveen Waqar of Humsafar fame. 
[2]
Azfar ali
Career
Salma Hassan has worked as a leading as well as supporting actress on screen. She has played different characters on small screen from positive to negative, normal to handicapped and comic to serious ones. She is the role model for many upcoming actresses. She has been part of many hit TV serials of different channels including 'Phir Wohi Mohabbat' and 'Chubhan' of Hum TV, 'Dil Nahi Manta', 'Dareecha' and 'Jaane Kyun' of
ARY Digital
, 'Googly Mohallah' of PTV, 'Choti' of Geo TV and many more. She has done comedy roles too in some famous sitcoms of Pakistan such as 'Namak Paray' of Hum TV. Salma Hassan has acted in some telefilms too including 'Tum' of Express Entertainment. She also acted in the episode 'Kuch Bhi Na Kaha' of 'Eik Gana Eik Afsana'. His current drama which is on air now a days is 'Khani' on Geo. 
Worst Nightmare
Before their divorce Salma and Azfar came in a morning show of Ayesha Alam khan where they had lovely chit chat together. Other than asking many questions Ayesha Alam also asked Salma about her worst nightmare. Salma replied that her worst nightmare is Azfar getting married with someone else as she can't see azfar getting married with someone else. 
[3]
Worst nightmare
Talked about her Divorce
 In morning show on ARY digital Salma Hassan talks about her divorce and Azfar's marriage with Naveen. Salma said that Azfar was changed long before he married to Naveen and she didn't know about their wedding. She came to know that from people. She also said, Azfar has given me choice of staying married to him but leaving him was easier than having no relationship and staying with him. I could not share Azfar with any woman. I don't have a big heart." "Right till the last minute Azfar wasn't sure about his decision to marry Naveen, he was confused. If I wanted I could've stopped him from going ahead with this marriage but I didn't." She added.  She also said that if a person takes decision to get married to anyone it means that the person has already moved on. So, there is no choice of holding him back. She said that she had to go into therapy after her divorce because she couldn't bear all that situation. For a year, I suffered a lot but now I want to be happy. I keep my self suited booted and up to date, to keep my daughter happy. 
[4]
Talked about her divorce