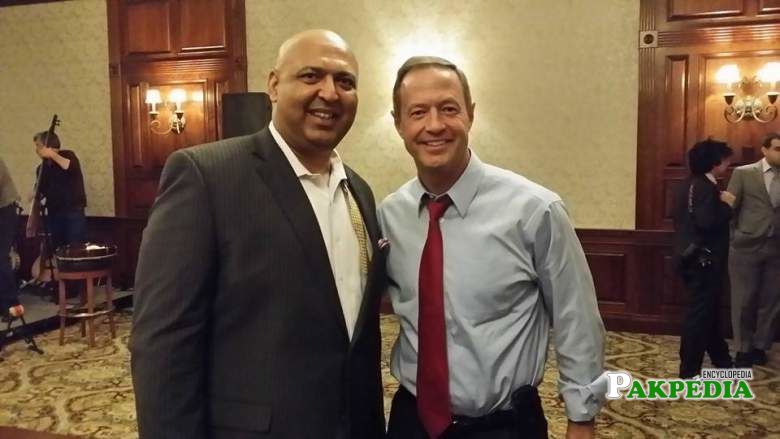 Biography
Tarar attended law school in the United States after moving to America from
Pakistan
, and he became a U.S. citizen in the 1990s. The newspaper says Tarar "owns real estate, works for an organization 'that deals with senior citizens,' and is married and has four kids — one of whom, is a top
squash
player." He lives in Maryland and is from Baltimore and is the CEO of a business called CSC. Fusion describes that as "a nonprofit that provides care for elderly and developmentally disabled people."  He started and organization named as ' Supporting Trump' Tarar explained why he started the organization supporting Trump. "As Muslims, we have a hope that Trump can guide America toward the right direction," said Tarar, 56, to Fusion. "He's rewriting history." 
[1]
Biography Biography
Career
Tarar describes himself as an aggressive businessman, and says he has "won two national awards from Exxon Mobil. I also have served on BP Advisory council. I have served on Gas Dealer association Board of Directors and have helped Exxon Mobil Business improvement Council." In addition to other entrepreneurial ventures, he managed/owned "four ExxonMobil outlets." He also said he served on finance committees of governors and congressmen "including the current Governor Martin O'Mally (sic)." He writes that he is president of Maximus Investment Group, an organization, "Specializing EB-5 Visas."
Prayed For Trump
Muslim immigrant Sajid Tarar delivers prayer at convention. He said that "Let's pray to get our country back," which the cable news channels mostly talked over. He invoked the prophet Muhammad, and said "the values reflected by our leader must reflect the values of our forefathers." There were some cheers, and some boos too. "God bless America, God bless you, God bless Donald Trump," he said. Tarar is a Muslim, and he's a Muslim for Trump. He might seem an unusual choice for a convention speaker, even after prime time, for a presidential candidate who has called for a ban on Muslims. But Tarar considers himself "part of the angry Americans against the traditional politicians, and non-functioning, non-working Washington D.C." Trump, he said, is "a doer." He'll go strong against extremists such as the Islamic State. 
[2]
prayed for trump
About Trump
Donald John Trump is the 45th and current President of the United States who took office January 20, 2017. Previously, he was a real estate mogul, and a former reality TV star. Born in Queens, New York, in 1971 Trump became involved in large, profitable building projects in Manhattan. In 1980, he opened the Grand Hyatt New York, which made him the city's best-known developer. In 2004, Trump began starring in the hit NBC reality series The Apprentice, which also spawned the offshoot The Celebrity Apprentice. Trump turned his attention to politics, and in 2015 he announced his candidacy for president of the United States on the Republican ticket. After winning a majority of the primaries and caucuses, Trump became the official Republican candidate for president on July 19, 2016. That November, Trump was elected the 45th President of the United States, after defeating Democratic candidate Hillary Clinton. 
[3]
About Trump
Arranged Trump Nawaz Call
As the international media is abuzz about the US President-elect Donald Trump and Prime Minister
Nawaz
Sharif's telephonic call, it has emerged that Republican Party's Pakistani-American Sajid Tarar,  made possible telephonic contact between US President-elect Donald Trump and Prime Minister Nawaz Sharif. Tarar, in an interview with US media, said that the Pakistani government reached out to Trump's transition team through him. He said that since the election of Trump as US president, he was in constant touch with Pakistani administration officials. Regarding the Trump-Nawaz telephonic talks, Tarar said that it had become more than necessary that the prime minister of Pakistan must talk to the president-elect after Indian Prime Minister Modi's chat with him over the phone. On November 30, 2016 Donald Trump and Nawaz Sharif held a telephonic talk and Trump. 
[4]
Arranged Trump nawaz call
Negative Reaction Against Group
Sajid Tarar made a group named as 'American Muslim For Trump' but result in so many negative comments from people on social media. On Twitter, the reaction to Tarar and his group was swift and often negative, with people making jokes about it. It's unclear how many people belong to Tarar's group (one account said 500 people). He told CNN's Don Lemon that "his fellow Muslim friends think that the Republican candidate 'is the only one who can save America,'" according to The Daily Caller. There is a Muslims For Trump Facebook page, but it's unclear whether it's affiliated. The Washington Post says of American Muslims for Trump: "It's unclear who else is a member."
Reviews of Friend
One of his friend said on social media that "Sajid (CJ) is one of the most dynamic entrepreneurs I have ever had the privilege of working with. While very willing to take business risks, his intelligence and experience allows him to analyze all aspects of a venture and make precise, calculated decisions." Another, from an immigration attorney, said, "Sajid studied with me at University of Baltimore School of Law during 2008-2009. He is vibrant,sincere and a quick learner. He is a successful business person, politically active and gives high value in human relations."
Pakistan - USA Relationship
Sajid Tarar in an interview made it clear that Pakistan and USA have relationship of more than 70 years which can't be break on a single issue, yes we have temporarily stop giving aids to Pakistan but it's not for permanent we are just looking on things carefully. According to him it's just a scuffle which has been created by some Pakistani Politicians. He said that it's my request to all Pakistani politicians to handle such insensitive situations carefully inshaAllah our relationship will soon be in a progressive state. 
[5]
pak usa relationship