Saif Ali Janjua National Hero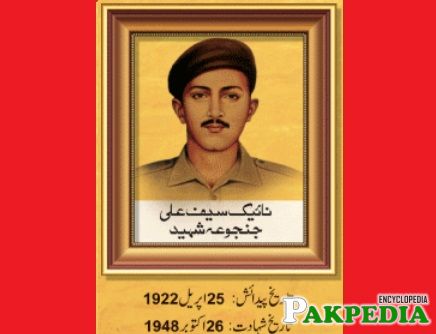 Saif Ali Janjua Shaheed
Saif Ali Janjua old Photo
Saif Ali Janjua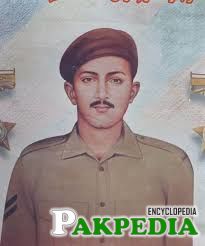 Saif Ali Janjua in Pak Army
About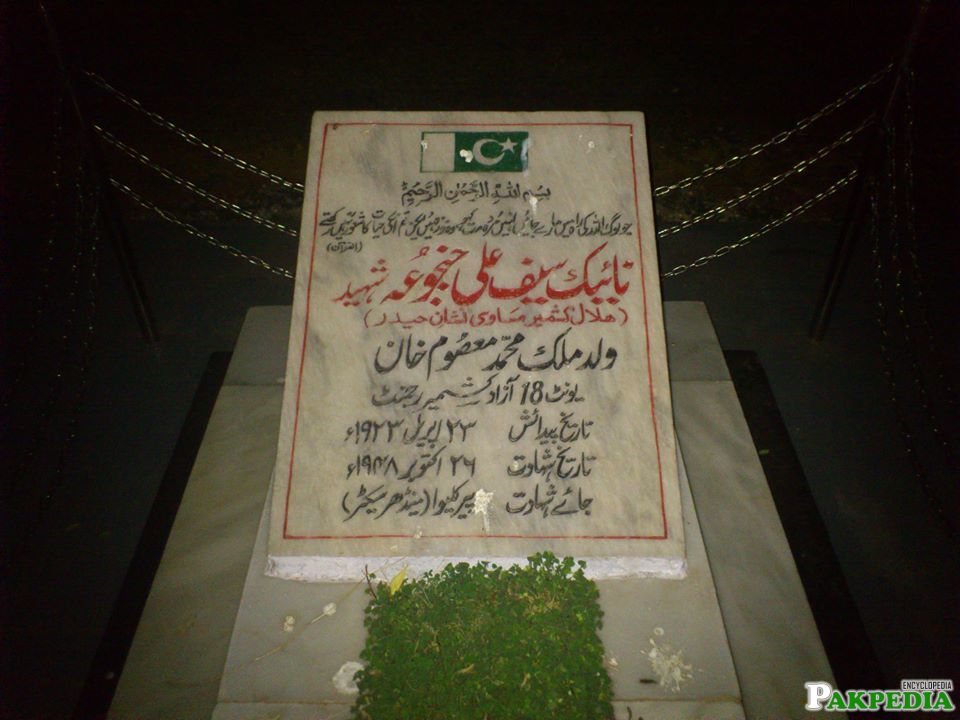 Early Life
He was enlisted in the Royal Corps of Engineers in British Indian Army on 18 March 1941. After completing his service in the British Indian Army in 1947, he came back to his native town and started establishing Haidri Force with the support of Sardar Fateh Muhammad Karailvi. On 1st Janaury 1948, Haidri Force was raised as "Sher-e-Riasti Battalion" under the command of Lt. Col. Muhammad Sher Khan. Due to his unflinching devotion and undaunted courage, on the recognition of his dedication and commitment to the cause, he was accoladed with the rank of Naik and was made platoon commander. He set personal examples of gallantry and inflicted heavy losses on the enemy at Bhudha Khanna where his platoon was given the responsibility to defend Budha Khanna where he faced never-ending frontal and crossfire from machine guns. He defended the post with chivalry, which he established with his few jawans and repulsed many aggressive ventures by the enemy and imposed colossal losses on them.
[2]
he came back to his -----   native town  
Service before battle for Kashmir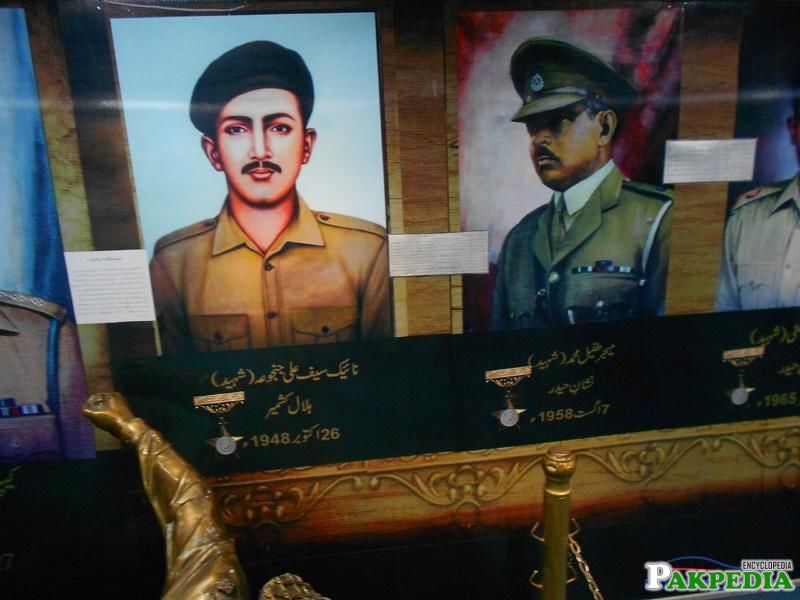 Saif Ali Janjua enlisted in British Army during World War II in Royal British Engineers and after 6 years of service, joined Pakistan Army at the time of partition. His first task at his joining was establishing a 'Haideri Force' for defence of Kashmir, a task which was completed successfully by July 1948.  He was involved in frequent skirmishes against the invading Indian Army and first saw combat in September-October 1947.
Act of Valor on Kalewa ridge
Saif Ali Janjua was promoted to Naik in the fall of 1947 and was given the command of Platoon-I of B-Company, a distinction for the rank of Naik. The platoon was given responsibility to defend Peer Kalewa ridge. On night of October 25th 1948, Indian Army launched offensive in the area with a force of an infantry brigade (5th Infantry Brigade) with assorted tanks and with Indian Air Force (IAF) providing direct support for the ground assault.Continuous artillery barrage followed by tanks initially over-ran the line of defence and Naik Saif Ali Janjua's outfit was isolated from the battalion. The encirclement, however, did not deter the soldiers' resolve as they put on a brave performance despite being outnumbered. The first waves of attack lasted for more than 10 hours, extending up to afternoon of October 26th.Naik Saif Ali Janjua himself fired bursts from his Light Machine Gun (LMG) and kept enemy at bay for hours as Indian casualties mounted. It is reported that a low flying aircraft of IAF was also damaged, which later downed inside territory of Pakistan by effective marksmanship of Naik Saif Janjua.
[3]
Naik Saif Ali Janjua himself - fired bursts
Shahadat Legacy
Two enemy waves were repulsed by the isolated platoon since mid-night, including one in broad daylight. Naik Saif Ali Janjua, while manning his postion atop Pir Kaleva at Mehndhar Sector, got hit directly by an artillery round and embraced martyrdom on spot on October 26, 1948. Nothing short of direct hit from an artillery barrage could have stopped Naik Saif from carrying out his duties. Naik Saif Ali Janjua was awarded Hilal-e-Kashmir, the highest gallantry award of AK, by Defence Council of Azad Kashmir in March 12, 1949. As per gazette notification(No.1/18/D/25/91) by Government of Pakistan, Naik Saif Janjua has been declared equivalent to other Nishan-e-Haider(s) of Pakistan.A true son of soil and an unsung hero, it was high time that his achievements were also highlighted on September 6 by ISPR. This year, ISPR lived up to the expectation and the face of Naik Saif Ali Janjua appeared promptly and silently among other Nishan-e-Haider recipients.
[4]
it was high time that his - achievements