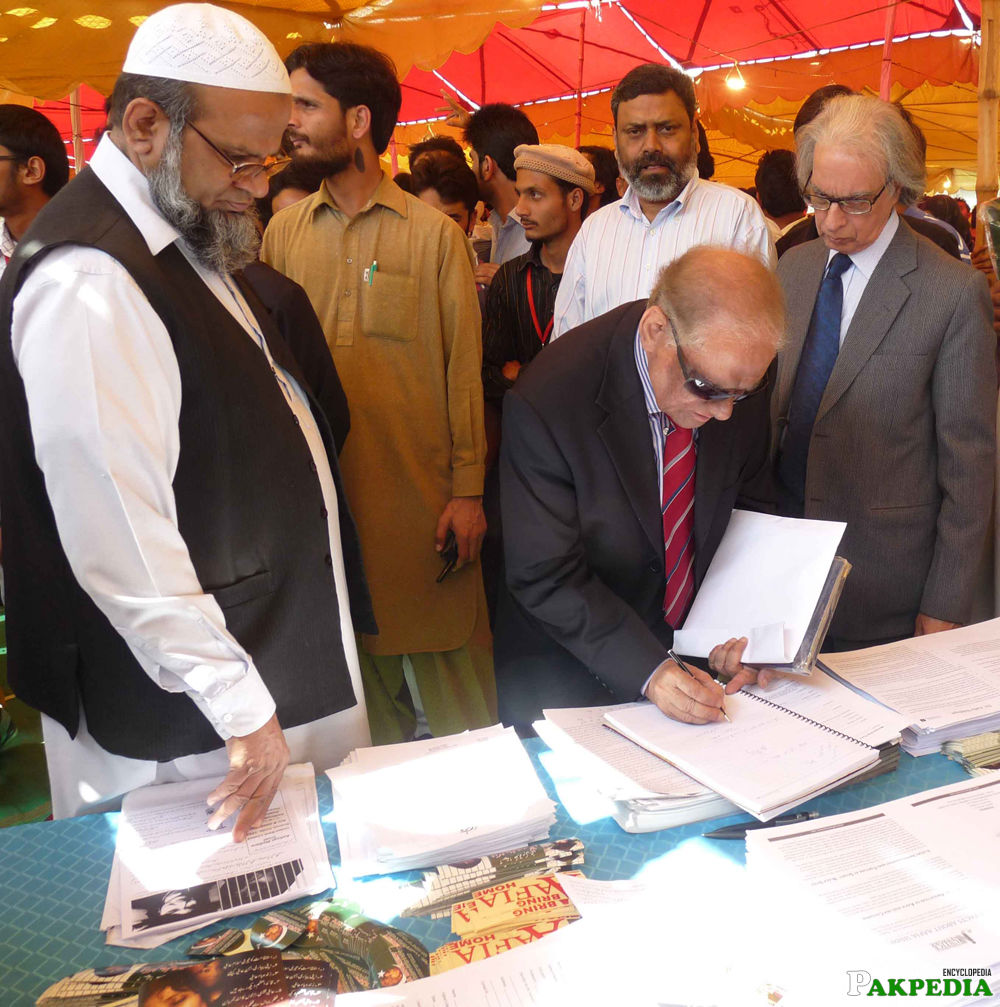 Saeeduzzaman Siddiqui is checking ang singing the documents
Saeeduzzaman Siddiqui With Friends
Saeeduzzaman Siddiqui and Party members taking dinner
Saeeduzzaman Siddiqui is addressing
Saeeduzzaman Siddiqui Addressing to party members
Profile
Governor Sindh Justice (retd) Saeed-uz Zaman Siddiqui, took path as the Sindh governor on November 11. For nearly two months of his governorship, Siddiqui remained ill most of the time. Born to an educated, middle-class Urdu-speaking family on December 1, 1938, Saeed-uz-Zaman Siddiqui received his early education from Lucknow and then from Dhaka, then East-Pakistan and present-day Bangladesh.
[1]
Profile  Profile 
Education
He passed Matriculation from the Board of Secondary Education from Dhaka, East-Pakistan in 1952. In 1954, Siddiqui obtained intermediate in engineering sciences from the University of Dacca. He then moved to Karachi and attended Karachi University in 1954.
Here, at Karachi University, Siddiqui obtained B.A. in Philosophy and L.L.B in 1958. He began legal practice at the High Court of Sindh in 1960.
He was a prominent Pakistani jurist and legislator, who formerly served as the Chief Justice of Pakistan.
Career
Notably, Siddiqui served as the chief justice when former army chief General (retd)
Pervez Musharraf
staged the 1999 military coup. He defied Musharraf's request, which he gave  then Law Minister and Legal Adviser Sharifuddin Pirzada, to take a new oath under the Provisional Constitutional Order (PCO) saying, "Taking an oath under the PCO, in my opinion, will be a deviation from the oath I had taken to defend the constitution of 1973". In 2008, he ran for the presidential election as a candidate of Pakistan Muslim League-Nawaz and Jamaat-e-Islami to replace Pervez Musharraf as president, but lost the September 6, 2008 presidential election to Asif Ali Zardari by 153 votes. Justice Siddiqui was again picked for presidency in 2013, but at the last moment his name was replaced with Mamnoon Hussain's as Siddiqui never joined the PML-N and was a neutral candidate.He was awarded honorary membership of the Judicial fraternity of Australia and Canada after the news of his resignation from the office of the Chief Justice was made public in Jan 2000, when he refused to take oath under the PCO. Prime Minister Nawaz Sharif nominated Saeed-uz-Zaman Siddiqui as Sindh governor, after which he took oath on November 11, last year. He was the 31st governor of Sindh. Justice Siddiqui, however, passed away on Wednesday after nearly two months of ailment, since he took oath as Sindh governor. 
Contributions Lauded
Retired Justice Shaiq Usmani, while speaking to DawnNews, said Saeed-uz-Zaman's landmark judgements, especially in the area of civil law, will be remembered.
"He was very sharp, very competent," Usmani said. "His loss will be felt deeply."
Former attorney general Pakistan Munir A. Malik called Siddiqui "a judge par excellence" and "an outstanding chief justice".
"He was a very simple person, very humble... even after his appointment to such a high post," he said, adding that Siddiqui was a good friend of mine.
Advocate Akram Shaikh remembered Siddiqui as an exemplary human being without equal. "He was a very good man, a very good judge and a very good chief justice."
Assigning
Appointed Member of Election Commission of Pakistan on 09-8-1980.
Appointed as Chairman Rule Committee of High Court of Sindh on 01-02-1986.
Appointed Chairman Sindh Zakat Council on 13-09-1988.
Appointed as Member of Company Law Commission on 07-06-1989.
Appointed Acting Governor of Sindh from 27-07-1990 to 30-07-1990.
Appointed Acting Chief Justice of High Court of Sindh from 19 September 1990 to 19 October 1990.
Appointed as 15th Chief Justice of Pakistan from 1 July 1999 to 25 January 2000 was until December 2005
Appointed Chairman of Citizens' Group on Electoral Process (CGEP)
Member OIC contact group, also submitted a report on 'Bulgarian Muslims Social condition'
Appointed as Governor Sindh on 9 November 2016
Animation
Appointed as Member of 3-men Contact Group, by Secretary-General of the Organization of Islamic Conference to investigate the plight of Muslim minority in Bulgaria in May 1986. He presented the first report of the group to the 17th Islamic Conference of Foreign Ministers held at Amman, Jordan, in March 1988, a second report to the 18th Islamic Conference of Foreign Ministers at Riyadh in March 1989, and the third report to the 19th Islamic Conference of Foreign Ministers at Cairo in July 1990.
Also presented a preliminary report on the plight of Muslim minority in Bulgaria in the Extraordinary Session of Islamic Conference of Foreign Ministers in New York in October, 1989. Attended the 17th, 18th, 19th and the Extraordinary Session of Islamic Conferences of Foreign Ministers in Amman, Riyadh, Cairo and New York on special invitation of Secretary-General of Organization of Islamic Conference.
He is presently the Chairman of numerous organizations, some of which are The Council for Foreign Relations Economic Affairs and Law and President of the Poor Patient's Society of Pakistan. He is the Chairman of the World Bank supported Organization for Alternative Dispute Resolution (Pakistan).
He is also the nominee judge for the International Court of Justice (ICJ) at Hague, from Pakistan.
On 25 August 2008, Nawaz Sharif announced that Justice Siddiqui would be Pakistan Muslim League (N) and Jamaat-i-Islami's joint candidate to replace Pervez Musharraf as President of Pakistan, he also received popular support from the Balouch Nationalist parties, although he had never joined any political party even after being approached by Pakistan Tehreek-e-Insaf Chairman Imran Khan in 2007 and again in 2010. He choose to remain a nonpartisan individual. His name has been suggested by JUI and Pakistan Tehreek-i-Insaf for the Prime Minister candidate when the interim government comes into power after March 2013.
On 9 November 2016, Mamnoon Hussain in consultation with Nawaz Sharif appointed him as the Governor of Sindh province.
Death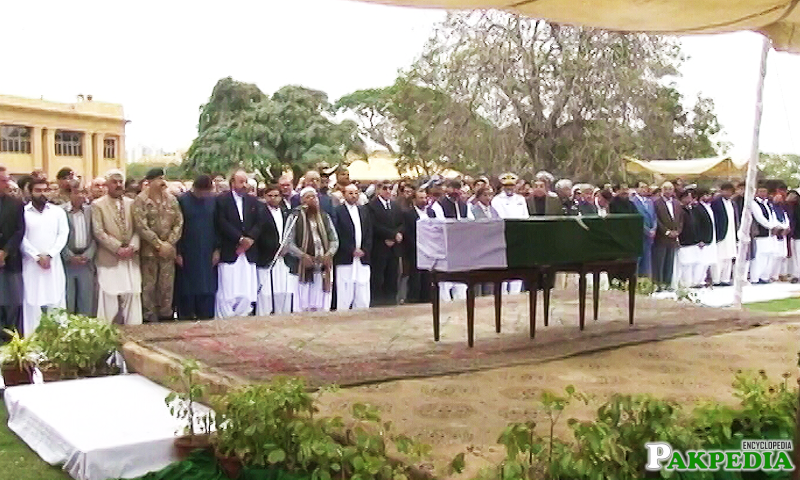 Deceased Sindh Governor Saeed-uz-Zaman Siddiqui was laid to rest at Karachi's Gizri graveyard on Friday.Funeral prayers for the governor were offered at Governor House Karachi after Friday prayers.Retired Justice Siddiqui, the 31st governor of Sindh, had been under treatment at a local hospital for a prolonged chest infection and breathing issues.He was sworn in on Nov 11, succeeding the longest-serving governor of Sindh, Dr Ishratul Ibad Khan. Siddiqui held the post for two months, becoming the province's shortest-serving governor.Siddiqui was first admitted to hospital two days after he took the oath of office, and was relieved a month after. Since then, a panel of doctors had been caring for him at Governor House.Siddiqui had been appointed chief justice of the Sindh High Court, and in May 1992 was elevated as a judge of the Supreme Court. His tenure as the 15th chief justice of Pakistan began on July 1, 1999, and ended on Jan 26, 2000.Siddiqui was also among aspiring candidates for the post of president in 2003 and 2008. Late Governor Sindh Saeeduzzaman Siddiqui died at the age of 79 on 11 January 2017 in Karachi. 
[2]
 Death  Death 
Tribute to Saeeduzzaman
I have had the honor of knowing the late retired Chief Justice Saeed-uz-Zaman Siddiqui since 1968 and enjoyed a close and cordial friendship with him and his family.When he was elevated as a judge of the Sindh High Court, he entrusted all his pending cases to me and I completed all his legal assignments in court.The late Saeed-uz-Zaman Siddiqui was an upright and fearless advocate who represented his clients in court with utmost dedication and perseverance. He had a sharp intellect, Justice Saeed-uz-Zaman Siddiqui showed a great degree of independence and led by example when he refused to take oath under a PCO which was then being imposed by Gen. Pervez Musharraf and a large number of his companion judges followed his example and refused to take oath under the PCO. Later, he contested the presidential election as a candidate of the PML-N against
Mr. Asif Ali Zardari
but lost. He was picked for the job of governor by the earlier PML-N government and once again in 2016 but unfortunately his failing health and illness to which he succumbed prevented him from continuing in the office of governor except for a short while.Along with me, his closest friends and colleagues at the Bar include former law minister and attorney general Syed Sharifuddin Pirzada, former attorney general Aziz A. Munshi and retired Justice G.H. Malik. Justice Saeed-uz-Zaman's friendship was staunch and enduring.Justice Saeed-uz-Zaman Siddiqui will be remembered for very long as a brave and fearless advocate and a brave and independent judge of the superior courts.
[3]
 Tribute to a  friend