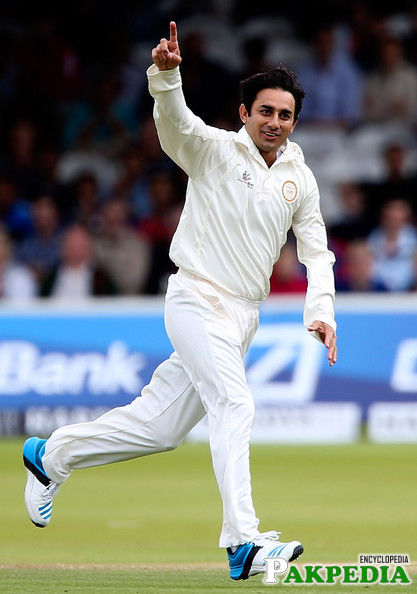 Saeed Ajmal in Test match
Saeed Ajmal Looking Cool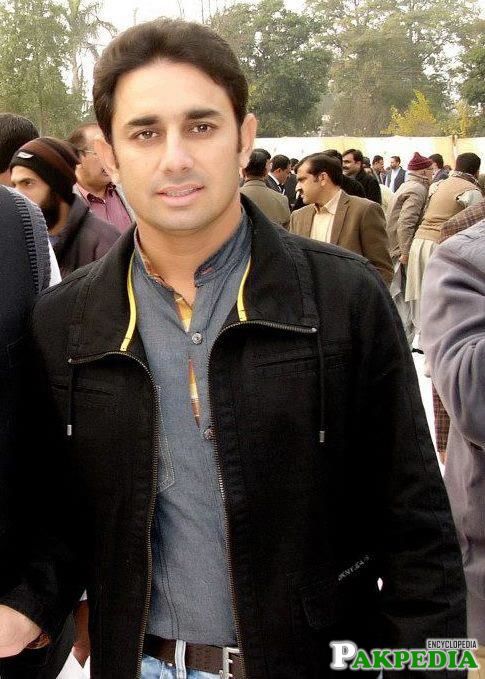 Saeed Ajmal in a Ceremony
Nice Photo of Saeed Ajmal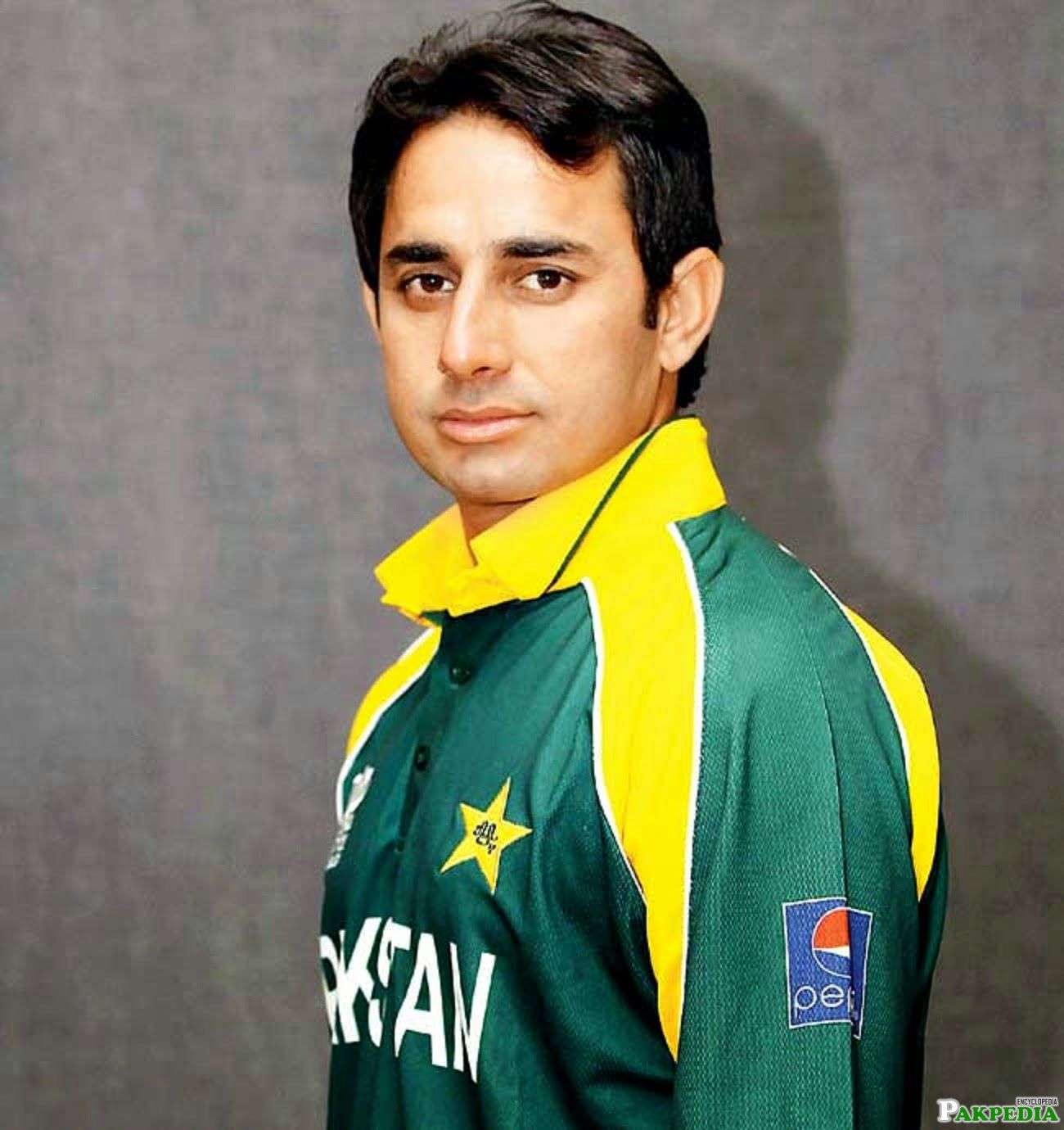 Saeed Ajmal in Green Stirt
Career
Early Career
His golden run, though, started in 2011, when he showed superb control over all his variations - the off spinner, the doosra and the subtle changes in speed and flight. Unlike many offspinners who change their line when bowling the doosra, Ajmal tends to bowl the offspinner and the doosra from around the same line - on or just outside off - which makes it much tougher for batsmen to pick his variations. In 2011 he was the leading wicket-taker in Tests, with 50 in eight matches. But the best series of his young career came early in 2012, when he destroyed the batting line-up of the best team in the world, England, taking 24 wickets in just three games at 14.70. In the process, he clearly won the battle of offspinners against the highly rated Graeme Swann. From November 2011 to December 2014, Ajmal has been ranked by the International Cricket Council as the number one bowler in ODIs. In December 2014, Sunil Narine took the first position of ODI from him, throwing him to the 2nd position. He is ranked at number four in ICC ranking of bowlers in T20Is, while his current ICC test bowler ranking is number 9.
[1]
Tendulkar gains place- Test rankings"
Domestic career
has played for
Faisalabad
 since his debut in 1995 at the age of 18. Ajmal represented the Faisalabad Wolves in the 2005 ABN-AMRO Twenty-20 Cup, his team won the final in which he was man of the match.When Faisalabad won the final of the ABN-AMRO Patron's Cup in March 2006 Ajmal was named the tournament's best bowler and was given a Rs 25,000 prize. He has also represented Khan Research Laboratories, who were runners-up in the final of the 2008/09 Quaid-i-Azam Trophy; though his side lost the final, Ajmal took 5/105 and 2/55 and in the process passed 250 first-class wickets.
[2]
"Ajmal and Naqvi back- for KRL"
International career
He made his debut against India on 2 July 2008. Ajmal took a single wicket, that of Yusuf Pathan, from his ten overs while conceding 47 runs (1/47) as Pakistan won by eight wickets. before taking 2/19 in a ten-wicket victory over Bangladesh, although the team had no chance of progressing to the competition's final. In November that year Pakistan traveled to the United Arab Emirates to face the West Indies in a three-match ODI series. Ajmal and Afridi were the team's only spin options; the former took a single wicket while conceding 73 runs and Pakistan won all three matches.
[3]
West Indies in UAE- cricketarchive
In April 2009, Ajmal was reported by umpires for having a suspect bowling action. An independent test the following month demonstrated that Ajmal's arm flexed within the 15 degree tolerance allowed by the International Cricket Council. Later that year, the Pakistan Cricket Board named a pool of 30 players from which they would chose their final squad for the 2009 ICC World Twenty20, held in June. Initially left out, Ajmal was one of three players added to the list, replacing players who were dropped because they were contracted with the controversial Indian Cricket League. In the tournament, Ajmal partnered Afridi. Pakistan won the tournament, and Ajmal was the tournament's joint second highest wicket-taker with twelve dismissals from seven games (only Pakistan's
Umar Gul
took more wickets, with thirteen dismissals).Shortly after this the Pakistan team began a tour of England where they would face Australia in two Tests in July, and subsequently play England in four Tests and five ODIs. Danish Kaneria was preferred to Ajmal in the first match against Australia, but after Pakistan lost the selectors considered dropping the leg-spinner and choosing Ajmal. In the event, Ajmal was not selected until the second Test against England, when Kaneria was dropped because he had been ineffective. Though Pakistan lost the match by nine wickets, Ajmal took his first five-wicket haul in Tests. In Pakistan's second innings, with his team looking to set a target for England to chase, Ajmal scored 50 from 79 balls, his first half-century in Tests, before he was dismissed by fellow off spinner Graeme Swann.After the �upheaval of 2010, 2011 saw Pakistan become a more consistent team. The year began with the World Cup held between February and April. Pakistan progressed to the semi-final, where they were defeated by India; playing in three of the team's matches, Ajmal took five wickets at an average of 18.60.After the World Cup, Pakistan played ten Tests, winning six and losing a single match; this saw the team win series against Bangladesh, New Zealand, Sri Lanka and Zimbabwe and draw with the West Indies. Ajmal finished the year with 50 wickets from 8 Tests, more than any other bowler (second on the list was India's Ishant Sharma with 43). Pakistan were also largely successful in ODIs, winning 24 out of 32. After Pakistan beat Sri Lanka 4-1 in November 2011, Ajmal climbed to the number one spot in the ICC's ODI rankings.He finished the year by taking nine wickets over two Tests in Pakistan's tour of Bangladesh.
[4]
Pakistan in Bangladesh Test Series- espncricinfo
County cricket
Ajmal was signed by Worcestershire in 2011 as their overseas player. He was signed by them as their overseas player in 2014 again. He was highest wicket taker in county 2014 with 56 wickets.
Suspension tribunal and ban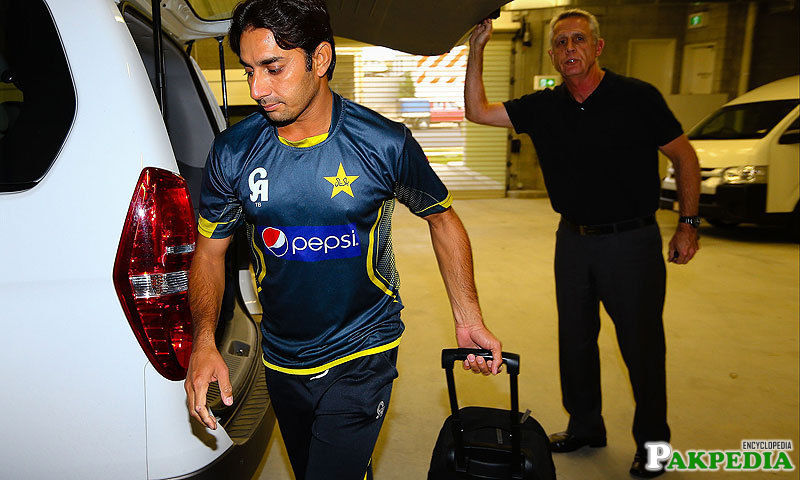 ICC ban
The International Cricket Council on 9 September 2014 banned Ajmal over his bowling action. The statement said, "An independent analysis has found the bowling action of Pakistan's off-spinner Saeed Ajmal to be illegal and, as such, the player has been suspended from bowling in international cricket with immediate effect. The analysis revealed that all his deliveries exceeded the 15 degrees level of tolerance permitted under the regulations.There's a lot of protest on this decision made by International Cricket Council. Players criticised this decision because his bowling action was tested and cleared four years ago.
Saqlain Mushtaq
was called up to guide him in improving his bowling action. After 45 days of training under his mentors Saqlain Mushtaq and Muhammad Akram . Ajmal was sent to England's Lough borough university by PCB on board' budgets for unofficial testing of his modified action before applying for official test with ICC. Biomechanist Mark King reported that Ajmal's bowling action has approached to 15 degree but still not cleared. Ajmal will do net practice in England for one week then board will take further decisions on Ajmal .
[5]
ICC bans for Saeed Ajmal- dawn.com