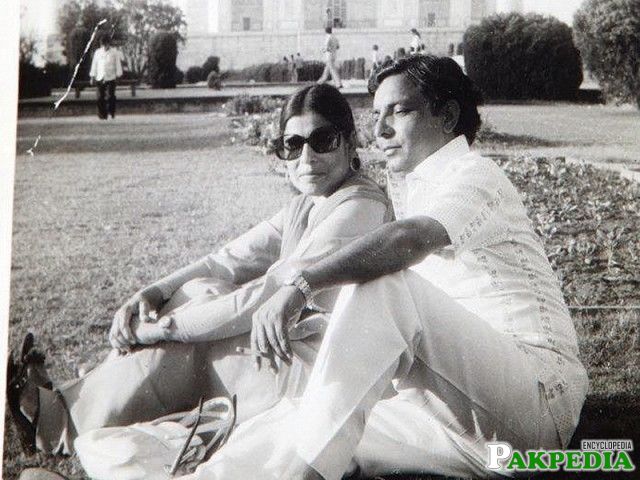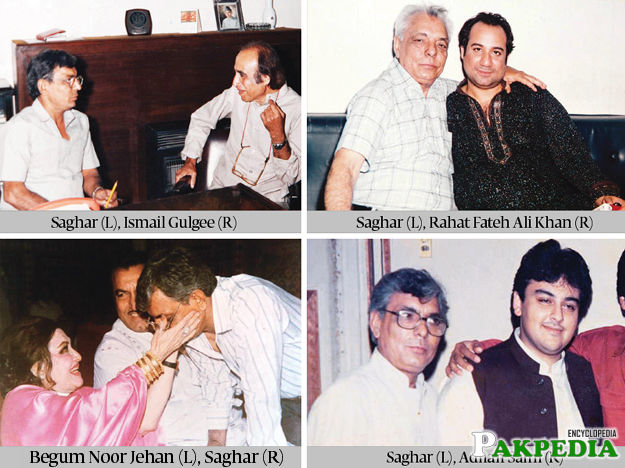 Detail
Mini Bio
As a writer of more than 2000 ballads Saghar's lyrical excellence manifested in many movies including 'Kabhi to Nazar Milao', 'Chief Saab', 'Sargam', 'Ghoongat', 'Inteha', 'Mohabattan Sachian', 'Samjotha Express', 'Ishq Kuda' to name a few. Saghar versed vocals for many singers such as Hadiqa Kiani's songs 'Dupatta Mera Malmal Da' and 'Yaad Sajan Di Ayi'. He also wrote the duet 'Kabhi to Nazar Milao' sang by Asha Bhosle and Adnan Sami Khan. Saghar also authored all the ten songs for singer Fariha Pervez's album 'O Vela Yad Kar 2001.'
[2]
 Mini Bio -  Mini Bio 
Early Career
Saghar was a self-made man who lost his father during the India-Pakistan partition ," he reveals. Living at an air force camp in his early years, Saghar was forced to make a living "doing ordinary labour work in
Multan
" to support his mother.He then moved to Lahore after his schooling, and embarked on a journey as a journalist in the '60s. But his passion for poetry and film ultimately steered the wheel in another direction. He quit journalism and got on board with the famed Shabab Studios. He started his career off as a mere assistant and little did anyone know he would go on to become one of the most prominent songwriters in the country. 
[3]
 Early Career -  Early Career 
Admirers
Journalist Sajid Yazdani, who shadowed Saghar for nearly 10 years, speaks very highly of the humble man. "He had a great sense when it came to writing. He could write a poem in 10 to 15 minutes no matter how noisy it was," says Yazdani, admitting that Saghar was deeply engrossed in his work. He gradually made his comeback in Lollywood through a series of Urdu films that were made in the '90s; he penned down the lyrics for
Javed Sheikh
, Syed Noor and Shehzad Rafique's projects.
[4]
 Admirers -  Admirers 
Final projects
The late songwriter's final projects are Ishq Khuda and Tamanna. Shehzad Rafique admits that he has worked with Saghar for all of his films, and feels that the music he provided has played a significant role. "He has written poetry which is timeless and I think that it was the emotion present in his songs which made him so popular," he says, adding that the soundtrack of Ishq Khuda has been written by Saghar. "I think the biggest thing is that he was able to have an impact on the younger generation as well."
[5]
 Final projects 
The lucky ones
Riazur Rehman Saghar was known for his intense lyrics and beautiful poetry. The following singers received great fame through Riaz's lyrics:
[6]
 The lucky ones 
Mehdi Hassan
Nahid Akhtar
Noor Jehan
Ustad Nusrat Fateh Ali Khan
Rahat Ali Khan
Adnan Sami Khan
Waris Baig
Shiraz Uppal
Fariha Pervez
Hadiqa Kiyani
Humaira Channa
Ghulam Ali
Complete Biography
1957 — 1966 Worked as a journalist. 
1959 — 1961 Worked as a sub-editor at Daily Kohistan Rawalpindi. 
1973 — Wrote lyrics for the songs Dholak Baja Kay, Sahelian Bula Kay from the film Mr Budhu. 
1978 — Wrote lyrics for the song Ankhen Ghazal Hayn Aapki Aur Hont Hayn Gulab from Pakistani film Saheli. 
1986 — 1996 Worked as a cultural editor for Daily Nawa-i-Waqt Lahore & editor film and culture for Family Magazine.
Early '90s  — Was the instrumental force behind children's musical show Aangan Aangan Tarey. 
1995 — Wrote all songs for the Pakistani film Sargam starring Zeba Bakhtiar and Adnan Sami Khan. 
1996 — Wrote lyrics for the popular song Dekha Jo Chehra Tera from the Pakistani film Ghungat. 
1997 — Started poetry column "Arz Kia Hai" for Nawa-i-Waqt which ran daily. 
1997 — Wrote lyrics for Adnan Sami's entire album Badaltay Mausam. 
1998 — Gave lyrics for the superhit song Ho Sakay to Mera Aik Kaam Karo from the film Dupatta Jal Raha Hai. 
2000 — Wrote two songs for Adnan Sami's album Always Yours (Lift Karadey and Bheegi Bheegi Raaton Mein). 
2000 — Gave lyrics for the hit song Kal Shab Dekha Chaand Main Nay Jhrokay Main from film Mujhe Chand Chahiye. 
2001 — Wrote all songs for Fariha Pervez's album O Vela Yaad Kar. 
2002 — Wrote lyrics for Dupatta and Yaad Sajan Di for Hadiqa Kiyani's album titled Rung. 
2003 — Provided Shiraz Uppal with lyrics for all his songs in his popular album Tera Te Mera. 
2007 — Wrote lyrics for hit song Me Jeena Tere Naal from Pakistani Punjabi film Mohabbataan Sachiyaan. 
2009 — Gave lyrics for Hadiqa Kiyani's songs Tuk Tuk from album Aasman. 
2010 — Provided lyrics for Main Tenu Samjhawan Ki from Virsa, India and Pakistan's joint venture. 
2012 — Wrote lyrics for the Pakistani film Ishq Khuda.