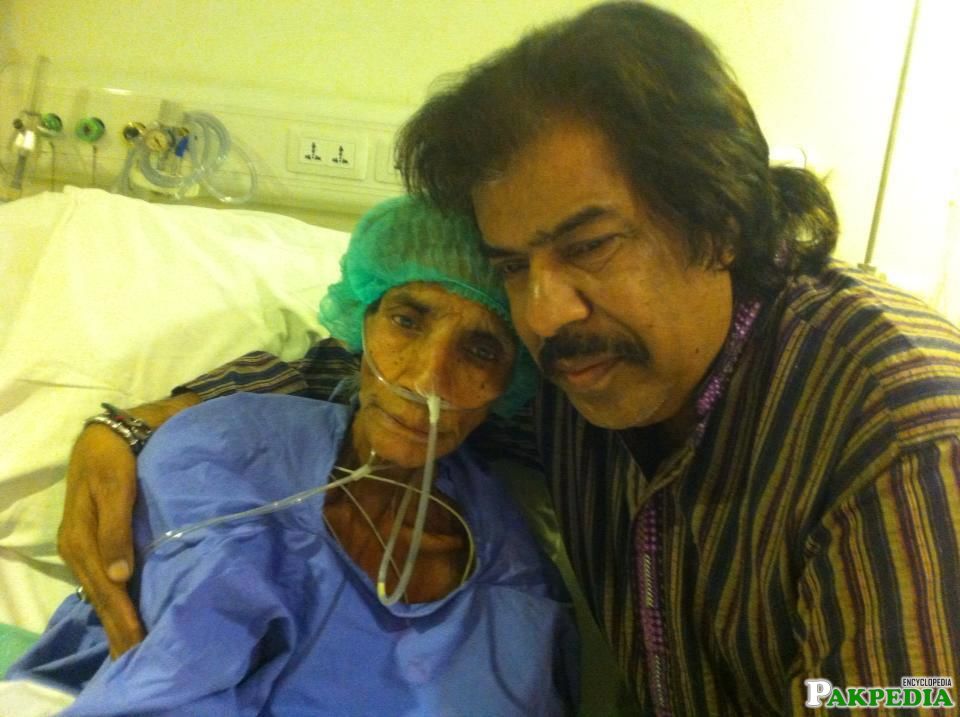 Reshma with Shaukat Ali in hospital
Reshma;s song "Lambi Judai" was one of the super hit song
Reshma, Pakistan's 'first lady' of folk music
Reshma is in the list of Top 10 Pakistani Folk Singers
Pakistani folk singer Reshma
Early Life
Reshman was born to a
Pakkhiwas
(gypsy) family in
Rajasthan
one year after Independence. Her father,
Haji Muhammad Mushtaq
, was a camel and horse trader from Malashi.They traded in horses, cows and goats.
Reshma
belonged to a tribe which had converted to Islam. Her tribe migrated to Karachi shortly after Independence. Gifted with a melodious voice, Reshman did not receive any formal education. She spent much of her childhood singing at the
Mazars
(shrines) of the mystic saints of
Sindh
.
[2]
Early life of Reshma
Career
When she was twelve years old, she was spotted singing at the Shrine of
Lal Shahbaz Qalandar
by then Pakistani television and radio producer,
Saleem Gilani.
"She refused to enter the studio, and said a man was standing inside, referring to the pillar-like structure that was actually the microphone," said Sarvat Ali Khan,
a Radio Pakistan producer, whose father composed most of her songs.
Her First Song
Gilani arranged for her to make a recording of "Laal Meri Pat Rakhio" on Radio Pakistan in 1968.She became an instant hit and since that day, Reshma has been one of the most popular folk singers of Pakistan, and garnered international renown.
She was also Famous across the border
Her fame had crossed the border, thanks to pirated tapes. She was able to perform live in India much later, during the 1980s when India and Pakistan allowed exchange of artists. Subhash Ghai used her voice in the film Hero, which featured one of her most famous songs,
Lambi Judai
. During her career she was invited to meet Indian Prime Minister
Indira Gandhi.
 In 2004, she recorded
 Ashkan Di Gali Vich Mukaam De Gaya
, which was used in the Bollywood film
Woh Tera Naam Tha
, and was also a hit record in India.
Some Famous Songs of Reshma
Akhian Mila Ke Channa
Akhian Nu Rehn De
Chal Dila Labhan Chaliye
Dama Dam Mast Qalandar
Dhole Ri Moomal
Eh Tan Mera (Sultan Bahu)
Hai O Rabba Naeeo Lagda Dil Mera
Jadon Mahi Yaad Aave
Kithe Nain Na Joreen (Manzoor Jhalla)
Laal Mari Pat Rakhio Balla
Lambi Judai
Na Dil Dendi Bedardi Nu
Phool Banro
Rabba Sada Mahi Mail De
Rajj Gallan Na Keetian
Sade Wal Mukhra Mor (Bulleh Shah)
Senraan Ra Baairya
Tak Pattri Walia Lekh Mere
Uth Gaye Gwandhon Yaar
Ve Main Chori Chori (Manzoor Jhalla) 
[3]
Reshma's Songs
Reshma was Simple and Very Simple
Despite her fame,
Reshma
was modest. She dressed conservatively in a
Shalwar Kameez
 and was rarely seen without a
Dupatta
 covering her head. And her Mehfils (public performances) were devoid of histrionics.
Health Issues
Reshma
was diagnosed with throat cancer in the 1980s. In later years, her health deteriorated, leading President
Pervez Musharraf
to come to her aid, giving her one million Rupees to help pay off a bank loan, as well as putting her on a secured assistance of
10,000 rupees
per month. He also helped her secure a plot of land for herself, but that did not go through due to the change in government. Her health deteriorated to such an extent that she was hospitalised in Lahore, Pakistan in 'Doctors Hospital' on 6 April 2013. The Punjab, Pakistan caretaker government elected to pay all her medical expenses.
Death
Reshma fell into a coma in October 2013 and died on
3 November 2013
in a Lahore hospital.