Rameez Raja
With Humaima Malik
With his wife
Man with elite humour
Talking to Shahid Afridi
Profile
Raja was born in
Faisalabad
in Pakistan and studied at notable Pakistani institutions, Saint Anthony's High School
Lahore
and Aitchison College, Lahore and holds a Masters Degree in Business Administration. Post his MBA from
Punjab University
, Rameez went on to work as a banker for American Express after studying at the prestigious Aitchison College. Fortunately, good sense prevailed, and he chose cricket. His degree (and playing experience), however, came handy when he was appointed CEO of
PCB
.  
Raja clan
Rameez was not the first cricketer in his family, and neither was he the greatest: that honour would go to Wasim Raja, arguably the greatest batsman against West Indies at their prime in the 1970s and 1980s. Their father Raja Saleem Akhtar also played for
Multan
, as did the middle brother Zaeem. Wasim's son Ali Wasim Raja has also played for Surrey Second XI. 
[1]
raja clan
Career
Raja made his First class cricket debut in 1978. He received his opportunity to play in a Test match against England. His performance was unimpressive, as he was dismissed for 1 run in both innings. However, with the retirement of several players in the Pakistan squad and with the help of his years of experience in first class cricket, Raja was able to secure a spot in the national side. 
[2]
career
Raja played international cricket for 13 years, appearing in 57 Test matches, with a career average of 31.83 and scoring two centuries. 
In the One Day International arena, he played 200 matches and scored 9 centuries. 
He was a member of the national side that reached the semi finals of the 1987 World Cup.
 He scored 2 centuries in the 1992 World Cup, which was held in Australia, including a century, against New Zealand, who had been un defeated during that period. 
Raja was awarded the man of the match for his match winning performance which earned Pakistan a place in the semi-finals of the tournament.
Raja was recalled
 In the final against England, Raja had the honour of taking the final catch which won the world cup for Pakistan. This became the pinnacle of his cricketing career, as within a year of this triumph, he had lost form and was dropped from the national side. However, he was recalled back to the Pakistan squad and played in the 1996 cricket World Cup. During the 1995-1996 season, he was removed from the captaincy, after Pakistan lost their first home series to Sri Lanka.  
Retirement
His final game in a Test match for Pakistan, was as captain in the 1996-1997 tour of Sri Lanka, however the team failed to win a match during the series. He retired from all forms of cricket in 1997 and since then he has been active as a television commentator and as an administrator for both Pakistan and International cricket.
As commentator
Raja has worked as a commentator on Test Match Special and Sky Sports, during the 2006 England Test series against Pakistan. He has also worked as the chief executive of the Pakistan Cricket Board, but resigned from his job in August 2004, citing increasing media commitments. 
Given out for obstructing the field
Raja became the first player in One Day International history to be given out by "obstructing the field" against England, in a match at Karachi in 1987. England had scored 263 runs for 6 wickets during their 44 over innings. For Pakistan, Raja opened the batting and had reached 98 runs when the last ball of the match was bowled, with Pakistan needing 25 runs to win in the last over. During this last over, he hit the ball and sprinted for two runs that would have given him his century, but was well short of the crease when the fielder's return came towards him and Raja knocked the ball away with his bat and was given out "obstructing the field".
Captain of Pakistan Cricket team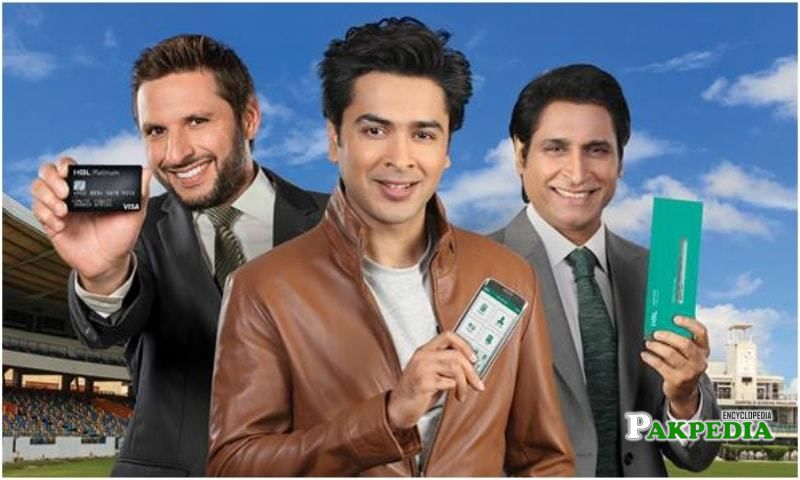 Almost a decade later, he was involved in another controversy when he captained Pakistan to their first Test home series loss against Sri Lanka in September 1995. Before being brought in as captain for the series, he had often opened the batting innings with both Aamer Sohail and Saeed Anwar at different match, but without success. As a captain, he did not open the innings in any of the three Test match and opted to bat at number three, his preferred position. He was sacked as captain after Pakistan lost the series and was replaced by Wasim Akram. He got a second chance at captaincy when, immediately in the next season in 1996-1997, he led the Pakistan team for the second time in two Test match against Sri Lanka in Sri Lanka, but failed to achieved a win. This was his final appearance in a Test match for Pakistan. 
Pakistan Cricket Board
Raja worked as a CEO of the Pakistan Cricket Board, simultaneously serving as a cricket commentator. He resigned from the post of the CEO in August 2004 citing increasing media commitments as the reason for his decision.
Ramiz Rajas movie
In year 2017, Ramiz Raja announced that he is going to make a film titled as "DorBaaz" starring Bollywood hit actor Sanjay Dutt and glamour doll Katrina Kaif along with Raees's queen and very talented
Mahira Khan
. The film story is based on Cricket linked with terrorism. In an interview given to
ARY
channel, Ramiz told that he was planning this since last 10 years but due to some personal issue, he was unable to execute his dream into reality. 
[3]
Dorbaaz
Career Statistics
Test centuries
Test centuries of Rameez Raja
No
Runs
Match
Against
City/Country
Venue
Start date
Result
1
122
6
Sri Lanka
Colombo, Sri Lanka
P Sara Oval
22 March 1986
Drawn
2
114
12
 India
Jaipur, India
Sawai Mansingh Stadium
21 February 1987
Drawn
ODI centuries
One Day International centuries of Rameez Raja
No
Runs
Match
Against
City/Country
Venue
Date
Result
1
113
57
England
Karachi, Pakistan
National Stadium, Karachi
20 October 1987
Won
2
101
84
New Zealand
Auckland, New Zealand
Eden Park
11 March 1989
Won
3
116*
101
Sri Lanka
Hobart, Australia
Bellerive Oval
15 February 1990
Won
4
107*
102
Sri Lanka
Adelaide, Australia
Adelaide Oval
17 February 1990
Won
5
114
107
New Zealand
Sialkot, Pakistan
Jinnah Stadium
6 November 1990
Won
6
102*
121
West Indies
Melbourne, Australia
Melbourne Cricket Ground
23 February 1992
Lost
7
119*
126
New Zealand
Christchurch, New Zealand
AMI Stadium
18 March 1992
Won
8
109*
146
Sri Lanka
Sharjah, UAE
Sharjah Cricket Stadium
4 February 1993
Won
9
104*
164
West Indies
Sharjah, UAE
Sharjah Cricket Stadium
13 October 1995
Won
In the column Runs, * indicates being not out
The column title Match refers to the Match Number of the player's career
Man of the Match Awards
| S No | Opponent | Venue | Date | Match Performance | Result |
| --- | --- | --- | --- | --- | --- |
| 1 | West Indies | Melbourne Cricket Ground, Melbourne | 6 March 1985 | 1 Ct. ; 60 (88 balls, 7x4) | Pakistan won by 7 wickets. |
| 2 | New Zealand | Eden Park, Auckland | 11 March 1989 | 101 (114 balls, 9x4, 1x6) | Pakistan won by 7 wickets. |
| 3 | England | Vidarbha Cricket Association Ground, Nagpur | 30 October 1989 | 85* (82 balls, 8x4) | Pakistan won by 6 wickets. |
| 4 | Sri Lanka | Bellerive Oval, Hobart | 15 February 1990 | 1 Ct ; 116* (148 balls, 8x4) | Pakistan won by 6 wickets. |
| 5 | New Zealand | Jinnah Stadium, Sialkot | 6 November 1990 | 114 (123 balls, 14x4) | Pakistan won by 105 runs. |
| 6 | Sri Lanka | Sports Stadium, Sargodha | 10 January 1992 | 74 (83 balls, 10x4) | Pakistan won by 8 wickets. |
| 7 | South Africa | SuperSport Park, Centurion | 21 February 1993 | 53 (79 balls, 4x4, 1x6) | Pakistan won by 22 runs. |
| 8 | West Indies | Sharjah Cricket Stadium, Sharjah | 13 October 1995 | 104* (134 balls, 7x4, 1x6) | Pakistan won by 15 runs. |