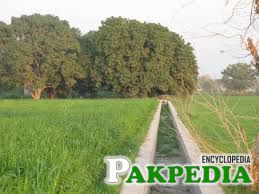 Rahim Yar Khan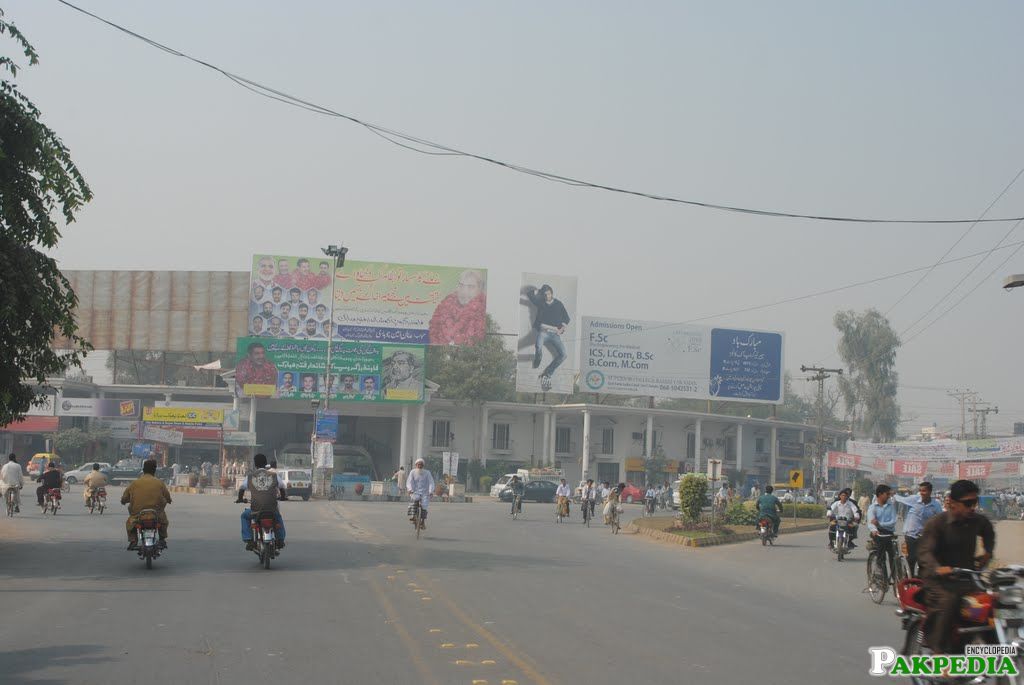 Rahim Yar Khan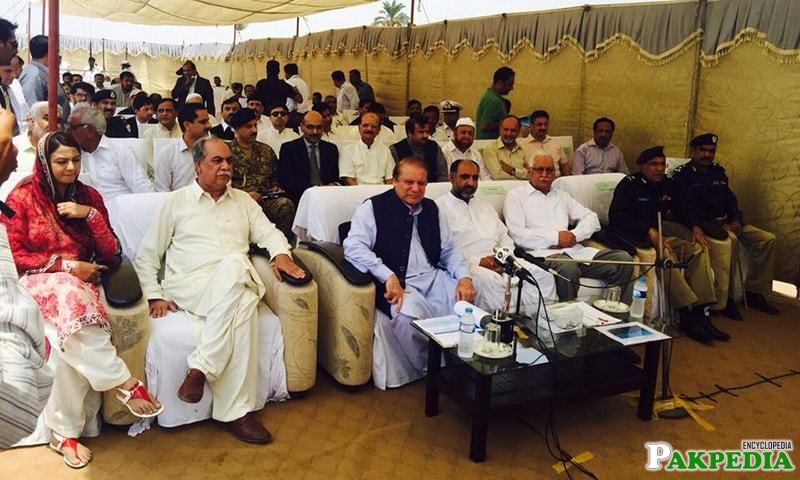 Rahim Yar Khan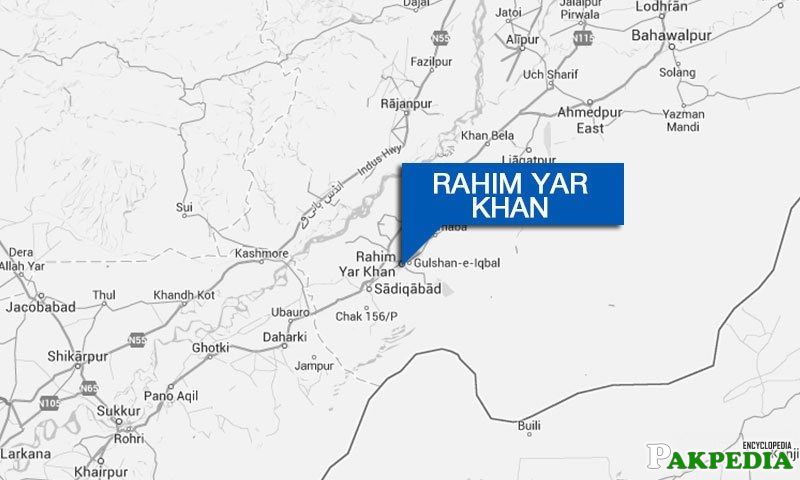 Rahim Yar Khan
Rahim Yar Khan
Detail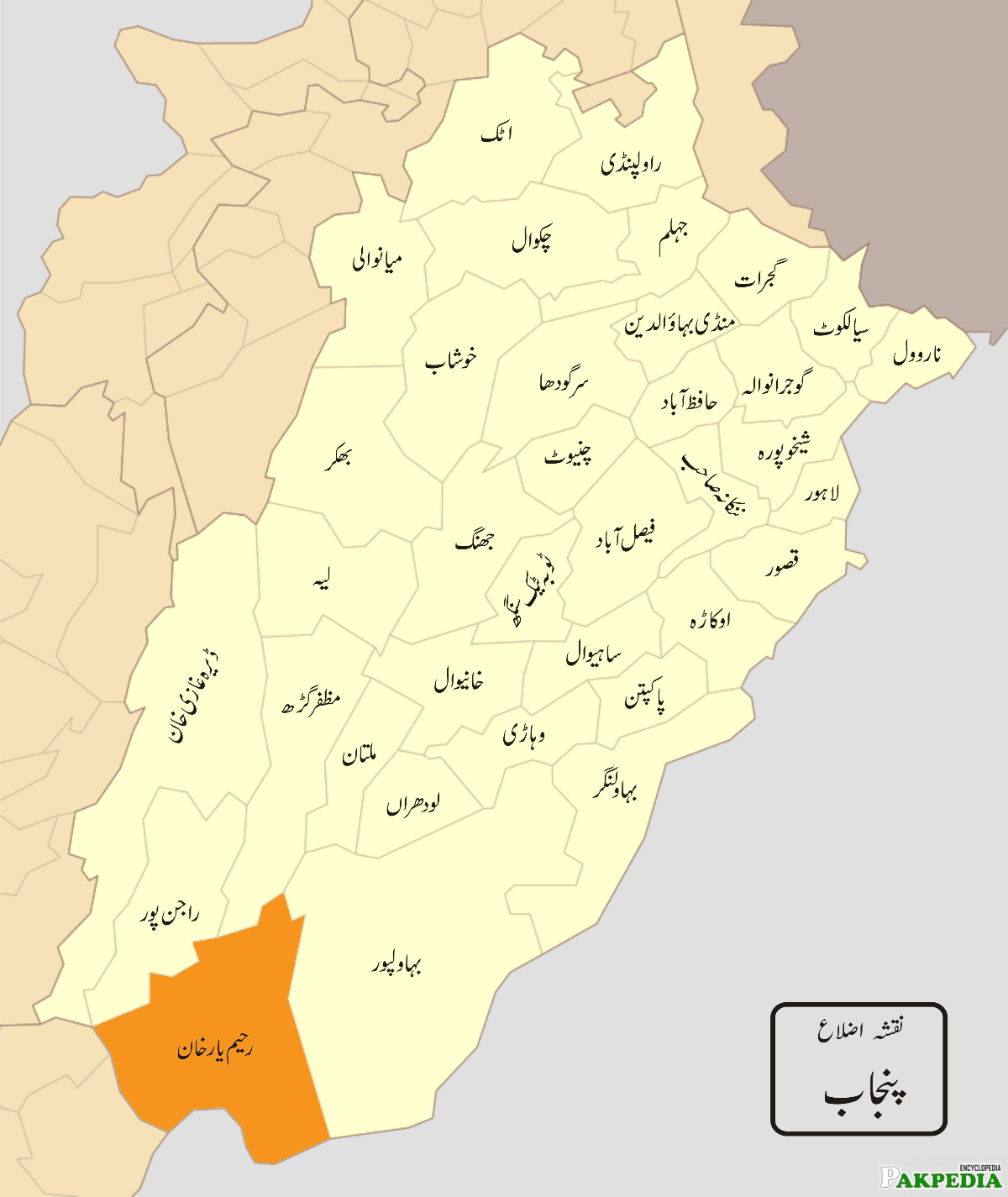 Location and Travel
Rahim Yar Khan is one of the modern district headquarter cities in Punjab. Although the city seems a far off place to those living in Lahore, Karachi or Islamabad, but the city has very good civic facilities. Today Rahim Yar Khan City is the District Headquarter. It is linked by air the other parts of the country. It is situated on the main Railway line and national highway linking Karachi, Lahore & Peshawar. Now Daewoo also links Rahim Yar Khan to other cities.
[2]
Location and Travel
History
A little history about this city. Mohammad Bin Qasim passed through this area onward to Multan in 93-94 A.H. About 800 years back. Shahab-u-Din Ghouri conquered Uch Sharif, which at that time was capital of Sindh & Multan, and he established Islamic Government in this area after Mohammad Bin Qasim. In the reign of Shams-ud-Din Altamash, for a period of twenty years this area was under rebel. Amir "Nasir-u-Din Qabacha" who established 1000 seats "Madarassa Ferozia" in Uch. Students from all Muslim countries enrolled in this "Madarassa".
[3]
 History -  History 
Before independence
Before independence Mr. Nehru and Mr. Patel tried to persuade Nawab Muhammad Sadiq Abbasi to join India but he refused all temptations. A very important significance this city has is because of the sheiks. Al-Nayhan Family, the ruling family of Abu Dhabi, has undertaken a large number of welfare projects in the city.the sheikhs were known to come specially to rahim yar khan for hunting. Sheikh Zayed Bin Sultan Al Nahiyan Desert Hawk, former President of the UAE constructed and maintained a private residence just outside the city called 'Desert Palace' or Abu Dhabi Palace. It is linked with the Sheikh Zayed International Airport Rahim Yar Khan through a designated road which leads directly into the palace.
[4]
 Before independence 
Education
Sheikh Zayed Medical College is named after the Late Ruler of United Arab Emirates His Highness Sheikh Zayed Bin Sultan Al Nahyan. Establishment of Sheikh Zayed Medical College in the city has put the city on International map. The College is accredited by Pakistan Medical and Dental Council. It was earlier based on Self finance Education Scheme. The Board of Directors includes personnel linked to the Royal Family of Abu Dhabi, United Arab Emirates.
[5]
 Education -  Education 
Also there is sub-campus of Islamia University
Bahawalpur
, Khawaja Farid Post-Graduate Government College, Government Women Degree College, Nicaas College, Punjab College, Superior College, Sheikh Zayed Public College and School, Army Public School, Beacon House School System, The Educators School, Ranger Public School, City School and many other good schools.
Higher Education
A campus of Islamia University, Bahawalpur is located in the city, comprising two buildings:
Liaqat Campus near to Khwaja Fareed college, teaching Computer Science and Management Science.
Jinah Campus, 2 km away near Hafiz colony, teaching Education and Commerce. Additionally, there is the Sheikh Zayed Medical College & Hospital.
Economy
Rahim Yar Khan is also an industrial centre many important industries are based in Rahim Yar Khan. This city is known as one of the largest producers of cotton Agriculture is the Occupation of 65% People Living in Rahim Yar Khan.  Well known Lever Brothers Ltd. (Now Called Unilever) has one of its main factories in Rahim Yar Khan, producing Dalda, Planta, Sunflower Oil, famous brands like Lux-Rexona and Detergents like Surf-Excel etc. Similarly, a very large Ahmad Oriental Textile, Ahmad Fine Textile, Ahmad Oil & Ghee mills, Poultry feed mills like Hamalia feeds, Coca-Cola Factory, Haleeb Foods Limited, Vita Bread Limited, Marble Factories, Ginning Factories,  Flour mills provide an industrial base. Etihad Sugar Mills is the new addition in the industrial base of Tehsil Rahim Yar Khan.
coco cola
also has one of its factories in rahumyarkhan.many fertilizer plants are located near the city.
[6]
 Economy -  Economy 
People and Culture
People from different ethnicities and and race live in rahimyarkhan but it has a Punjabi majority .many languages are spoken like Riyasti ,Urdu ,Sindhi ,Baluchi .this city has a very rich culture. The major tribes in the city area are the Arain Jat, Rajput and Gujjar. Wheat is the staple food grains of this area. Kabaddi is liked and played almost in all urban and rural areas of the districts. Besides, hockey, badminton, football, tennis, cricket, lawn tennis are played.
[7]
 People and Culture 
Famous Bazaars
Rahim Yar Khan city has famous bazaars like Sadiq Bazar, Bano Bazar and Shahi Bazar having shops comparable to Anar-Kali, Bano Bazar and
Liberty
in Lahore. It is a good place for shooping for women.this city is known to have rich residents. Brands like baraze.nihsat, junaid jamshed .stylo all are located in the city. It also has many places for food like café lamis.this also attracts people from other tehsils like sadiqabad.a few prominent fertilizer company are also situated near the city .people from these townships came for shopping specially to rahimyarkhan.
[8]
 Famous Bazaars 
The people over there are conservative. It has not yet become modern like many other cities of Pakistan,
Climate
The climate of the Rahim Yar Khan is extremely hot and dry in the summer season while in winter the city is quite pleasant and is usually cold and dry. The summer season is reasonably longer than the winter season. The summer begins in the month of April and carries on until the month of October while the winter season starts from November to March. On the other hand, the month of March and November are agreeable here. Dust storms are quite common throughout the summer. The average rain fall in this city is about 100 millimeters.
[9]
 Climate -  Climate 
Flora and Fauna
The flora of the district characterizes two major ecological divisions, northern and southern. The botanical life found in the northern half is like that of the rest of the irrigated tracts at central Punjab. The arid land, referred to as the Cholistan desert, has a lot of wild life including Wild cats, the Chinkara deer, a variety of pigs, jackals, foxes, badgers, porcupines, squirrels, gerbils, wild rats, poisonous snakes, hog deer, blue bulls and many more.
[10]
 Flora and Fauna 
Tourism
The city has many tourist and recreational spots which include children parks, family parks, desert stretches, historical sights, zoos etc. City Park is a small park in the heart of the city. It has attractions like swimming pools, skating rink, a giant ferris wheel, and many thrilling and exciting rides . H. H. Sh. Khalifa family park is situated in the outskirts of the city about 11 km from city center. The park is blessed with children's play area, green grounds and exotic plants. The park was built in the honour of Sh. Khalifa bin Zayed Al Nahyan, prince of UAE. There are many newly built family parks in every major residential area.The city has a zoo at Tibi Larran, spread over an area of 25 acres (10 ha) home to about 350 animals and 65 species of animals and birds. The zoo is undergoing a major multi-million expansion and upgradation to rub shoulders with modern zoos around the world. The zoo is home to many species of peacocks, Asiatic lion, deer, buck There lies a well known historical site named Pattan Minara, a minaret which dates back to ancients Indus Valley Civilization. There was a city settled on the bank of ancient Hakra River, a tributary of the Sarasvati River in India. The remnants of the Indus valley civilization can still be seen today.In summer after the rain, people flock from the city to the nearby desert. In rainy days the desert is teeming with people. Sand boarding is very popular among young boys and girls. Dune driving is also very charming. All the year, the desert is full of activities like hunting, dune climbing, night stay, camping, racing, biking, jeeping etc., The city regularly receives visitors from Arab Countries, especially UAE, mostly from the royal family, who come here every year to enjoy the hunting of Ducks and birds. There are many palaces of royal family built in the city as well as two private airports along with private roads from airports to their palaces.
Sheikh Zayed Medical College
There is a medical college named Sheikh Zayed Medical College. Establishment of Sheikh Zayed Medical College in the city has put the city on International map and the recent recognition of this college by Pakistan Medical & Dental Council has usher in an entirely new horizon in medical education and patient care. Presence of Professional staff in the city will improve quality of diagnosis and patient care in this area. In future this medical college can become a centre of post graduate medical education and a medical university with special links with Middle East and the world.
[11]
 Sheikh Zayed Medical College 
Sheikh Zayed Airport
Sheikh Zayed Airport, also known as Rahim Yar Khan Airport, is located nearby. It is named in honour of Sheikh Zayed bin Sultan Al Nahyan, as it was originally built for his exclusive use, so that he may visit his "Desert Palace" just outside the city; he later donated it to the Government of Pakistan. Pakistan International Airlines (PIA) operates daily flights to Karachi and selected week days flights to Lahore, Faisalabad and Islamabad.
PIA
recently started weekly direct flights from Abu Dhabhi (capital of United Arab Emirates) to Rahim Yar Khan and back. A convenience to UAE-Pakistani dwellers. it is a place where you can enjoy all of the facilities.
[12]
 Sheikh Zayed Airport