About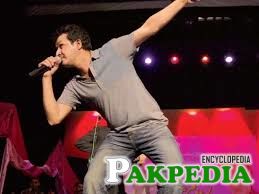 Early life
Shah was born in Karachi where he was cultured and educated yet his ancestry origin is from
Swat
which has been the reason for the dearth of apparent Pashto vision in his life. Shah is multi-lingual and is fluent in Pashto, Urdu and Punjabi.Swat is his ancestral home, he speaks his ethnic language Pashto fluently.
[3]
Shah was born in Karachi where he was cultured
Early Career
Rahim Shah started his career in 1990 as a solo singer with a lot of hits to his credit from the day he started his career including "Ghum" that broke the records of popularity. "Ghum" is not Rahim Shah's personal composition. It is an Afghani folk song or tappa, sung by an anonymous singer. Later famous Pushto singer, Haroon Bacha, also sung it, but the credit goes to Rahim Shah who translated the "tappa" into urdu and gave it his own arrangement. 
[4]
Rahim Shah started his career in 1990 as a solo singer
Singing Talent
In a short span of time Rahim has proven his singing talent beyond all questions. He sang "Ghum" under the supervision of "Salman Alvi". He recorded his album and tried to work hard on making it different from what others are churning out. The song turned out to be a huge hit and whosever listened to that song appreciated the touch. Rahim Shah was bitter over the recent plagiatism of his song by Indian singer Altaf Raja. He copied Rahim's song "Ghum" and gained popularity on satellite channels. 
[5]
In a short span of time Rahim has proven his singing
Pashto Albums
His Pashto album Peera became an instant hit after its release. Another album called Saba Ru had success with the tracks Tap Tap and Payal. In the same year, he released another Pashto album titled Medda Medda. After taking a short break, he returned to work bringing another hit with the song Channa in 2003. He also worked on three videos that were Priya and Rang Lai Mehndi, directed by Sarwar whereas Suhail Javed directed his third video Tere Ishq Ne. Rahim Shah also sang Jhoola, which he wrote and dedicated to his mother.
12 track Album
His new '12 track' album has taken a year to produce and will be released by the help of Fire Records. Shah has placed a real touch to his arrangements and used authentic music in the songs. The album contains music from three genres: film based music, folk music and pop music. Currently he has also been working on a video with professional focus on high budget videos with visual and marketing aids, which are an essential requirement within today's music industry. Shah is known to have said, "There is no doubt that we (Pakistani's) have got very good music but they (Indians) have a very good market. 
[6]
His new '12 track' album has taken a year to produce
Albums
| #  |  Albums | Years  |
| --- | --- | --- |
|  1 |  Ghum  |  (1999) (a very popular album in 1999) |
|  2 |  Sadma Bewafa Ka  |  (2000) |
|  3 |  Saba Ru  |  (2001) |
|  4 | Gul Jana  |  (2011) |
|  5 |  Bad Times (TV Series) (2014) |  (2014) |
|  6 |  Jhoola (playground swing) (song dedicated to Rahim Shah's mother, also written by him) |   |
|  7 |  Channa  |  (2003) |
|  8 |  Pyar Nahin Milta  |  (2004) |
|  9 |  Yarana  |  (2005) |
|  10 |  Chercha  |  (2007) |
|   |  Maa'ma Dey  |  (September 2009) |
|   |  Hello Hum Lallann Bol Rahe Hain  |  (2010) |