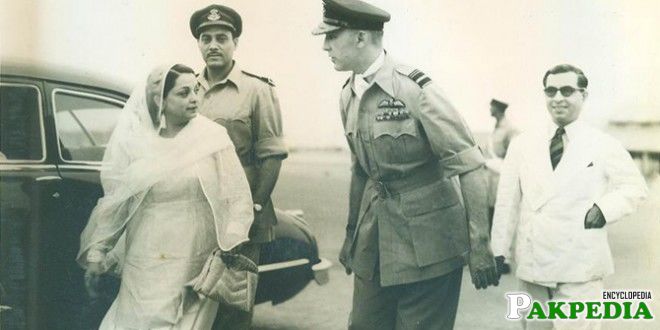 Ra'ana Liaquat Ali Khan Talking to Officer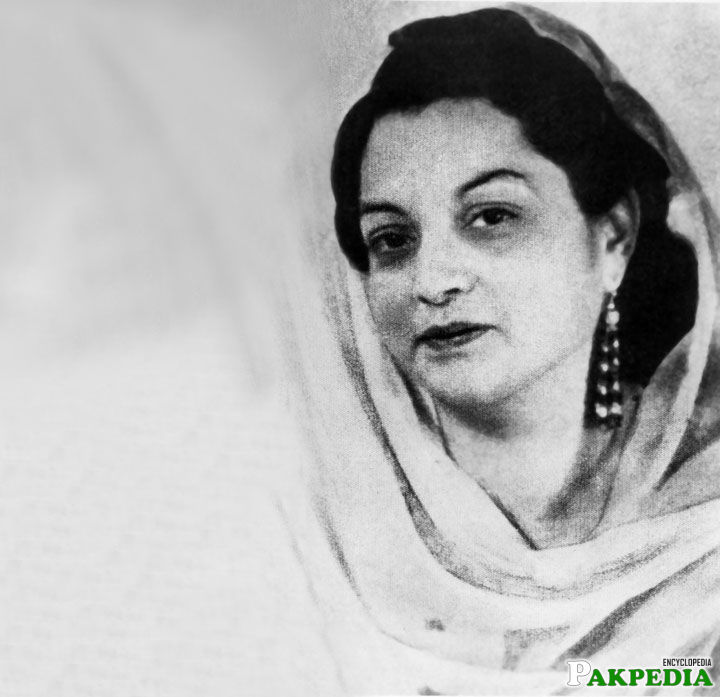 Ra'ana Liaquat Ali Khan Great Lady
Ra'ana Liaquat Ali Khan in Center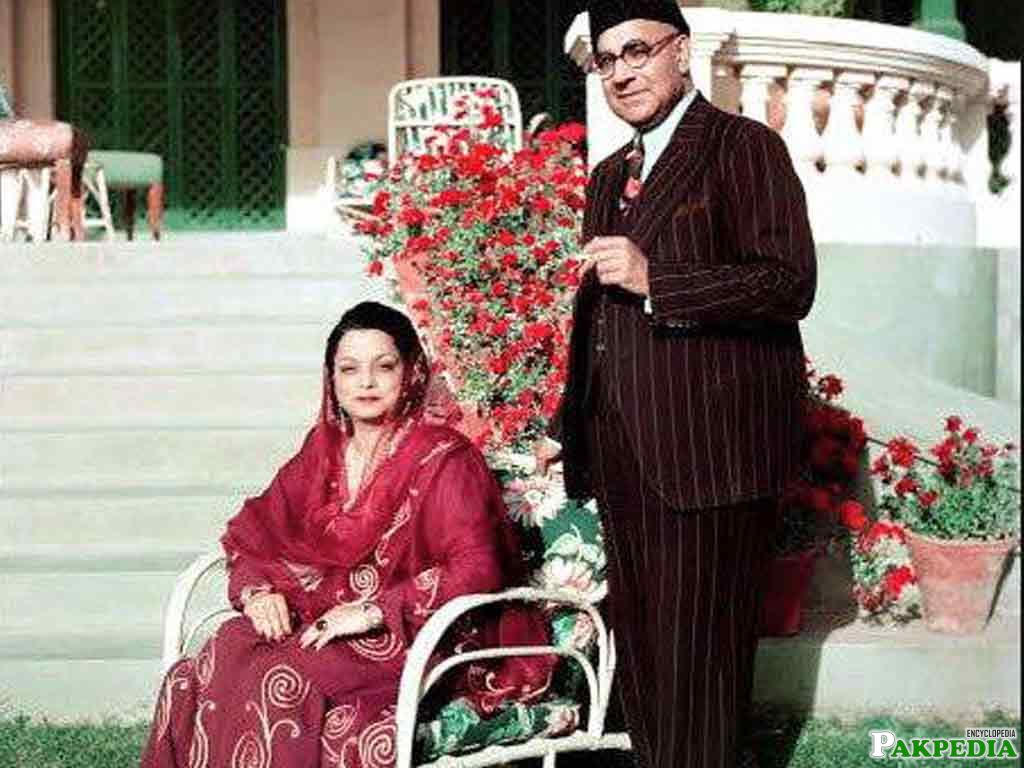 Ra'ana Liaquat Ali Khan Nice Photo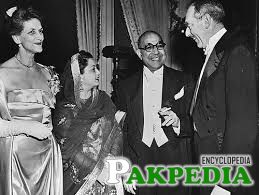 Ra'ana Liaquat Ali Khan with Her Husband
About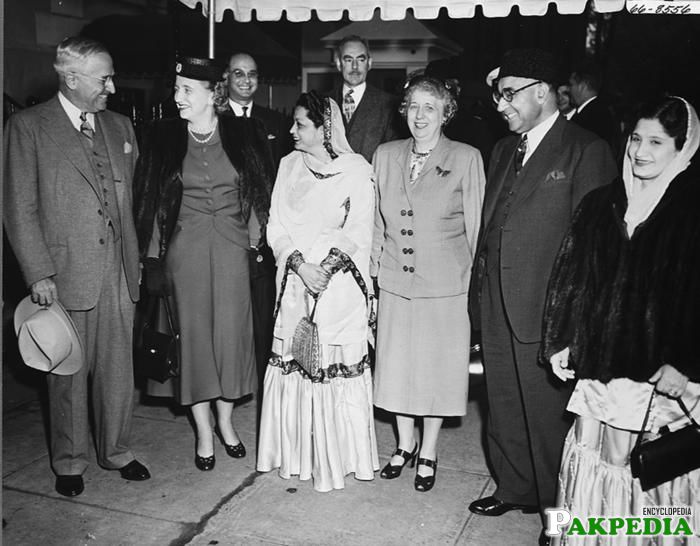 Early Life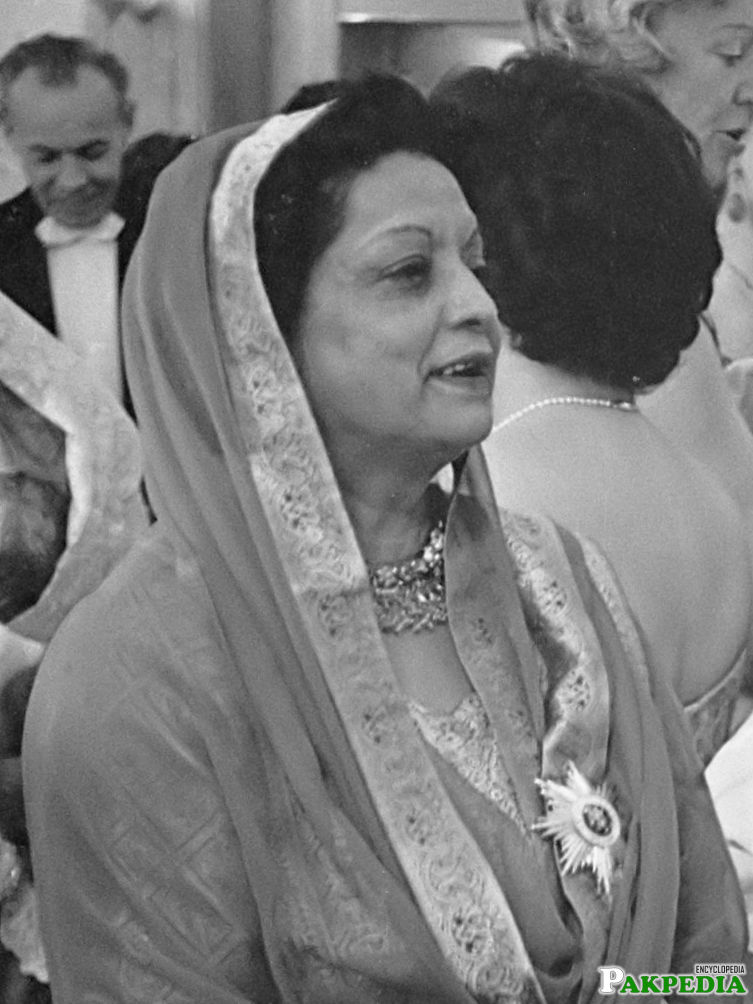 Begum Raana Liaquat Ali Khan was born on 13th of February 1905 in Almora now known as Uttarakhand in India. Her birth name was Sheile Irene Pant and her religion was Christian. She got her early education at Wellesley Girls High School and then moved to IssabelaThoburn College. Later she got her B.A economics degree from University of Lucknow in 1927; she did her Masters in science with economics and Sociology.After her education, she started her career as Teacher from Gokhala Memorial School and later she was appointed as Professor of Economics in Indraprastha College University of Delhi in 1931.During her professional life she got chance to meet Nawbzada
Liaquat Ali Khan
(First Prime Minister of Pakistan) who came to her university to deliver lecture on law & justice and in December 1932 Pant Married to Liaquat Ali Khan and converted to Islam. At this moment, Sheile Irene Pant became Raana Liaquat Ali Khan. Soon afterwards, she accompanied her husband to England and the couple persuaded Mr. Muhammad Ali Jinnah that Muslim nation needs him and he must return to India to lead Muslims. 
[2]
afterwards, she accompanied - her husband
History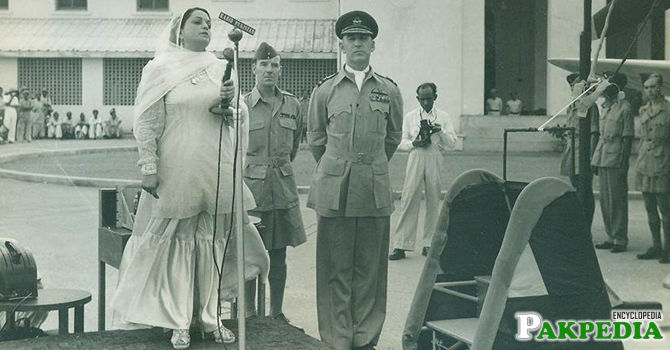 She played a very important role in the history of Muslim League when Nawabzada Liqaut Ali Khan was the Secretary General of All India Muslim League. At the behest of Quaid e Azam Muhammad Ali Jinnah, when fears of Japanese Invasion were rife during the First World War, She formed a small volunteer corps for nursing and first aid for the fighters and civilians that was her first experience of organizing Muslim Women. She was among those pioneer ladies who brought women together involving and mobilizing them in Pakistan movement for it was of certain significance for the success of the movement that women should march side by side with men. Her participation in Pakistan movement and even after that is an evidence of importance of women's role in the rise of nations and their economical, social or political growth and development or in success of any aspect of life. In 1947 when Pakistan came into being, she came to Lahore as the refugees from across the border were coming to Lahore. She became the first lady as Liaquat Ali Khan, her husband, became the first prime minister of the Islamic Republic of Pakistan. She mobilized Muslim women to emerge from home and help her in refugee camps like collecting, distributing, clothing, nursing, caring etc.
[3]
She was among those  -----   pioneer ladies
Achievments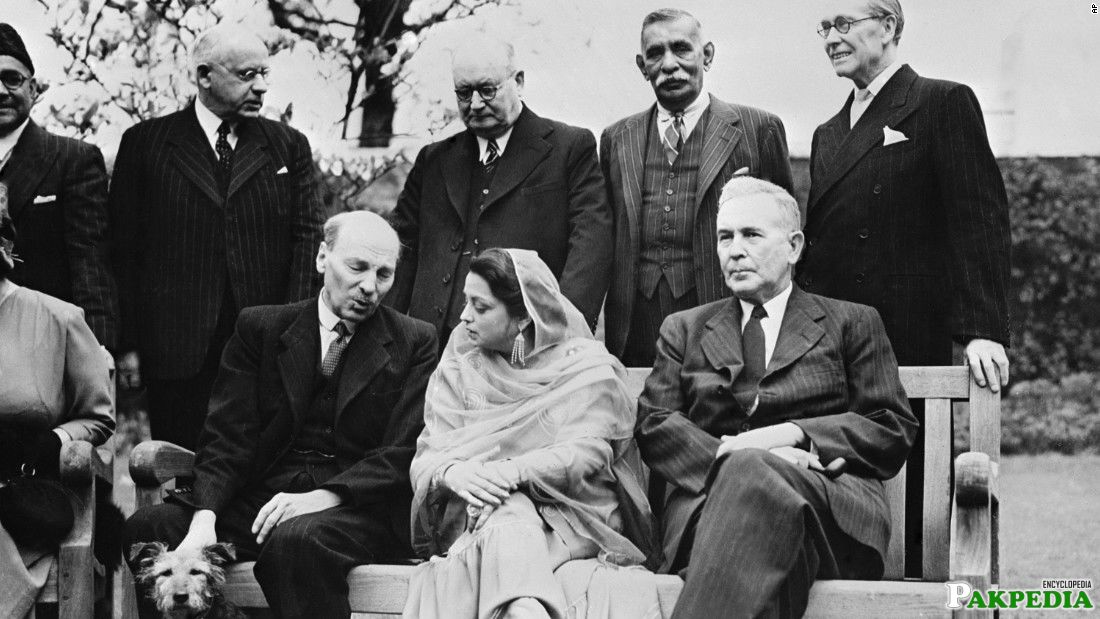 Begum Raana Liaquat Ali formed the Women National Guards and she was awarded with a rank of Brigadier. With the help of her best friend Kay Miles, she established a home for abducted women, an unemployment bureau, a lost and found bureau, widow's home and other volunteer services. She opened a cottage industries' shop to encourage women and migrant craftsmen to generate an income. She also flourished the Gul-e-Raana Nusrat Industrial home for women. Meanwhile from emergency relief, she extended her social activities to every aspect. She established All Pakistan Women's Association (APWA) and affiliated with United Nations. She also setup many Institutions in Karachi like Home Economics College for Girls and the professional and business women club and Hostel.She worked and put her great efforts to empower women, as she knew that empowering women is indispensable for bringing change and development in society.
[4]
Begum Raana  Women  ------   National Guards
First Lady of Pakistan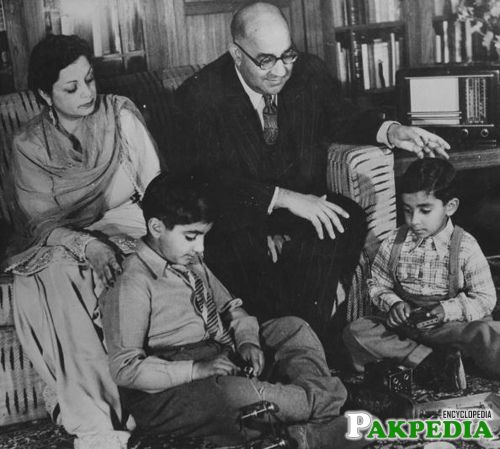 After the creation of Pakistan, she became the First Lady of the country. As First Lady, she initiate reforms for woman and child development, social progress of woman and played a major role for woman's part in Pakistan's politics. After the assassination of her husband Liaquat Ali Khan in 1951, Begum Raana continued her services for the social and economic benefit of women of Pakistan till her death in 1990. One of the daunting challenges for her was to organize health services for woman and children migrating from India to Pakistan. 
[5]
she became the First Lady - of the country
After Death of Liaqat Ali Khan Husband
After her husband death, Raana went onto start her career as stateswoman that lasted more than 2 decades. In 1952, Raana was the first Muslim woman delegate to the United Nations in 1952. In 1954, Government of Pakistan had appointed her as Pakistan Ambassador to the Netherlands, and also was the first woman ambassador of Pakistan. She represented Pakistan in the Netherlands until 1961 and was also the Doyen of the Diplomatic Corps. In June 1966, she was appointed as Pakistan Ambassador to Italy and stayed there until 1965. Later, she was directed to Tunisia as Pakistan Ambasaddor to Tunisia and held this position until March 1966. Following her return to Pakistan, Raana joined Rana Liaquat Ali Khan Government College of Home Economics as Professor of Economics and stayed there until 1973. The Government College University awarded her honorary doctorate in economics and conferred her with a Doctor of philosophy in Economics in 1967. In 1972, as Pakistan was dismembered and going through an intense crises, Raana joined hands with then-President
Zulfikar Ali Bhutto
and political movement and joined the socialist government of Zulfikar Ali Bhutto. Raana was part of Bhutto Ministry of Finance and Economics and played a major and influential role in decisions being made concerning the economics . Bhutto encouraged her to participate in an upcoming elections and won elections of 1973. Bhutto did not waste time to appoint Raana as Governor of Sindh Province. Raana was the first woman governor of the province of Sind and the first Chancellor of Sindh University and Karachi University. She continued her term until 1976 when new elections were made. Raana again contested in 1977 parliamentary elections but did not take the  office due to Martial law imposed by General Zia-ul-Haq, Chief of Army Staff of Pakistan Army.
[6]
She was one of the -----   against  martial law
 She was one of the personalities that argued against the martial law and against the execution of Bhutto. On a day when Bhutto was executed, Raana was reported to be disheartened and emotionally distressed and cried over Bhutto's death for more than three days constantly. Raana launched anti-Zia campaign and fought against the military government of General Zia. She single-handedly took on Pakistan's most powerful man, General Zia-ul-Haq, at that time. It was during the 1980s, when she, despite her illness and old age, publicly attacked the General for passing Islamic laws that were contradictory to Islamic teachings and clearly against women. The General, out of respect for her position in society and achievements, decided to leave her alone.
[7]
She represented Pakistan in - Netherlands until
Death of Begum Liaquat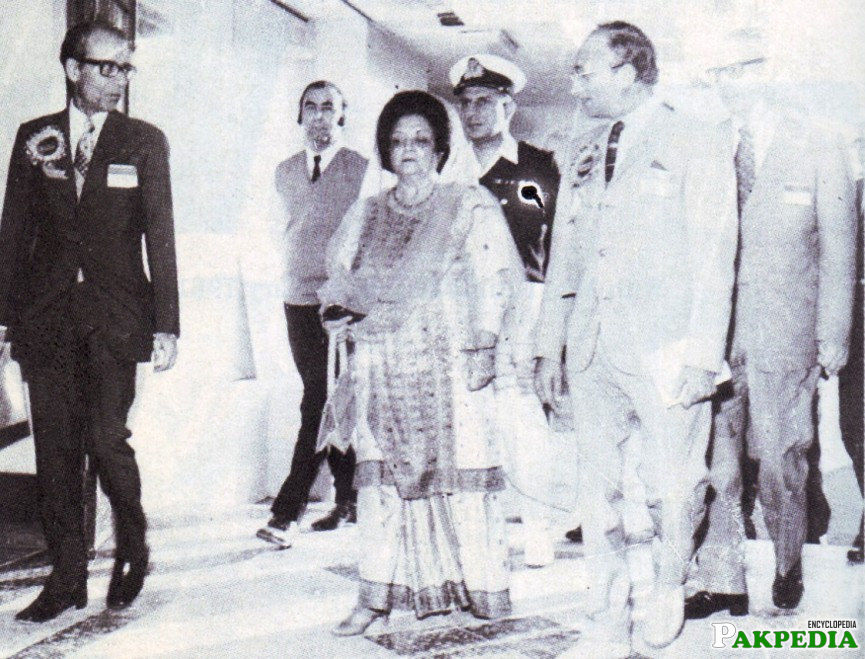 Begum  Liaquat died on June 13, 1990 and was buried next to her husband in the Quaid-e-Azam  Mausoleum. With her has ended a historic period for the women and youth of Pakistan whose, future generations, would seek inspiration from Begum  Liaquat's life and contributions to the emancipation of women. 
[8]
buried  in the Quaid-e-Azam  ---   Mausoleum
Honors and legacy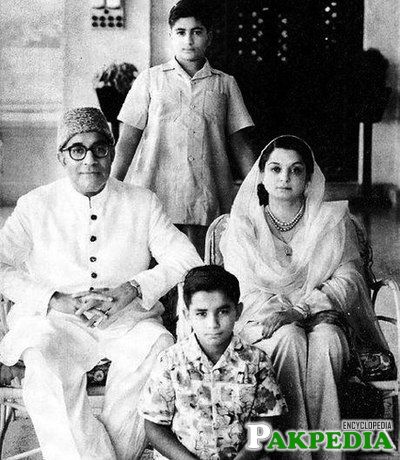 Rana is considered one of the greatest female leaders Pakistan has produced. In Pakistan, she is given titled as "Mother of Pakistan" received in 1950. Rana continues to be seen as a symbol of selfless service to the cause of humanity and uplift of women. In recognition of her life-long struggle for women's rights, she was awarded the United Nation's Human Rights Award in 1978. Her other many awards and medals include the "Jane Adam's Medal" in 1950, Woman of Achievement  Medal 1950, Mother of Pakistan in 1950, Nishan-i-Imtiaz in 1959,  Grand Cross of Orange Nassau in 1961 (the Netherlands), International Gimbel Award 1962, Woman of the World in 1965 chosen by the Turkish Women's Association, Ankara and Vavaliera di Gran Croce in 1966 (Italy) She has given her hard and painstaking work for the cause of Pakistan till to her last breath and become inspirational personality for the woman's as well as for males. She never give up in her life, gave her all support to husband shoulder to shoulder, her life which was full of valour, gallant  and dare is a big example  for women of Pakistan. She will always remain in our hearts.
[9]
Rana  considered the greatest - female leaders