With Imran khan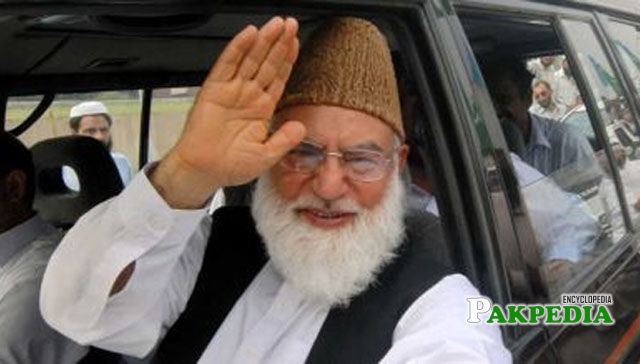 Former Ameer waving hands to his followers
While addressing to public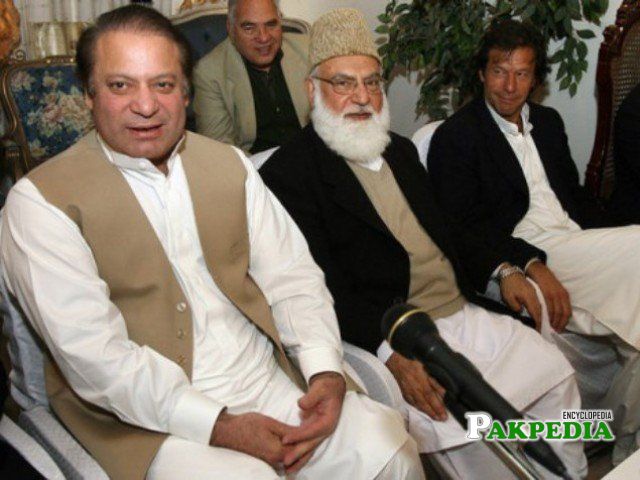 With Nawaz and Imran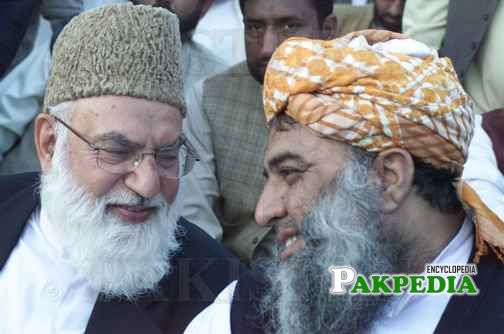 With Maulana Fazal ur rehman
With his daughter on her convocation day
Biography
He was born at
Ziarat
Kaka Sahib in Nowshera district of North West Frontier (NWFP) on 12 January 1938. His father Qazi Muhammad Abdul Rab was a religious luminary and a farmer by profession. His father Qazi Muhammad Abdul Rab was a religious luminary and a farmer by profession. A teacher by profession, his excelled in religious knowledge and political influence to the extent that he was appointed as the president of Jamiat-e-Ulema-e-Hind (an influential religious party before independence of Pakistan) for NWFP. Qazi Hussain Ahmed was the youngest among his 10 children. Qazi Hussain Ahmed has two daughters and two sons. A son and a daughter are active members of Jamaat. 
[1]
Biography Biography
Education
Qazi Hussain Ahmed received his earlier education from his learned father at home, then having passed his graduation from Islamia College Peshawar. He earned his M.Sc in Geography from University of Peshawar, whereafter, he taught as Lecturer in Jahanzeb College Saidu Sharif for three years.  
[2]
Education Education
Family
Samia Raheel Qazi
She is a daughter of Qazi Hussain Ahmad,  who is an active member of the Jamaat's women wing, elected as member of the
National Assembly
in 2002. [:img:With his daughter on her convocation day.
Khowla Ahmad Qazi
Another daughter of Qazi Hussain Ahmed, Khowla Ahmed Qazi, is a well educated woman who earned LLB degree in Shariah from the International Islamic University, Islamabad and an MA in English from Wise College, Lahore.
Asif Luqman Qazi
His son Asif Luqman Qazi holds a Master's degree from Boston University, USA. He came back to Pakistan in 1994 after completing his studies. He is now Amir of Jamaat-e-Islami Nowshera district and deputy director foreign relations of Jamaat-e-Islami.
Political Career
Islami Jamiat-e-Talba
His affiliation with the Islamic Movement started in his school days when he joined Islami Jamiat-e-Talaba, Pakistan.
Jamaat -e- Islami 1970
He became member of Jamaat-e-Islami in 1970 and was elected to the office of President of its Peshawar branch. He served Jamaat-e-Islami as Secretary and then Ameer of NWFP province.
Secretary General JIP 1978
He was raised to the office of Secretary General, Jamaat-e-Islami Pakistan in 1978.
Ameer of Jamaat-e-Islami Pakistan 1987 2008
He elected as Ameer (Chief) of Jamaat-e-Islami Pakistan in 1987, continues to serve in that capacity, getting re-elected four more times (1992, 1994, 1999, 2003). In 2008, he excused to be elected once more and the members of his Party (Jamaat-e-Islami Pakistan) elected Syed Munawwar Hassan as the new President of the Party.
Member of senate of Pakistan 1986 1992
Qazi Hussain Ahmad was first elected as member of the Senate of
Pakistan
in 1986 for a term of six years.
Member of senate of Pakistan 1992 1996
He was re-elected as such in March 1992, but he resigned as a Senator in 1996 as a protest against the corrupt political system.
JIP Membership Campaign
In 1997 Qazi launched a nationwide campaign to expand the party membership. His open membership campaign brought 4.5 million new members to the Jamaat.  
[3]
political career
Internationally Represent JPI
Qazi Hussain Ahmad has widely traveled abroad to represent Jamaat at the international forums, leading goodwill missions as well as in his personal capacity to mediate in issues concerning Muslim Ummah. His services during Iran-Iraq and the Persian Gulf War, the Bulkan (Bosnia) crisis and the post-Soviet power struggle in Afghanistan, have been widely commended and appreciated. Even before the Soviet Union invaded Afghanistan, Qazi Hussain Ahmed was in close contact with Afghan mujahideen and had personal terms with top Afghan leaders. He played pivotal role in introducing Afghan jehad to foreign world and gaining countrywide favour for the movement.
Death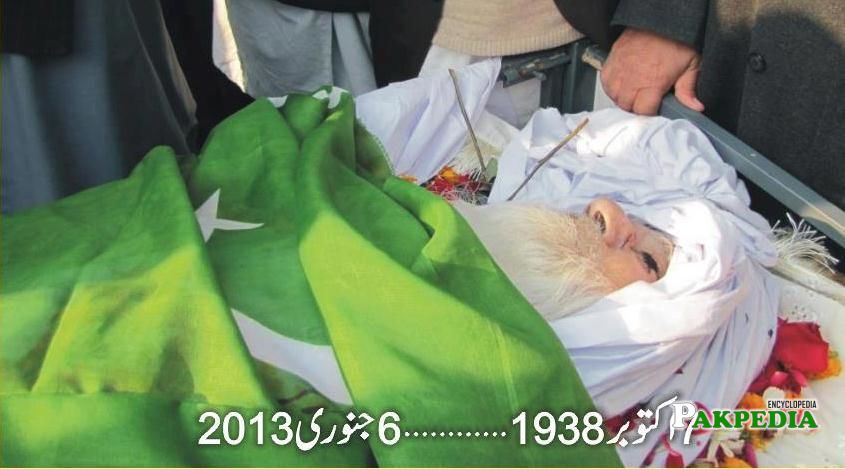 The former chief of Jamaat-e-Islami (JI) and former lawmaker Qazi Hussain Ahmed died of cardiac arrest late on 6th January 2013 in the federal capital. He was 74. Qazi, who was suffering from a heart disease and asthma, was shifted to Islamabad from Peshawar for specialised treatment a couple of days back told by his son Asif Luqman. "On  night his condition deteriorated and he was driven to a nearby hospital but medics could not resuscitate him," he added. Qazi left behind wife, two sons and as many daughters to mourn his death. He was buried at his native village of Ziarat Kaka Saheb, in Nowshera district on next day. 
[4]
Death Death
His Books
He had full command over Urdu,English , Arabic and Persian a part from his native tongue Pushto. He was great admirer of the poet of Islam.
Allama Muhammad Iqbal
and quotes if from his both Urdu and Persian poetry, at will, in his speeches and conversations. His books include :
Hum Pakistan Kaisai Banaian Gay