Pakistani Politician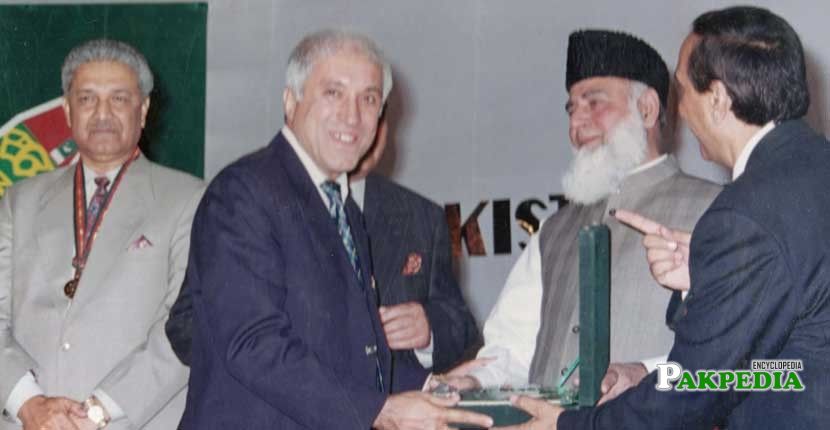 During Meeting Photo
With Other Leaders
With other Leaders meeting
MNA
Biography
Qaiser Ahmed Sheikh hails from 
Chiniot
, Pakistan and his father name was Mian Muhamamd Umar.Qaiser associated with Pakistan Muslim League (N).Qaiser Ahmed Sheikh is one of the senior and highly regarded members of the party
Pakistan Muslim League (N)
and a very seasoned politician with regards to election. His presence in the party in the party is of immense importance to young emerging politicians.Qaiser Ahmed Sheikh is a well learned and educated person.
[1]
Biography
Business Background
Among very few politicians of business background contesting successfully in a rural dominated constituency against traditional feudal families having political influence since decades.Donated all remunerations, benefits, travel allowances as member of National Assembly to the development of Pakistan through
government
with the advise to other well-off Assembly colleagues to follow this example.In each of four elections got 40,000 or more votes. Constituency NA-86 consists of Chiniot city urban area 38 percent of total voters and surrounding rural area 62 percent voters. In each of four elections got around 60 percent of Chiniot city urban area casted votes and all parties
PPP
, PML-N and PML-Q candidates collectively could get only around 40 percent of Chiniot city urban area casted votes.
Chiniot
Chiniot is one of the twenty-five big populated cities of
Pakistan
, with its population of three hundred thousand inhabitants. It is an ancient locality having history as old as 300 years BC.The Shaikh community of Chiniot established trade and industry throughout sub continent since 19th Century and contributed vigorously in developing economic activity in Pakistan. Significant percentage of textiles, chemicals, tanneries and other industries and a sizeable percentage of the country foreign trade is managed by this community. They generate hudge revenues to the national exchequer & employ hundreds of thousands people. Chinioti families are also among major industrial and trading groups of Pakistan.It is by the grace of almighty Allah who bestowed this opportunity to Mr. Shaikh to represent the historical region of CHINIOT famous for business community and having continuous living civilization since 300 BC.
[2]
Chiniot
Political Career
His career in politics still a young one that began in 2013 when he was given the ticket by Pakistan Muslim league (N) to contest elections. Being his first time in elections he was able to win and got himself a seat in the National assembly from NA-86 seat.Before entering the politics scene, he was well recognized and respected amongst the industrial and commerce related organization of Pakistan as he is the former President of
Karachi
Chambers of Commerce and Industry.His experience in this sector really helped his cause in the politics and is of immense importance to the Pakistan Muslim League (N) as a result. Hence, with his recent victory in the elections it of doubt that his political career, which although started late, took a huge boost.
[3]
Political Career
Elections 2013
Qaiser Ahmad Sheikh contested election as a PML-N candidate from NA-86 (Chiniot-I). He defeated Zulfiqar Ali Shah of PPPP and Syed Inayat Ali Shah former PPPP MNA who was this time PTI candidate.77512 votes were polled in favour of Qaiser Ahmad Sheikh, the runner up Mr. Zulfiqar Ali Shah bagged 46258 votes while at the third place former MNA Syed Inayat Ali Shah managed to get 24998 votes.
[4]
Elections 2013
Contact Information
Permanent Address: Mohallah Rajy Wali , Chiniot
Local Address: 510-J, Parliament Lodges, Islamabad.
Contact Number: +92 333 4092693
Email: qaiser.na86@na.gov.pk[5]  Contact Information