PIOC Sign Board
PIOC over view
PIOC inside hospital
PIOC new & event
PIOC
About
Introduction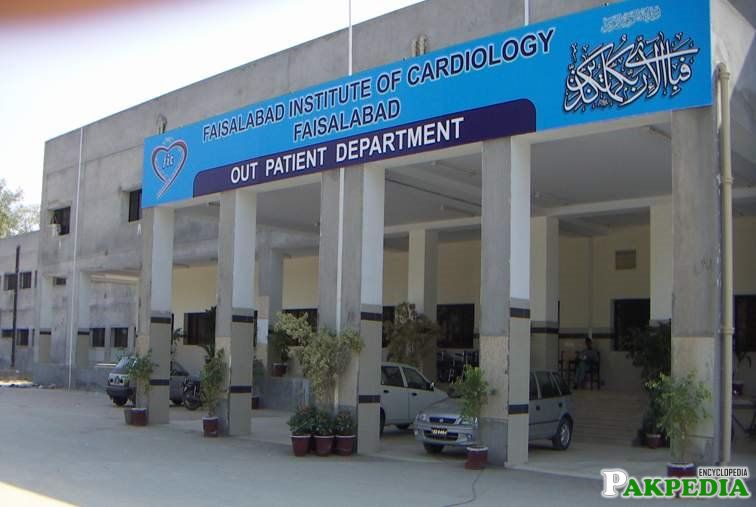 Punjab Institute of Cardiology is also actively involved in research and postgraduate training in cardiology, cardiac surgery and anesthesia. It is the first ISO certified hospital in the government sector.
[2]
Introductions - PIC
A problem that occurred in January 2012 at this institution showed a problem with drug packaging. That month more than 100 heart patients died of overdoses from a particular drug that had inadequate labeling. Hundreds more patients suffered nonfatal adverse reactions from this drug. This problem, while bringing unwanted attention to the Punjab Institute of Cardiology, was not unique to that hospital system.
[3]
Journal of  - CV
[4]
www.pak - study
Departments
ECG Department
This department records an electrocardiogram of all those patients who visit  Punjab  Institute of Cardiology. ECG is a strip of graphic produced by an electrocardiograph, which records the electrical voltage in the heart in the form of a continuous strip graph· It is the prime tool in cardiac electrophysiology, and has a prime function in screening and diagnosis of cardiovascular diseases.This unit is equipped with 3-channel ECG machines both in OPD and Emergency departments. In Emergency Department, ECG is free of cost for all cardiac patients. While in OPD, its fee is subject to patient categorization.
[5]
PIC ECG - Department
ETT Department
Exercise Tolerance Test (ETT) is used to measure the heart's response to exercise (also known as a stress test). The department is functioning in new OPD building with 05 latest machines under the supervision of qualified and experienced doctors. Complete backup support for admission / treatment is available in case of any emergency during ETT.
[6]
ETT Department - About
Nuclear Medicine Department
A Nuclear Medicine Scan or Thallium Scan is a test to estimate the amount of blood reaching the heart muscle daring rest and exercise. It is typically done to determine the cause of unexplained chest pain or to determine the location and amount of injured heart muscle after a heart attack.Our Nuclear Medicine Department is conducting a complete range of nuclear medicine procedures with two latest double headed gamma cameras; Prism XP 2000, E Cam Signature Series Gamma Cameras, both with simultaneous transmission emission capability for attenuation correction. The Hot Lab is also equipped with latest isolator technology from America. The department is run by a thoroughly trained academic and technical staff.A complete range of Nuclear Medicine procedures are carried out in this division. More than 6000 planar and SPECT Nuclear Medicine studies are performed annually. Nuclear Medicine Department is accredited with College of Physicians & Surgeons Pakistan and
Pakistan Institute of Engineering &- Applied Sciences
Nilore,
Islamabad
for post graduate training in Nuclear Medicine, The department is actively involved in clinical training and research and training, A new radiopharmaceutical furifos rain from Mallinckrodt, Holland was successfully tested in the department in collaboration with University of London. A large number of original research works have been published from the department in local and international journals.
[7]
Nuclear Medicine - Department
Angiography Department
Department of Cardiac Catheterization & Interventional Cardiology includes 5 state-of-the-art Catheterization Laboratories and offers the latest in heart disease diagnostic procedures to patients. Performing both inpatient and outpatient studies, we do more than 16,000 procedures per year. These procedures are done by both the traditional femoral (leg) approach and the radial (wrist) approach. Diagnostic catheterization is the primary procedure performed in the laboratories which, depending on the patient's situation, may lead to one or more of a variety of interventional options. Interventional services offered to patients include coronary angioplasty, intracoronary stenting, and valvuloplasty. Prompt surgical backup from our world-class surgical team is available for all procedures, though seldom necessary.The department specializes in non-surgical interventions to treat diseases of the coronary and peripheral arteries. Its physicians offer a premier program providing the latest techniques to open or clear blockages in the coronary and peripheral arteries, such as balloon angioplasty with Stents.
[8]
Angiography - Department
Percutaneous Coronary Intervention(PCI) with balloon and stent implantation
Peripheral Angioplasty and Stenting (Carotid, Renal, Lower Limb)
Percutaneous Transvenous Mitral Commissurotomy (PTMC)
Pulmonary and Aortic Valvuloplasty
Treatment of Coarctation of Aorta with balloon and stent