Port Grand Food and drink and Entertainment Complex is a recreational area built in Karachi [1] Pakistan KarachiSindh [2] Sindh Karachi   Pakistan along the waterfront of the 19th century Native Jetty Bridge [3] Native jetty bridge that connects the Karachi Port Trust[4] Karachi Port Trust to Keamari. The project was a result of joint efforts made by the Karachi Port Trust and a private company Grand Leisure Corporation. The complex was opened for public on 28 May 2011, with then Governor of Sindh, Ishratul Ibad [5] Ishratul Ibad inaugurating the complex.The complex is a hub of shopping, dining, cultural and coastal recreational activities in the city.
Port Grand is located on Napier Mole Bridge a site that is very significant to the history of Karachi and has played a crucial role in making it the city it is today. The project stretches along 1,000 ft of Karachis ancient 19th century Native Jetty Bridge and spreads over an area of 200,000 sq. ft.[6] Trouble karachi finds an enclave of calm
The one kilometer bridge has been transformed into an entertainment and food enclave housing numerous eateries totaling 40,000 sq. ft of climate-controlled area and space for kiosks and 11 restaurants of exotic Pakistani and foreign food and a variety of beverages.[7] Port Grand karachi
| Title | Description |
| --- | --- |
| Details | |
| Location: | Karachi |
| DMS: | 24° 50 43.08 N, 66° 59 31.2 E |
| Decimal: | 24.8453, 66.992 |
| Geo URI: | Geo:24.8453,66.992 |
| Type : | landmark |
| Region : | PK |
| UTM: | 42R 297093 2749313 |
| Twitter on: | https://twitter.com/portgrandpk |
| Port Grand expects to attract: | 4,000 to 5,000 people daily |
| Country: | Pakistan |
| Operated by : | Karachi Port Trust |
| Phone: | 0213-8330020 | 021-38311111 |
| Address: | Jinnah Flyover, M.T. Khan Road, Karachi, Pakistan-7400, Karachi, Pakistan-07400, Karachi, |
| Website: | http://www.portgrand.com |
| Inagurated by Sindh Governor: | Dr. Ishrat ul Ebad Khan |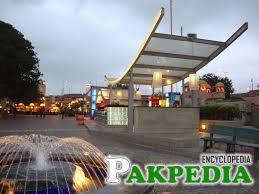 Port Grand

Port Grand is a world class tourist destination and pride of Karachi offering various facilities of food and entertainment. You can facilitate from Port Bazaar, florist, Art Lane, Antiques, Free Wi-Fi, delicious food and lot more. Parking facility is available for approximately eight hundred cars with complimentary valet services. You can even have a perfect evening walk at Pedestrian friendly walkways, and relax yourself at pristine public restrooms.
So what are you waiting for! You can visit Port Grand Food Street Karachi with your family and friend for an ultimate experience of Karachi. You can take your guests from other cities to this place and have a perfect outing. Log on to HamariWeb Travel to avail the contact address, phone number, website link and other relevant information about Port Grand Karachi. [8] Port grand
Description
Enjoy a great meal in the cool summer nights of Karachi against a bedazzling backdrop of Karachi Port at Port Grand. Port Grand is strokes of genius lining up different restaurants and cafes and on the opposite end you have a majestic view of the water and the liveliness of the Karachi Port.
Dealtoday brings you a delectable deal for 2 persons valid at BabaJee's Restaurant. The deal offers a delicious buffet dinner plus the entry fees.
Babujees serves authentic mughlai cuisine. The restaurant focuses on heritage food favorites of Pakistan and also offers a buffet dinner to showcasse these specialities. It is located at Jinnah Flyover, MT Khan Road, and Port Grand Karachi. It offers outdoor seating, providing an unparalleled cozy and intimate dining experience.[9]Port Grand description
Port Grand Project
This project is being developed on an area of 8.5 acres at Native Jetty and within Jinnah Bridge Rotary. It was designed and built and in collaboration with top international architects and designers, who have deployed latest technologies and construction techniques to deliver state of the art facility.
The food enclave runs along the port where you can view the sea while sitting on green benches lined across the fresh green turf. The three spaced-apart metal barriers from the water could, however, be tempting for adventurous children. You can even see the cargo being loaded and unloaded from the ships that arrive from all over the world. The food street ends close to a point where you can see ships harboured at the KPT Boat Wharf. The land for the project was leased by the KPT for 30 years on a Build Operate and Transfer (BOT) agreement. Work on the billion-rupee project started in 2005 and it was expected that it would be completed by 2009.
However, Grand Leisure Corporation claimed that the delay was caused by the need to completely revamp the Native Jetty bridge which was in bad shape. This caused expenses to shoot up. Better late than never, said Firoz.
If we wish to do things the right way, there might be a delay but the end product will be something positive.
The Native Jetty Bridge has been entirely rebuilt to ensure a world-class tourist destination and source of pride for Karachiites that would ultimately attract millions of people from all over the country and beyond.
The area underneath the Native Jetty bridge has been cleaned up and rehabilitated. The few trees that existed at the site have been preserved. The 150-year-old banyan tree, for example, has been untouched. The Napier Mole Bridge has been repaired and the corporation installed an irrigation system for the tree to give it an even longer life.
Parking for over 800 cars with complimentary valet service, pristine public restrooms, plenty of pedestrian friendly walkways are additional attractions.[10] Port grand Project