Pir Syed Naseer-uddin Naseer Shah Gilani was a Pakistani poet, great Islamic scholar and Sufi Muslim of the Chishti Sufi order. He was from Golra Sharif, in the Islamabad Capital Territory of Pakistan.
| Title | Description |
| --- | --- |
| Personal | |
| Name: | Peer Syed Naseer-ud Din Shah Gilani |
| In Urdu: | پیر سید نصیرالدین نصیر شاہ گیلانی |
| Famous As: | Peer of Golra Shareef |
| Order: | Chishti |
| Denomination: | Sufi Order |
| Monastic name: | Chiragh-e Golra, Pir Sahib Golra Shareef, Naseer-e Millat, |
| Nationality: | Pakistani |
| Religion: | Islam |
| Profession: | Poet, Islamic Scholar |
| Website: | https://www.facebook.com/pir.naseruddinnaseer/posts/108321075999363 |
| Born | |
| Date: | 14 November 1949 |
| Zodiac: | Scorpion |
| Place: | Golra Shareef |
| Family | |
| Ethnicity: | Chishti |
| Children: | Pir Shams ud din Shams( son) |
| Parents: | Pir Ghulam Moin ud din( father) |
| Died | |
| Date: | 13 February 2009 |
| Cause of Death: | Cardiac arrest |
| Rest Place: | Golra sharif, Islamabad, Pakistan |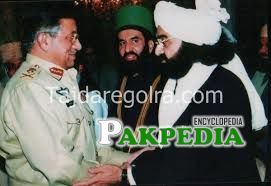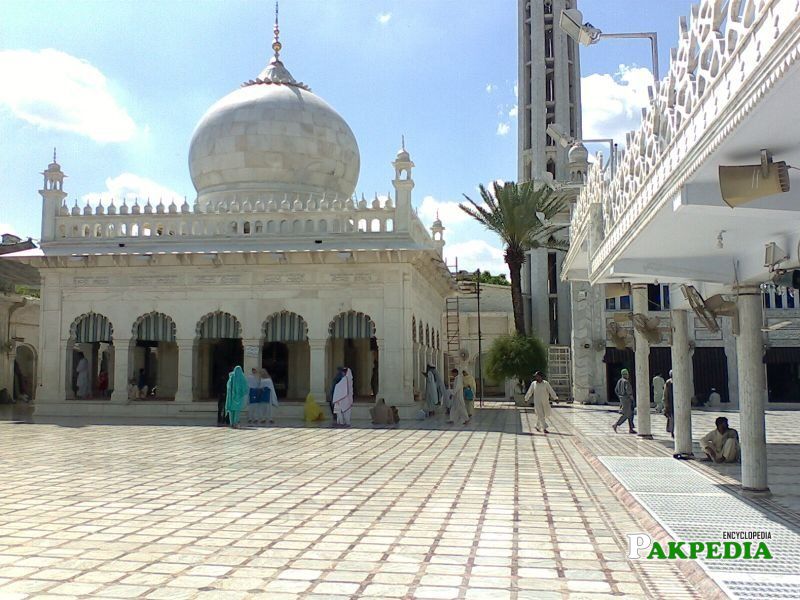 Life history

Pir sahib was the 'Sajjad-a-Nasheen' of spiritual family of Golra Sharif and a poet of national eminence in his own right. He was a scholar, a researcher and author of about fourty books on several subjects. His poetic books had won acclaim. Pir sahib was against traditional mysticism and favoured it as a means of practical moral and spiritual training for development of personality. He also had vast following across Pakistan and abroad and would undertake visits of Europe for preaching purposes.  [1] life
Birth
Pir Syed Naseer-uddin Naseer Shah Gilani (November 14, 1949 – February 13, 2009) was a Pakistani poet, Islamic scholar and Sufi Muslim of the Chishti Sufi order. He was from Golra Sharif, in the Islamabad Capital Territory of Pakistan.
Family History
Pir Naseeruddin was the grandson of Pir Mehar Ali Shah (known as Pir of Golra Sharif) and the son of Syed Ghulam Moinud Din Gilani, known as Lalajee.His family History is stated underneath:[2] history
SYED NASEER UD DEEN NASEER Bin
SYED GHULAM MOIN UD DEEN Bin
SYED GHULAM MOHIYUDDIN Bin
SYED MEHR ALI SHAH GILANI Bin
SYED NAZR DIN SHAH Bin
SYED GHULAM SHAH Bin
SYED ROSHAN DEEN SHAH Bin
SYED ABDUR RAHAMAN NOORI Bin
SYED INAYAT ULLAH Bin
SYED GHYAS ALI Bin
SYED FATEH ULLAH Bin
SYED ASAD ULLAH Bin
SYED FAKHR UD DEEN Bin
SYED EHSAAN Bin
SYED DARGAAHI Bin
SYED JAMAL ALI Bin
SYED MUHAMMAD JAMAL Bin
SYED ABu MUHAMMAD Bin
SYED MIRAN MUHAMMAD KALAAN Bin
SYED MIRAN SHAH QADIR QUMAIS SADHORVI Bin
SYED ABU-L-HAYAT Bin
SYED TAJ UD DEEN Bin
SYED BAHA UD DEEN Bin
SYED JALAL UD DEEN Bin
SYED DAOOD Bin
SYED ALI Bin
SYED ABU SALEH NASR Bin
SYED TAJ UD DEEN ABU BAKR ABDUR RAZZAQ Bin
SYEDNA GHAUS UL AZAM ABDUL QADIR JEELANI Bin
SYED ABU SALEH Bin
SYED ABDULLAH JEELI Bin
SYED YAHYA ZAHID Bin
SYED SHAMS UD DEEN ZAKRYA Bin
SYED ABU BAKR DAOOD Bin
SYED MOOSA SAANI Bin
SYED ABDULLAH SALEH Bin
SYED MOOSA AL JON Bin
SYED ABDULLAH MAHZ Bin
SYED HASSAN MUSANNA Bin
SYEDNA IMAM HASSAN MUJTABA Bin
IMAM ALI UL MURTAZA (Alayhi-salam)
Books

Peer Naseer-ud DIn Naseer Shah Gilani has wrote more than 20 books. He was a great scholar,poet and reformer. Pir of Golra Sharif played important role in spreading the message of Islam in the Potohar region. People of the twin cities and the surrounding areas held the mystic personalities of Golra Sharif in high esteem. He was a renowned literary, scholarly and spiritual personality of Pakistan. The books written by Pir Naseer shah are:  [3] books
| | | |
| --- | --- | --- |
|  Book |  In Urdu |  Topic |
|  Naam o Nasb |  نام و نسب |  A book that covers variety of different subjects |
|  Faiz E Nisbat | فیض نسبت  |  Manaqib in Arabic,Urdu,Persian,Punjabi |
|  Rang E Nizam |  رنگ نظام |  Urdu rubaiyat in the light of Quran and Hadees |
|  Rubaiyat Ul Madhiya fi Hadrat-il-Qadiriya | ھوالقادر  |  Persian Rubaiyat Praising Ghaus ul Azam |
|  Peman E Shab |  پیمان شب | Ghazliyat in Urdu  |
|  Dast E Nazr |  دست نظر | Ghazliyat in Urdu  |
|  Islam mein shaeri ki hesiyat |  اسلام  میں شاعری کی حیثیت |  Poetry in Islam |
|  Arsh e Naaz |  عرش ناز |  Poetry in Persian,Urdu,Punjabi,Poorbi,Saraiki |
| Deen Hama Aoost |  دیں ہمہ اوست |  Hamd O Naat in Arabic, Urdu, Persian, Punjabi |
|  Tarieeq ul Falah Fi Mas'alatil Kufwi Lin'nikah |  طریق الفلاح فی مسلتہ الکفو والنکاح |  About nikah e Syyeda |
| Aaena Shareeat mein Peeri mureedi ki hesiyat  |  آيینہ شریعت میں پیری مریدی کی حیثیت | Philosophy of Baiat  |
| Aaghosh E Hairat  |  آغوش حیرت | Rubiyath in Persian  |
|  Rah O Rasm E Manzil Ha |  راہ ورسم منزل ہا |  A book solving confusions about Tasawwaf |
|  Latma-Tul-Ghaib Ala Azala-Tur-Raib |  لتمتہ الغیب | Solutions of Confusions about Ghaus E Azam  |
|  Al Jawahir ut Toheediya fi Taleemat ul Ghausia |  الجواہر التوحیدیۂ فی تعلیمات الغوثیۃ |  Toheed and Ghaus E Pak |
| Peeran E Peer ki shakhsiyat,seerat,taleemat   |  پیراان پیر کی شخصیت،سیرت اور تعلیمات |  Life and teachings of Ghaus E Pak |
|  Lafz Allah ki Tehqeeq |  لفظ االلہ کی تحقیق | Research on the Word ALLAH  |
|  Quran Majeed ke Aadab E Tilawat |  قران مجیید کا آداب تلاوت |  Manners of reciting Quran |
|  Musalmano ke Urooj O Zawal ke asbab |  مسلمانوں کے عروج و زوال کے اسباب |   Muslim Ummah's down fall |
|  Mawazna E ILM O Karama |  موازنہ علم و کرامت | Comparison of knowledge and miracleComparison of knowledge and miracle  |
| Eaanat O Istiaanat ki sharaee hesiyat  |  اعانت ااوراستعانت کی شرعی حیثیت | Book about Toheed and Shirk  |
|  Imam Abu Hanifa R.A |  امام ابو حنیفہ |  About Imam Abu Hanifa R.A |
|  Pakistan mien zalzaly ki tabah kaarian |  پاکستان  میں زلزلے کی تباہ کاریاں |  Damage during Earthquake in Pakistan |
|  Kya Iblees aalim tha | کیا ابلیس عالم تھا؟  |   Did the Devil have knowledge? |
| Fatwa Naveesi ke aadab  |  فتوی نویسی کے آداب |  Rules for writing Fatwa |
|  Tazmeenat Tazmeen |  تضمینات | written on the Kalaam of Ala Hazrat Fazal e Brailvi |
|  Mataa-E-Zeest |  متاع زیست |  Last book of Naatia Kalaam, Ghazaliyat, Rubaiyaat |
| Punjabi Kalaam   |  پنجابی کلام |  Kalaam written in Punjabi |
Peer Naseer-ud Din and Minhaj-ul Quran
Pir Syed Naseer-ud-Din Naseer had great respect for Shaykh-ul-Islam and commended the contribution of Minhaj-ul-Quran International in different fields. He attended numerous programmes held at central secretariat of MQI. Just one day before his demise, he held a detailed telephonic conversation with Shaykh-ul-Islam Dr Muhammad Tahir-ul-Qadri. Nazim-e-Ala Dr Raheeq Ahmad Abbasi extended him invitation for participation in an upcoming Mashaykh Conference, which he happily accepted. [4] Minhaj
Demise

Pir Naseeruddin died on February 13,2009 at the age of 58. He suffered a massive heart attack and was shifted to a private hospital. But he died before being provided any medical aid. Thousands of his followers converged on Golra shrine at sector E-11 from across the country and abroad after hearing about his death.
Renowned religious and spiritual personality and custodian of the Golra Sharif shrine, Allama Syed Pir Naseeruddin Naseer Gilani was laid to rest on February 14 at his family graveyard at Golra here on Saturday amid tears and prayers of thousands of his followers and devotees. Custodian of Baghar Sharif, Kahuta Sahibzada Allama Sajidur Rehman led the funeral prayer, which was attended by a large number of people from all walks of life including politicians, religious and literary personalities. Special traffic and security arrangements had been made to facilitate people who came from far-flung areas.  [5] demise
Tribute
With the death of a person of Pir Syed Naseer-ud-Din Naseer's stature, the country has been deprived of a great poet, spiritualist and scholar. May his soul rest in peace!. He was awarded with numerous titles in order to pay homage to his efforts for islam. [6] Tribute
| | | |
| --- | --- | --- |
| 1 | The glorious of the era | Mujaddid e Asar |
| 2 | The grand master of the Holly Quran | Qari-ul-Qurra |
| 3 | The perfect propagator of Islam | Muballigh e Islam |
| 4 | The emperor of rhetoric | Shehinsha-e-Hitabat |
| 5 | The real successor of religious science of Mehr Ali (R.A) | Waris e Uloom e Mehr Ali |
| 6 | The great poet of seven languages | Shaer e Haft zuban |
| 7 | The light of Golra | Chiragh-e-Golra |
| 8 | The melody voice in reciting of Naat and kalam of his own and other renowed poets and Aulia Allah (Friends of God) | Hush-ul-Haan Naat Go |
| 9 | Resourcefull person | Hush Tadbeer Admi |
Condolence messages
Ministers, academicians, religious personalities and politicians expressed grief and sorrow over the sad demise of the custodian of Golra Sharif.
The then Foreign Minister Makhdoom Shah Mahmood Qureshi in his condolence message said the untimely death of Allama Syed Pir Naseeruddin, who was an Islamic scholar of great stature, has left a huge void, which would be felt for years to come. The minister prayed to Allah Almighty to shower his blessings on the departed soul and give courage and fortitude to his family members and followers to bear this irreparable loss with equanimity.
Minister for Railways Ghulam Ahmed Bilour paid rich tribute to the religious, spiritual and literary services rendered by Pir Naseeruddin. "Pir Naseeruddin Naseer was not only a spiritual leader but also a man of letters, an intellectual, poet of repute and a linguist," he said. The minister said that Pir Sahib always emphasized for the unity of Muslims and condemned the act of terrorism.
Punjab Chief Minister Shahbaz Sharif in his condolence message lauded invaluable religious services of the Pir.
Federal ministers Syed Naveed Qamar, Sherry Rehman, Syed Sumsam Ali Bukhari, Syed Hamid Saeed Kazmi, Noorul Haq Qadri, Shagufta Jumani in their separate condolence messages, eulogized services of Pir Naseeruddin Naseer for Islam, which would be remembered for a long time.
Jamiate Ulama-i-Pakistan (JUP) also expressed sorrow over the death of Pir Naseeruddin Naseer. Pir Syed Anees Haider Shah from Jalalpur Sharif and President JUP-Niazi in his condolence message termed the death of the Pir as irreparable loss for Muslim Ummah.
President, International Islamic University Islamabad (IIUI), Dr Anwar Hussain Siddiqui eulogized the religious and national services. [7] condolance