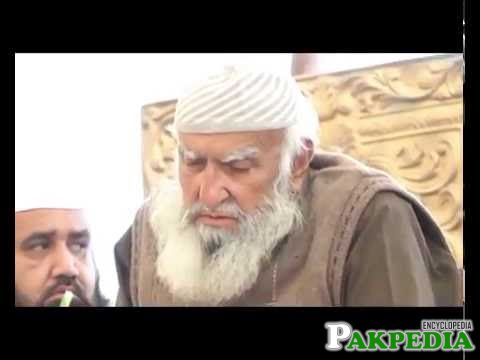 Peer Sial Hameed ud Din Sialvi
Infront of Media
Peer Sial Hameed ud Din Sialvi Served As Senate Member
Belongs to Sufi Chishtti Family
Peer Sial Hameed ud Din Sialvi Pakistani Islamic Scholar
Family Background

Peer Sial Khuwaja Hameed ud Din Sialvi belongs to Sufi Chisthti Family from
Sargodha
Village.Pir Khuwaja Hameeduddin Sialvi is the son of Great Pakistani Islamic scholar, religious leader and politician Khwaja Qamar ul Din Sialvi.Peer Sial Hameed ud Din Sialvi served as Senate Member from 1988-1993.His father Count founder of Tehreek Khatam-e-Nabuwaat in Subcontinent and after the independence of Pakistan.His father also lays the foundation of Jamiat-ul-Mashaikh Party.
Sajjadah Nashin
Khawja Hamid-ud-Din Sialvi is eldest son of Khawja Qamar-ud-Din Sialvi and the present-day Sajjadah Nashin of Sial Sharif Sharine. He can be credited for much of the development to
Darbar
and the relevant Masjid(though funds are provided by the followers or Mureedeen of Sial Sharif) which has made available much larger space for offering prayers. This development includes construction of a new Langar Khana(a place where anyone can have a free meal) which is serving the needy even better.
Astana-e-Aliya
Sajjadah Nashin of Astana-e-Aliya Muhammad Hamid-ud-Din Sialvi is present at Darbar e Aliya by himself to meet and greet the followers and visitors to listen to their issues and to make dua and any other effort to help them as much as possible. People visit Sial Shareef to only from the very far and remote areas of Pakistan, but also visit from outside Pakistan to get a glimpse of the Hazrat Sb. Shrine is open for visitors round the clock and keeping in mind today's critical situation and happenings, security has also been taken in consideration. Checkpoints have been setup to encounter any such situation and trained security staff is roaming around making sure that no such event happens.
[1]
Astana-e-Aliya
Resignation Pir Hameeduddin Sialvi
6 Dec 2017 - Peer Sial Hameed ud Din Sialvi announced the resignation of the Government and PML-N. Qasim Sialvi said that the next elections would not support N-League and its followers would resign from the government.Peer Sial Hameed ud Din Sialvi of Astana-e-Aalia Sial Sharif has parted ways with Pakistan Muslim League-Nawaz (PML-N) after giving the Punjab government three successive deadlines to clarify its stance regarding some reported remarks of Law Minister
Rana Sanaullah Khan
.An announcement about the resignations would be made at 
Faisalabad
's Dhobi Ghat, it said, adding that the number of resignations was increasing.
[2]
Resignation
14 Other PML-N Lawmakers
28 Nov 2017 - With the country still smarting from the government's mishandling of the Faizabad sit-in, PML-N's Member National Assembly (MNA) Sheikh Muhammad Akram said that he, along with 14 other PML-N lawmakers, had handed their resignations to Sargodha-based spiritual leader Pir Hameeduddin Sialvi.
[3]
 14 Other PML-N Lawmakers 
  Akram said that he and 14 other members of the party had handed their resignations to Pir Sialvi as they would "not compromise on the matter of the Khatm-i-Nabuwwat law".He said the lawmakers would abide by whatever decision Pir Sialvi takes in the matter. "We all told Pir Sialvi to hold on to our resignations and make a decision on them once he has met with a team from the government and discussed the matter," Akram said during the show.
Zahid Hamid Resigned
When asked if the resigning legislators would reconsider their decision now that Law Minister
Zahid Hamid
 had resigned from his post, Akram said that he would let Pir Sialvi decide on the matter.According to Akram, while Pir Sialvi believed that the religious leaders had a right to stage a sit-in at Faizabad, people's lives should have not been disrupted and public property should not have been destroyed during the protest.
Resignation of Rana Sanaullah Demanded
1 Dec 2017 Peer Sialvi made it clear to Qadri that the resignations would only be reviewed if Punjab Law Minister Rana Sanaullah resigns and seeks a pardon for his statements.Pir Sialvi gave a deadline of three days to the government to decide on the matter, failing which, Sialvi said, he would march on Lahore.
[4]
  Resignation of Rana Sanaullah Demanded 
 The next deadline was December 3 with a slightly moderate demand for the law minister to visit Sial Sharif to offer a clarification along with his resignation.
Convention on Khatam-e-Nabuwaat SAW
His son Qasim Sialvi told that 10 Dec 2017 Sunday will be convention on Khatam-e-Nabuwaat (SAW) at Faisalabad Dhobi Ghat and in which all MNA, MP's and Senater will resign.
[5]
Resignation Pir Hameeduddin Sialvi
Tahaffuz Hurmat-e-Rasool Conference
Peer Sial Khuwaja Hameeduddin said a Tahaffuz Hurmat-e-Rasool conference would be held in Faisalabad on December 10, where some of the resignations would be announced. More gatherings would be organised in various parts of the province to press the government to accept the demand.He said he had a 10-year affiliation with PML-N and it was not easy to part ways with the party, but when it was a question of religion, it was not a matter of choice.  He said the parliamentarians deciding to go with the government would lose the support of Astana-e-Aalia Sial Sharif.
[6]
Tahaffuz Hurmat-e-Rasool Conference
Protest In Data Darbar
Saturday, 20 January 2018: Groups of religious workers from different parts of the province have begun to reach the welcome camps set up at various entry points of the city as spiritual leader and politician based in Sial Sharif, Pir Hameed-ud-din Sialvi will leave for Data Darbar for sit-in. According to the details, the protesters  pressurize Punjab Law Minister Rana Sanaullah to tender his resignation. Earlier, Pir Hameed-ud-din Sialvi, who had also parted his ways with
Pakistan Muslim League
-Nawaz (PML-N), warned the leaders of ruling party to not play with the sentiments of the people or else 'fire would reach the parliament'. He also claimed to receive the first bullet if the country is harmed.  
[7]
protest in data darbar