General Musharraf got married in 1968 and has two children, a son and a daughter. He loves to spend most of his leisure time playing Squash, Badminton or ...
Modi an enemy of Pakistan and Muslims: Pervez Musharraf Interview to Indian TV | Pakistan TV
President Musharraf is greeted by President Bush in Washington in September 2006.
Raheel Sharif Helped Me and Pressurized Nawaz Sharif- Pervez Musharraf
Former President Pervez Musharraf Returns To Pakistan After Four Year Exile
Synopsis
Born August 11, 1943, Pervez Musharraf fought in the 1965 war between
Pakistan
and India. In the 1971 war with India, he served as company commander in the Special Service Group Commando Battalion. Musharraf became general and chief of army staff in 1998.
Family
General Musharraf got married in 1968 and has two children, a son and a daughter. He is a natural sportsman, who loves to spend most of his leisure time playing Squash, Badminton or Golf. He also takes keen interest in water sports and has been an enthusiastic canoeist. Being an avid reader, he is well versed in Military History, his favorite subject.
[17]
Family
Early life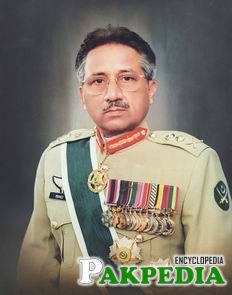 Pervez Musharraf was born on 11th August, 1943 in Delhi, India. His own father, Syed Musharrafuddin, worked in the Foreign Office of the Indian government, while his mother went on to do a masters, a rarity for most Muslim women at the time, and became a school teacher. After the partition of the Indian sub-continent the family migrated to Pakistan and settled in Karachi. Musharraf's father was posted in Turkey in 1949 and the entire family moved to Ankara when his father became a member of the diplomatic deputation from Pakistan. Musharraf returned to Pakistan in 1957 and attended Saint Patrick's School in Karachi. He graduated from the Forman Christian College
Lahore
and in 1961 entered the Pakistan Military Academy, at Kakul.
[18]
Earlylife Musharraf
Musharraf participated in the 1965 war against India and was part of that that elite group of the artillery regiment which launched an offensive on the Kasur-Khem Karan sector. It was in this war that he won the Imtiazi Sanad medal for gallantry. Musharraf became lieutenant colonel in 1974, a colonel in 1978 and staff officer during the 1980s. In 1990 he studied at the Royal College of Defense Studies in Britain for a year. Musharraf became a major general in 1991 and served as the Director-General of Pakistan Army's Directorate General for the Military Operations (DGMO). In 1997 he was superseded by Liuetenant General Ali Kuli Khan Khattak as Chief of General Staff (CGS), at which Musharraf was quite surprised and disappointed. He even contemplated retirement as a lieutenant general. However he was favored by the then Prime Minister
Nawaz Sharif
and personally promoted to Chairman Joint Chiefs of Staff Committee.General Pervez Musharraf was the main strategist behind the Kargil plan, which was launched in March 1999. Pakistani and Kashmiri soldiers began infiltrating on the Indian side of the LOC. When India discovered this movement the conflict escalated to a full scale war between May and June 1999. However as the international pressure intensified the Prime Minsite Nawaz Sharif withdrew support to the insurgents in Kargil conflict and the Pakistan Army had to evacuate the captured posts, retracing their steps back to Pakistan. The causalities in Pakistan were heavy and the government even refused to accept the dead bodies of many officers. This greatly antagonized the army and rumors of a possible coup began circulating.
Military Service
In 1961, Musharraf entered the Pakistan Military Academy, from which he would graduate 11th in his class. He was commissioned in April 1964 to an artillery regiment and later joined the Special Service Group. Musharraf continued his military education at the Command and Staff College and the National Defense College in Pakistan. He also attended the Royal College of Defense Studies in the United Kingdom. In 1965, he was charged with taking unauthorized leave and was about to be court-martialed when war broke out with India. The charges were dropped and Musharraf reported for duty.
Musharraf saw action in the Indo-Pakistani War of 1965 as a second lieutenant in the Field Artillery Regiment. He was part of a major offensive against the Indian army in the Khemkaran sector, in which Pakistan advanced 15 miles into India. Despite the initial success and possessing superior advantage in armor, the Pakistani 1st Armored Division suffered a major defeat and had to pull back. Later, Musharraf was sent to the Sialkot front in India. During the war, Musharraf showed bravery in the line of fire as Indian artillery guns shelled his unit. He received an award for gallantry and was promoted to captain.
Pervez Musharraf moved up the ranks as Pakistan continued to battle with India over territory. Throughout his military career, Musharraf would serve in several appointments. By the 1980s, Musharraf was commanding an artillery brigade. In the 1990s, he was promoted to major general and assigned an infantry division, and later commanded an elite strike force. Later he served as deputy military secretary and director general of military operations. As his rank and notoriety rose, Musharraf was also making inroads in the political arena. In 1998, he was personally promoted over other senior officers by Prime Minister Nawaz Sharif to be the army chief of staff and chairman of the Joint Chiefs of Staff Committee.[19]Military Service
Rise Through the Ranks
From May to July 1999, Pakistan and India took up arms once again in what became known as the Kargil Conflict in the Kashmir area along the northern borders of India and Pakistan. The operation was planned and executed while Musharraf was army chief of staff under Prime Minister Sharif. Kashmir militants, with assistance from Pakistani soldiers, took positions in Indian territory. They were soon discovered by the Indian army. Some reports indicate the Indian intelligence knew of their intentions weeks before the conflict. With the use of heavy artillery and night raids, the Indians slowly pushed back the militants and the Pakistani forces. The reversal was a complete blow to the Pakistani government, which had believed its forces had an advantage in the element of surprise. With Pakistani forces struggling in the field, national pride at stake, and many government officials beginning the blame game, the Pakistani army covertly planned a nuclear strike at India. But news of the plan reached U.S. President Bill Clinton, who gave Prime Minister Sharif a warning to stand down. Pakistan withdrew its forces, leaving the militants to be destroyed by the Indian army. Prime Minister Sharif claimed Pervez Musharraf was solely responsible for the Kargil debacle, while Musharraf claimed Sharif was to blame. In any case, the incident was a total embarrassment for Pakistan, not to mention a loss of prestige, morale, blood and treasure. On October 12, 1999, Sharif attempted to dismiss Musharraf from his position as commander-in-chief of the army, but senior army generals, loyal to Musharraf and believing the prime minister was distancing himself from any responsibility for the military defeat, refused to accept Musharraf's dismissal. Musharraf was out of the country, but when word reached him of Sharif's orders, he immediately boarded a commercial airliner for Pakistan. Sharif ordered the
Karachi
airport closed to prevent Musharraf's plane from landing. The generals seized control of Sharif's administration and placed Sharif under house arrest. He was later exiled to Saudi Arabia. Musharraf arrived at the capital and took control of the government. The sitting president of Pakistan, Rafiq Tarar, remained in office until June 2001, at which time Musharraf formally appointed himself president.
[20]
Pervaiz Musharraf  Rise through the ranks
Four-star appointments 1998-2007
Although both Nawaz Sharif and general Jehangir Karamat [21] Jehangir Karamat were educated, and held common beliefs concerning national security, problems arose with chairman of the joint chiefs and chief of army staff General Karamat in October 1998. While addressing the officers and cadets at the Naval War College,[22]Pakistan navy war college General Karamat stressed the creation of National Security Council [23] National security council Pakistan which would be backed by a "team of civil-military experts" for devising policies to seek resolution ongoing problems relating the civil-military issues; also recommended a "neutral but competent bureaucracy and administration of at federal level and the establishment of Local governments in four provinces.This proposal was met with hostility, and led to Nawaz Sharif's dismissal of General Karamat. In turn, this reduced Nawaz's mandate in public circles, and led to much criticism from Leader of the Opposition [24] Leader of the Opposition Pakistan Benazir Bhutto.[25] Benazir Bhutto
There were three lieutenant-general officers potentially in line to succeed General Karamat as four-star rank and chief of army staff. Lieutenant-general Ali Kuli Khan, a graduate of PMA and RMA, Sandhurst, was an extremely capable staff officer and well liked in public circles, but was seen as close to the former chief of army staff general (retired) Abdul Vaheed [26] Abdul Vaheed kakar and was not promoted.Second in line was lieutenant-general Khalid Nawaz Khan who was popularly known for his ruthless leadership in the army; particularly for his unforgiving attitude to his junior officers. Lieutenant-general Nawaz Khan was known for his opposition and anti-muhajir sentiment, and was particularly hardline against the MQM.
Musharraf was in third-in line, and was well regarded by the general public and the armed forces. He also had an excellent academic standing from his college and university studies. Musharraf was an strongly favoured by the Prime Ministers colleagues: a straight officer with democratic views.Nisar Ali Khan and Shahbaz Sharif recommended Musharraf and Prime Minister Nawaz Sharif personally promoted Musharraf to the rank of four-star general to replace Karamat.
After the Kargil incident, Musharraf did not wish to be the Chairman of the Joint Chiefs: Musharraf favoured the chief of naval staff Admiral Bokhari to take on this role, and claimed that: "he did not care" Prime minister Sharif was displeased by this suggestion, due to the hostile nature of his relationship with the Admiral. Musharraf further exacerbated his divide with Nawaz Sharif after recommending the forced retirement of senior officers close to the Prime minister, including Lieutenant-General Tariq Pervez (or TP), commander of XII Corps, who was a brother-in-law of a high profile cabinet minister.According to Musharraf, lieutenant-general TP was an ill-mannered, foul-mouthed, ill-disciplined officer who caused a great deal of dissent within the armed forces.Nawaz Sharif announcement of the promotion of General Musharraf to chairman joint chiefs caused an escalation of the tensions with Admiral Bokhari: upon hearing the news, he launched a strong protest against the Prime minister The next morning, the Prime minister relieved Admiral Bokhari of his duties. It was during his time as chairman of the joint chiefs that Musharraf began to build friendly relations with the United States Army establishment, including General Anthony Zinni,[27] Anthony Zinni wikipedia USMC, General Tommy Franks, General John Abizaid,[28] John Abizaid and General Colin Powell of the US Army, all of whom were premier four-star generals in the military history of the United States.[29] Military history of the united state
Chief Executive
Relationship with the U.S.
On September 11, 2001, the United States was attacked by Middle Eastern terrorists trained in Afghanistan. The Taliban, a militant group that had recently taken control of Afghanistan, was harboring the alleged mastermind of the attacks, Osama bin Laden. Pakistan had been one of only a few countries to recognize the Taliban as the official leaders of Afghanistan. The United States sought Pervez Musharraf's support, promising more than $1 billion in aid to Pakistan and applying heavy pressure to break diplomatic ties with Afghanistan and join the "war on terror." With a weak economy, a still-tense relationship with India and internal strife in his government, Musharraf agreed to give the United States access to three airbases to launch its attacks on the Taliban. Musharraf also helped oust the Taliban from his country. However, the move created tension with neighboring Afghanistan and alienated the Islamic fundamentalists within his own country. Musharraf has been the target of several assassination attempts since then.
Womens rights
The National Assembly voted in favour of the "Women's Protection Bill" [39] Womens protection bill on 15 November 2006 and the Senate approved it on 23 November 2006. President General Pervez Musharraf signed into law the "Women's Protection Bill", on 1 December 2006. The bill places rape laws under the penal code and allegedly does away with harsh conditions that previously required victims to produce four male witnesses and exposed the victims to prosecution for adultery, if they were unable to prove the crime.However, the Women's Protection bill has been criticised heavily by many for paying continued lip service and failing to address the actual problem by its roots: repealing the Hudood Ordinance. In this context, Musharraf has also been criticized by women and human rights activists for not following up his words by action.The Human Rights Commission of Pakistan (HRCP) said that "The so-called Women's Protection Bill is a farcical attempt at making Hudood Ordinances palatable" outlining the issues of the bill and the continued impact on women.
His government increased reserved seats for women in assemblies, to increase women's representation and make their presence more effective. Compared with 1988 seats in the National Assembly were increased from 20 to 60. In provincial assemblies 128 seats were reserved for women. This situation has brought out increase participation of women for 1988 and 2008 elections.
In March 2005, a couple of months after the rape of a Pakistani physician, Dr. Shazia Khalid, working on a government gas plant in the remote Balochistan province, Musharraf was criticised for pronouncing, Captain Hammad, a fellow military man and the accused in the case, innocent before the judicial inquiry was complete. Following the rape, riots erupted in the local Bugti clan of the province, where the rape took place. They saw a rape in their heartland as being a breach of their code of honour and attacked the gas plant. In an uncompromising response Musharraf sent tanks, helicopters and an extra 4,500 soldiers to guard the installation. If the tribesmen failed to stop shooting, he warned on television, "they will not know what hit them." Shazia was later forced and threatened by the government to leave the country.
In an interview to The Washington Post[40] Washington Post in September 2005 Musharraf said that Pakistani women, who were the victims of rape, treated rape as a "moneymaking concern" and were only interested in the publicity in order to make money and get a Canadian visa. He subsequently denied making these comments, but The Washington Post made available an audio recording of the interview, in which Musharraf could be heard making the quoted remarks. Musharraf also denied Mukhtaran Mai, a Pakistani rape victim, the right to travel abroad, until pressured by US State Department.The remarks made by Musharraf sparked outrage and protests both internationally and in Pakistan by various groups i.e. women groups, activists. In a rally, held close to the presidential palace and Pakistan's parliament, hundreds of women demonstrated in Pakistan demanding Musharraf apologise for the controversial remarks about female rape victims.
Fall from the presidency
By August 2007, polls showed 64 percent of Pakistanis did not want another Musharraf term. Controversies involving the atomic issues,
[41]
Atomic issue Abdul Qadeer khan
Lal Masjid
[42]
Siege lal Masjid
incident, unpopular operation in West
[43]
War north west pakistan
suspension of famed
Chief Justice
[44]
Chief justice of Pakistan
, and widely circulated criticisms from rivals, Benazir Bhutto
[45]
Benazir Bhutto
and Nawaz Sharif, had brutalized the personal image of Musharraf in public and political circles. More importantly, with Shaukat Aziz departing from the office of Prime Minister, Musharraf
[46]
Movement to impeach Pervaiz musharaf
could not have sustained
[47]
Suspension of Iftikhar muhammad chaudhary
his presidency any longer and dramatically fell from the presidency within a matter of eight months, after popular and mass public movements successfully called for his impeachment
[48]
Impeachment wikipedia
for the actions taken during his presidency.
Political Contests
Shortly after Musharraf's seizing of the government in 1999, several Pakistanis filed court petitions challenging his assumption of power. Musharraf had always claimed his intention was to institute democracy in Pakistan. But in the face of the threat from the court, he issued an order that required all judges to take new oaths of office and agree not to make any rulings against the military. Many judges resigned instead, calling the move unconstitutional. The
Pakistani Supreme Court
asked Musharraf to hold national elections by October 12, 2002. To ensure his continued control, Musharraf held a referendum on April 30, 2002, to extend his term of office another five years after the October elections. Musharraf's government claimed an 80 percent turnout in favor of the referendum, but election officials reported some irregularities for which Musharraf apologized and the decision to hold October elections stood. In October 2002, national elections were held, and the pro-Musharraf Pakistan Muslim League won a plurality in the Parliament. But opposition parties and coalitions formed against Musharraf, and the Parliament was virtually paralyzed for over a year. In November 2003, Musharraf agreed to hand certain powers over to the newly elected Parliament. The National Assembly elected
Mir Zafarullah Khan Jamali
as prime minister. In December, Musharraf made a deal with a coalition of six Islamic parties to leave the army by the end of December 2004. In exchange, the Parliament passed the 17th Amendment, which retroactively legalized Musharraf's 1999 coup. But militant extremists continued to criticize his moderate policies at home. They often openly defied his directives until he brought in the army to quell the rebellions. In late 2004, he went back on his agreement to leave the army, stating that the country was in too much turmoil for him to relinquish power, and pro-Musharraf legislators passed a bill allowing Musharraf to hold retain his positions as both chief of army staff and head of state. Though this law stood, it was not without controversy, and it motivated political forces in the assembly to continue applying pressure to Musharraf.
Basic Achievments
Empowerment of people through devolution at grass roots level.
Empowerment of Women at all tiers of government / legislature.
Legislation against honour killings. Women Protection Bill.
Empowerment of minorities through joint electorate as well as reserved seats.
Empowerment of younger generation by reducing voter age from 21 to 18 years.
Empowerment of media by allowing total freedom to press and print media and flow of information.
Empowerment of economy through wide ranging economic reforms.
Record allocations for science and technology, education and health sectors. Emphasis on human resource development.
Free, Fair, Transparent and Peaceful Elections.[49]  Basic Achievments 
Resignation
Musharraf was reelected in October 2007, but the election was contested by a number of judges because he still served as both army chief and head of state. Musharraf had several of the judges arrested, suspended the constitution, and declared a state of emergency, shutting down all private media channels. On November 24, 2007, the Pakistan Election Commission confirmed the reelection of Pervez Musharraf as president. Musharraf resigned from the military on November 28, 2007, thus releasing some of the pressure and continuing what seems to be a "passive-aggressive" pattern of political maneuvering to stay in control with as much power as he can garner. On March 22, 2008, the Pakistan People's Party named former Parliament Speaker
Syed Yusaf Raza Gillani
its candidate for prime minister to lead a coalition government against Musharraf. Pressure continued to mount, and on August 7, 2008, the coalition sought Musharraf's impeachment for "eroding the trust in the nation." At first Musharraf resisted, saying he would defeat those who tried to push him out of office. On August 18, 2008, however, Pervez Musharraf resigned from the post of president in response to the coalition government's threat of impeachment. It is believed that, had the impeachment taken place, he would have faced charges of corruption and possibly of murder. The departure of the former general set off wild celebrations in Pakistan. After his resignation, Musharraf went on a pilgrimage to Mecca and has made a few public-speaking appearances in the United States. He has said that he would like once again to participate in Pakistani politics but has no plans for the immediate future.
Legacy
The verdict on Pervez Musharraf's time as leader of Pakistan is a mixed one. He did much to improve Pakistan's financial condition, making it the world's third-fastest-growing economy in a 2006 ranking and a preferred country for investment. His policies and alliances helped Pakistan substantially reduce its foreign debt and reduce poverty, and they set the country on a path of prosperity, growth and economic reform.
Musharraf's liberal policies led to more freedom for the broadcast and digital media. During this time, Pakistan experienced huge growth in the number of radio and television stations. Many Pakistanis living abroad get their news from home sources reported on international networks or on the Internet. Under his strong-armed leadership, business and finance grew in Pakistan, with increased banking interests and small manufacturing growth. Such policies also put him at odds with more fundamentalist elements in the country.
However, Pervez Musharraf often found himself sandwiched between internal pressures from a culturally and politically diverse and evolving population and the United States, which saw Pakistan as a major factor in the effort to defend itself against terrorism. As a result, Musharraf had to make up the rules as he went along, which often resulted in what looked like erratic behavior. His high opinion of himself and his abilities comes from successes in his military career and the unshakable belief that he is the best person for the job. He leaves power with several unfinished projects: a fragile democracy in Pakistan; an agreement on the fate of Kashmir; dealing with increased Islamic fundamentalism and militancy within the country; and much-needed political and economic reform.
Musharraf married Begum Sehba in 1968. They have two children, Ayla and Bilal, and four grandchildren: two granddaughters from Ayla, and a grandson and a granddaughter from Bilal. Ayla works as an architect in Karachi. Bilal is a graduate of Stanford University and works in the United States, in Silicon Valley.
Current Legal Challenges
In 2013, Musharraf returned to Pakistan after years living abroad in self-imposed exile. He hoped to revive his political career, but he has found himself entangled in a number of legal issues instead. Musharraf was indicted that August for his alleged role in the 2007 assassination of his rival Benazir Bhutto. He has been charged with "murder, criminal conspiracy to murder, and facilitation of murder," according to a CNN report. Musharraf has denied these charges against him. His spokesperson told the press in a statement that his indictment is "false, fabricated and fictitious" and "an undignified attempt to smear the honour and integrity of the former president," according to an AFP report. Musharraf is currently under house arrest as he waits for his trial to commence.
Pervez Musharraf launches career as TV analyst
A retired general and former president of Pakistan, Pervez Musharraf seems to have chosen mainstream media as his career of choice post retirement, with
Bol TV
billing him as the main attraction of a weekly TV programme in a Sunday evening post on the channel's Facebook page.According to the promotional video aired by Bol TV, the weekly show is called 'Sab Se Pehle Pakistan with President Musharraf' and will be aired every Sunday 8pm.
[50]
Pervez musharaf launches as tv analyst dawn.com
Missing in action
The incumbent government had in March 2016 allowed Musharraf to travel abroad to seek medical attention after the Supreme Court lifted a ban on his travel abroad. This had stirred a controversy, as Musharraf had been facing a treason case for abrogating the Constitution and imposing an emergency in 2007.An anti-terrorism court (ATC) had on Dec 8, 2016 given a month's deadline to Musharraf to surrender in the judges  detention case, which relates to the detainment of over 60 judges of the superior courts after Musharraf declared an emergency in the country in Nov 2007.The court had warned that the former military ruler would be declared a proclaimed offender if he failed to comply with the deadline.However, Musharraf's counsel had on Jan 13 filed an application with the ATC seeking "foolproof security" in order to be able to return to Pakistan and appear in court. Until such security measures are taken, the application said, Musharraf should be exempted from appearing in the court.Earlier this month, an ATC in Islamabad had issued perpetual arrest warrants for Musharraf in the same case.
[51]
Missing in action dawn.com
Mired in controversy
Bol TV has recently been mired in a tussle with
Pakistan Electronic Media Regulatory Authority (Pemra)
over 'hate speech' aired from its platform. Last month, Pemra had issued a show-cause notice to Labbaik Pvt Ltd (Bol News channel) for defying an order to discontinue the Aisay Nahi Chalay Ga programme, and to keep its host, Amir Liaquat, off the air.The regulator had taken exception to the programme over its controversial and hate-based contents and barred Liaquat from appearing on any TV screen. Earlier this month, a three-member bench of the Supreme Court, headed by Justice Amir Hani Muslim, had directed Bol News to immediately cease airing all 'hateful content' or face contempt of court charges.During the hearing, the apex court had addressed the TV channel's director of operations, directing him to submit an assurance "within half an hour" that the channel would not air any content that incites hatred.Bol News, in response, had submitted a signed undertaking in the Supreme Court, vowing to refrain from airing the 'Aisa Nahi Chalay Ga' programme hosted by Aamir Liaquat until further notification by the apex court.
[52]
Mired in controversy dawn.com