Pepsi Battle of the Bands is better plans for musicians all across Pakistan.The platform that kickstarted careers for iconic bands like Aaroh, E.P and Meekal Hassan Band, is back on the hunt to discover the next big bands.Pepsi Battle of the Bands is a Pakistani television series, originally based on the concept of Battle of the Bands, first aired in 2002 on PTV Home. The show was revived in 2017.[1] Pepsi Battle of the Bands is better plans for musicians This is only to be expected, given the heavy-duty star power wielded by the show's selection of judges. The only judge retained from the earlier BoB edition back in 2002 is Shahi Hasan; older, wiser, a big-time producer now living in the U.S. and still very much the rock star. Joining him are virtually three of the most popular stars in the country today: Atif Aslam, Meesha Shafi and Fawad Khan.[2] The only judge retained from the earlier BoB edition
| Title | Description |
| --- | --- |
| Details | |
| Type: | Reality Show |
| Name : | Pepsi Battle of the Bands |
| In Urdu : | پیپسی بَیٹل آف دی بینڈذ |
| Country of origin : | Pakistan |
| No. of seasons : | 2 |
| Executive producer(s) : | PepsiCo: Salman Butt, Saad Munawar, Natasha Hyder, Ali Zaidi, Misbah Ghani, Shehryar Ahmed |
| Producer(s) : | Shiny Floor & The Cion Collective: Saad Mujeeb, Faisal Rafi |
| Cinematography : | Nick Collier |
| Camera setup : | Multi-camera |
| Running time : | 1 hour |
| Distributor: | PepsiCo Pakistan |
| Original network : | PTV Home (2002), Broadcast syndication (2017–) |
| Picture format : | 1080i (HDTV) |
| Audio format : | Dolby Digital 5.1 |
| Original release : | July 2002 – September 2017 |
| Website: | https://www.pepsibattleofthebands.com |
| Information | |
| Name: | Pepsi Battle of the Bands |
| Also known as: | Pepsi BoB |
| Created by: | PepsiCo Pakistan |
| Directed by: | Andrew Bramley (S2) |
| Presented by: | Ayesha Omer (S2) |
| Judges of Season 1: | Rohail Hyatt, Fifi Haroon, Shahi Hasan |
| Judges of Season 2: | Fawad Khan, Meesha Shafi, Atif Aslam, Farooq Ahmed |
| Theme music composer : | Faisal Baig |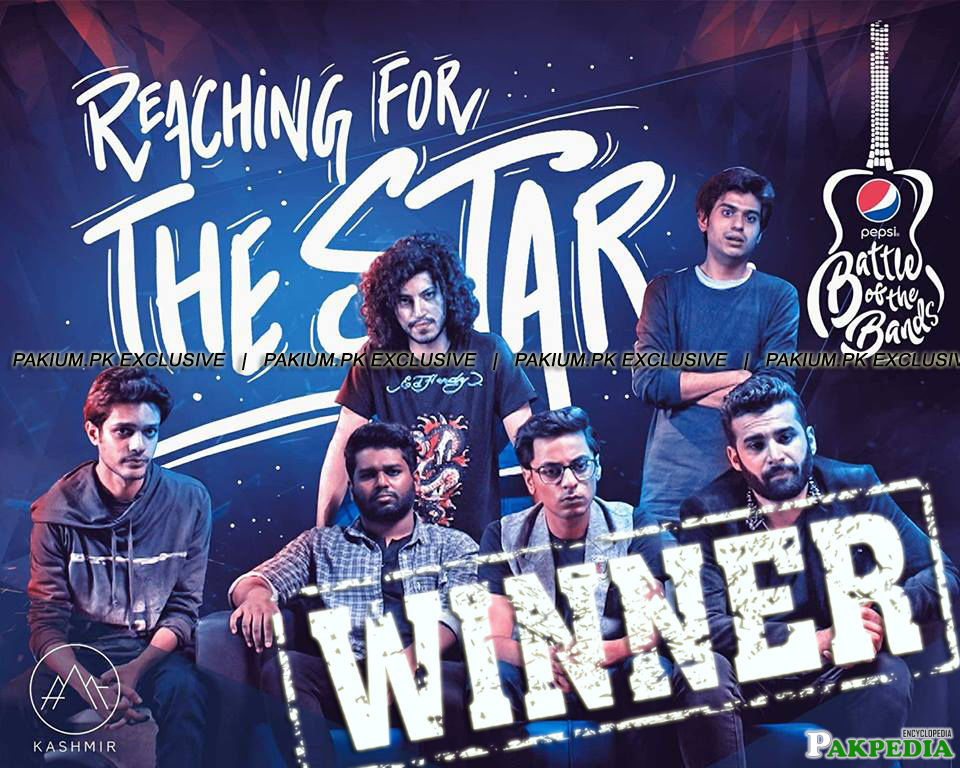 About
Mini Profile

Pepsi Battle of the Bands is a Pakistani music program in which a competition will be conducted to select a band. By participating in this online process and submitting an online audition file for consideration by the Producers in connection with the Program, you acknowledge that you have read, understand and voluntarily agree to abide by these Online Audition Submission Terms and Conditions in their entirety. The effective date of these Terms and Conditions shall be the date you submit your Auditions.[3] Pepsi Battle of the Bands is a Pakistani music program  
Season 1
Pepsi Battle of the Bands: Season 1 aired in July of 2002 on PTV Home. The inaugural season was won by Aaroh,who beat runners up Entity Paradigm by a narrow margin.It also launched the success of many other bands who took part in the show, particularly Mekaal Hasan Band (which came in third) and Mizmaar.170 applications were sent to the show's website out of which 70 were registered. The top 20 were selected on the basis of vocals, music and arrangements which was then narrowed down to the top 10.[4] Pepsi Battle of the Bands: Season 1 aired in July
Season 2
Episodes of Pepsi Battle of the Bands: Season 2 are available in broadcast syndication on television as well as put up online on Pepsi Pakistan's YouTube channel. Shortly after, the episode airs the full video performances are then put up online on Pepsi Pakistan's Facebook and YouTube while the full audios are put up on the website as well as on Patari.pk.
Terms and conditions for participants
Eligibility Requirements
You are a part of a music band to participate. The band must consist of minimum 2 people. Individual auditions will not be accepted or considered.
All band members are permanent Pakistani residents who are eligible to work full-time in the Pakistan 
All band members are between the ages of 16 to 35 years old as of March 24th 2017. If any band member is born before or after this window, he/she is not eligible to participate in this Audition Submission.
Neither you nor any of your immediate family members (spouse, ex-spouse, parents, siblings, children, step-children) or members of your household (whether or not related to you) are current employees, directors, officers, independent contractors, agents, or representatives of PepsiCo Pakistan Pvt. Ltd, or any of its bottling partners, affiliated agencies, any television station or channel, cable network, or satellite network; any person or entity involved in the development, production, distribution, or other exploitation of the Pepsi Battle of the Bands Program or any variation thereof.[5] Neither you nor any of your i mmediate family members  
Audition Submission Requirements
General Requirements
Your Audition must comply with the requirements of this Section.
Any Audition that, in Producer's discretion, does not comply with the requirements will not be considered.
Producer reserves the right to determine, in its sole discretion, the eligibility of you and your Audition. [6] Producer reserves the right to determine, in its sole
Auditions should be submitted to registration@pepsibattleofthebands.com between 9:00a.m Pakistan Standard Time on March 24th, 2017, through and including 11:59 p.m. Pakistan Standard Time on April 20th , 2017. No Auditions will be accepted after 11:59 p.m. on Pakistan Standard Time on April 20th, 2017.
All auditions should have the following details: name of the band, names of all band members with their ages, along with scanned CNIC copy of at least one band member
The Audition can be submitted by any of the band members of at least eighteen (18) years of age.
Producer reserves the right in its sole discretion to modify or change the eligibility requirements or submission requirements hereunder from time to time and such modifications will be effective upon posting to this link.
Audition Content
The Terms and Conditions may be amended from time to time.

Multiple submissions by the band will not be accepted.
The band has to share audio link- consisting of one (1) original and one (1) cover song. Failure to meet the criteria of the audio link and song requirements will lead to rejection of the submission.
The original song must be the band's own song, and not be a copy/recomposed version of an already existing song.
The cover should be a recomposed version of an already existing song.
Both cover and original song must be in either Urdu or any regional language of Pakistan only.
For the original song, the band can provide a private or public link for Facebook/YouTube/Vimeo/Patari/Saavn/any other channel.
For the cover, the band needs to upload the audio file on YouTube/Vimeo channel- but should be password protected and not accessible to public.
Song submission needs to be in audio or video format.
Audition must NOT contain material which is sexually explicit, obscene, pornographic, violent (for example, relating to murder, weapons, cruelty, abuse, etc.), discriminatory (based on race, sex, religion, national origin, physical disability, sexual orientation or age), illegal (for example, underage drinking, substance abuse, computer hacking, etc.), offensive, threatening, profane or harassing.
Audition material must comply with the laws of Pakistan.
Auditions must NOT include mention or feature any uncleared copyrighted material, including but not limited to music, films, books, television programming, artwork, sculpture, photographs, etc., or identifying descriptions of any copyrighted material.
Auditions must not contain any post-production voice enhancements.
Auditions must NOT contain derogatory references to PepsiCo or any of its affiliates.  
Auditions must not contain any post-production voice enhancements.[7] Auditions must not contain any post-production voice
Judges
Auditions submitted for consideration in this Online Audition Submission will be judged by the panel. Bands shortlisted in this process will be contacted for further details. The shortlisting from this process does not guarantee a place in the program. The judgment of the panel will be full and final, and not subject to questioning from any participants.[8] Auditions submitted for consideration in this Online Audition
Fawad Khan
While this bigger than life personality doesn't call for an introduction, Fawad Khan has come full circle by becoming a judge for #PepsiBattleoftheBands, which is where he found his start 15 years ago with his renowned band, Entity Paradigm. Pepsi Battle of the Bands thrust E.P into the spotlight and Fawad enjoyed years of success with them as their lead singer. Besides having a wonderful career in music, Fawad has just been as amazing with his talented acting on screen.
Meesha Shafi
Program Judge
Meesha Shafi, who hails from Lahore and graduated from NCA, caught her musical break in 2011 with her husband's band Overload. Since then, she has been a favorite of the nation and has released multiple hits and renditions. Her style has been described as 'power house singing', packing a punch in her delivery.[9] Meesha Shafi, who hails from Lahore and graduated
Atif Aslam
Program Judge
Atif Aslam is arguably the voice of the 2000s, and there is not a person who isn't familiar with his hit songs like Aadat, and Jal Pari. Since then he has gone onto further solidify his career by doing OSTs, performances, and releasing hit-after-hit albums. He is a fan favourite on both sides of the border and he affectionately refers to his fans as 'Aadeez'. Having joined the judges panel, Atif is now an integral part of #PepsiBattleoftheBands as the judge of the show, Episode 3 and onwards.
Shahi Hassan
Program Judge
Shahi Hasan was the founding member of a band forever etched in Pakistani culture: Vital Signs. First earning recognition as Vital Sign's bass player, he is now renowned in the music industry as a producer, executive and backing vocalist. He has often been cited as Pakistan's greatest bass player and was also a judge on the previous Pepsi Battle of the Bands. Now he brings his experience and expertise to the platform once again to guide and judge participants.
Farooq
Audition Round Judge
Starting his career from the very stage of #PepsiBattleOfTheBands, Farooq was the front man for the legendary band, Aaroh. He rendered his vocals and musical expertise to hits like Rag Neela and Na Kaho which won hearts across the nation. He is back to #PepsiBattleOfTheBands as a judge and mentor to bring the best out of this year's talent.
Further Documentation
In the event Producer chooses you to participate in the Program auditions, [10] In the event Producer chooses you to participate you will be required by the Producer to fill out, sign and agree to all of the terms and conditions of additional forms, including, without limitation, a Participant Agreement and Release and Non-Disclosure Agreement. In addition, you (as well as parents and/or legal guardians in the case of Minor contestants) will be required to complete an extensive background questionnaire, and will be subject to a thorough background investigation and other examinations, at Producer's discretion. ALL FORMS MUST BE FILLED OUT COMPLETELY AND TRUTHFULLY. IF YOU FAIL TO COMPLETE ANY FORM, GIVE ANY FALSE INFORMATION, OR FAIL TO REVEAL ANY PERTINENT INFORMATION, YOU MAY BE DISQUALIFIED FROM THE AUDITION PROCESS.
Disqualifications
Producer reserves the right to disqualify and/or exclude, in its sole and absolute discretion, any individual from the audition process for any reason or for no reason at all, including without limitation, violation of any portion of these Terms and Conditions, or tampering with the entry process or the audition process. Producer also reserves the right to change these Terms and Conditions at any time, with or without notice. Being chosen to audition and/or compete at any level in the process does NOT ensure that you will be selected to continue to the next stage of the competition process.[11] Producer reserves the right to disqualify and/or exclude
Privacy Policy
Any personal information supplied by you to this Online Audition Submission, PepsiCo, the Producers and affiliates will treat with strict confidentiality.  By participating in the Online Audition Submission, you grant the Producers permission to share your email address and any other personally identifiable information with the other Producers for the purpose of this Online Audition Submission and/or the production of the Program. [12] Any personal information supplied by you to this Online Audition
Nature of Relationship
You understand and acknowledge that the Producer Entities have wide access to ideas, stories, designs, and other literary materials, and that new ideas are constantly being submitted to them or being developed by their own respective employees. You acknowledge that many ideas may be competitive with, similar or identical to the Auditions and/or each other in theme, idea, format or other respects. You acknowledge and agree that you will not be entitled to any compensation as a result of the use by the Producer Entities of any such similar or identical material. You acknowledge and agree that the Producers do not now and shall not have in the future any duty or liability, direct or indirect, vicarious, contributory, or otherwise, with respect to the infringement or protection of the copyright in and to the Audition. You acknowledge that, with respect to any claim by you relating to or arising out of the actual or alleged exploitation or use of any audition or other material submitted in connection with the Online Audition Submission by any Producing Entity, the damage, if any, thereby caused to you will not be irreparable or otherwise sufficient to entitle you to seek injunctive or other equitable relief or in any way enjoin the production, distribution, exhibition or other exploitation of the Auditions or the Program or any other production based on or allegedly based on the Auditions or the Program, and your rights and remedies in any such event shall be strictly limited to the right to recover damages, if any, in an action at law.[13] You understand and acknowledge t hat the Producer
Bands
The following 10 bands were selected for season 1.
Entity Paradigm (2nd)
Mekaal Hassan Band (3rd)
Aks
Brain Masala
Messiah
Mizmaar
Sahara
The Shahzad Hameed Project
Yaar
The following bands failed to make the top 10 for season 1.

Azal (no-show)
Just in Case
Naqsh
Once
Punch
Ravens
Saaz
Silence (disqualified)
Still (no-show)
Episodes
Episode 1 premiered on Sunday, 30 July 2017. The bands that performed included:
Band
Perf.
Judged
Naksh
Sajjad Ali's "Bolo Bolo" (cover)
positive feedback
Positive
Allan Fakir's "Kalab" (cover)
Pindi Boys
"Pindi Boys" (original)
Kashmir
Entity Paradigms "Hamesha" (cover)
Bari
Aaroh's "Yaara" (cover)
not selected
Madlock
"Aarzoo" (original)
positive feedback
Shajr
Mekaal Hasan Band's "Ya Ali" (cover)
Soul Anesthetics
"Kabhi Aar, Kabhi Paar" (original)
not selected
Aura
"Main Hoon" (original)
positive feedback
OB Positive
Vital Signs's "Aitebar" (cover)