Pakistan Steel Mills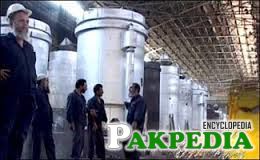 KARACHI: A view of steel making department of Pakistan Steel Mills
Pakistan Steel Mill (PSM) serves as thetrialization in Pakistan and yet it has been underrated and exploited by both public and private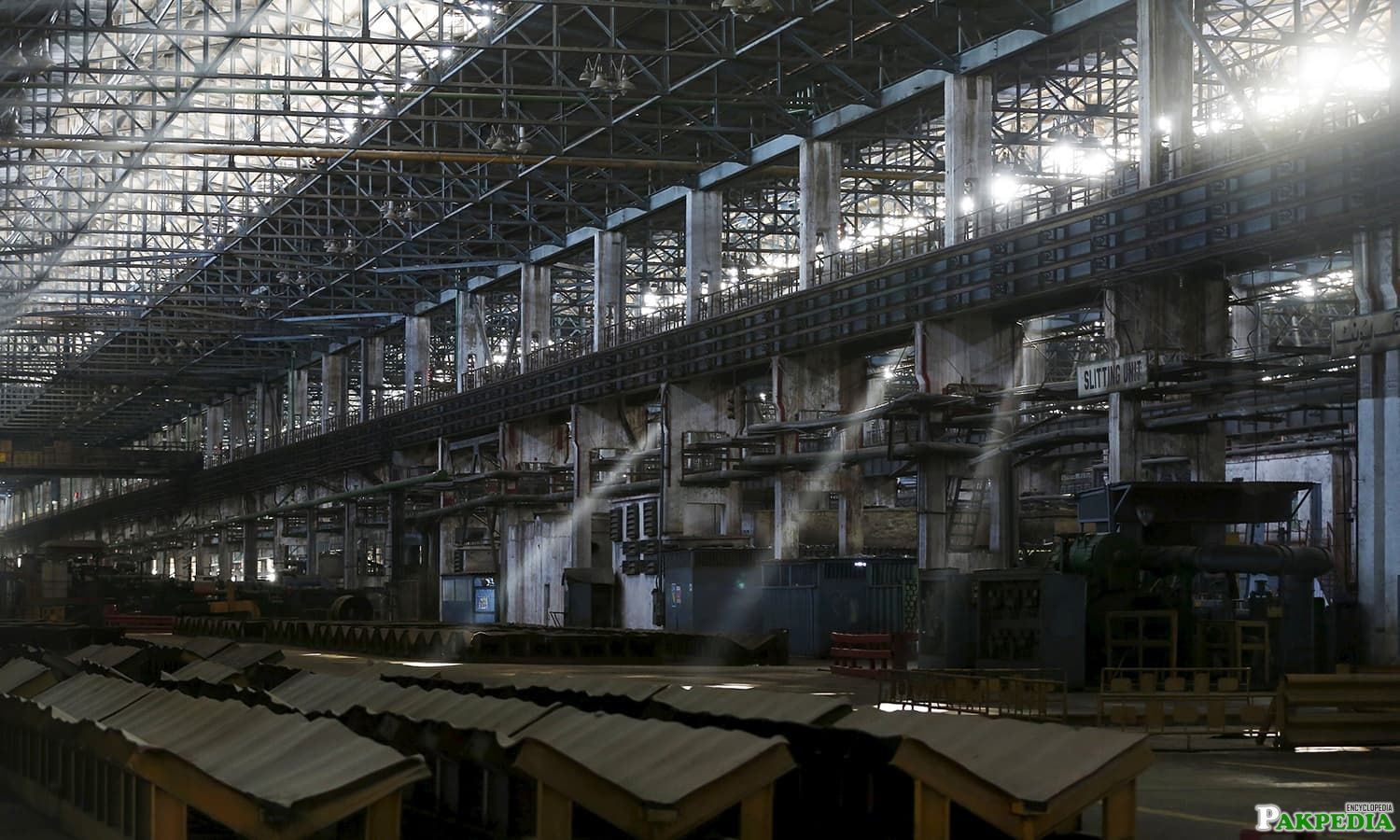 A general view of the deserted hot strip mill department of the Pakistan Steel Mills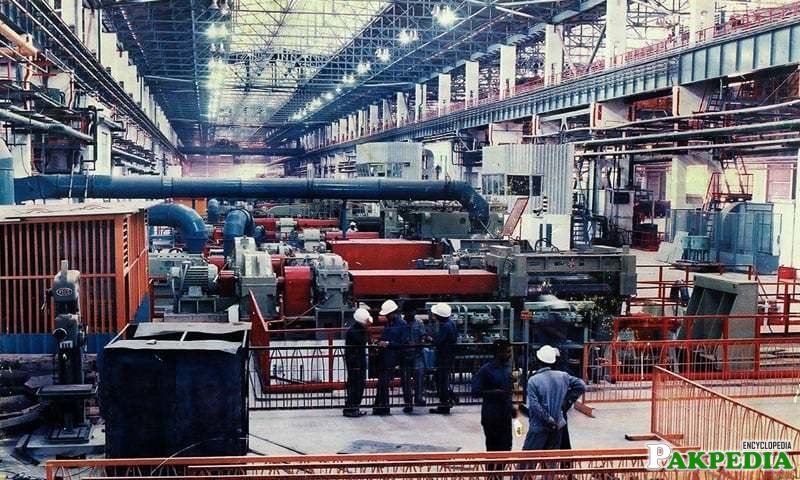 Pakistan Steel Mills
Service Offer
Engineering Design Services
Electronics Services
Electrical Services
Mechanical Services
Metallurgical Services
Engineering Testing Services
Electrical Testing & Calibration
Other Services
Guest House
Pakistan Steel Hospital
Engineering Design Services
Design is the very foundation for any engineering activity. At Pakistan Steel, they deal wi Pakistan Steel, they deal with almost every aspect of th almost every aspect of
engineering design with state-of-the-art equipment and technology. 
Mechanical design/modification related to steel structure,  process equipment and machineries.
Diagnostic study to resolve technical problems in  mechanical and civil domains of work.
Preparing  the  schematics / detailed  drawings  for  repair,  modification and manufacturing.
Computer Aided Design (CAD).
Development of manufacturing/fabrication drawings for machine  parts, steel structures, process pipelines and equipment. 
Design/modification and repair work of civil structures, road, underground facilities and foundations.
Quantity based survey of bulk materials.
Survey of rail tracks, cranes and mechanical equipments.
Ammonia printing and Xerox copying facilities of all standard drawing paper sizes. 
Electrical Services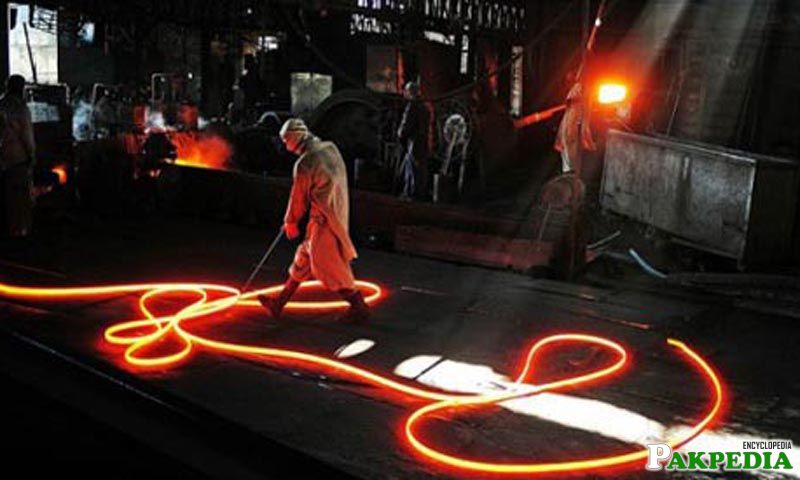 They offer a broad range of electrical services.
[2]
Service We Offer
They rewind 
LT AC induction motors upto 320 KW.
DC motors upto 180 KW. 
LT high-speed motors, hand grinders, vibrator coils, controlcircuit transformers, blowers and vacuum machines.
Brake coil of cranes upto 180 tons capacity.
They overhaul :
HT motors upto 800 KW.
Power transformers upto 1600 KVA.
Dynamic balancing of impellers, blower fans and rotors.  
Repairing of welding transformers. 
Field maintenance & alignment of motors upto 7000 KW.
Field maintenance & overhauling of power transformers upto 1600 KVA.
Metallurgical Services
  They have metallurgical production facilities that include moulding machines, electric are furnace, cupola furnace, induction furnace, crucible furnace, shake-out grid, shot blasting machine and tumbling barrels.  They can :
Manufacture   medium  &  large  sized  shape  castings  &  ingots with ferrous and non-ferrous materials as per the cast standards.
Produce silica sand castings.
Produce cast blanks.
Produce spare parts for cement factories, sugar mills, railways etc.  such  as  lining  plates,  couplings,  bushes,  motor  covers, bearing  plates,   brake shoes,   reducer bodies,   gears,  v-belt  pulleys,  crane wheel impellers,  hubs,   electrical contacts and  pump foundations etc.
Engineering Testing Services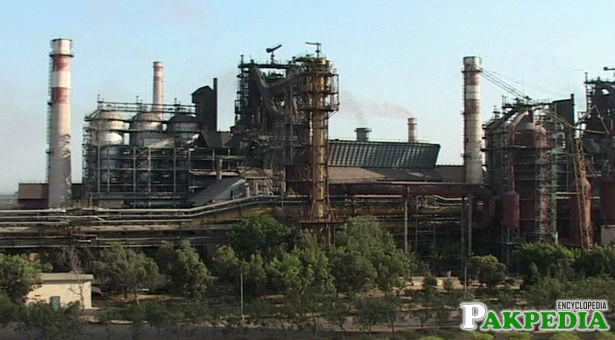 They have a fully equipped process testing laboratory that has all the essential testing services required for metallurgical, chemical, refractories and civil engineering including non-destructive testing.  They do :
[3]
Engineering Testing Service
Spectrometric Analysis.
X-Ray Fluorescence Spectrometric Analysis.
Chemical Analysis.
Instrumental Analysis.
Refractory Physical Testing.
Cement and Concrete Testing.
 Lubrication Oil Testing.
Water Testing.
Mechanical Testing.
Non-destructive Testing
History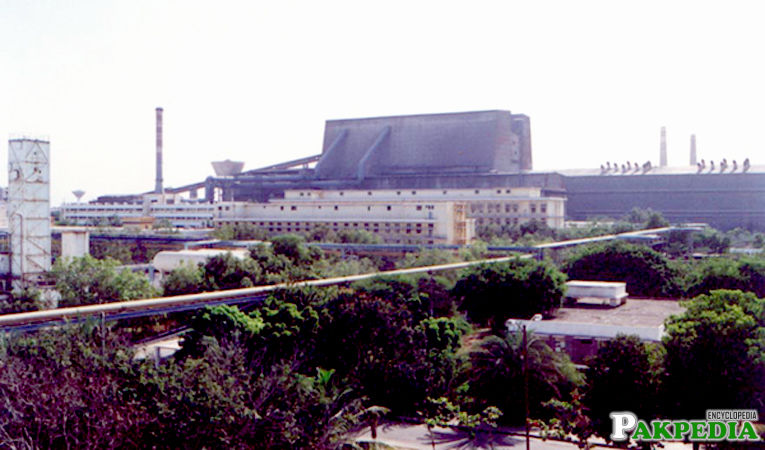 After independence in 1947, it did not take long for Pakistan to come to the realisation that progressive industrial and economical development would be impossible without the possession of a self reliant iron and steel making plant. The dependance on imports would cause serious setbacks to the country along with an extortionately high import bill which would be impossible to support.The initial idea for a domestic iron and steel mill was put forward in the first five year plan of Pakistan (1955 - 1960). Debates over the manufacturing process, supply sources of the requisite machinery and raw materials, plant site, domestic ore versus imported ore, ownership pattern, product mix and above all foreign financing credit kept the project on hold for a considerable time.
Factors
In 1968 besides other factors, it was considered by the Government of Pakistan that a basic steel industry should be established in the public sector, as public sponsorship of the project would enable intergrated development of the steel industry in the country. In light of this, the government decided that the Karachi Steel Project should be sponsored in the public sector for which a separate Corporation under the Companies Act be formed. As a result on the 2nd of July, 1968 Pakistan Steel Mills Corporation was setup as a private limited company in the public sector in accordance to the Companies Act of 1913, with the objective to establish and run steel mills at Karachi and other places in Pakistan.
Pakistan Steel concluded an agreement with VO Tiajproexport of the then USSR
In January, 1969, Pakistan Steel concluded an agreement with V/O Tiajproexport of the then USSR for the preparation of a feasibility report into the establishment of a steel mill at Karachi. Subsequently in January, 1971 Pakistan and the USSR signed an agreement under which the latter agreed to provide techno-financial assistance for the construction of a coastal based intergrated steel mill at Karachi.The foundation stone for this gigantic project was laid on the 30th of December, 1973 by the then prime minister Mr.
Zulfiqar Ali Bhutto
. The mammoth construction and erection work of the intergrated steel mill, never experienced before in the country, was carried out by a consortium of Pakistani construction companies under the supervision of Soviet experts.Pakistan Steel did not only have to construct the main production units but a host of infrastructure facilities involving unprecendented volumes of work and expertise. Component units of the steel mill numbering over twenty and each a big enough factory in its own right were commisioned as they were completed between April, 1981 to August, 1985 with the Coke Ovens and By Products Plant coming online first and the Galvanising Unit last. 
Commissioning of Blast Furnace Number 1 on the 14th of August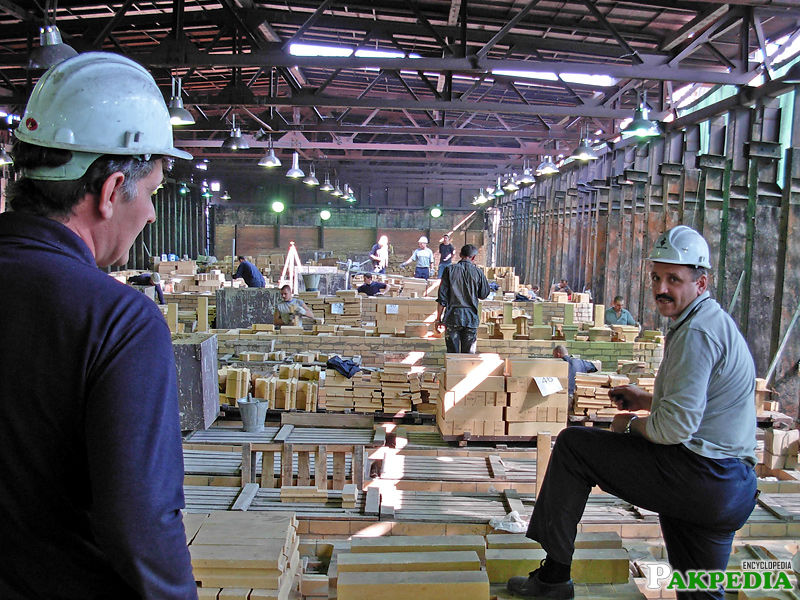 Commissioning of Blast Furnace Number 1 on the 14th of August, 1981 marked Pakistan's entry into the elite club of iron and steel producing nations. The project was completed at a capital cost of Rs. 24,700 million. The completion of the steel mill was formally launched by General
Zia-Ul-Haq
the then President of Pakistan on the 15th of January 1985.Today Pakistan Steel is the country's largest industrial undertaking having a production capacity of 1.1 million tonnes of steel. The enormous dimensions of the project can be visualised from the construction inputs which involved the use of 1.29 million cubic meters of concrete, 5.70 million cubic meters of earth work (second to Tarbela Dam), 330,000 tonnes of machinery, steel structures and electrical equipment. Its unloading and conveyor system at Port Qasim is the third largest in the world and its industrial water reservior with a capacity of 110 million gallons per day is the largest in Asia. A 2.5km long sea water channel connects the sea water circulation system to the plant site with a consumption of 216 million gallans of sea water per day. The above figures illustrate the massive civil works, intricate erections, installations of sophisticated electrical and mechanical equipment. With the completion of Pakistan Steel, the local contractors gained the technical ability till then unknown, which they utilised later to undertake million dollar projects both within the country and abroad especially the Middle East.
[4]
Pakistan Steel Mill History
Investment
At the moment, the plant, which is running at virtually full capacity, accounts for about a quarter of the country's demand for steel.The retired lieutenant general, dressed in the company's regulation boiler suit, showed us around the rolling mills, where the molten steel is cooled, flattened and rolled into coils.This is the engine room of Pakistan's rapidly-growing economy, and the steel will be used to make everything from railway wagons to oil drums.
Manufacturing and Construction Sectors in Pakistan
The manufacturing and construction sectors in Pakistan, two of the main drivers for steel demand, grew by 12% and 6% respectively between 2004 and 2005.Gen Qayyum said privatisation would bring in more investment, helping Pakistan Steel to increase its domestic market share and export steel to its neighbours.But the plant will need a big increase in investment if it is to compete with more efficient steel plants in South Korea and Japan.Another concern among some workers is that the new Russian-led consortium will use the plant to sell steel to Russia, bypassing the domestic market.Union officials at the plant were "on message" about how the company welcomed privatisation. But the leader of one of the firm's biggest unions, interviewed outside the factory, was more circumspect.
Employees
"A large number of employees, who are breadwinners for their families, will lose their jobs," warned Zaffar Khan, general secretary of Pakistan Steel Labour Union.And finding new jobs is a big concern, according to Karachi-based journalist Babar Ayaz. "New jobs are not coming up that fast because of automation. This is one of the major social concerns and is related to inequality which is increasing in society." But Mr Ayaz is confident that privatisations will generate lots of money for Pakistan, estimating they will bring in about $10bn over the next couple of years.
[5]
Pakistan Steel Mill Investment
Quality Assurance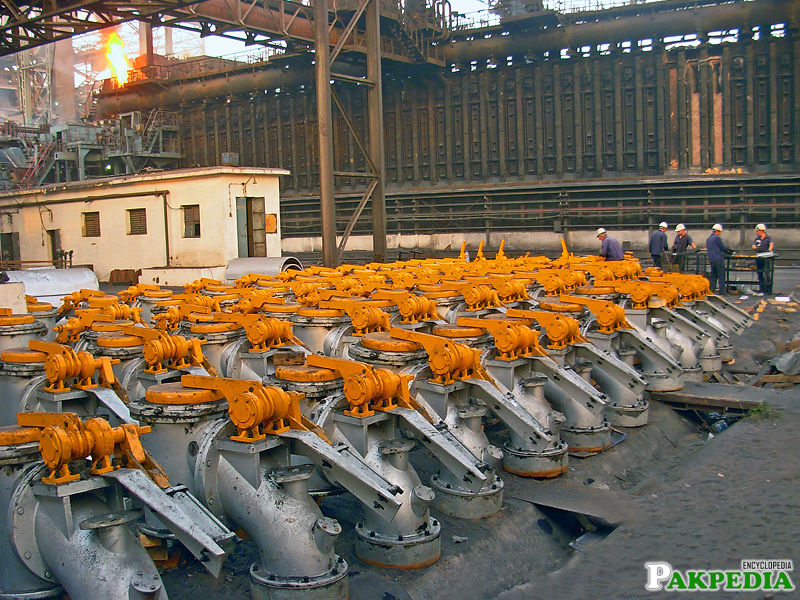 Pakistan Steel's determined effort in the field of quality management have been recognised and accredited by SGS an internationally reputable accreditation company. Their commitment to quality is fully supported by their higher tier management with the determination to create value for all their stakeholders by continuous improvement of their processes and systems by the active involvement of their workforce.
Commitment
Their commitment to quality is not limited to plant activities alone rather their goal is the implementation of quality management systems across the whole organisation. They have also acquired accreditation for their process laboratories, who are charged with the analysis of the quality of all their raw materials and product streams. The level of work acheived by their laboratories has attained such a reputation that now they have expanded to take on analysis work from companies outside their organisation.
[6]
Pakistan Steel Mill Quality Assurance
Dividends and Business Assets
Pakistan Steel Mills not only had to construct the main production units for 2.2 MTPY, but also a host of infrastructure facilities involving unprecedented volumes of work and expertise. Component units of the steel mills numbering over twenty, and each a big enough factory in its own right, were commissioned as they were completed between 1981 and 1985, with the Coke Oven and Byproduct Plant coming on stream first and the Galvanizing Unit last. Commissioning of Blast on 14 August 1981 marked Pakistan's entry into the elite club of iron and steel producing nations. The project was not completed at a capital cost of Rs.24,700 million and commissioned for production of 1.1 MTPY. Due to its infrastructure and enormous expansion capacity, it is difficult to determine the current value of assets of Pakistan Steel Mills,while others approximating the business assets reaching to then range from Rs. 72.5Bn to Rs. 100Bn of total value. By estimating, including the heavy machinery, dividends, facilities, and external and internal assets, the market price of the land of the Steel mills are exceeding to the amount of Rs. 125.5Bn, as per the government estimates against the market value of Rs 945 billion as on 2006 investigation by a potential bidders who was withdrew from the bidding process for reason not known.
Completion of the Steel Mill was Forced to Stop
The completion of the steel mill was forced to stop due to liquidity crises and formally launched after 12 years by the then-President of Pakistan General Muhammad Zia-ul-Haq on 15 January 1985. Pakistan Steel today is the country's largest industrial undertaking, having a production capacity of 1.1 million tonnes of steel and not completed to its lay-out design of 2.2 MTPY in a period of 40 years (1973 to 2013).
Health and Safety
Pakistan Steel adheres to a strict, health and safety policy. They are committed to providing a safe and healthy working environment to all their employees and work continuously to incorporate safety in design. Their drive in the acheivement of a safe working environment with safe working practices has recently awarded us with OHSAS 18001 accreditation. They however, endeavour to continue their work in the field of safety and continuously push safety practices and safety education and training across the whole workforce.
Management at Pakistan Steel
The management at Pakistan Steel is fully commited to providing a high level of social accountibility to all its workforce. It follows the philosophy that Pakistan Steel's sucess comes from its people and the needs of the people are inseparable from the needs of the organisation.
[7]
Health and safety Pakistan steel mills
Educational Facilities
Pakistan Steel actively contributes towards the promotion and advancement of learning and education. They manage a large number of educational institutions from primary school to college level including a cadet college, a degree college, an intermediate college, 4 high schools and 2 primary schools. In addition to this they operate the two following institutes.
[8]
Education Facilities Pakistan Steel Mills
Metallurgical Training Centre
The Metallurgical Training Centre (MTC) is designed to impart training in 64 technical trades to 1600 students/workers annually. Specialising in the fields of mechanical, chemical, electrical, metallurgical technologies. Since inception in 1978 the MTC has provided training to approximately 11846 people. In addition to this the centre has introduced a three year diploma course in Metallurgy and ElectronicsThe centre is affliated with the Sind Board of Technical Education, Karachi. The UNIDO has declared the MTC as a centre of excellence. The MTC boast state of the art laboratories, academic research and teaching facilities, work shops, a technical library, two large audotoriums and other facilites expected from a centre of excellence.
Institue Of Computer Science ICS
To develope, improve and broaden the scope of professional knowledge in Computer Science, Pakistan Steel established the Institute of Computer Science (ICS) in May 1994 at a cost of Rs.3 million. The institute conducts short courses in computer software and has introduced a diploma course in Computer Science.
Housing
As part of its employees' welfare policy,, Pakistan Steel has provided housing facilities for 4053 employees in its township. It has also facilated another 6000 employees in acquiring housing in the adjacent "Gulshan-e-Hadeed" settlement on an easy installment ownership basis.
Dealership Network
The sale of Pakistan steel products is channelized through their dealership network. To keep the whole procedure of sales transparent, free from bias, prejudice and to avoid black-marketing as well as fake firms, the sale has been restricted togenuine customers only. The customers are awarded dealership after thorough scrutiny, judgment of credibility,past performance and income tax record. Dealerships are offered in the following categories against refundable security deposits.
Category 'A' Coke Pig iron & By-products
Security Amount
Rs. 150,000
Category 'B' Long products (Billets/Blooms/Slabs/Cobble Plate)
Security Amount
Rs. 250,000
Category 'C' Flat products (HR/CR/GP/Cobble Plate)
Security Amount  
Rs. 400,000
A Performa has been designed for obtaining dealership of Pakistan Steel products,wherein complete details about the documents to be Submitted along with application as well as terms and conditions of dealership is available.
Dealership FormTerms Conditions
Sales Policy
The Sales policy of Pakistan Steel Products is prepared with immense care and vigour on the basis of past experience and achievements keeping in view the customers demand and market conditions. It reflects the plus points of the previous Sales policies and maturity of policy makers. Sales policy is the result of hectic efforts of marketing/sales personnel's who carryout an in depth survey/study of the market and keep vigilant eyes on the changing domestic as well as International Iron & Steel markets. While formulating the sales policy, due care is given to the future needs of Pakistan Steel and its relations with its valued customers. Sales Policy is formulated on the basis of :-
[9]
Pakistan Steel Mill Sales Policy
Streamline procedure.
Improve performance of sales.
Operate purely on Commercial lines.
Optimize productivity & profitability.
Cover promptly and effectively customer-related activities.
Based on the amendments in the Sales Policy-99 as approved by the Price Fixation / Review Committee, the following selling arrangements have been formulated for implementation with effect from September 10, 2004.
Pakistan Steel Mills vs the Economy
The government never realised how much money a project as enormous as the Pakistan Steel Mills Corporation could bleed from the country if left in inept hands.The government established the Pakistan steel mills corporation thinking that that economic growth would not be possible without a self sufficient iron and steel making plant.In May 2006 Pakistan Steel Mills was privatised. This could have been one of smartest things that the government of General Musharraf could have done.
Consortium Involving Saudi Arabia-based Al Tuwairqi Group of Companies
The consortium involving Saudi Arabia-based Al Tuwairqi Group of Companies submitted a winning bid of $362 million for a 75 per cent stake in Pakistan Steel Mills Corporation (PSMC) at an open auction held in Islamabad. Rs21.6 billion or $362 billion was paid by Al Tuwairqi, Russian Magnitogorsk and local brokerage Arif Habib securities to take control of Pakistan Steel mills. This amounted to Rs16.8 per share.
Selling Process of the Steel Mills
They could have been saved but justice had to prevail. The privatisation was reversed. This happened after a wide spread hue and cry for action from everyone; mainly steel mill employees and unions who feared they would be fired because the new management would figure out that they were of absolutely no use.The verdict was delivered on August 8, 2008. They said that the selling process of the Steel Mills was hasty and ignored profitability. But then again hindsight is always 20-20. The scene was set and the $362 million transaction with the Russian- Saudi-Pakistan investors was no more.
Privatisation
Nobody ever bothers to verify numbers because numbers don't lie. The argument against the sale of the steel mills was that it was being sold too cheaply there were also rumours that people were benefitting on the side from the transaction.Opponents of the sale claimed that market analysts had estimated the price of a 75 per cent stake in the mill to be much higher than the Rs21.68 billion, that it was eventually sold for.They never bothered to take into account the companies liabilities, the kind that are imminent when the management is completely government appointed, the kind that bring about losses every year.Analysts said that realistically the value of liabilities for the mill at the time must have been huge because the mill has been incurring losses and hemorrhaging money, tens of billion rupees of it, for many years.
Economic Benefit
The money that would have to be put into the Steel mills to make it viable again was never taken into account. They never considered the economic benefit of a non-government firm putting money into the mill to run it in an efficient way so that it could stop incurring losses and produce more steel. Even if it did not benefit the government monetarily, the industry would still benefit from the increased steel production.So far the government has not been able to stop the steel mills from being a white elephant. There is no way that the government would be able to spare the money required in its current financial position to fix the steel mills problems.
[10]
Privatisation Steel mill
Privatisation Transaction of the Steel Mills
Pakistan's fiscal debt went through the roof long before the privatisation transaction of the steel mills and still nobody thought to question the economic viability of not privatising such a large hole in the government's pocket. The most basic of benefits of such a deal would have been that it was foreign investment and it could have attracted more. It would have made the public steel mills monopoly private. Then the competition regulating body of Pakistan would not have as much trouble dealing with because it would not have belonged to the government and vested interests would have been fewer.
Losses
Pakistan Steel Mills Corporation (PSMC) has lost and cost the government a huge amount of money so far.Its annual losses stood at Rs9.33 billion and it needed to pay back Rs19 billion worth of loans up till 1999.Then it suffered a net loss of Rs19.5 billion in 2008-09. In just six months, it lost Rs5.622 billion during the July 2009 to January 2010 period.
ECC
The ECC was forced to approve a Rs10 billion bailout package for Pakistan Steel Mills in January 2010 to overcome its "acute financial crunch". Pakistan Steel Mills said that the Rs10 billion was 'adjusted in the loan repayment.'Now PSM wants Rs25 billion more, and has again requested the ministries of industries and production and finance for a bailout package for running the mill efficiently and help it overcome its financial liabilities. They say that the mill is currently running at 30 to 35 per cent production capacity. In lieu of this the privatisation back in 2006 just keeps on getting more and more attractive.Despite all its problems, the mill is a paradigmatic employer and would rather see itself run into the ground than mistreat its long standing employees. In the midst of all the troubles that it is facing, the mill started issuing letters confirming their jobs.But these are just the workers; other employees of the mill take house rent from the company worth billions of rupees while residing in the official residences that the organisation provides. 
Double Benefits on Accommodation
The double benefits on accommodation were enjoyed by many people from the chairman to officers at junior posts according to the Public Accounts Committee (PAC). The former PSM chairman also took Rs2.886 million house rent while using his official residence.Apparently there were some serious financial problems other than the ones that had always been plaguing the company. It was discovered that the Pakistan Steel Mills was in serious trouble after the Competition Commission of Pakistan (CCP) undertook a detailed investigation of it in 2009.
[11]
Pakistan steel with economy
CCP
The organisation was left in serious debt up to Rs22 billion, possibly more. The CCP discovered that the Pakistan Steel Mills had run its factories into debt by selling exclusively to the Abbas Steel Group at well below the market price while other competing vendors were not sold to at all.Initial allegations accused the, then Chairman of Pakistan Steel of having a strong bias towards the Abbas Steel Group (ASG). They were accused of allocating all the billets being produced by Pakistan Steel Mill to be sold exclusively to the Abbas Steel Group at rates well below the market price while other vendors, who had actually made complete payments in advance at the official market price, were left stranded and ended up literally running their factories into debt and ultimate closure.Pakistan Steel gave Abbas Steel exclusive rights to all its production and discounted prices after Moeen Aftab Sheikh was appointment Chairman of Pakistan Steel by the Pakistan Peoples Party.The CCP's detailed investigation found that the owner of Abbas Steel Group, Riaz Lalji was responsible for the Steel Mill crisis.
Ukraine to provide tech help for Steel Mills
KARACHI -  Ukraine Pakistan Business Council President Alexander Ivanchuk has said that Ukraine will extend its help for education and training of PSM employees for appraisal of their skills and capabilities.A nine-member trade delegation led by Volodymyr Lakomov Ambassador of Ukraine under the leadership of Alexander Ivanchuk, President of the Ukraine Pakistan Business Council & Counsellor of Ukranian Chamber of Commerce and Industries along with Engr M A Jabbar, the Honorary Consul of Ukraine in Karachi and member Pakistan Steel Board of Directors visit Pakistan Steel Mills.He said Ukraine also helped in the development of iron ore mines in Balochistan, to beneficiate iron ore for production of steel in Pakistan. He expressed that they are very much impressed with Pakistan Steel infrastructure and available facilities and hope for bright future of PSM, which is the key to promote engineering development in the country.
Chief Executive Officer Pakistan Steel M. Javed
 Chief Executive Officer Pakistan Steel, M. Javed said that PSM will welcome cooperation of Ukraine for technological development and help in restoration of raw materials supply chain. He appreciated trade cooperation between the two countries and said that Ukraine's participation in providing technical services for major operational units of Pakistan Steel Mills is remarkable.The Ambassador of Ukraine Volodymyr Lakomov said that Ukraine like to make good business relationship with Pakistan and hope that PSM will be a symbol of friendship between the two countries.
[12]
Ukraine to provide tech help for steel mills
The Pakistan Steel Mills Problem
Pakistan Steel Mills (PSM) is the biggest white elephant this country possesses, on par with the Pakistan International Airlines (PIA) - but at least the airline is fully operational. PSM is stuck in a perpetual loop of mounting dues, defaulted debts and unpaid employees - currently at Rs415bn, including Rs166bn payable liabilities - while production rests at a measly 8% capacity. It's 10 member board is staffed by 4 people, it's 7 directorates are being juggled by 2 people, and it does not have a permanent Chief Executive Officer (CEO). Chairman Export Processing Zone Authority (EPZA) Mumtaz Ali Shah holds the additional charge of PSM CEO.
CCoP
In the face of this the decision to lease out the deteriorating plant to a party which can get it operational seemed like an obvious and intuitive choice. After the government - through the Cabinet Committee on Privatisation (CCoP) - gave the go-ahead for plans to start materialising, a transaction committee had drawn up a detailed plan for the lease of the industrial complex for 45 years, which was summarily approved and had begun drawing interest from international buyers.Now, without warning, and more importantly, without any explanation whatsoever, the CCoP - headed by the Finance Minister
Ishaq Dar
- has decided to pull the plug on the plan and postpone the decision on the fate of the mill indefinitely. Instead they are met with the tired old platitudes delivered by the Finance Minister who hoped that this delay will be "helpful for the economic growth in the country and improve its financial health". What does that mean? Why was this decision taken?
12800 Employees
The bigger problem is, how will the federal government keep the plant running? In the short term it has to pay a total of 12,800 employees, many of whom are picketing outside the gates of the plant because they haven't been paid for three months, and deposit large sums into the trust funds to make the defaulted payments to retirees and gratuity eligible. In the longer run the problems get much worse, including how to get the plant operational to the extent that it becomes economically viable and produces enough steel that the country does not have to rely on "replacement imports" that were started because the plant was failing. Ishaq Dar and CCoP need to have a concrete plan in mind, just directing the members to "make it cost-effective and efficient" is not enough when successive governments have failed to do so over the decades.The answer provided by the CCoP was to consider the privatisation of several other smaller state owned companies to make up the cost. Not only does this idea seem makeshift and time-consuming, it fails to deal with the problems with PSM itself, and as such it will only be a stop-gap measure.
[13]
Pakistan Steel Mills Problems
Environmental Records
Due to its importance, the steel mills followed a strict environmental policies regulated by the Environmental Protection Agency (EPA) of the Ministry of Environment (MoE). All health safety and healthy working environment continuously regulated under a designed system. Pakistan Steel Mills, besides its core activities, has done a lot in making the environment in and around Pakistan Steel green and beautiful through the addition of three unique projects; the Quaid-I-Azam Park; The Quaid-I-Azam Cricket Park; and the Quaid-I-Azam Beach. The Quaid-I-Azam Park, which spreads out over an area of 45 acres (0.18 km2), consists of a series of six interconnected lakes, lush green lawns and grassy terraces, colorful flower beds, fountains, life-size steel-made models of wild and marine animals, a jogging track, a bird sanctuary and mini-zoo, as well as a children's play and recreational ground and boating facilities. The steel mills also active in sports development and also has a football team Pakistan Steel FC that currently competes in the Pakistan Premier League.
[14]
Environmental Records
Housing
As part of its employees' welfare policy,, Pakistan Steel has provided housing facilities for 4053 employees in its township. It has also facilated another 6000 employees in acquiring housing in the adjacent "Gulshan-e-Hadeed" settlement on an easy installment ownership basis.
Steel Town
Pakistan Steel has made a major contribution in the physical planning and housing sector of its employees. The development of Steel Town was undertaken by Pakistan Steel and by June 1983 4053 houses were constructed across an area of 8126 acres. In addition local amenities including, schools, colleges, shops, banks, a 100 bed hospital, a medical centre, two guest houses, religious facilities and recreational facilities were included.
Facilitate
To further facilitate employees Pakistan Steel decided to implement a separate housing scheme and developed a further township by the name Gulshan-e-Hadeed. The first phase consisting of 2095 units was completed in September, 1985. By 1994, the second phases consisting of approximately 4000 houses was also completed. All these houses were alloted to employees of Pakistan Steel on an easy instalment and ownership basis. The township includes all loacal amenities and facilities.
Recreation
Pakistan Steel places great importance, in the welfare of its workforce and community. We have invested highly in insuring the availability of state of the art facilities for our workforce and their families. Recognizing that sports and leisure are imperative to the well being of our people, we actively promote the participation of health related activities at all level.
Astro Turf Hockey Ground
Pakistan Steel takes great pride in leading the way in the public sector in providing state of the art welfare facilities to its workforce. Our recently developed astro turf hockey pitch is the only one of its kind in the public sector. Its level of construction is at such a level that even the Pakistan national hockey team uses it for practice sessions. Our own team has also gained immense benefit from this facility evidence of which is confirmed by winning numerous tournaments giving great pride and immense moral to our organization.
Football Ground
We have recently invested highly in the restoration of a full size football pitch in Steel Town. A newly turfed pitch with flood light facilities has been completed for adults and children both to benefit from. A very popular facility in the evenings for all staff, with regular football tournaments arranged promoting participation from all age group and sexes.
Quaid-i-Azam Park
Spread over an area of 45 acres,
Quaid-i-Azam
Park serves as an oasis in a industrial jungle. With carefully planned and designed lush green lawns, artificial lakes, flower gardens, fountains, a mini zoo, children's play area, mini train network and jogging track this provides the perfect setting for families to escape the daily rigors of life. Originally designed for the workforce of Pakistan Steel the park has proved so popular that now it has had to open its door to the public looking for a perfect day's escape from the hassles of Karachi city.
Officers Mess
An Officers' Mess equipped with facilities ranging from squash courts, tennis courts, gym, swimming pool, library, billiards room is run on a self help basis by its members in Steel Town. The Club has been instrumental in providing the perfect environment for Pakistan Steel officers and their families to socialize and enhance fraternity amongst them.
[15]
 Officer's Mess 
Health Safety
Pakistan Steel adheres to a strict, health and safety policy. We are committed to providing a safe and healthy working environment to all our employees and work continuously to incorporate safety in design. Our drive in the acheivement of a safe working environment with safe working practices has recently awarded us with OHSAS 18001 accreditation. We however, endeavour to continue our work in the field of safety and continuously push safety practices and safety education and training across the whole workforce.
Management at Pakistan Steel
The management at Pakistan Steel is fully commited to providing a high level of social accountibility to all its workforce. It follows the philosophy that Pakistan Steel's sucess comes from its people and the needs of the people are inseparable from the needs of the organisation.
General Enquiries Head Office
| | |
| --- | --- |
| Address: | Pakistan Steel Bin Qasim Karachi 75000  Pakistan |
| Tel: | +92  21 9 9264222 |
| Tel: | +92  21 34750271 |
| Fax: | +92  21 34750156 |
| Email: | info@paksteel.com.pk |
| Steel Town Exchange Tel. no | +92 21 99264111 |
| Steel Town Exchange Tel. no | +92 21 34716578 |