Motorways in Pakistan are planned to link major cities with high speed and controlled/limited access roads. Total length of planned motorways in Pakistan is over 2600 kilometers, while operational motorways in Pakistan has a combined length of about 700 km and about 300 km is under construction. Motorways in Pakistan are either 4 or 6 lanes, with all 4 lane motorways are up-gradable to 6 lanes when needed. 
| Title | Description |
| --- | --- |
| Details | |
| Founded: | 1997 |
| Name: | Pakistan Motorway |
| In Urdu: | پاکستان موٹر وے |
| Location: | Pakistan |
| M14 Length: | 280km |
| M11 Length: | 89 km |
| M10 Length: | 57 km |
| M9 Length: | 136 km |
| M8 Length: | 892 km |
| M7 Length: | 270 km |
| M6 Length: | 296 km |
| M5 Length: | 387 km |
| M4 Length: | 309 km |
| M3 Length: | 230 km |
| M2 Length: | 367 km |
| M1 Length: | 155 km |
| M14: | Hakla–Dera Ismail Khan |
| M11: | Sialkot–Lahore |
| M10: | Karachi Northern Bypass |
| M9: | Hyderabad–Karachi |
| M8: | Ratodero–Gwadar |
| M7: | Dadu–Hub |
| M6: | Sukkur–Hyderabad |
| M5: | Multan–Sukkur |
| M4: | Pindi Bhattian–Multan |
| M3: | Lahore–Abdul Hakeem |
| M2: | Islamabad–Lahore |
| M1: | Peshawar–Islamabad |
| Formed: | 1997 |
| Length: | 4,266 km (2,651 mi) |
| M4 Status: | Under construction |
| M2 Status: | Operational |
| M1 Status: | Operational |
| M1 Completion Year: | 2007 |
| M2 Completion Year: | 1997 |
| M4 Completion Year: | 2014 |
| M6 Status: | Planned |
| M5 Status: | Planned |
| Total Length of Pakistan Motorway: | 1010 km as of feb 4, 2017 |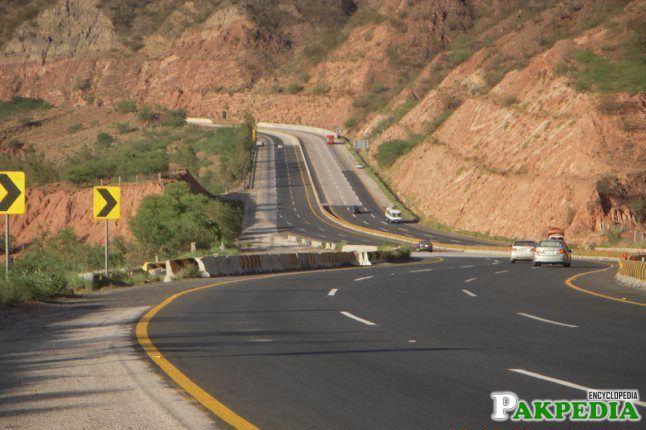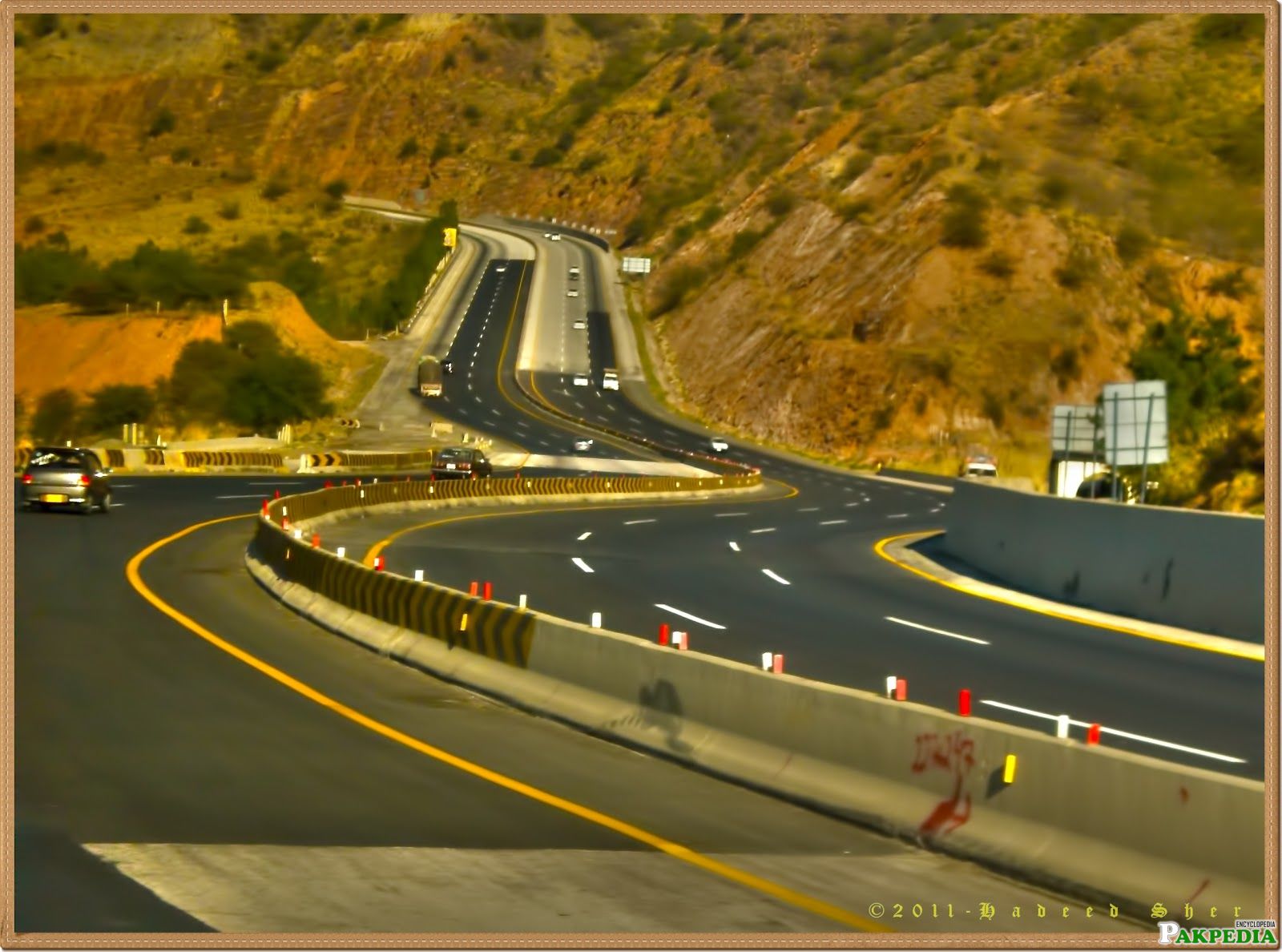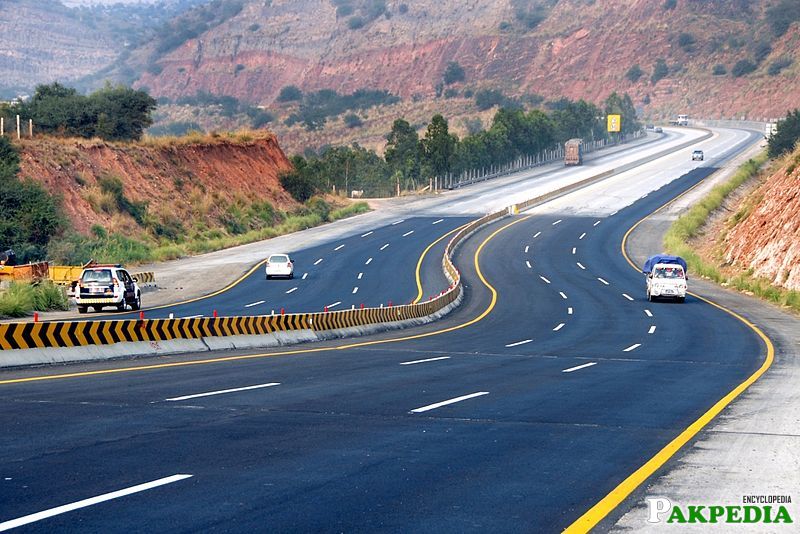 History

Pakistan's motorways are part of Pakistan's "National Trade Corridor Project", which aims to link Pakistan's three Arabian Sea ports (Port Bin Qasim  and Gwadar Port) to the rest of the country through its national highways and motorways network and further north with Afghanistan  Central Asia and China. The project was planned in 1990. The China Pakistan Economic Corridor project aims to link Gwadar Port and Kashgar  (China) using Pakistani motorways, national highways and expressways.
Details of Motorways
M-1 is from Islamabad to Peshawar. It is 154 Km motorway.
M-2 is from Lahore to Islamabad. It is 367 km long.
M-3 is from Pindi Bhattian to Faisalabad. It is 53 km.
M-4 has been planned from Faisalabad to Multan with a total length of 243 km.
M-5 has been planned from Multan to D G Khan with a total length of 84 km.
M-6 is planned from D G Khan to Kakkar with total length of 467 km.
M-7 is planned from Kakkar to Karachi with a total length of 280 km.
M-8 is planned from Gawadar to Ratodero with a total length of 859 km.
M1 Route
The M1 originates northeast of Peshawar at the junction with the Peshawar Ring Road. It then crosses over the Kabul River in an eastern direction passing the cities of Charsadda, Risalpur, Swabi and Rashakai before crossing the Indus River. The M1 leaves Khyber Pakhtunkhwa province and enters into Punjab province, where it passes through Attock, Burhan and Hasan Abdal. The M1 terminates near Islamabad as a continuation of the M2 motorway. The whole stretch of the M1 consists of 6 lanes, with a number of rest stops along the route. The M1 has 9 interchanges at Fatehjang, Bhatar, Burhan, Rashaki, Swabi, Chachh (under construction), Charsadda, the Peshawar Northern Bypass and Peshawar Ring Road. At Brahma Bahtar Interchange, the Brahma Bahtar-Yarik Motorway will commence towards Dera Ismail Khan. [2] M1 Route
Karachi to Lahore motorway project approved

 
The Executive Committee of the National Economic Council (Ecnec) approved on  12 development projects with an estimated cost of over Rs440 billion, including Rs310bn for the Karachi-Lahore motorway.Presiding over a meeting of the council, Finance Minister Ishaq Dar asked the departments concerned to devise a mechanism to complete the projects on time because delays resulted in considerable increase in their cost. 
Executive Committee of the National Economic Council
Ecnec approved the Karachi-Multan-Lahore motorway (KLM) project and 387km Sukkur-Multan section at a rationalised cost of Rs259.353bn. Ten per cent cost of the project will come from the Public Sector Development Programme (PSDP) and the rest from credit financing by the Chinese government.The project was  completed by October 2017 by the National Highway Authority. It envisages construction of six-lane Sukkur-Multan section of the 1148km KLM, including building of bridges, interchanges, nullahs, etc.
Cost of Project
Ecnec also approved a project for land acquisition, compensation of affected properties and relocation of utilities for the motorway at a rationalised cost of Rs51bn.The meeting approved a Rs5.146bn plan for raising the Balochistan Constabulary, with a foreign financing of Rs200 million. Its objective is to assist police and the district administration in maintaining law and order in the province by recruiting 6,000 additional personnel and merging 4,000 reserved police to make 10,000-man strong Balochistan Constabulary.The committee approved a flood emergency reconstruction project for bunds and canals (revised PC-I) at a cost of Rs26.905bn, with foreign exchange component of Rs19.279bn by the Asian Development Bank and the local component by the Sindh government.The project envisages strengthening the entire length of banks of Indus in general and at Tori, SM Bund and FP Bund at Mancher lake damaged by the 2010 floods.Ecnec approved a project for wind power plants at Jhimpir and Gharo wind clusters located in Thatta and Jamshoro in Sindh at a modified cost of Rs11.277bn. The meeting approved acquisition of land for setting up a free trade zone in Gwadar at a revised cost of Rs6.499bn. It envisages acquisition of 2,281 acres of land for the zone of which 1627 acres from land owners.It approved the widening and improvement of 250km section of Kalat-Quetta-Chaman road of National Highway N-25 at a revised cost of Rs19.140bn, with foreign exchange component of Rs13.920bn from USAID as grant.Ecnec approved 59.1km Hasanabdal (Burhan)-Havelian expressway (E-35) to be built at a revised cost of Rs30.494bn, including Rs7.592bn foreign exchange component.
Project of Ecnec
 The project is sponsored by the Higher Education Commission and executed by National University of Science and Technology, Islamabad.Ecnec approved the prime minister's (national) programme for providing laptops to talented students at a revised cost of Rs4.928bn. Under the project, 100,000 laptops are distributed this year among students of public sector higher education institutes across the country.The meeting approved rehabilitation and up-gradation of Trimmu barrage and Panjnad headwork (ADB assisted) at a cost of Rs16.8bn, including an ADB loan of Rs14.9bn.It approved dualisation and improvement of 64km Mandra-Chakwal road at a revised cost of Rs4.671bn. The project envisages construction of dual-way two-lane carriageway between Mandra and Chakwal.[3] Karachi to lahore motorway project approved
Inauguration ofKarachi-Hyderabad M-9 motorway
Prime Minister Nawaz Sharif  inaugurated a 75-kilometre-long section of the Karachi-Hyderabad M-9 Motorway.Addressing the inauguration ceremony, the premier expressed satisfaction that work on the motorway is "60 per cent complete".
"Today, people are witnessing a naya Pakistan being built," Prime Minister Nawaz Sharif said. "Motorways are no longer a distant dream. All promises will be fulfilled by 2018."
"Today the world is seeing a naya Pakistan."
"We spent day and night trying to strengthen the economy. Today the nation is beginning to stand on its own two feet."
"Bridges, interchanges and service roads are being built. On the other side, work on the Multan-Sukkur motorway has been intitiated… Building the nation is not a game," he added."When we took the reigns of the country, we were in a sorry economic state. There were youngsters with skills but no one to employ them. In such times, there are negative forces that try to mislead these youngsters," he cautioned."Any country in the world that has become modern started with creating better infrastructure… and Pakistan could have seen the progress that we started in 1999 had we not been stopped halfway through," he said."Electricity had abandoned us, as if it was unhappy with is. But we have started bringing it back to Pakistan. 1,000 megawatts will be added to the grid this year," he said signalling the government's intent to rely more on renewable energy. These interchanges will provide access to various areas, including Keer Thar National Park, Jhampeer, Kinjhar Jheel and Thano Ahmed Khan.[4] Nawaz inagurated the completed portion of karachi hyderabad
Under construction projects of CPEC

 After the completion of under- construction motorway projects, the length of motorway network reached 2,000 kilometres in next three years.An official of National Highway Authority (NHA) told APP  that during past one year, two sections of 115 KM have been added to the motorway network while overlay of 357 KM Lahore-Islamabad Motorway has been completed.[5] Pakistan motorway under constructiion project of CPEC About the under construction projects, he said that inauguration of the construction work of the Havelian-Thakot Motorway section was done in April this year.
The 118-kilometre section of the motorway – part of China Pakistan Economic Corridor (CPEC)  is expected to be completed in three years with a cost of Rs 133.90 billion.He said that the work on 59 KM Burhan-Havelian expressway (E-35) – also known as Hazara Motorway – is in full swing and it will become operational by December 2017. The project costs Rs 129 billion.[6] National highway and motorway police
Sukkur Multan Motorway
Work on 393 KM Sukkur-Multan motorway was inaugurated on May 6 2017. The motorway starting from Multan would pass through Jalalpur, Peerwala, Ahmed Pur, East Ubaro, Pano Aqil and end at Sukkur.The project comprise 54 bridges including one major bridge on River Sutlej. The motorway  have 12 service areas, 10 rest areas, 11 interchanges, 10 flyovers, and 426 underpasses, he said.Construction for the Rs 17 billion Gojra-Shorkot section had been divided into two phases to ensure completion within the shortest possible time. The 56-KM Faisalabad-Gojra and 57-KM Khanewal-Multan had already been completed and have become functional.On August 13, the Shorkot-Khanewal section of M-4 motorway was launched. The project will be completed at a cost of about Rs 22 billion over a period of two years. The project  improves Pakistan's vital north-south road network, promote economic growth, create employment opportunities and ensure regional connectivity.According to the contract agreement, the existing 4 Lane Karachi-Hyderabad Superhighway is being converted in 6-lane Motorway, meeting international standards, in line with international practices over next 25 years.
Patrolling and enforcement
Pakistan's Motorways are patrolled by Pakistan's National Highways & Motorway Police (NH&MP), which is responsible for enforcement of traffic and safety laws, security and recovery on the Pakistan Motorway network. The NH&MP use SUVs, cars and heavy motorbikes for patrolling purposes and uses speed cameras for enforcing speed limits.[7] National highway and motorway police
Inauguration of Hazara Motorway

The Burhan-Havelian section of the Hazara Motorway became operational from 27th December 2017. Prime Minister Shahid Khaqan Abbasi  inaugurated the motorway. Although the supporters of both the PPP and former military ruler Gen (retired) Pervez Musharaf claim credit for conceiving the project that would serve as the main land route between China and Pakistan in future trade under the CPEC, the ousted prime minister Nawaz Sharif materialised the project. He had inaugurated the E-35 Motorway on Nov 29, 2014. The first phase of the Asian Development Bank and United Kingdom-funded six-lane expressway has a total length of 180 kilometres and divided in seven phases. The first two phases of the project, Burhan to Shah Maqsood, have four interchanges, including Jhari Kass interchange, the entrance point of Haripur district, Kotnajibullah interchange that connects Hattar Industrial Estate, Chechiyan interchange that connects Khanpur Road and Shah Maqsood interchange which was later renamed as Havelian interchange.  [8] Inauguration of hazara motorway