Pakistan Monument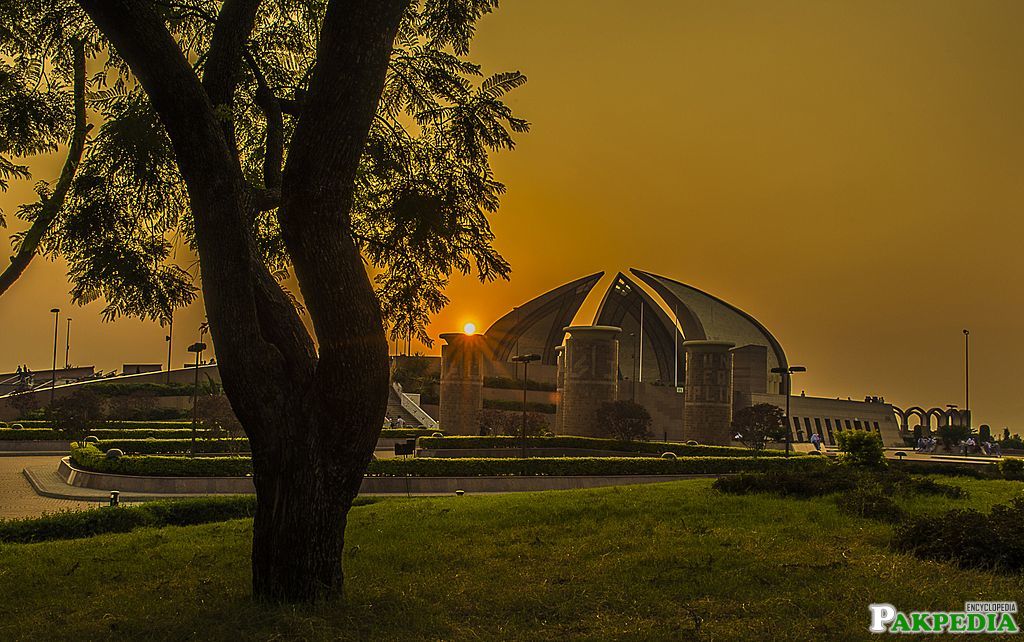 Pakistan Monument
Pakistan Monument
Pakistan Monument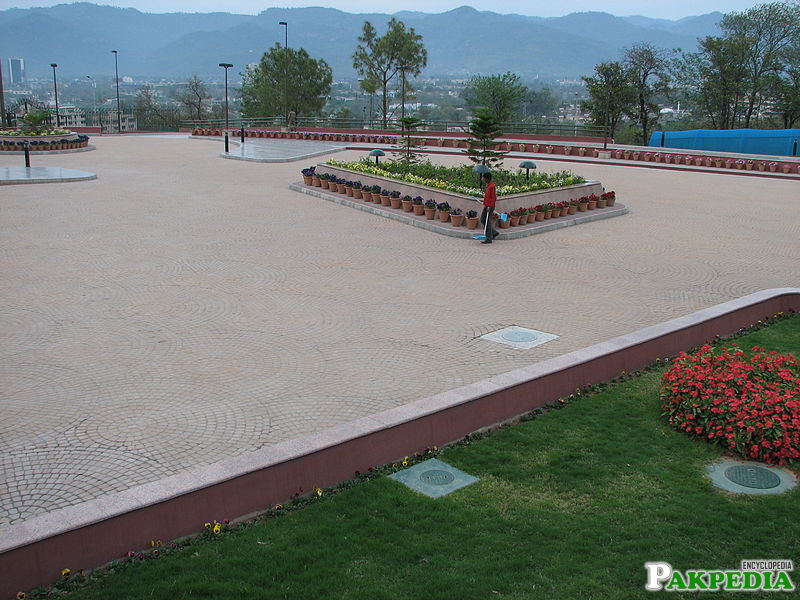 Pakistan Monument
Pakistan Monument Museum
Pakistan Monoment Islamabad Museum is Located in Front of  Pakistan Monoment Islamabad at Shakarparian,  Islamabad , Pakistan. Museum is created to give tribute those who sacrificed there all life for a separate homeland. The  government of  Pakistan built this museum to showcase some special movements in the making Pakistan. Pakistan Monoment Islamabad Museum is a best place for history lovers there timings are 10 Am to 8 PM. 
Overview in Details
4 Provinces of Pakistan
4 petals stand for the 4 provinces of Pakistan which are standing united and together. All petals are protecting the crescent and star which represent the whole Pakistan. So it is a symbol of progress and the unity of the nation.
[2]
Province of Pakistan
History of the Country
The other essential part of this structure is the Pakistan Monument Museum. It was the most focusing part of this plan. It includes the history of the country with the heritage, traditions and future plans. Different time periods of the Pakistan was shown in this museum with the help of many sculptures. All these things take you the past and you feel like existing in that age and everything is happening in front of you.
Great Standards
After the completion of this project this fact was found that these sculptures are of low standard and do not meet the standards then this project was given to the Lok Virsa team. Under the supervision of Mr. Kamran Javed the team of Lok Virsa completed this task so fast.
Different Parts
When you enter in this museum you can clearly see that it is divided into different parts. You can find the history of Pakistan in one part while future on the other part. The sculptures of Muslim heroes and the freedom fighters are available here. The personal room of Iqbal and Quaid are also present. A library is also present to facilitate the visitors with the old time videos.
Fatimah Jinnah
Fatimah Jinnah
also contributed a major role in the fight of freedom. Here you can find her with the Quaid-e-Azam on different occasions. This all was arranged to educate the youth and youngsters about our history and culture. Without any doubt this one was a grand project which was completed perfectly.
[3]
Fatimah Jinnah
Monoment IslamabadGandharaArt
Gandhara Art, Buddha statue, Muhammad bin Qasim, Mahmood Ghaznavi, war of freedom, Gandhi, Tilak, Gokhale, Chandra Pal, Dadabhai Naoraji and few more great leaders and places are presented here through the sculptures. Maps of Pakistan are also fixed here for the visitors. Different topics related to the Pakistan are discussed in the audio and video section. Old music and old pictures of singers are also a part of those videos.
Facilities
The PMM also has the facilities of reference library, audio-visual archive, conference hall along with a sixty-two (62) seat capacity auditorium known as Panorama Hall.
[4]
Facilities
Conception
Pakistan Monument was built by Ministry of Culture. After the approval of the idea of a National Monument Islamabad the Ministry of Culture with the help of Pakistan Council of Architects and Town Planners (PCATP) organized an all Pakistan competition to design an architecture around the theme representing history, culture, and civilization of Pakistan mainly focusing on Pakistan Movement. The foundation stone for the architecture was laid on 25 may 2004. Pakistan Monument Islamabad was completed on 23 March 2007 with a total cost Rs. 580 million. The blooming flower shape of the structure represents Pakistan as a rapidly progressing country.
[5]
Conception
Monument Design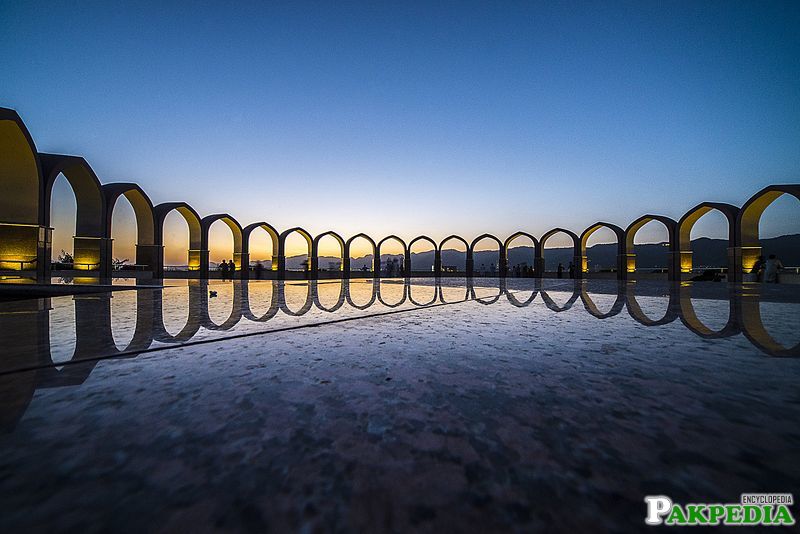 The monoment Islamabad is shaped like a blossoming flower. It is spread over an area of 28000 square meters. The design of Pakistan Monoment Islamabad consists of four large petals and three small petals. The four large blossoming flower's petals are made of granite. They represent four provinces Balochistan,
Khyber Pakhtunkhwa
, Punjab and Sindh of Pakistan three smaller petals represent three territories Azad Jammu & Kashmir, FATA and Gilgit Baltistan.
[6]
Design
Pakistan Monument Murals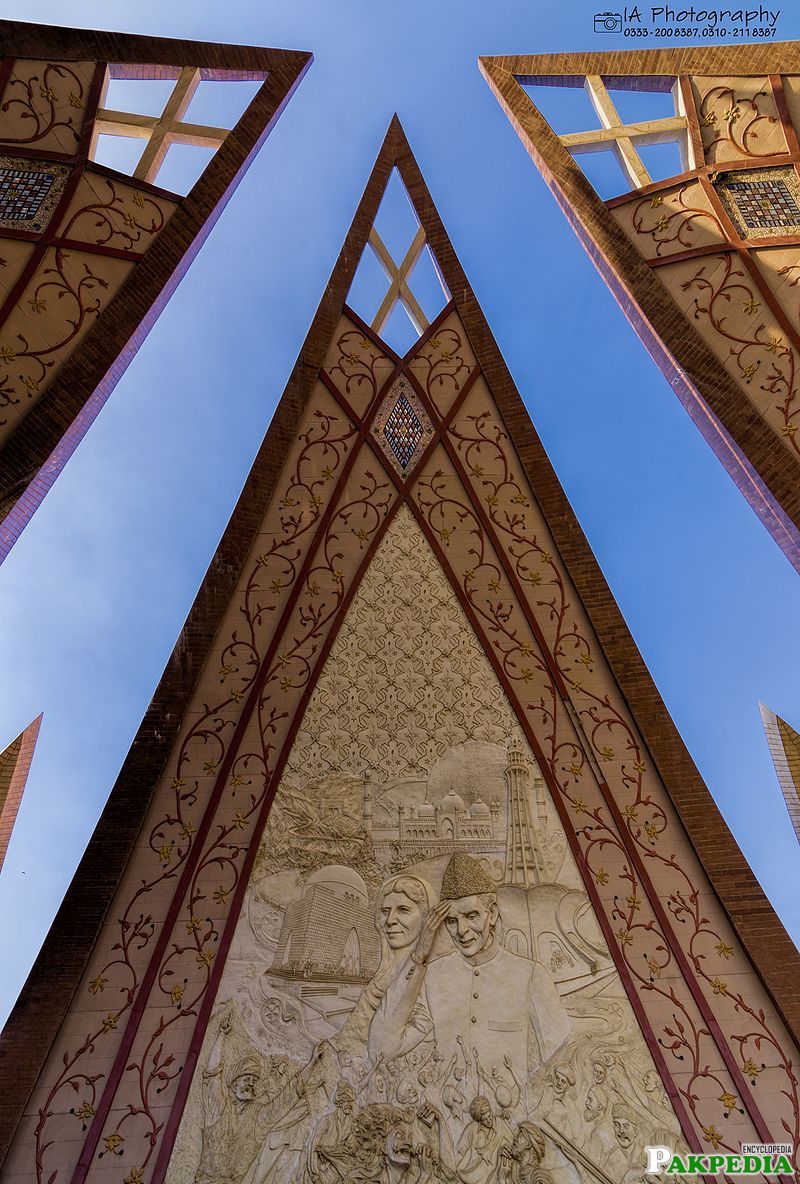 The inner walls of Pakistan Monument's granite petals are decorated with murals. These murals are mainly based on Islamic Art. The decorating team led by Zarar Haider Babri and Kausar Jahan spent 119,000 hours of artwork.
First Petal
The first petal starting from the right side depicts the images of Shah Faisal Mosque, Malki Tombs, Rohtas Fort , Shahjahan Mosque and Gawadar.
Second Petal
The second petal features Quiad-e-Azam Muhammad Ali Jinnah, Fatima Jinnah, Badshahi Mosque , Minar-e-Pakistan, Karakorum Highway , Shila Tunnel, and a crowd cheering at Muhammad Ali Jinnah's public appearance.
Third Petal
The third petal features features the images of
Allama Iqbal
, the Tomb of Shah Rukn-e-Alam, Civilization of Indus Valley, Mahabat Khan Mosque, Indus River Delta  and Lahore Fort.
Fourth Petal
The fourth and last petal reflects Uch Sharif Tomb, Islamia College Peshawar, the Ziarat Residency , Shalamar Gardens, Sheesh Mehal, Lahore, the Khyber Pass and a polo match.
Importance
The artistically designed architecture of Pakistan Monument is National Monoment Islamabad of Pakistan. It provides information about Pakistan's culture, heritage and history in a unique way. It reminds us of all the sacrifices our ancestors made to achieve the goal of an independent country for us. Pakistan Monument Museum is also a worth visiting place.
[7]
Importance