Pakistan Maritime Museum  is a naval museum and park situated near PNS Karsaz on Habib Ebrahim Rehmatoola Road (Karsaz Road) in Karachi, Pakistan.
The main museum building is located inside the park of 28 acres. It comprises six galleries and an auditorium. The museum is based on modern concepts of presentation and interactive education. Different artifacts of maritime and naval heritage have been incorporated through attractive dioramas, relief sculpture, murals and miniature paintings, touch screen computers, taxidermy and ancient weapons. A computer based maritime information retrieval system has also been incorporated to facilitate the visitors and students for easy access.
Besides, the museum also displays Daphne Class Submarine PNS Hangor (S131), a small yard-class Minesweeper Ship, Breguet Atlantic aircraft and a wooden barge that was given to the Naval Chief by Her Majesty during 60s.[1] Pakistan Maritime museum
| Title | Description |
| --- | --- |
| Information | |
| Location: | Pakistan |
| Website: | http://www.paknavy.gov.pk/maritime_museum.html |
| Details | |
| Location: | Karachi,Pakistan |
| Opening Hours: | Monday 10:00 AM To 10:00 PM Tuesday 10:00 AM To 10:00 PM Wednesday 10:00 AM To 10:00 PM Thursday 10:00 AM To 10:00 PM Friday 10:00 AM To 10:00 PM Saturday 10:00 AM To 10:00 PM Sunday 10:00 AM To 10:00 PM |
| City : | Karachi |
| Zip Code: | 75350 |
| Entrance : | Paid |
| Attractions : | Museums |
| State : | Sindh |
| Patron: | Admiral Muhammad Zakaullah Nishan-e-Imtiaz (Military), Chief of Naval Staff |
| Nickname(s): | Pakistan Maritime Museum |
| Type : | Naval museum |
| Branch: | Naval Jack of Pakistan.svg Pakistan Navy |
| Country : | Pakistan |
| Active : | 1954 – Present |
| Phone: | 021-48503111 |
| Address: | Habib Ibrahim Rehmatullah Road, Karsaz |
| Website: | http://www.paknavy.gov.pk/maritime_museum.html |
| Mission: | Protect Maritime Interests of Pakistan, deter aggression at and from sea, provide disaster relief, participate in development of coastal communities and contribute to international efforts in maintaining good order at sea. |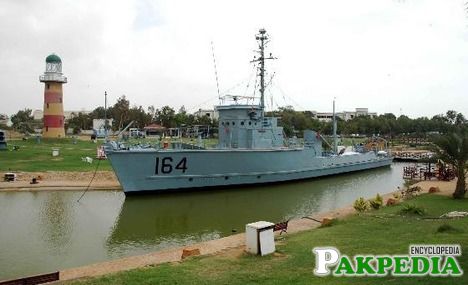 Museum building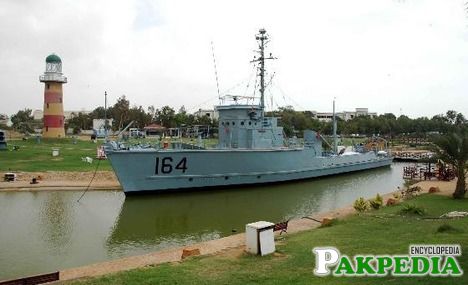 The major museum construction building is established within the park. It consists of six galleries and an auditorium. The museum is founded on up to date notions of production and interactive education. Numerous antiques of maritime and naval heritage have been integrated through appealing dioramas, respite sculpture, murals and miniature paintings; touch screen computers, taxidermy and vintage weapons. A computer formed maritime data recovery scheme has also been integrated to help the tourists and students for so simple access.[2] Museum building 
Museum TimingsTicket Charges
The museum remains open from 1000 hours to 2200 hours daily except Wednesday. On Wednesday the museum remains closed for pubic visits. The charges for entrance tickets are:
Defence Persons (on showing card)
Rs. 10, Children/Students Rs. 06, Others Rs. 16.
Different section of Pakistan Maritime Museum
There are numerous sections of Pakistan Maritime Museum. A brief detail of some of them is:
Light house
A duplicate of the Manora Light House has been constructed on the building, which indicates the significance of these nautical landmarks while navigating at sea[3] Light house .
Marine life gallery
It presents the tourists a clear notion of the variations of coral and marine life from the sea surface to the continental shelf down to the deep sea.
Maritime history gallery
The gallery also exhibits Moenjodaros riverine trade, Ancient Trade Routes, mural painting of Bin Qasims Attack on Deybal, early Muslim navigational instruments, maps and miniature paintings.
Museum Lake
A large lake has been built on the museum premises to achieve an atmosphere of the sea.
Naval gallery
This gallery is a fine representation of the Pakistan Navys achievements during the 1965 Indo-Pak war.
Orientation lobby
This special lobby has been incorporated for the visitors to gather information about the Pakistan Navy by operating easy-to-use touch-activated state-of-the-art computerized Archive Retrieval System.
Submarine mock-up
The Submarine Mock-Up represents a life-sized segment of a Daphne Submarine, which emulates the Operation Room.
Whale skeleton
A mammoth Balaenoptera whale skeleton has been suspended from the ceiling in vicinity of Marine Life Gallery providing the visitors yet another spectacular sight.
If you are a Groupin.pk user there can be a big discount your choice to have at Pakistan Maritime Museum. Groupin brings some amazing discount deals for its users through which users enjoy heavy discounts on purchasing items, products and services of their choice. At the same time Groupin also has doors open for suggestions by the users.
Ports and harbors gallery
This gallery is a comprehensive representation of Pakistans Harbours through expressive exhibits and paintings.
Chief of the Naval StaffAdmiral Muhammad Zakaullah NIM
Admiral Muhammad Zakaullah NI(M) is the current Chief of Naval Staff of the Pakistan Navy having being promoted four-star assignment on 02 October 2014. He took charge as new Naval Chief on 07 October 2014.
Admiral Muhammad ZakaullahNishan-i-Imtiaz (Military) was commissioned in Operations Branch of Pakistan Navy in June 1978. On commissioning, the officer won the coveted Sword of Honour from Pakistan Naval Academy. He was also awarded Chief of the Naval Staff Gold Medal at his graduation.
During his distinguished career, the Admiral attained vast experience of operational, training and Command assignments. His command appointments include Command of a Destroyer and 25th Destroyer Squadron, Commandant Pakistan Naval Academy, Commander Pakistan Fleet and Command of Multinational Maritime Task Force. Some of his key staff appointments include Assistant Chief of Naval Staff (Plans), DefenceAttache in Qatar, Director General National Accountability Bureau (Rawalpindi), Chief Inspector (Navy), Deputy Chief of Naval Staff (Training & Personnel), Naval Secretary and Deputy Chief of Naval Staff (Operations). Before being appointed as Chief of the Naval Staff, the Admiral was serving as Vice Chief of Naval Staff at Naval Headquarters Islamabad.
The Admiral is a graduate of Royal Naval Staff College, UK and National Defence University Islamabad. He holds Masters degree in Defence Studies from London University and MSc (War Studies) degree from Quaid-e-Azam University.
He is a keen yachtsman who represented Pakistan at numerous international events including 1984 Olympics (USA), 1986 Asian Games (South Korea) and 1990 Asian Games (China). He won Gold Medal at the Asian Games twice and various other awards at International Sailing Championships.
In recognition of his meritorious services, the Admiral has been awarded Nishan-i-Imtiaz (Military), Sitara-i-Imtiaz (Military), Tamgha-i-Imtiaz (Military), Presidents Medal and Presidents Award for Pride of Performance.[4] Chief of the naval staff 
Task and Roles
Special Services Group (Navy) has been assigned following roles:
 Frogman Operations through X-Craft 
Air borne Operations
 Salvage Operations
 Search and Rescue Missions
 Training of SSG(N)… see more[5] National museum task and roles