PIFFA, The Pakistan International Freight Forwarders Association is having more than 500 Freight Forwarding Companies as Members, aims to provide effective representation and support for Pakistan freight services industry to observe the highest standards of professional competence. [1] Summary Summary
| Title | Description |
| --- | --- |
| Details | |
| Type: | Non- profitable organization |
| In Urdu: | پاکستان انٹرنیشنل فریٹ فوورڈ ایسوسیشن |
| Founded: | It is established in 2005 |
| Role: | The role of the Association includes support for the Pakistan trade worldwide, the development and the maintenance of healthy international freight services industry within Pakistan |
| Companies: | More than 500 |
| Headquarter: | Karachi |
| Aim: | The Association aims to achieve standardization in the industry and to promote a high degree of professional conduct among its members, including ethics and financial viability. |
| Secretary General: | Habibullah A.Latif |
| Local Representative: | FIATA and Member Association of Pakistan |
| Secretary Regional Office: | Muhammad Rizwan |
| Number of employees: | Minimum Employees |
About

PIFFA (Pakistan International Freight Forwarders Association) is a non-profitable organisation representing more than 500 companies based in Pakistan providing Land, Air, Ocean Combined Transport and other Logistics services.
PIFFA established in 2005 and became the sole representative body of Pakistan Freight Forwarders.
The role of the Association includes support for the Pakistan trade worldwide, the development and the maintenance of healthy international freight services industry within Pakistan.
Making sure for  the achievement of a level playing field for the efficient movement of freight worldwide by all modes transport.
PIFFA promotes the freight / logistics service industry as a whole. The Association aims to achieve standardization in the industry and to promote a high degree of professional conduct among its members, including ethics and financial viability.PIFFA has also been instrumental in establishing and continuously updating the industry's S.T.C (Standard Trading Conditions).
The Association plays an important role in representing the Pakistan freight forwarding and logistics industry on an international level. PIFFA represents its members' interests at meetings of  FIATA and other forums, ensuring that Pakistan's Freight Forwarding industy voice is heard at international industry conferences and seminars. [2] About About  
Code of Conduct
Every member shall comply with this code of conduct .
Object
The objects of the Association and the intensions of the Association's Code of Conduct are to:
Ensure a fair business relationship between the Members and their clients, and between Members themselves. 
Maintain and enhance the reputation, standing and the good name of the PIFFA and its members. 
Generally watch over, promote and safeguard the credibility of the PIFFA and its members by establishing, maintaining and promoting professional behaviour of high standards with the object that Membership in the PIFFA shall be an indication of high standards and quality of service. 
Generally promote public confidence in the profession particularly through prevention or correction of any abuses and malpractices that might undermine this confidence. 
Promote the interest and welfare of freight forwarders and logistics providers, improve their professional status, and secure high standards of professional conduct and practice. 
Promote and develop the general interests of all Members of the PIFFA in their relations with clients, with operators of all forms of transport and with one another. 
Enforcement
The Board of Directors (BOD) of the PIFFA has the power to appoint a sub-committee to deal with issues relating to the conduct of members. 
Members, clients and all other concerned shall refer all disputes to the above sub-committee. 
The Sub-committee is empowered to consider any complaint made by a member of the public or a dispute arising between Members. The Member against whom a complaint has been made shall, upon request by the sub-committee, provide information and document(s), and within such period as may be reasonably required by the sub-committee. The sub-committee is not entitled to apply or recommend the application of any action against the said Member without giving the said Member an opportunity to make representation (in writing or in person) in connection with the said complaint.  [3] Code of Conduct  
Standards
Recommended Minimum Qualification Standard for Freight Forwarders.The Objectives of these Standards are to
Uphold a high standard of business ethics and professional conduct among freight forwarders;
Promote a high level of professional education and experience, essential to provide services;
Encourage operation of financially sound and stable freight forwarders;
Contribute to combating fraud by ensuring improved services by better qualified freight forwarders, and
Provide guidelines to PIFFA in establishing and maintaining a freight forwarding system.
For the purpose of these Standards
"Freight forwarder" is one who undertakes forwarding of goods on behalf of his customer, including if necessary, procurement and coordination of one or more modes of transport. He may also undertake to perform more modes of transport. He may also undertake to perform other functions connected with the main contract such as warehousing (including storage in transit) groupage or consolidation, packing, documentation, weighing and measurement of cargo container leasing, insurance, foreign exchange transaction etc
Minimum Staff Requirement and Professional Qualifications
To be considered professionally qualified the freight forwarder must:
Employ two full-time competent persons qualified in the services and handling functions described in Article 5;
Two such persons should have completed PIFFA approved freight-forwarding certified course or hold IATA or FIATA Introductory Course Diploma or equivalent, and
Executive Committee
Office Bearers and Executive Committee Members
| | | |
| --- | --- | --- |
| S. No. | Name | Company Name |
| 1 | Mr. Shakeel Ahmed Chairman | M/s. News Logistics |
| 2 | Mr. Mirza Jahanzeb Baig Senior Vice Chairman | M/s. Wagnoers Worldwide Pvt Ltd |
| 3 | Mr. Shiraz Qureshi Vice Chairman | M/s. Seagold Pvt Ltd |
| 4 | Mr. Muhammad Ilyas Immediate Past Chairman | M/s. Freight Manager Pvt Ltd |
| 5 | Mr. Moin Ahmed Malik | M/s. Agility Logistics Pvt Ltd |
| 6 | Mr. Abdul Majeed Paracha | M/s. Ravian International Agencies |
| 7 | Mr. Muhammad Javaid | M/s. Sea Master Shipping & Logistics |
| 8 | Mr. Asim Saeed Khan | M/s. General Maritime Pvt Ltd |
| 9 | Mr. Munir Ahmed | M/s. MR Traders Pvt Ltd |
| 10 | Mr. Zahid Razzaq Chaudhry | M/s. Experience Express Services Pvt Ltd |
| 11 | Mr. Mohammad Asif Khan | M/s. Excel Freight Systems Pvt ltd |
| 12 | Mr. Muhammad Qadeer | M/s. Mac-Nels Agencies Pakistan |
| 13 | Col. Muhammad Amin | M/s. Translog Worldwide Logistics |
| 14 | Mr. Faisal Sohail | M/s. Cascade Logistics |
| 15 | Syed Rehan Rizvi | M/s. RIL Logistics Pvt Ltd |
| 16 | Mr. Farhan Saleem | M/s. Marine Logistics Service |
| 17 | Mr. Tariq Hussain | M/s. Prime Cargo International |
PIFFA Events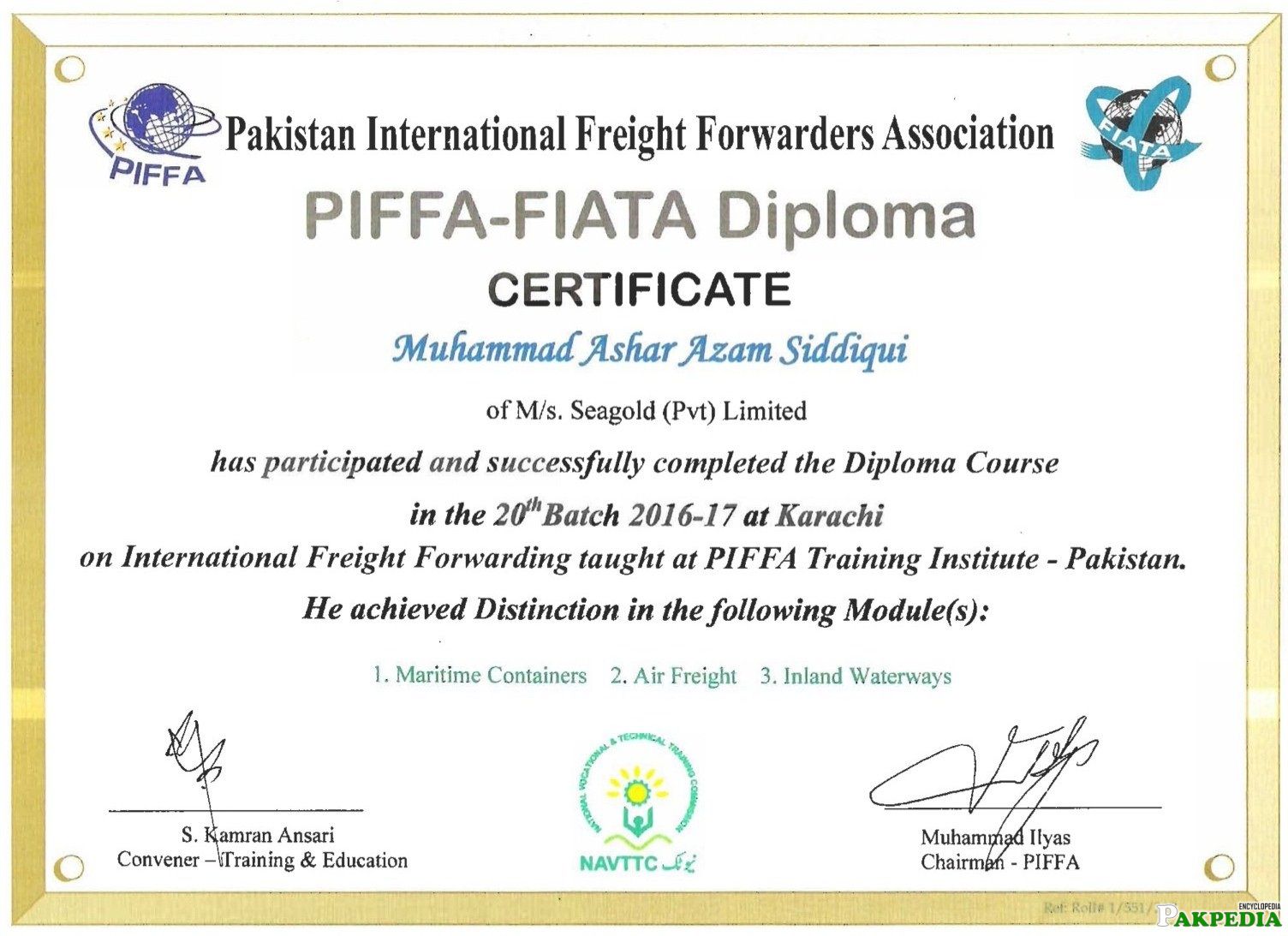 4th PIFFA Cricket Cup Tournament 2017
3rd PIFFA Cricket Cup Tournament 2016
PIFFA YIFFY awards 2015
FIATA Diploma Award Ceremony
PIFFA Excellence Award and Galla Night 2015
2nd FIFFA Cricket cup Tournament 2015
PIFFA YIFFY Award 2015
YIFFY Award 2013
FIATA Diploma Award Ceremony 13th Batch
Seminar on FIA Queries
FIATA World Congress 2013
4th Short Course
Contact Details