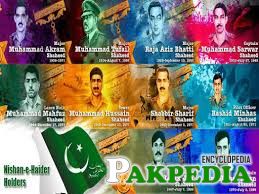 Pakistan Defence Day
Pakistan Defence Day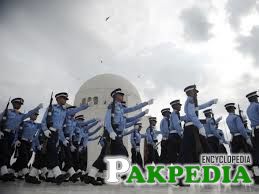 At the mausoleum of the country's founder, Mohammad Ali Jinnah in Karachi on September 6, 2012, to mark the country's Defense Day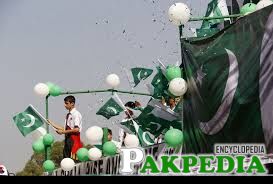 Pakistan Defence Day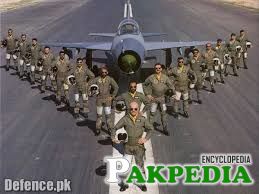 PAF cadets march past the Quaid's mausoleum during a Defence Day ceremon
History of Indo-Pakistani War of 1965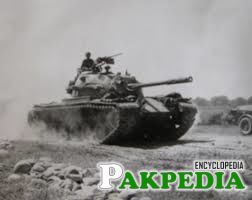 History of Indo-Pakistani war of 1965 was a result of skirmishes that took place in between April 1965 and September 1965 the same year between Pakistan  and India. In this war Pakistan defeated India in a very bad way and the day created the history and became the Pakistan Defence Day . This war has the great history and our great history is not only important for us but also a bitter lesson for India.  It is very hard for India to forget this defeat, and India always remember that how India's decision was wrong to attack on Pakistan, India never ever forget their loss. The war started on 6th September 1965 when Indian army crossed the international borders of Pakistan, and this was the very shameful act of India that they entered in Pakistan without formal declaration of war, India entered in  Pakistan  in the morning, it was a time when not just our soldiers but the whole Pakistani nation was cast into mould of cohesive unit to protect and defend our homeland.The title of heaven is given to the
Jammu and Kashmir
due to its natural beauty, it has Green Mountain and so many heart throbbing rivers flowing among it. Indian Government has adopted the policy of crushing the wills to the Kashmir since Independence of Pakistan 1947 because Kashmiri people have decided to join Pakistan. On the matter of Kashmir there is always clash happened between India and Pakistan. The war of 1965 between India and Pakistan was the second conflict, although the clash did not resolve the dispute of Kashmir. The brutality of Indians over the Kashmiri Muslims is increased day by day, they misbehaved with them, they killed innocent Kashmiri, Kashmiri Muslims faced all the troubles but they are not ready to join India they want to be the part of Pakistan. During the division of British India in 1947 Radcliff was given the task of division of the states to their respective majority, this task was given from the side of the viceroy Lord Mountbatten. At that time some areas where the Muslims are in majority but the ruler was Hindus and it became the problem for because the Hindu rulers did not want to join with Pakistan. The majority of Muslims wanted to join Pakistan but the Hindus Maharaja did not allow the Muslims to join with Pakistan and give their consent to join India and ignoring the will of their masses. From that time till now this is the reason of the aggression and conflict in Kashmir. Although  Pakistan  has so many time discussed the Kashmir Issue on every forum of the world but due to dual nature of India it still remained undecided.On 6 September 1965 India attacked on Pakistan without informing, this was the coward attack of India on Pakistan. India's expectations were hurt when India received strong setback from Pakistan force. As compared to Indian army the Pakistani force was few in numbers but the motivation of the soldiers of Pakistan was touching sky, that was the reason that Pakistan was defeated India, India will never ever forget this defeat. The war of Pakistan and India in 1965 has the largest tank battle after the Second World War. The great battle of tank was fought in the city of Sialkot in which both countries lost a huge number of their tanks.While defending the nation Major
Aziz Bhatti Shaheed
also lost his life in this sector. Major Aziz Bhatti Shaheed was fought bravely, many other brave soldier of Pakistan Army fought very bravely and sacrifices their lives for dearest homeland Pakistan.In the war of 1965 the Pakistan Air Force (PAF) played a magnificent role, although this war was the second war between India and Pakistan but the air forces of the both states were facing each other first time. The  Pakistan  Air force pilots set the example of skilled air fighting and also set the records for the world. The best example was set by the Sqn Ldr M.M Alam, who shoots down 5 Indian fighter planes in less than just only one minute. He shoots the first four planes in just thirty seconds only.In the war of 1965 the role of Pakistan Navy is worth mention. The Navy is the armed force of a state which guards the country from enemies by maintaining or keeping safe the waters of the country. On 7th September in 1965 Pakistan Navy under the guidance of Commodore S. M. Anwar attacked on the Indian Naval radar station that was set up at the coast of Dwarka, which is approximately 320km away from the south of Karachi Port. Here in this operation Pakistan was successful. This success boasts up the morals of the fighting soldiers who were participating in this war and give them a great hope of winning.
[2]
History of pakistan defence day
Celebration
To memorize this day, 6th September is a holy day in Pakistan . It is celebrate as a national day. Lots of functions arrange in the tributes of martyred people and success of defence of Lahore, and other important areas of country. Lots of songs and shows organize specially for this day. It celebrates with full passion, and army shifts the newly tanks, guns, helicopters and other things used by engineers, army air Defence, signals.            Pakistan salutes its soldiers, common people who participated in this war with whom who, always ready to give scarifies for Pakistan.
[3]
Celebrations Pakistan defence day
6 September Shaheed
Major Raja Aziz Bhatti Shaheed Nishan-e-Haider Squadron Leader M. M. Alam Sitara-e-Jurat Flight Lieutenant Yunus Hussain Shaheed Sitara-e-Jurat Squadron Leader Sarfaraz Ahmed Rafiqui Shaheed Sitara-e-Jurat,Hilal-i-Jurat
War of 1965 and Tashkent Declaration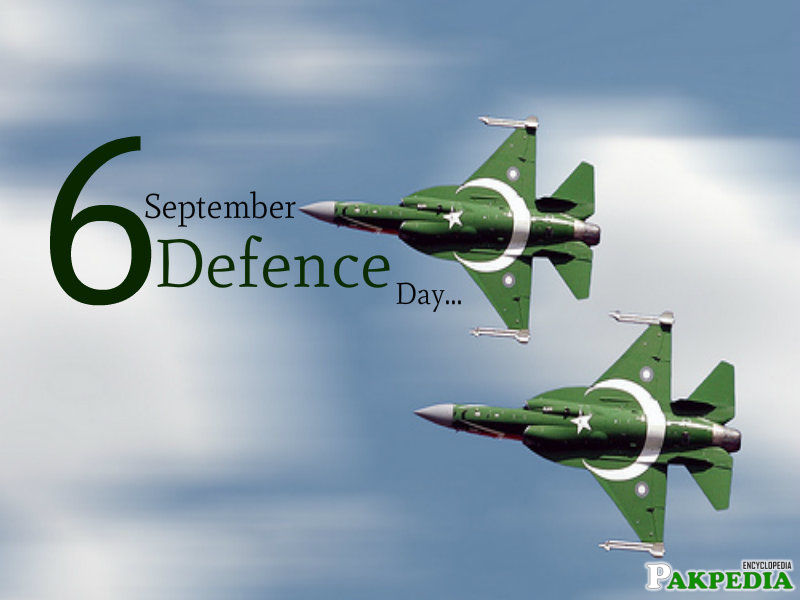 The war of 6 September 1965 was end of the Tashkent Declaration, this was the documental ceasefire between Pakistan and India, this declaration was forced by United Nation at Tashkent in Russia. The reason to agree on this declaration was that, both the countries were compelled by the Soviet Union and also other great powerful countries of the world to end the war of 1965. On 10th January 1966 this declaration was signed by the Prime Ministers of both countries Pakistan and India. From Pakistan's side General
Ayub Khan
and from India's side Lal Bahadur Shastri was there on this occasion. After signing the declaration Mr. Lal Bahadur Shastri was killed in Tashkent. Our soldiers fought bravely and soon India realized that their quantity was more than Pakistani forces but even how they were losing, in this situation Indian asked for cease fire in the United Nations. The India's aggression against Pakistan's International borders without a formal declaration had cost India, apart from heavy personnel, material, land economic losses. The most important was that 1617 sq. miles of territory was occupied by Pakistan as compared to 446 sq. miles of Pakistan's open and undefended territory was occupied by India. In this war Pakistan Army captured 20 Indian officers, 19 junior Indian Commissioned Officers and 569 other Ranks. Pakistani Forces crushed the Indian dreams of defeating Pakistan, we will do the same in future if India again thinks to attack on Pakistan. We have the ability to wipe out entire India in few seconds from the Subcontinent. By crushing the enemy we proudly marked Defence Day.
[4]
War of 1965 and Tashkent Declaration
1965 War Quick View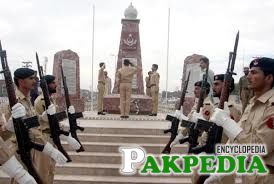 Early in the morning Indian Army attacked on Lahore on 6 September 1965 without formal information and Indian Army claimed that by 11:00 am they will have the control of the city. Here the reality was that Indian Army was 5 times bigger than Pakistan with well equipped than Pakistan  Army. This was the sudden attack on Pakistan  and Indian Army utilized almost 500 tanks on  Lahore  and Sialkot. On this attack Pakistan caught by surprise, not only  Pakistan  even any country would be surprise if this sudden thing happened with their territory. We can say proudly that Pakistan is the only country in the world which highest officers causality rate because our great and brave soldiers are not afraid of fight and they have the ability to lead their teams from the front. The best example of their bravery was clearly shown in the war of 1965. No doubt it was the great blessings of Almighty Allah that Pakistan succeed in the war of 1965, and Pakistan marked this day as Defence Day.
[5]
Quick view 1965 War
On every year we recall the memory of this day as Defence Day of Pakistan which give us the lesson to sacrifice the lives for the country and the martyred of this war showed us real love and respect for the homeland. Being a Pakistani we should do every our deeds for the beneficial of our dearest homeland, on this Defence Day try to spread the message of love for our homeland Pakistan.
Pakistan observes Defence Day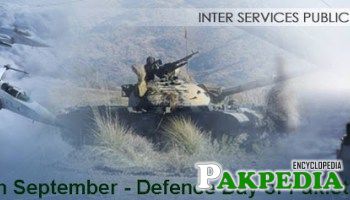 ISLAMABAD-Defence Day was observed on Saturday across  Pakistan  to pay a tribute to the martyrs of 6th September 1965 war with India and pledge to defend the country from future threats.Chief of Army Staff  General  Raheel Shareef  arrived in North Waziristan to spend the day with the troops conducting the military operation 'Zarb-e-Azb' since June to oust local and foreign militants from the area. President 
Mamnoon Hussain
 , in his message on Defence Day,  paid a tribute to the valiant armed forces  and urged to promote national unity and harmony which was vital to make the country's defence impregnable. Prime Minister  Nawaz Sharif   also urged the need of national unity, self-reliance, strong economy and political stability to tackle multiple threats and challenges Pakistan faces. A change of guards ceremony took place at the tomb of Founder of Pakistan Quaid-e-Azam  Muhammad Ali Jinnah  in Karachi while tributes were paid to  Major Raja Aziz Bhatti Shaheed, Squadron Leader Sarfaraz Ahmed Rafiqui Shaheed, Flt Lt Yunus Hussain Shaheed and Air Cdr. retd. M. M. Alam; the martyrs who laid down their lives in the 1965 war to defend the country.
[6]
Pakistan observes defence day