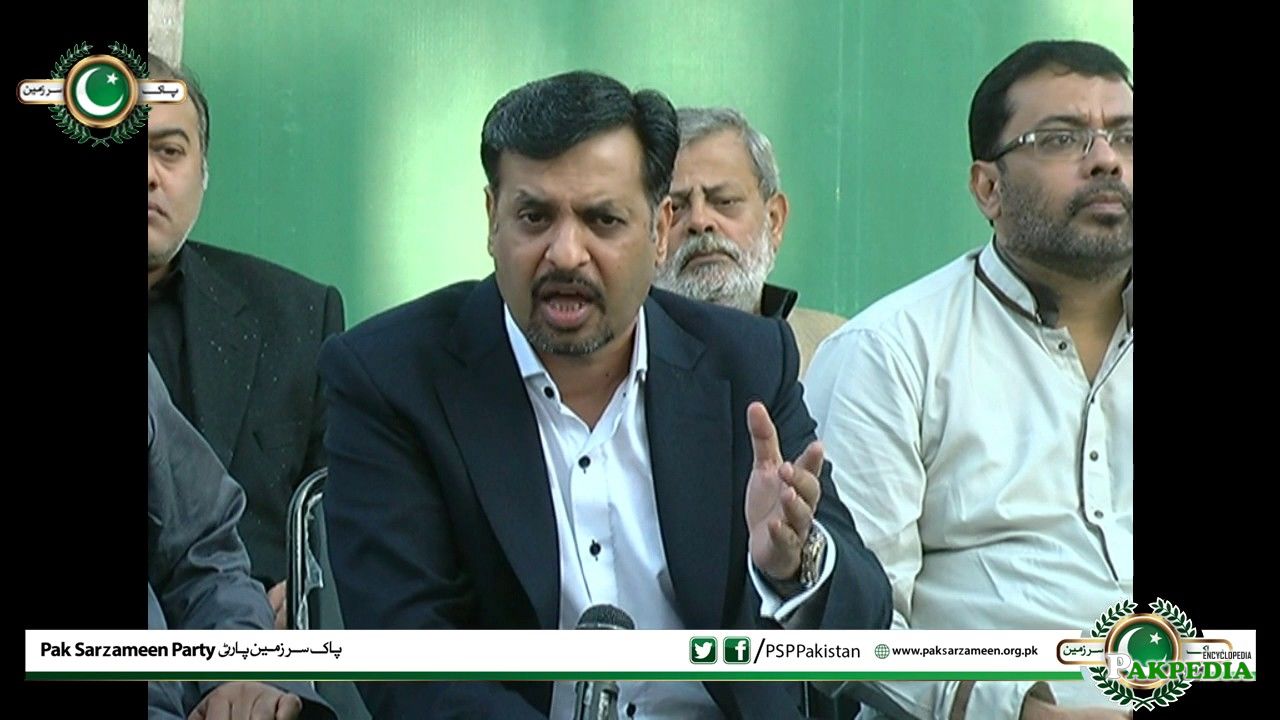 Chairman Mustafa Kamal
President Anees Qaim Khani
Spokesperson Iftikhar Alam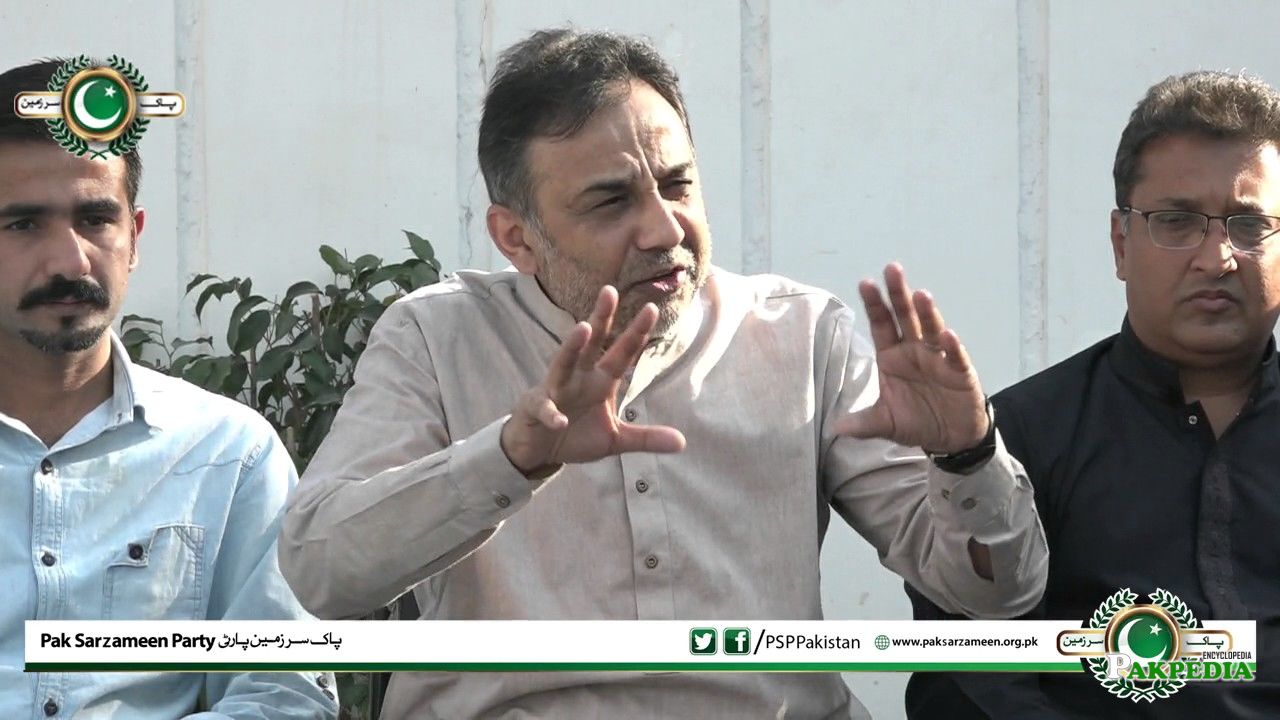 Secretary Raza Haroon
Mustafa Kamal,Raza Haroon and Anees Qaim Khani
Impressum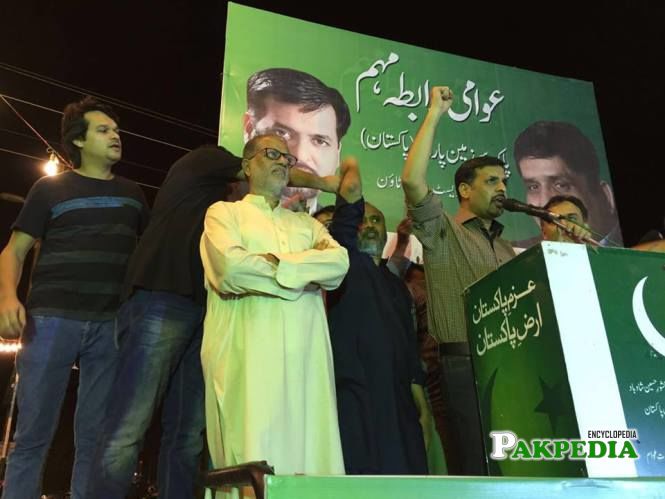 PSP's emblem is a simple and powerful depiction of the national crescent and star placed inside a golden roundel that represents the party's objective to make Pakistan a truly glorious Country free from all kinds of bias, prejudice and nepotism. The green wreath adorning represents peace, growth and progress.
[1]
Impressum
Formation of PakSarzameen Party
Mustafa Kamal after leaving Pakistan in August 2013, he returned from Dubai to Karachi, Pakistan on 3 March 2016, accompanying Anees Kaimkhani and holding a press conference in a rented house in Karachi's posh area at Khayabane Sahar in Defence phase 6 Karachi on the same day at 3:00 PM.
Press Conference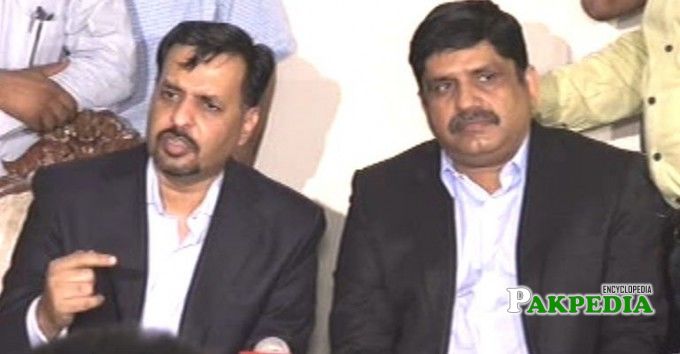 In his famous press conference, Mustafa Kamal opened up about his lifelong personal experiences as a prominent member of a political party and what made him leave the country even when he was serving as a senator at the time. He discussed several controversies surrounding his previous party, the leader  and his behavior towards the party members.
New Party
In the conference, Mustafa Kamal also disclosed the vision of a new party he is laying foundations of, the name of which is not decided yet. According to him, "Today we are laying the foundation of an organisation,you may call it a party. We are just two individuals, myself and Anees Kaimkhani." He also revealed the flag of his party which turned out to be the Flag of Pakistan. In his support several individual have contacted and showed support and also few more members from his previous party joined Mustafa Kamal's team. According to Anees Qaimkhani they will continue to welcome people. In regards to future plans Mustafa Kamal disclosed that they will organize a public speech at Bagh-e-Jinnah near Mazar-e-Qaid Karachi.
[2]
Formation of PakSarzameen Party
Announcement of PSP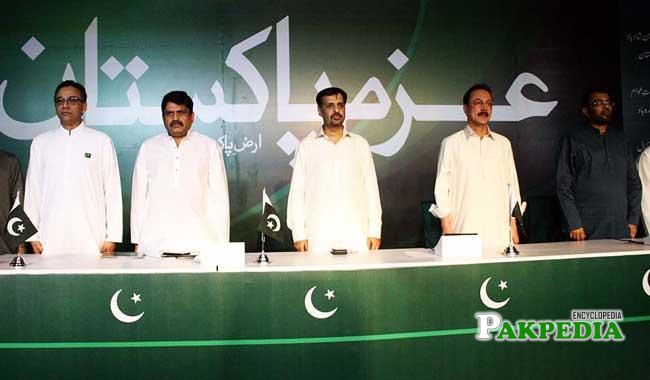 Mustafa Kama formally announced the name of his party 23rd March 2016 in a ceremony held at a hall in Clifton Block 4 area of Karachi."We announce the name of our party on the auspicious occasion of Pakistan Day. Pakistan Sarzameen Party (PSP) is going to be the name of our party," he said amid applause from his supporters.Kamal said that Pakistani flag would be the flag of his party."I am aware that it is a legal requirement from Election Commission of Pakistan (ECP) to have a party's flag. We will give one to the ECP, but in our homes and offices, we will only hoist national flag. No law or constitution can stop a citizen from carrying its national flag," he maintained.
[3]
Announcement of PSP
Key Persons
Syed Mustafa Kamal is a founder and chairman of the PPS. President of the party is Anees Qaim Khani and the spokesperson is Iftikhar Alam and secretary general is Raza Haroon.
[4]
Key Persons
Contact Information
Address: Pak Sarzameen Party Secretariat, House no. 44 L, Razi Road, Block 6 P.E.C.H.S , Shahrah-e-Faisal, Karachi. PAKISTAN
Phone No: +92 21 34168230-4
Email Address:info@psp.org.pk
It is the email address of the party for their volunteers as well as for the public. They can contact the officials for any kind of help and support. All the emails about the queries, problems, and suggestions are checked by the head executives.
[5]
 Contact Information