Packages Mall is the largest shopping Mall of Lahore Pakistan. Packages Mall are the one of the best printing industry in the world. A project built to the highest international standard of construction, operation, designs, and architecture. 
| Title | Description |
| --- | --- |
| Details | |
| Type: | Shopping Mall |
| Name: | Packages Mall |
| In Urdu: | پیکیجز مال |
| Phone: | +92 335 4525707 |
| Address: | Lahore |
| Website: | http://packagesmall.com |
| Parking Spaces: | 2000+ Spaces Special Parking for Women Drivers |
| Special Needs Access: | Reserved Parking Accessibility & Assistance |
| Hours: | 10AM–12AM Daily |
| Loaded with Surprises: | Special Offers, Events, Festivals, and Activities |
| Cell No: | +92 321 4106 223 |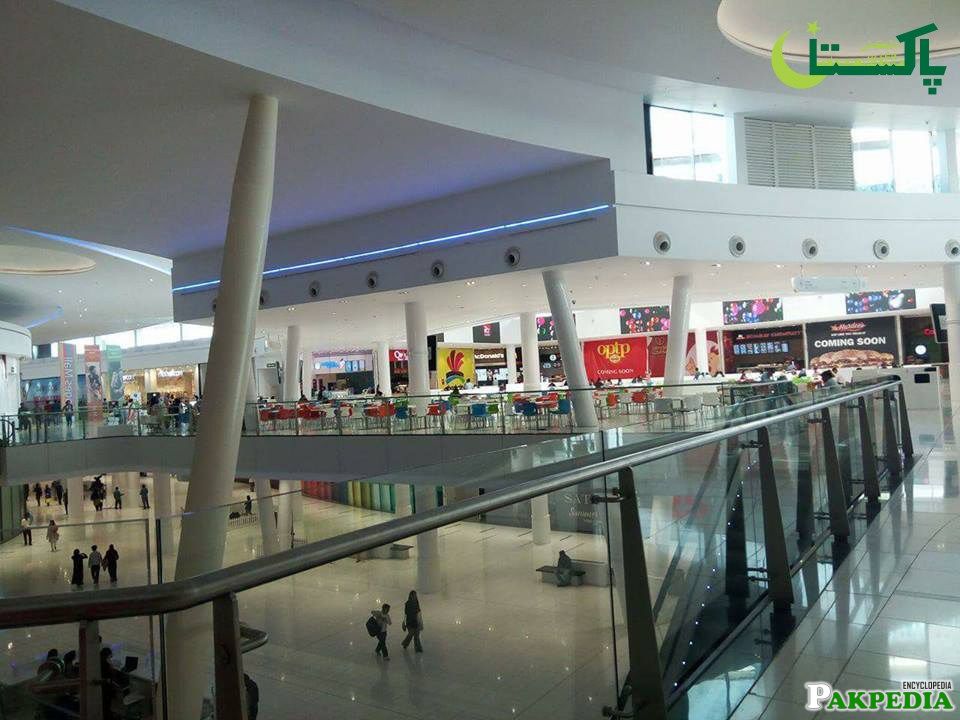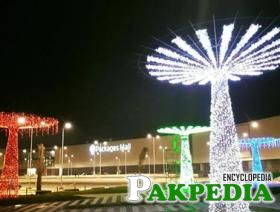 Packages Mall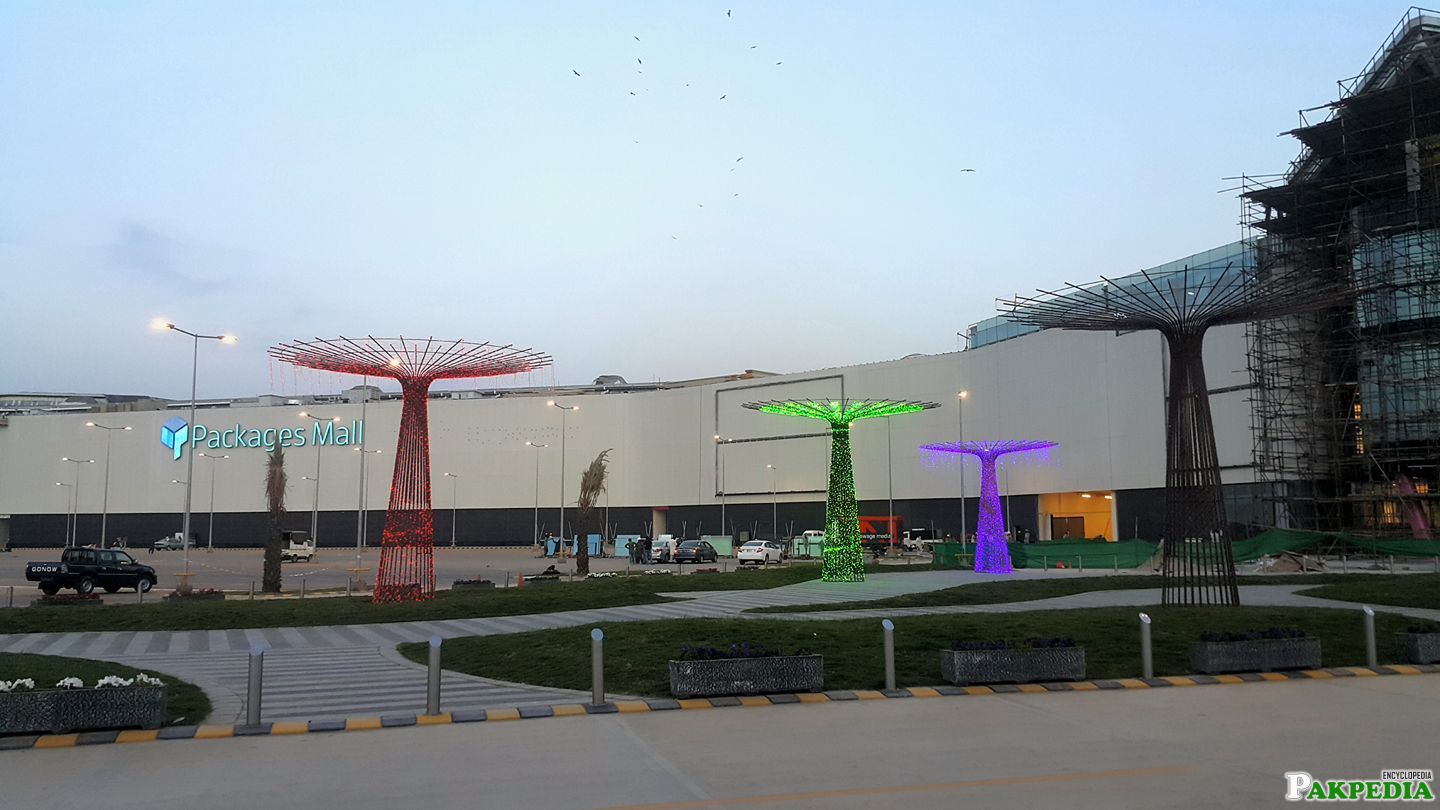 Being one of the oldest and the most established business groups in Pakistan, Packages Group of Companies always strives to improve the quality of life in Pakistan. Be it paper products, packaged milk, insurance or education; Packages has always believed in fulfilling the needs of its customers while setting new standards of quality.. It is a shopping Mall where you will enjoy the comforts and convenience of shopping, dining, entertainment, and events at one place. They have also kids zone, more than 200+ shops, Hypermarket, Multiplex movie theatre, Food court, Adventure zone, cafes and soft play area for kids. Prayer Rooms on every level for male and female. Packages Mall provides many facilities of a modern and comfortable environment. It has spread over the area of almost 30 acres, features, multiple entrances, and exit points. For car parking both covered and opened for 1700+ vehicles. They are going to have a something for everyone. Packages Mall has all things under the one roof.
Pakistani Business Industry
Being an active game changer in the Pakistani business industry, Packages has, this time, stepped up to revolutionize Pakistan's retail experience by bringing an international standard shopping mall for the people of Lahore. This mall will serve as a benchmark for the retail industry in Pakistan by combining entertainment, food & shopping experience all under one roof, along with world class facilities for the convenience of visitors.
Packages MallFerozepur Road
Packages Mall is situated right next to Defence Housing Authority and will be easily easy to get from Ferozepur road also. The mall is going to house more than 200+ retail brands all under one roof. Hence, providing the visitors with a hassle-free shopping experience. The Packages Group of Companies is full of amazing achievements and this video takes us through the accomplishments that Packages have begun since 1954 and where visiter plan to take it now. Introduce the next big thing in the retail part, presenting a whole new way of living for the people of Lahore.[1] Packages Mall  
Leasing Information
At present, all the retail stores in the mall are leased out.  However, we are entertaining inquiries and proposals for kiosk space as well as selected retail space from interested and qualified parties.
Please contact our Leasing Department for more information.
Waqas Awan ~ [email protected]
Ammara Riaz ~ [email protected]
You may also reach us at  +92 42 35811541-46 or +92 42 35811191-93
Packages Mall A New Shopping Arena is Going to Open in Town
THE PACKAGES MALL is one of the top commercial developments in the city,  situated on Walton road Lahore. It is a new retail & commercial project in the city by Packages limited. This mall is providing retails shops and commercial spaces for lease. Most of the commercial spaces in the Packages Mall have been rented out to world famous fashion brands with the purpose of providing a multi-brand shopping and entertainment center to the citizens of Lahore, with a focus on convenience, leisure, and entertainment. This shopping Mall promises to provide a swank shopping experience with a variety of shopping, dining and entertainment opportunities personalized for you and your whole family. Packages Mall would second largest mall in Pakistan.
Location
Packages Mall has situated on Walton road Lahore. Packages Mall had good nearest to Ferozepur Road, Ghazi Road & Khayaban-E-Iqbal. Packages Mall is being close to Walton Cantonment, Lahore Cantonment, Defence Housing Authority Lahore, Gulberg Lahore & Model Town Lahore.
Features
1.2 million sq. ft. of retail space (makes it the 2nd largest mall in Pakistan
200 shops – fashion, home, sports, electronics, books, etc.
Hyper mart
9+ Screen Multiplex
35+ Eating Spaces
Play zone
2000+ Parking Spaces
Special Needs Access
Easily accessible from two roads
Laying the Foundations
The Packages Mall is the latest venture of a corporation known for its game-changing vision and success plan(s) in the Pakistani market.  Since the birth of Packages Limited on February 4, 1956. The Packages Group has changed the Pakistani market again and again. The MilkPak, Rose Petal, TetraPak, Mitchells, IGI Insurance Limited, Ali Institute of Education system, and LUMS are the some of the businesses well-known for Pakistani nation. The Packages Mall is more connection in the pledge of the Packages Group to Pakistan country, the nation is building via the move of world-class brands, concepts, and technology to Pakistan.
Shopfully Yours
Packages Mall is a lot of brands and an entertaining center, providing an active shopping experience with a purpose of convenience, leisure, and entertainment. Their objective is to provide their customers with a safe, healthy and engaging environment, in order to be the pioneers of providing customer-facing shoppable entertainment.
Project Facts
1.2 million sq. ft. of retail space (makes it the 2nd largest mall in Pakistan)
200 shops – fashion, home, sports, electronics, books, etc.
Hyper mart
9+ Screen Multiplex
35+ Eating Spaces
Play zone
2000+ Parking Spaces
Mall Timings: 10 am to 12 am – 7 Days a week
Special Needs Access
Easily accessible from two roads
Branches
The 3rd branch of the hyper star is going to open at Packages Mall Lahore, and the 1st branch is in fortress square and second in Emporium Mall Johar town. The shopping Mall has the food court and Separate Prayer Rooms on every level for male and female. Packages Limited has started from 4th February 1956, and the Packages Group has modified the Pakistani market again and again. Some of the investments best known to the Pakistani nation are Rose Petal, MilkPak (now Nestle Pakistan), Mitchells, Lahore University of Management Sciences, TetraPak, IGI Insurance, Ali Institute of Education.
List of Brands
List of brands in Lahore that going to open in Packages Mall where you can shop after 20th April. Limelight, About time, Mausummery, Sputnik, Mango, Bata, Next Ladies, MCB, HBL (Habib Bank Limited), Kit & Kaboodle, Decor Fashion, Highborn, Bank Alfalah, Service Shoes for everyone, Nishat Linen, Beech Tree, Makeup City, TagHeuer, Liberty Books, Nike, Borjan, Edenrobe, BLS London and Shoe Planet. J. | Junaid Jamshed, Alkaram, Chaanchi & Lugari, Cambridge, Stylo, Bonanza, Dockers, Accessories, Asghar Ali, Attraction by Kamal, Breakout, Charles & Keith, Coral, Cotton & Silk, Diesel, Essence D Arabia by Ajmal perfumes, Esthetic sense and Ethnic by Outfitters.
Brands are Going to Become the Part of Packages Mall
The brands are becoming the part of Packages Mall like Furor, Gul Ahmed's Ideas, Sana Safinaz clothing, Hush Puppies, Insignia, M Jaferjees, Kalamkaar, Lala, Levi's, Logo, Mantra, Maria.B, Mocciani, Mothercare, Next, Outfitters, Royal Tag, Satrangi, sensation, royal tag, Tesoro, Unze, Urban sole, Vincci, Warda, Andy Birds, baby shop, cotton & cotton, Cougar, Cross stitch, Diner's, Generation, Giordano, Hobo by Hub, Image, HUB, Inglot, L'oocitane, Minnie Minors, Monark, Stoneage, So Kamal, Splash, Arcadian Cafe, Cafe Pomelo, Standard Chartered, Sapphire, habbit, Address, Afghan carpet, Bose, Eco-Star, Gree, Equator, FHS by HUB, HopScotch, Hyperstar, Khaadi, Lifestyle, Oaks, One, Samads Carpet and Sergent Major.Unsworth men's wear brand,  Homecourt Store, Adidas Originals Store, Aks Silver Jewelry Store, Allied Bank Limited, Almaas Outlet, Charcoal accessories for men, Cinepax cinema, Michael Kors, Dune London, Essentials, IRafflex and much more. Now you do not need to go on single shops for shopping.Packages Mall provides all of your requirement at one place.
Facilities
Packages Mall included 35 eating areas, restaurants, and cafes that are working by the owner names. They are 9 screen Cinepex, where you can see Hollywood, Bollywood, and Lollywood films. They spread a wide area for play zone and offering different activities for kids. They have the separate place for the event. You can book halls for different events for the limited time with different packages. The Mall Timings starts from 10 AM to 12 PM and 7 days a week. They are giving many facilities to their respective customers. All the defined brands will be open at the decided date and anyone can search or find the address, Phone number and locations through Google map as it is easily available on map and navigations. The mall provides you the best security systems & security checking in the mall to feel the customers save and satisfy.
Mall timings
10 AM – Midnight
10 AM – 1 AM Friday/Saturday
Special Needs Access
Reserved Parking
Accessibility & assistance
Parking Space
2000+ spaces
Special parking for women drivers
Loaded with Surprises
Special offers, events, festivals,
and activities
Contact Info