HCS is one of the biggest and most prestigious names of the construction industry in  Pakistan . HCS has have a vast experience under their belt and also have a great reputation of delivering construction projects way ahead of its delivery date. The company has been playing a major role in the infrastructure development of Pakistan and has built many roads, highways, bridges, buildings and Hydel Power Plants. The story of unparalleled success doesn't end here and now HCS for the first time in Pakistan are executing a very modern and fast mode of transportation through "Lahore Orange Line Metro Train Project (Package-1)" which will not only help Pakistan economically but will also provide an easy, safe and fast mode of transportation.
| Title | Description |
| --- | --- |
| Details | |
| Type: | MRT |
| Locale: | Lahore, Punjab, Pakistan |
| Founded: | 25th October 2015 |
| Planned opening: | 2018 |
| Operating Speed : | 80 km/h (50 mph) |
| Electrification : | Third Rail 750 V DC |
| Track Gauge: | 1,435 mm (4 ft 8 1⁄2 in) Standard Gauge |
| Line Length : | 27.1 km (16.8 mi) |
| Rolling Stock : | Norinco |
| Character : | Elevated & underground |
| Operator(s) : | Lahore Metro |
| Stations : | 26 (24 elevated, 2 underground) |
| Stations | |
| On Ground Station: | 24 Elevated |
| Underground Station: | 2 Underground |
| Terminal | |
| Terminals: | Ali Town, Dera Gujran |
| Terminal Length Average: | 27.1 km (16.8 mi) |
| Operated by: | Punjab Government |
| Constructed by: | HCS |
| High Voltage Sub Stations: | Two |
| construction company website: | http://www.hcs.com.pk/ |
| Operator Website: | https://punjab.gov.pk/node/1059 |
| Feasibility Study: | Mass Transit System for Lahore |
| Monitoring Control: | PSCADA |
| Service Hour: | 18 hours (5:30am to 23:30pm) |
| Pakages | |
| Pakage 1: | 13.6 KM |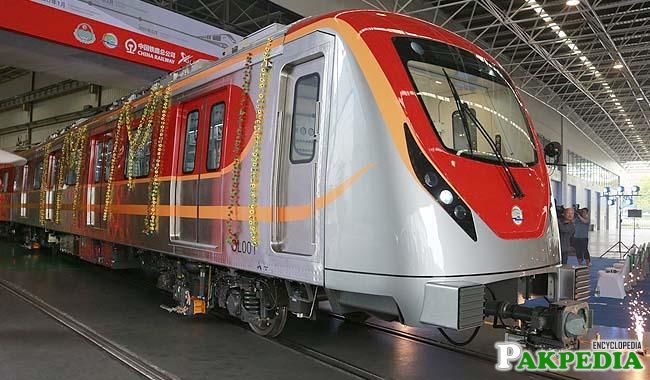 Orange Line Metro Train System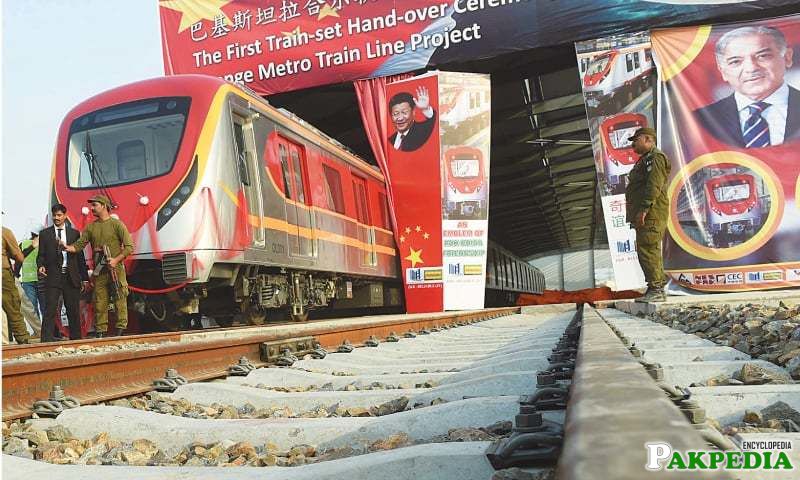 Lahore
Lahore is the second largest urban center in Pakistan. It is the provincial capital of the populous Punjab province with a estimated population of 10 million inhabitants. The transport demand amounts to 8 millions daily motorized trips to work, shopping or recreation other than walking. Over the past fifteen years the rapid growth in population and increasing vehicle ownership have steadily worsened the traffic congestion in Lahore. The situation will get worse in the absence of any proposed transport infrastructure improvements.
Increasing Traffic Congestion
In order to cope with the ever increasing traffic congestion, there was an urgent need to develop mass transit transport facilities in Lahore to meet the predicted passenger demand. A mass transit system network dilutes and protects against ever increasing demand and supply for the urban traffic system, and further contributes towards developing a sustainable transport system. In 2007, the Transport Department, Government of Punjab commissioned a consultant to develop a long term mass transit network and undertake a Feasibility Study of a Mass Transit System for Lahore.[1]  Orange Line Metro Train System 
Project

The Lahore Orange Line Metro Train Project is a rapid transportation system that is being developed in Lahore. The Orange Line Metro will not only transform the public transportation system but it will also help in resolving the traffic issues that are faced by the citizens on the daily basis. The work on Lahore Orange Line Metro Train was started on 25th October 2015 and HCS awarded with its Package-1 from Dera Gujjran to Chauburji (13.6 Km) through competitive bidding process in compliance of PPRA Rules. The metro will provide an easy mode of transportation and will transport around 2,50,000 individuals on daily basis. The Lahore Orange Line Metro Train is a 27.1 km long project that will help the city of Lahore reduce congestion caused by buses and cars and will be a rapid mode of transportation with different stations spread around the city.[2]  Project 
Save the Time
The project will be a stepping stone that will transform the overall transportation system of Pakistan in the coming years. The project will not only help overcome major traffic problems but will also save the time of individuals in commuting from one place to another without any hassle. The project will be a benchmark in the transportation sector and will be great factor in booming the country's economy in the years to come.
Projects Statistics
| | |
| --- | --- |
|  Project Location: | Lahore |
|  Client | Lahore Development Authority  |
|  Ownership | Metro Bus Authority Government of Punjab |
|  Project Value | PKR. 21,409 Million |
|  Start Date | October 25 , 2015 |
|  Completion Date |  – |
|  Status Completed as on October 31,2017 |  88% |
Features
Total length: 27.1 Km (Cut & Cover section: 1.72 Km; Elevated: 25.4)
Total Stations: 26 (Elevated stations: 24 & Cut & Cover stations: 02)
Rolling Stock Requirement – 27 Train sets at the start of operations
Ridership: 245,000 passengers per day
Route Alignment
| | | |
| --- | --- | --- |
| Section | Along | Station Names |
| Stabling Yard  to  Thokar Niaz Baig | Raiwind Road | Ali Town, Thokar Niaz Baig |
| Thokar Niaz Baig to  Chauburji | Multan Road | Canal View, Hanjarwal, Wahdat Road, Awan Town,  Sabzazar,  Shahnoor, Salahudin Road,  Bund Road, Samanabad,  Gulshan-e-Ravi, Chauburgi |
| Chauburji  to  GPO Chowk | Lake Road/ Edward Road/ Ustad Allah Bakhsh Road | Lake Road,  GPO |
| GPO Chowk to  Qila Gujjar Singh | McLeod Road | Lakshmi Chowk |
| Qila Gujjar Singh to  Bohar Wala Chowk  | Nicholson Road | Railway Station |
| Bohar Wala Chowk to  Sultanpura (Coop Store)   | Over the Railway Lines |  – |
| Sultanpura (Coop Store) to  Dera Gujran | GT Road | UET, Baghbanpura, Shalamar Garden, Pakistan Mint, Mahmood Booti,  Salamatpura, Islam Park, Dera Gujran |
The PMA has nominated Lahore Development Authority as Executing Agency for construction of Civil Works of the Project. The project is expected to complete in 27 months.[3] Route Alignment
Suspends Work

28 January 2016 – A division bench of Lahore High Court issued a stay order on Thursday against the construction work for the Orange Line metro train project within 200 feet of historical buildings along its route.Justice Abid Aziz Sheikh and Justice Shahid Karim issued the order on a petition moved by several activists before they adjourned hearing till February 4.
Reason
A Pakistani court has ordered construction of the country's first metro train line to stop after campaigners in the city of Lahore argued that the project endangered historical buildings.[4] Reason As many as 11 historical buildings along the route have been identified in the petition. These include Chauburji, St Andrew's Church, the GPO building, the Supreme Court Lahore Registry, Shalimar Gardens, the tomb of Mehrunnisa, Budhu ka Awa, the tomb of Darya and the Shah Cheragh building.
Petitioners Counsel

The petitioners' counsel told the court that the government had initiated work on the project in September last year. He said it had signed a contract with a Chinese bank in January this year for additional funds.[5] Petitioners Counsel
He said the government was wasting public money.
The court asked Khawaja Harris, the counsel for the government, about the steps the government had taken to preserve historical buildings along the route.
The court asked if the government had sought clearance from the departments before launching the project. Harris was unable to satisfy the court on these counts.
Counsel for the petitioners told the court that the government had transferred a director general of the Archaeology Department to ensure approval for the project. He said so far 26 people had died due to the project.
He said the project lacked proper planning. He said before construction was launched, electricity, water and gas lines had not been shifted to the proper places. He said the government had also failed to issue a traffic management plan.
He said there were no alternative routes and thousands of people suffered in traffic jams due to the construction. He said often ambulances remained stuck traffic jams for hours.
The counsel said that the Rs365 billion project had been not approved by the Punjab Assembly.
They said the project had put Lahore's architectural heritage at risk.
He said the government was diverting funds allocated for other sectors like education and health for the metro train project.
They pointed out that the UNESCO also opposed the project for being a serious threat to the heritage sites.
The petitioners asked the court to suspend the construction work on of the Orange Line metro train and stay demolitions and allocation of funds under the project until a final decision was made in this regard.
Supreme Court Dismiss LHC Order

Supreme Court of Pakistan has over turned the verdict of Lahore High Court on Orange Line Metro Train Project((OLMT)that stopped Punjab Government in executing the project to final stages.8 Dec 2017 – On Friday, the Supreme Court ordered the Punjab government to complete the remaining project that was halted by LHC on 19 Aug 2016 on the pretext that the aforementioned project blocks the view of sites that hold 11 heritage sites in the provincial capital.The decision was announced by Justice Ijazul Ahsan after a wait of 8 months, reserved in April 2017.[6]  Supreme Court Dismisses LHC Order 
Justice
The bench included Justice Sheikh Azmat Saeed, Maqbool Baqar, Ijaul Ahsan and Mazhar Alam Miankhel.Justice Ahsan read out the verdict whereas Justice Baqar wrote a dissenting note. The conditions include strict monitoring of the construction as well as a dedicated trial period before train operations begin; placement of high-tech devices and hiring of expert monitors to ensure vibrations from the construction don't damage the heritage sites and various measures for the beautification and restoration of the sites.The apex court has also ordered the formation of a five-member experts' committee and three-member technical committee to oversee the project and ensure the protection of the heritage site under question. A Rs100 million fund will also be established by the government to maintain the heritage sites, according to the court order.[7]  Justices 
Punjab CM
Welcoming the decision, Punjab Chief Minister Shehbaz Sharif said the "people have won today over the vested interests.All efforts & energies to be employed to complete this mega public welfare project as early as possible InshaAllah!..".[8]  Punjab CM 
The 1.6 Billion Project

Launched in May 2014 by Punjab Chief Minister Shehbaz Sharif, in collaboration with a Chinese company, the project is set to be the country's first metro line, but it got embroiled in a legal battle in LHC which ordered a stay on several sites as the development was trampling over heritage sites in Lahore.A single train within the 27-kilometre rail line has the capacity to carry 1,000 people, out of which 200 can be seated while 800 can commute while standing.The project, which was included in the China-Pakistan Economic Corridor earlier in the year, is expected to run on electricity and transport up to 250,000 passengers a day.The capacity is set to be increased to 500,000 passengers by 2025.The original deadline for the project was December 25, 2017.[9]  The $1.6 Billion Project 
Orange Line
Ali Town Terminal
Thokar Niaz Baig
Canal View
Hanjarwal
Wahadat Road
Awanabad
Sabzazar
Shahnoor
Salahudin Road
Bund Road
Samanabad
Gulshan-e-Ravi
Chauburji
Lake Road
GPO
Lakshmi Chowk
Lahore Junction Station Lahore Junction
UET
Baghbanpura
Shalimar Gardens
Pakistan Mint
Mahmood Booti
Salamatpura
Islam Bagh
Dera Gujran Terminal
Service Hour
Operating hours of the OLMT will be 18 hours (5:30am to 23:30pm).[10]  Service Hour 
Maximum Speed
Two engines and three bogies of the Orange Line train project have been brought to Lahore for the first phase.Maximum speed of the train has been set at 80 kilometres per hour, barring some turns and curves.[11]  Maximum Speed 
PSCADA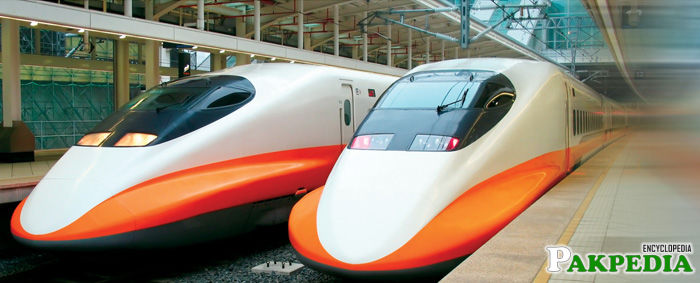 Documents show that a double-track will be built with three rails on each track.The middle rail at the bottom of each track will energise trains with 750-volt direct current. These trains will have a stainless steel and fireproof body.Wires and cables used on the rolling stock shall be halogen-free, fire-retardant and low-smoke. No flammable material will be used in the rolling stock.Two high-voltage sub-stations will be built near the University of Engineering and Technology (UET) and the Shahnoor Station. Each sub-station will be connected to 132KV power supply.The project will also have a Power Supervisory Control and Data Acquisition System (PSCADA) for monitoring, control and communication. This system will enable provision of data and control of the power rail.[12]  PSCADA