Presenting Publications to Senator Razina Alam Malik
With Dr Fauzia Saeed and others in front of White house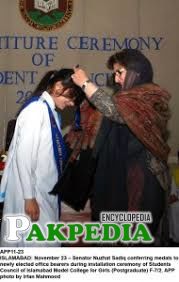 Distributing Prizes among Students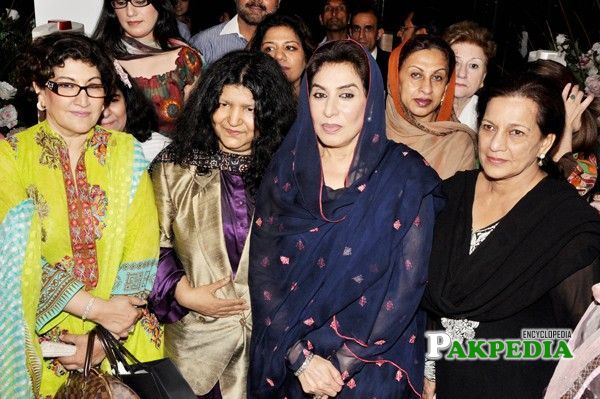 With Abida Parveen
Javed malik presenting shield of appreciation to Nuzhat Sadiq
Biography and Education
Nuzhat Sadiq credits her parents for giving her strong values and her mother-in-law for mentoring and encouraging her to be active in politics. She belongs to the PML-N (Pakistan Muslim League) party and is head of its women's wing. In all her roles, she says the foundation of her success is not only hard work, but also making herself readily available to constituents and colleagues—and effectively bridging divides.  A graduate of CB College for Women in
Peshawar
, she is proficient in English,
Urdu
, and Punjabi. Sadiq singles out her 2014 election as National Commissioner of Pakistan's Girl Guides Association as a particularly meaningful honor, both because of her dedication to supporting the development of young women and because, in taking on that position, she is following in the footsteps of the mother-in-law and mentor who made such a difference in her own life. 
[1]
Biography and Education
Career
As a former member of the National Assembly, Sadiq was a founder of the Women's Parliamentary Caucus in 2008, serving as Treasurer and later General Secretary of the group. She currently serves on multiple parliamentary committees and uses her posts to drive legislation promoting the role of women in ending violence and conflict in Pakistan. Over the past decade, she has championed bills ranging from an act to combat domestic violence to a law against harassment in the workplace and another aimed at preventing acid attacks. She also pushed successfully for a law creating the National Commission on the Status of Women, an oversight body with counterparts at the provincial level. Senator Sadiq has traveled extensively both domestically and abroad to advocate for democratic stability and women's political, social, and economic empowerment at all levels.
Political Career
Nuzhat was elected as a member of senate during the senate elections of 2012. She will vacate her post as a senator for current term in March 2018. She is appointed on the reserved seat for women in the senate. She formally took her oath and assumed office on 12th March, 2012. Currently she is associated with a number of committees of Senate, namely; The Drafting Committee of the Committee of the Whole, Climate Change, Defence Production, Federal Education and Professional Training and Senate Finance Committee. She serves as the chairperson of Senate Library Committee as well as the Foreign Affairs committee. Nuzhat puts great emphasis on the support provided by her mother-in-law which has helped her overcome several obstacles in life as well as in her political career. 
[2]
Political career
Congratulate Aga Khan
Senator Nuzhat Sadiq has congratulated His Highness Prince Karim Aga Khan, the spiritual Leader of Shia Iamami Ismaili Muslims on the occasion of the Diamond Jubilee of his Imamat which will be celebrated on 11 July 2017. She acknowledged the role of His Highness`s Leadership over six decades in creating the Aga Khan Development Network which has carried out inspirational work for social, cultural and economic growth in Pakistan and globally. She cited Agha Khan Rural Support Pakistan`s social development projects in the mountainous areas of
Gilgit-Baltistan
and
Chitral
to eliminate poverty and for provision of infrastructure. She also reminded the nation of the contribution of His Highness`s family in the creation of Pakistan and their role in increasing literacy and enhancing the standard of education. She hoped that during this epochal year as per tradition new development projects and initiatives will be launched in Pakistan which will mark the Jubilee year. 
[3]
Congratulate Aga khan
Meeting of International Conference
Senator Nuzhat Sadiq, Chairperson Foreign Affairs Committee of Senate of Pakistan visited Baku (Azerbaijan) from 01-04 September, 2015 participated in the 3rd Meeting of International Conference of Asian Political Party (APP) Women's Wing. During the proceeding of the conference Senator Nuzhat was elected as one of the Chairpersons of APP Women's Wing for the next two years. In her address to the conference she highlighted the achievements of women of Pakistan in all walks of life and shared Pakistan government policies for the emancipation of Pakistani women in all walks of life. Her recommendations for improving the women situation in the Asian countries and her contributions in the conference proceedings were highly lauded by other participants. On the sidelines of the events Senator Nuzhat also interacted with all the representatives of the participating countries. In addition she held discussions on bilateral relations and parliamentary affairs with the leadership of Azerbaijan including Deputy Prime Minister Mr. Ali Ahmadov, Deputy Speaker Ms. Bahar Muradova, Chairperson State Committee for Family, Women and Children Affairs. 
[4]
Meeting of International Conference
LHC rejects Petition
The Lahore High Court on Saturday 17th Feb 2018 dismissed a petition of the
Pakistan Tehreek-i-Insaf (
PTI) challenging the nomination papers of Prime Minister Shahid Khaqan Abbasi's sister
Sadia Abbasi 
for the forthcoming Senate polls. Meanwhile, the bench also dismissed another petition filed by the PTI leader through which she challenged the acceptance of PML-N candidate Nuzhat Sadiq's nomination papers for the Senate polls.
Andleeb Abbas
challenged Ms Sadiq's nomination, arguing that she had not placed on record any proof to show that she had surrendered her dual nationality. The PML-N candidates – Sadia Abbasi and Nuzhat Sadiq – had filed nomination papers for the Senate seat reserved for women from
Punjab
, which were accepted by the ECP's returning officer after their scrutiny. 
[5]
LHC rejects petition