Nusrat Javed is a renowned Pakistani journalist at Dunya News Pakistan. He is currently the co-host with Mushtaq Minhas of a talk show Dunya Merey Agay. He previously was the co-host with Mushtaq Minhas of a talk show Bolta Pakistan at Aaj TV. The daily show Bolta Pakistan started on May 8 2007 quickly became popular with the audience and his outspoken style drew direct criticism from Musharraf Administration. [1] Nusrat Javed short Title
| Title | Description |
| --- | --- |
| Personal | |
| Name: | Nusrat Javed |
| Native Name: | نصرت جاوید |
| Famous As: | journalist and anchorperson |
| Nationality: | Pakistani |
| Residence: | Rawalpindi, Pakistan |
| Education: | Master in Mass Communication |
| Profession: | Journalist |
| Maritial Status: | Married |
| Careers In: | Anchor Columnist Journalist |
| Affiliation(s): | Aaj Tv |
| TV shows: | Bolta Pakistan , Dunya Mere Agey |
| Currently Talk show: | Bol Bol Pakistan on dawn news |
| Dunya TV to host the talk show: | Dunya Mere Agey |
| AAJ News to host the Talk Show: | Bolta Pakistan. |
| Discussion On: | current affairs, politics, social and economical issues of Pakistan and world in casual manner, like a discussion over a cup of coffee. |
| Height: | 5 ft 8 in (1.7 m) |
| Weight: | 75 kg |
| Born | |
| Date: | 14 March 1964 |
| Place: | Rawalpindi |
| Zodiac: | Leo |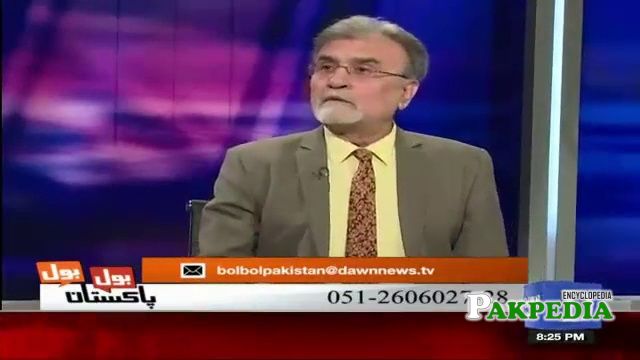 Biography
Nusrat Javed is a well-known Pakistani journalist and anchor person.Javed began his career with journalism. He was the host of the program Bolta Pakistan on AAJ TV. Then he moved to Dunya TV to host the talk show Dunya Merey Agay. Javed also writes columns in Urdu for Urdu Newspaper Nawa-i-Waqt. He was the Vice President of Student's Union.[2] Nusrat javed About He Joined BOL News as Executive Vice President and Senior Anchorperson.
Education
Mushtaq Minhas studied at Forman Christian College, Lahore.Nusrat Javed completed his education in philosophy in 1975.Mushtaq Minhas received Master of Arts degree in Mass Communication from University of Punjab Lahore.
Career
He started his television career with his program Bolta Pakistan on AAJ TV. Nusrat Javed and his co-host, Mushtaq Minhas, moved to Dunya TV to host the talk show Dunya Mere Agey, which followed the same format as Bolta Pakistan; but later came back to AAJ News to resume Bolta Pakistan.[3] Nusrat Javed  Career .He joined the field of journalism and started to work as a columnist and news anchor.Nusrat Javed entered the world of broadcast media with his program, Bolta Pakistan with AAJ TV. He got great fame and recognition in his field, with his excellent skills.
Experienced Journalist
Nusrat Javed is an experienced journalist as he has experience of almost thirty years in the field of journalism.On the basis of his experience and knowledge, he can be marked as a learned journalist in Pakistan's media industry.The experienced journalist Nusrat Javed was the first Pakistani reporter to cover Indian elections in 1984 and since then, he has covered all elections held in Pakistan as well as India.
BOL Media Group
Nusrat Javed's joining of BOL is a brilliant addition to BOL's senior leadership. As many Pakistani journalists have already joined BOL Media Group.[4] Nusrat Javed  joined BOL News 
Well Known Journalist
Very well known journalist Nusrat Javed is among the highest calibre journalists of Pakistan.Nusrat Javeed has written for all the leading newspapers of Pakistan.He has written on many national and international issues and he has made a name for himself as a highly opinionated columnist of the country. 
Co-Hosts the Show Bolta Pakistan
Nusrat Javed currently co-hosts the show Bolta Pakistan on AAJ TV with Mushtaq Minhas. He also writes columns in Urdu for Express News and in English for The Express Tribune.
President
He was also the vice president of the students' union. He is currently the President of the Rawalpindi, Kashmir and Islamabad Press Club.
Supporter of PMLn
He also a great supporter of Muslim League (Nawaz). He was elected as a secretary of Rawalpindi Islamabad press club for six terms.[5] Supporter of PMLn 
List of TV shows
He has worked in the following shows:
Bolta Pakistan
Dunya Mere Agey
List of Latest Columns
Ayeye Hath Uthaien Hum Bhi
Aaj Phir Bhrpoor Fikri Tehreek Ki Zaroret Hai
Season Ki Koshish 
Khiloney Day Kar Bhelane Waly
Haqeeqi Azadi
Sawat Ki Pur Aman Fiza Phir Barood Alood
Taun Kamzor Tha Tu lari Kion tha
Aik Lafz Makafat e Amal ka Bhi Ha 
Humien Such Bayan Karne Ka Hunar Nahi Atta
Kabul Ambulance Bomb Dhamaka etc[6] Latest Columns
Nusrat Javeed survives deadly attack
Famous news investigator Nusrat Javeed said he endure a "destructive assault" on Friday night, blaming Prime Minister Imran Khan for "attempting to get him killed". On his official Twitter account, Javeed tweeted: "It is 1:16 and the Prime Minister of Pakistan have tried to get me killed. I am still alive." The anchor person, later in discussion with Naya Daur, said that he was heading to his home from G-8, Islamabad when all of a sudden shots were discharged at his vehicle close to the G-8 Imam Bargah. "Both the tires on the left side of my car were burst and completely damaged. Then six men in plain clothes came and inspected me… The plan was to kill me", he said