Nisar Haveli is a symbol of sectarian harmony. Located in walled city of Lahore, Nisar haveli is an emblem of Mughal architecture. Nisar Haveli is the center of Mourning of Imam Hussain (a.s). The route hasn't changed in over 200 years. Every year, as the sun descends on the ninth of Muharram, thousands of devotees of Imam Hussain a.s make their way towards Mochi Gate in Lahore.
| Title | Description |
| --- | --- |
| Information | |
| Location: | 54000,Nisar Haveli,Mochi Gate,Lahore |
| City: | Lahore |
| Adress: | 54000,Nisar Haveli,Mochi Gate,Lahore |
| Nickname: | Nisar Haveli |
| Founded by: | Nawab Raza Ali Khan Qizalbash |
| Named after: | Nawab Nisar Ali Khan Qizalbash (Great grand son of Nawab Raza Ali Khan Qizalbash) |
| In Urdu: | نثار حویلی،موچی گیٹ |
| Founded in: | 1850's |
| Type: | Imambargah |
| Famous for: | Ashura and chehlum processions of Imam Hussain a.s |
| Local Language Name: | Nisar haveli |
| Procession's conducted: | 10th Muharram, 20 safar, 21st ramadan |
| Route of Procession: | starts at Nisar Haveli on Muharram 9, and moves through Mubarak Haveli, Mohalla Chehl Bibian, Imambargah Syed Wajid Ali Shah, Chowk Nawab Sahib, Koocha Qazi Khana, Imambargah Maulvi Feroz Ali, Koocha Miskeenan, Mohalla Peer Gillanian, Imambargah Syed Rajab Ali Shah, Chauhatta Mufti Baqir, Chowk Kotwali, Kashmiri Bazaar, Sonehri Masjid, Dabbi Bazaar, Gumti Bazaar (Rang Mahal Chowk), Said Mittha Bazaar, Tehsil Bazaar, Bazaar Hakimaan, Ucchi Masjid and Bhaati Chowk, concluding at Karbala Gamay Shah |
| Coordinates : | 31.5796° N, 74.3225° E |
| Details | |
| Architectural style: | Mughal Architecture |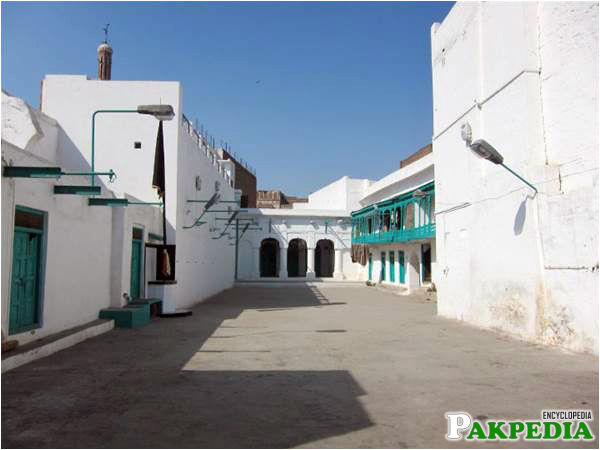 History of Nisar Haveli Mochi Gate

Since the 1850s, Lahore's most important Zuljinnah procession has originated from here and travelled the same route around the walled city. And each year the procession, which is observed, joined and dutifully followed by legions of mourners, culminates at Karbala Gamay Shah just as the Azaan for maghrib prayers rings out on the following day. It is said the route mimics the one Saint Gamay Shah himself initiated to commemorate the martyrdom of Imam Hussain and his followers. The Haveli got old architecture of Mughal's era, which is still in its original form. The main wooden balcony of the Haveli attracts the attention of the viewers on first sight. The Haveli building was constructed in 18th century. The interior of the building also contained the Persian poetry praising the Family of Prophet Muhammad (PBUH). The Haveli has vast courtyard and has a separate area where Zuljinah for prime procession was festooned with flowers, black dress and in accordance with the traditional rituals.  
Who is Gamay shah

'Gamay Shah' is the epithet of Hazrat Baba Syed Ghulam Ali Shah. Baba Gamay Shah was a Sufi who lived during the reign of Maharaja Ranjit Singh at the beginning of the 18th century. He remained celibate all his life. Baba Gamay Shah selected the place presently known as Karbala Gamay Shah for his spiritual practices. Always attired in black, Baba Gamay Shah was known for his incessant mourning for the Ahle Bait (AS), descendants of Prophet Muhammad (SW). A zarih of Hazrat Imam Hussain (AS) has also been fixed next to the grave place of Baba Gamay Shah. The imambargah at Karbla Gamay Shah, which was a place of meditation for Shah, was built by Nawab Muzaffar Ali Khan of the Qazalbash family when they came to Lahore after Partition. [1] gamay shah
Agha Jan Ali Khan Qazalbash, Nawab Muzaffar's grandson and caretaker of Gamay Shah, said that Shia devotees from across the city came to Gamay Shah with the main procession. 
Pioneers of Nisar Haveli ashuras procession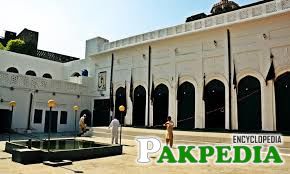 The first procession to begin from the haveli was in the 1850s. It was then actually the Mubarak Haveli. The Nisar Haveli was one part of the Mubarak Haveli.
The Mubarik Haveli was built by the Mughals. According to legend, it was named Mubarik, which means blessing, because a royal son was born there.The Qizalbash family got it on lease from the Mughals. Maharaja Ranjit Singh took it over briefly, but it returned to the Qizalbash when the East India Company established itself in India. 
The haveli later was divided in two after Partition as property was divided in the Qizilbash family in 1928. The part where the main Ashura procession begins was named the Nisar Haveli, while the other part retained the name Mubarik. After partition Nisar Haveli became property of Nawab Muzaffar Ali Khan Qizilbash, former Chief Minister of East Pakistan (now Bangladesh) and minister for finance in 1970s.  [2] pioneers
Roots of Qizalbash family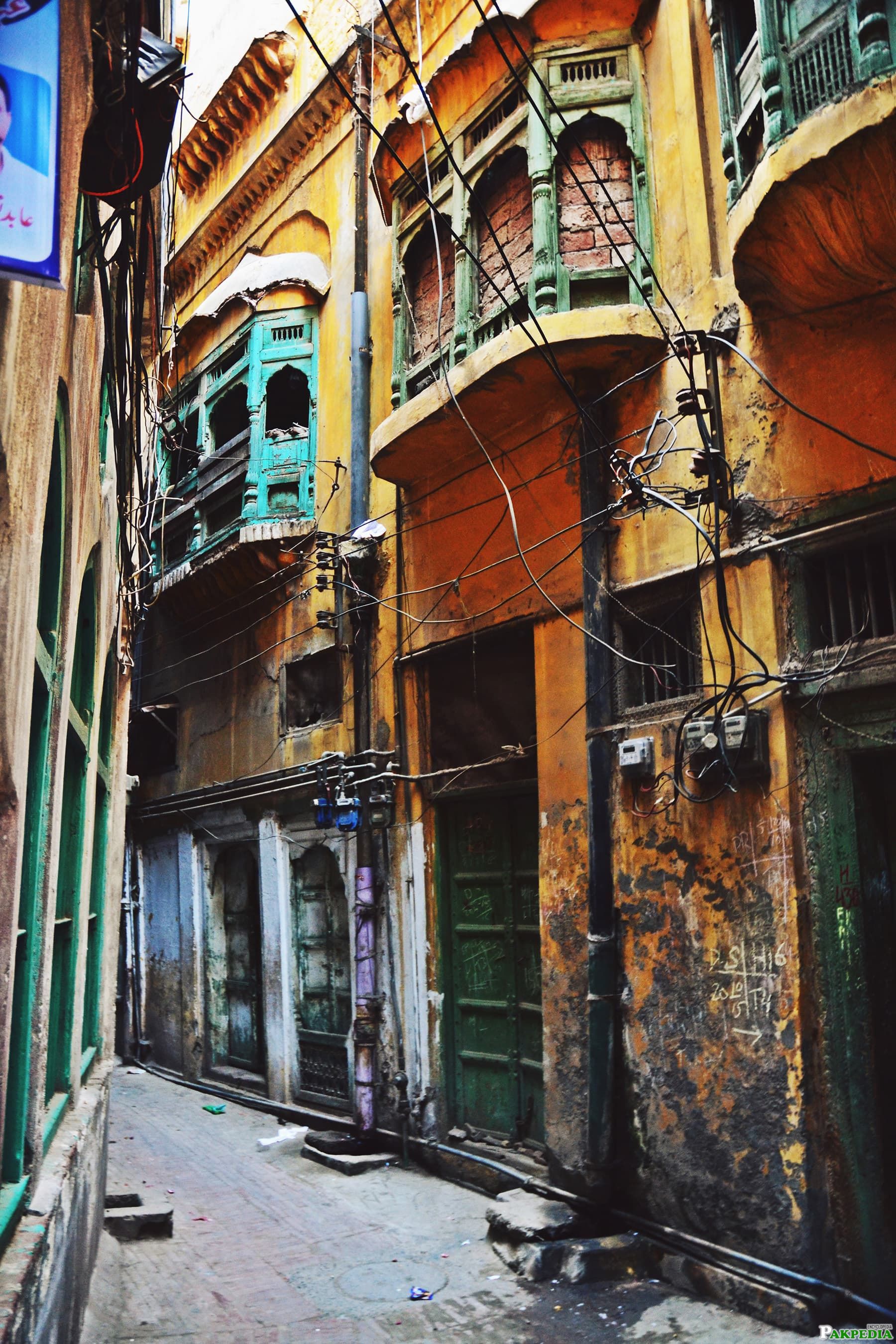 Elderly Shia residents of the Walled City said the Qizalbash family were also the first to begin Zuljinnah processions in Lahore, which are now a vital part of Ashura processions.
The Qizalbash family has its roots in Iran and Afghanistan.
 According to one account, they came to India with the Mughal emperor Humayun from Persia.
 According to another, some Qizalbash came from Afghanistan with Ahmad Shah and Nadar Shah.
Nawab Nisar Ali Khan Qizalbash, who died in 1944, as described earlier that he was the great grandson of Nawab Raza Ali Khan Qizalbash, one of the originators of processions in the area, and whose son Nawab Fateh Ali Khan also played a key role in promoting processions. 
Symbol of Sectarian HarmonyNisar Haveli

Lahore's historical Nisar Haveli located inside Mochi Gate of Walled City is symbol of Sunni Shia unity as people of the area be they Shias or Sunnis equally show respect on the occasion of Ashura and facilitate in every way to ensure social and religious harmony.
Since its inception Muslims belonging to Sunni and Shia sects participate in the annual main procession, as Haveli became the symbol of inter-sect harmony keeping its gates open for everyone to pay tribute to the martyrs of Karbala . The Nisar Haveli has cultural, traditional and religious uniqueness.The Haveli attracted Muslims as well as non-Muslim community before partition. According to the locals of the Mochi Gate , before partition a large number of Hindu and Sikhs paid visit to the Ashura procession at Haveli to show their love, devotion and solidarity with the martyrs of Karbala . Shias and Sunnis attend majalis together. Sunnis used to bring the ta'zia and still do, as the martyrdom and sacrifice of Hazrat Imam Hussain is revered by all.  [3] unity
Zuljinah comes out of Nisar Haveli

The Qizalbash family is also credited with holding the first Zuljinnah procession in Lahore, when they started mourning for Imam Hussain in the Haveli in the middle of the 19th century. At that time there was only one Zuljinnah, a horse meant to represent the steed Imam Hussain rode into Karbala.
Later, other imambargahs began holding Zuljinnah processions.The Qizalbash Waqaf, or trust, takes care of seven Zuljinnah that are loaned out free to imambargahs for processions.  [4] zuljinnah
Route of zuljinnah Procession
Ashura Zuljinah procession starts from the Nisar Haveli on 9th Muharrram and passing from Imambargah Ghulam Ali Shah, Masjid Ali Khan, Imambargah Narowali, Chowk Nawab, Ahmed Ali Wayee area, Mochi Gate , Khajoor Gali, Mohalla Shian, Takia Nathay Shah, Gumti Bazaar, Syed Mitha Bazaar, Bazaar Hakeema, Mohalla Jogian and the crosses from Bhatti Gate and finally ends at Karbal Gamayshah on 10th of Muharram.
Biggest Procession of South Asia

When Gamay Shah and Mai Aghia started their journey of tears for the first time over 200 years ago, people laughed at them.
A lot in this city has changed since then, but the route of this procession remains the same: it starts at Nisar Haveli on Muharram 9, and moves through Mubarak Haveli, Mohalla Chehl Bibian, Imambargah Syed Wajid Ali Shah, Chowk Nawab Sahib, Koocha Qazi Khana, Imambargah Maulvi Feroz Ali, Koocha Miskeenan, Mohalla Peer Gillanian, Imambargah Syed Rajab Ali Shah, Chauhatta Mufti Baqir, Chowk Kotwali, Kashmiri Bazaar, Sonehri Masjid, Dabbi Bazaar, Gumti Bazaar (Rang Mahal Chowk), Said Mittha Bazaar, Tehsil Bazaar, Bazaar Hakimaan, Ucchi Masjid and Bhaati Chowk, concluding at Karbala Gamay Shah, the final resting place of Syed Ghulam Ali Shah, on the eve of Muharram 10. Various small processions join the main procession along the way. This ally of all processions made the Nisar Haveli procession one of the biggest procession of South Asia. Another amazing fact about this procession is that The route of the procession hasn't changed in 200 years.  [5] procession