Pakistani Politician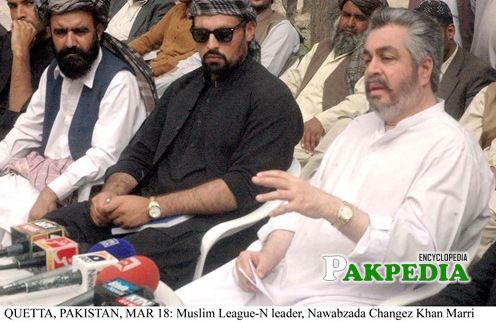 PML(N) Leader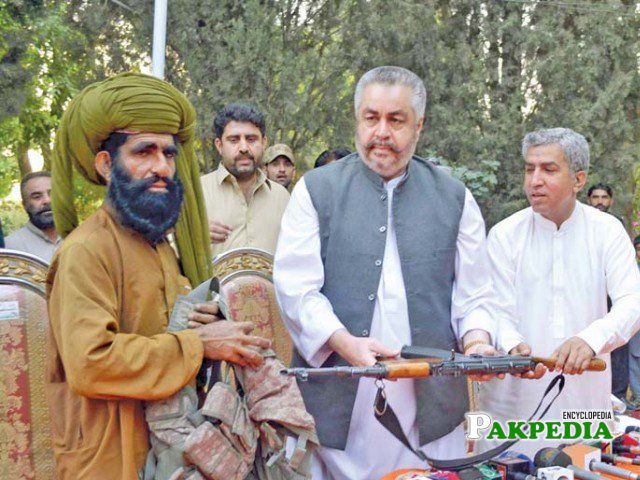 UBA commander Haji Kalati surrenders before Jangez Marri
With Nawaz Sharif and Others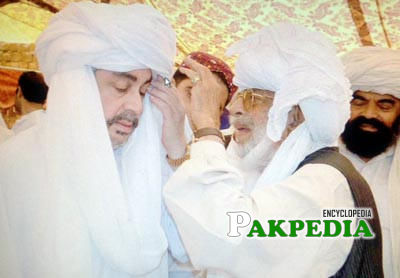 Changez Marri Dastar Bandi 2014
Family Background
Nawab Changez Khan Marri is the eldest son of late Nawab Khair Bakhsh khan Marri.His brothers names are Hyrbyair Marri, Ballach Marri, Ghazan Marri, Hamza Marri and Mehran Marri.
Career in Politics
Nawab Changez Khan Marri was elected to the Provincial Assembly of Balochistan as a member of
Pakistan Muslim League (N)
in Pakistani general election, 2013.He was a contender for the Chief Minister of Balochistan.An unidentified assassin threw a grenade at Changez Marri's residence on 15 January 2016.The grenade failed to detonate and no one was harmed.
[1]
Careers in Politics
Replaced His Father
Nawab Changez Khan Marri, who replaced his father as the chieftain of the Marri Baloch tribe and is the provincial minister for water and irrigation, has strongly condemned allegations directed at him from his detractors that he is not the justified leader of Marri tribe. He has been rightly made the Nawab of the Marri tribe after the Sardars of the sub-tribes, carried out the dastarbandi ceremony with zeal and fervor. Mir Hazar Khan, chief of the Bijarani sub-tribe told DAWN that "Changez Khan was the legal heir to his father and he was unanimously made chief of the Marris." 
Criticized by His Brothers
He has been criticized by his brothers time and again who have left no stone unturned in encouraging him in their bid for a separate homeland, but he has stood steadfast in his belief that
Balochistan
is and will always be an integral part of Pakistan. He has always opted for democratic channels and has kept himself aloof from all the instigations carried out by anti-state elements. He has candidly stated that he is the only sibling who lives in Pakistan, while all other siblings; Hyrbyair, Meran, Gazain,Hunza and Balaach, all reside abroad. Nawab Changez has made it clear that there is a self-fulfilling mechanism of the tribal hierarchy and anyone who has any kind of discrepancy associated with the fact that he is the new chieftain should come back to Pakistan and solve the issue. He has stated that people, who have dried up in India's wool, cannot claim to take decisions about my tribe instigating turmoil in my country.
[2]
Replaced His Father
Late-Comer in Active Politics
It is not just his affiliation with mainstream political forces that has made Changez a stranger in his own backyard.From the outset, critics called him an adversary of his father's politics even though he was a late-comer in active politics. Friends know him as never having been a political animal in his nearly 60 years, someone who was influenced by his family's political culture and found a role for himself, albeit a safe one.
Looked After his Father
As a close associate of his put it, "By nature, he is a defensive individual who lives his life away from unnecessary hazards. But, at the same time, Changez Marri loves his family the most, particularly his father" — a reminder that Changez looked after his father during his last days.
Lives in Pakistan
The new nawab is the only one of his siblings who lives in Pakistan. Hyrbyair, who is known for his contribution to Baloch resistance, lives in London. Other brothers Meran, Gazain and Hunza are said to be living in Dubai while their sister is based in London. The fifth brother, Balaach, is believed to have been killed in a Nato strike in Afghanistan in 2007.
Chieftain of the Marri Tribe
Many Baloch question Changez's becoming the chieftain of the Marri tribe and see this as deviating from the character of the tribe based mainly in Kohlu district, and that has spearheaded earlier Baloch insurgencies. Some say it's just a routine change at the top and will not affect the struggle the senior Marri headed."It is not going to affect the Baloch character of fighting for their rights," said an activist close to the family. "This is just a normal change, and a just one, because the eldest son can replace the father."Another said: "There is a difference that we should understand. Changez has inherited Nawab Sahib's legacy of leading the tribe, but not his political legacy. On this, Nawab Sahib had already declared Balaach — and no one else — the heir."
Dr Jaffar Ahmad
Dr Jaffar Ahmad of the Pakistan Study Centre (PSC) in
Karachi University
said: "Changez's nomination is legal under the tribal values, but we will have to see if it will cause any bickering in the family."Mir Hazar Khan, chief of the Bijarani sub-tribe who attended the dastarbandi in Quetta, told Dawn that Changez was the legal heir to his father. "He was unanimously made chief of the Marris."However, critics and close activists said that Khair Bakhsh distanced himself from Changez decades ago and was never in the loop when the latter joined the PML-N in the 1990s, contested and won a seat in the Balochistan Assembly, and became a minister for communications and works.
Won the Same Seat Again
He won the same seat again in last year's elections and is now a provincial minister for water and irrigation.
[3]
Won the Same Seat Again
Nominated As Next CM
Four candidates have emerged as the leading candidate for the post of chief minister after Zehri's resignation.
Sarfaraz Bugti
, whose first gave the news of his resignation, is also among the leading candidates for the coveted post. Other leading candidates include Saleh Bhootani, Changez Marri and Mir Jan Jamali, all of whom belong to the PML-N. Saleh Bhootani is the elder brother of the current Speaker of Balochistan Assembly Mohammad Aslam Bhutani. Mir Jan Mohammad Khan Jamali is former Speaker of Balochistan assembly and former deputy chairman Senate. He won a provincial assembly seat in 2013 election.
[4]
Nominated As Next CM