She is no doubt a beauty and fashion diva of Pakistan.Who did not watch 'Hamsafar'? – the mega hit serial which put Fawad and Mahira on stardom status. We all hated the character of 'Sara' who was egoistic and possessive. This character was played by Naveen Waqar.  Naveen Waqar is a Pakistani TV Actor and a former VJ and RJ.
    
| Title | Description |
| --- | --- |
| Personal | |
| Name: | Naveen Waqar Haider |
| In Urdu: | نوین وقار حیدر |
| In Urdu: | Naina |
| Famous As: | Actress and Model |
| Nationality: | Pakistani |
| Residence: | Karachi |
| Education: | Naveen Waqar attended The City School in Karachi |
| Religion: | Islam |
| Profession: | Acting |
| Height: | 5'6 |
| Weight: | 52 kg |
| Awards : | Pakistan Media Awards for Best New Female Actor Hum Honorary Phenomenal Serial Award |
| Born | |
| Date: | 9 January 1985 |
| Zodiac: | Caprocorn |
| Place: | Karachi |
| Family | |
| Ethnicity: | Sindhi |
| Parents: | Waqar Haider( Father), Naheed Waqar (mother) |
| Siblings : | Faraz Waqar, Rida Waqar, Adnan Waqar |
| Career | |
| Occupation(s): | Acting, Modeling |
| Serial & Movies | |
| Name: | Ainnie ki aae ge barat, Humsafar, Kuch na Kaho, By inteha |
| Professional Work | |
| Years Active: | 2006 |
| Famous Acts: | Hamsafar, Annie ki aye ge barat |
| Movie: | Josh: independence through unity |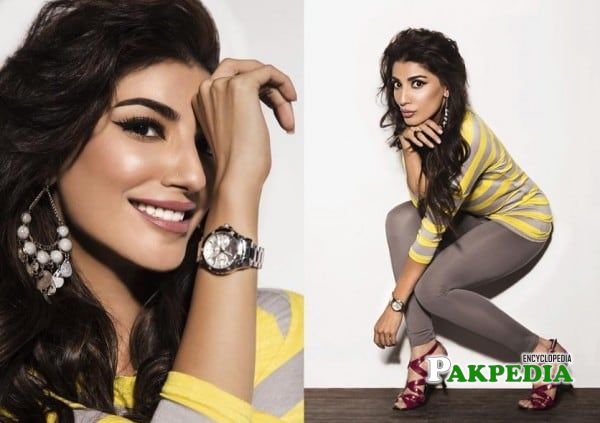 Profile

Naveen Waqar is a famous VJ turned actress of Pakistan. Naveen is a multi talented personality. Naveen has worked as a RJ and model too in showbiz industry. Naveen is blessed with a melodious voice and she is a marvelous singer. Full name of Naveen is Naveen Waqar Haider and she belongs to Karachi city. Naveen also completed her studies in Karachi. Naveen is not the only member of her family working in showbiz, her brother Faraz Waqar Haider is also a showbiz personality. Faraz Waqar is a singer and musician. Faraz Waqar & Naveen Waqar are the childrens of (late) Syed Waqar Ali and artist/interior designer Naheed Waqar. She has two other siblings, a younger sister Rida Waqar who is an architect and a younger brother Adnan Waqar who is a banker.  [1] profile 
About her brother

Her brother Faraz Waqar (born 21 January 1976) is a Pakistani filmmaker, writer and director of Pakistan's first ever silent film Meeoww Billi aur World War 3, completed in September 2013. He is also the winner as an emerging new Director of Pakistan's prestigious HUM TV Awards in 2015 for the Best Short Film – Middle East. Faraz's  work includes OTHER-ISTAN – The other face of Pakistan completed in 2016. [2] faraz waqar  
Career
As VJ

Fashion model cum VJ cum actress Naveen Waqar started her career as a Pakistani video jockey (VJ) and radio jockey (RJ) and a singer. Her first break as a VJ was the live request show called Pick and Choose with Fuse. Naveen Waqar was given the name of VJ Fuse. The show used to come on Pakistani music channel AAG TV. Female model Naveen Waqar would keep topics related to day to day matters and people would call to present their views and opinions on the topic. They could also request the song they would want to listen. Pick and Choose with Fuse used to come on air on Monday and Tuesday. As a RJ, fashion model Naveen Waqar was equally popular. Her show on Radio 1 FM 91, Morning Music Chaska, had a huge fan following and listeners would not miss her show at any cost. [3] Vj  
Acting

Naveen Waqas made her acting debut on small screen in a telefilm 'Ab Set Hai' of Hum TV aired in 2010. But Naveen came into limelight because of her negative role in the block buster TV serial 'Humsafar' of Hum TV. Naveen got huge fame through this TV serial. Naveen has worked in many famous and hit TV serials of different channels including 'Kuch Na Kaho', 'Saya-e-Dewar Bhi Nahi', 'Mol' and many more. Naveen also earned huge popularity through the comedy serial 'Annie Ki Aeygi Barat' of Geo TV in which she played a lead role. [4] acting  
Modeling and movie

Naveen is also a stunning model of Pakistan fashion industry. She has worked in various TV commercials and Naveen has also done many photo shoots as a model. Naveen is also a movie actress. She appeared on big screen for the first time in Pakistani film 'Josh: Independence Through Unity'. 
Naveens wedding ends in divorce

Naveen got married to Azfar Ali , a famous comedian and host and ex-husband of actress Salma. Azfar Ali and Naveen Waqar's marriage was the most controversial marriage of recent times. When Azfar left his wife Salma and married Naveen who played the role of Sara in Hamsafar people were not happy. For one year the couple went into hiding because every time they were seen on screen people criticized them even more. The couple later talked about how badly this attitude of people had effected them. They were later also seen together in a sitcom.
Azfar and Naveen's marriage came to an end only after few years of getting married. while talking to Express Tribune, "I have divorced my now ex-wife Naveen Waqar. We've been separated since July 2015 and then I filed for divorce which came through in November,2015. " He also said, "The news of our marriage was blown way out of proportion and since it eventually became public news and information, I don't want to keep anybody in the dark now… I also chose to do this because a lot of people are calling me and inviting us to their shows for a joint interview. I want everybody to know, once and for all, that we have separated and there is no need for this."  [5] wedding to divorce    
Interview
In conversation with Images, the 32-year old opens up about her personal life, cinema and what awaits her next.
Tell us a bit about what you do when youre not working.
Naveen Waqar: I'm a total homebody. I love spending time with my family. Sundays, for example, are strictly family days. It's all about my parents, brother and baby cousins and we spend the day together, playing games or taking them out. In my spare time, I read a lot, catch up on music and movies I've missed out on, paint or write. I only do one project at a time, so that I balance my professional and personal life and focus on one thing at a time.
How important do you think it is to have a partner in ones life
Naveen: It's more important to have the right person as a partner, especially when a woman is a public figure. She needs someone who doesn't feel overshadowed by her success and is comfortable in his own skin and above all, respects her. Unfortunately, women are taught that their aim in life is to grow up and get married. I believe in letting them educate themselves so they can be self-reliant and independent. Relationships are important, but they shouldn't be the only aspiration. There should always be a balance.
Local cinema has been growing in leaps and bounds. Are you planning to make your silver screen debut anytime soon
Naveen: It all depends on the right kind of role and script. I'm in no hurry. I want to take my time and if and when the right role comes along, I will say yes. I'd love to do action roles. Action, psychological thrillers or intense drama, suspense are my kind of genres. Something that would challenge me, mentally and physically. Excite me enough to want to lose myself in the story. If given the choice, I'd rather prefer a role where I kick someone's butt than dance and romance, but then again if done right, the latter can be fun too.
I was offered a role from across the border last year in November 2015 to work alongside Amitabh Bachchan and Nawazuddin Siddiqui. But I wasn't sure if it was the right time for me, and I was also shooting for Saya e Deewar Bhi Nahi, so saying no was the right choice at the time. It was very tempting but Pakistani cinema is reinventing itself and I want to be a part of that reinvention. I want to do a film that would be remembered as one that helped Pakistani cinema grow.
Lots of people are entering the filmTV industry. What do you think you offer that other actors dont
Naveen: I bring myself and my personality to the table. My work speaks for itself and although I haven't done more than five projects that have been on-air, I am proud of my résumé. I have a lot more to learn and grow with. I'm still new as other contemporary actresses have done a lot more work than I have. I like my work to speak for itself, and it has so far. People who have worked with me can definitely agree that I'm hard working. Personally, I try and give my absolute best and I'm a total team player. I take my work very seriously.
Whats your take on the way women are portrayed on television How do you pick roles
Naveen: I wish they would cut down on the damsels in distress and increase roles where women are shown as powerful creatures that have the ability to do so much more.I try and pick roles based on how much performance margin I get. As Shehla in Saya e Deewar Bhi Nahi, I got to really push myself as an actor. She grows; she makes mistakes, seeks redemption and pays the price. I got to show her good as well as her dark side. I try and not do one track or monotone characters.
Is it hard to achieve success as a woman in this industry Do you think its male-dominated
Naveen: I personally think women are doing as well as men in the industry. Dramas are very or rather mostly female-oriented. My experiences with all my male co-actors have been good. They vary of course, but thankfully I've learnt and grew from every person I get to work with. Women still have to work twice as hard to be recognized for their achievements, be it in this business or otherwise. I think it's the mindset of our society in general. 'Men are better than women'; it's something that people have been fed while growing up in all aspects of life. It's unfair, but I believe times are changing. It is a slow process, but women are stepping up on the same platforms as men and performing as good, if not better. However, it takes a thorough gentleman to admit to it, and not all men are comfortable with women doing better than them even when they are.
A lot of your work has been with MD Productions whats your take on having favorites in the industry
Naveen: The fact that I started my acting career with them has a lot to do with it. But mostly, it's about the script that I'm offered. It's not like I'm bound to work only with a particular production house. I'm open to anything that appeals to me. Nonetheless, I do have a comfortable bond with the team; they've seen me grow over the years. [6] interview
Dramography
Year
Title
Role
Channel
Additional Notes
2010-2011
Pick and Choose with Fuse
VJ Fuse
AAG TV
TV Music Show
2010
Morning Music Chaska and Drive On With Naveen Waqar
Herself/Host
Broadcast on Radio FM91
2010
Ab Set Hai
Ayesha
Hum TV
Telefilm
2011-2012
Humsafar
Sara
Hum TV
Pakistan Media Awards for Best New Female Actor
Hum Honorary Phenomenal Serial Award
2012
Annie Ki Ayegi Baraat
Annie
Geo TV
2012
Mera Yaqeen
Nimra
ARY Digital
2014
Uff Meri Family (Sitcom)
Ujala
Hum TV
2015
Alvida
Uroosa
Hum TV
Support role
2015
Mol
Emaan
Hum TV
Lead role
2016
Saya-e-Dewar Bhi Nahi
Shehla
Hum TV
Lead role
2016
Kuch Na Kaho (2016 TV series)
Ayna
Hum TV
Lead role
2016
Dukh Sukh (Telefilm series)
Ulfat Shireen
Urdu 1
Episode: Aap Ki Ulfat
2016
Dukh Sukh (Telefilm series)
Maya
Urdu 1
Episode: Musafir
2017
Be Inteha (Serial)
Bisma
Urdu 1
Lead role