National Highway consists of all public highways maintained by the National Highway Authority under the Ministry of Pakistan. It maintains over 12,000 kilometres (7,500 mi) of roadways organised into various classifications which crisscross the country and provide access to major population centers. National Highways are not to be confused with provincial highways, which  are roads maintained by the respective provinces. Pakistan's national highways include the famous Grand trunk Road,Indus Highway, Karakoram Highway and Makran Coastal Highway. All national highways in Pakistan are pre-fixed with the letter 'N' (for "national") followed by the unique numerical designation of the specific highway (with a hyphen in the middle), e.g. "N-5". Each numerical designation is separated by five numerals, i.e. N-5, N-10, N-15, etc. National Highways are distinct from 'Strategic Highways', which begin with the prefix 'S' and are controlled and operated by the Ministry Of Defence
| Title | Description |
| --- | --- |
| Information | |
| In Urdu: | پاکستان کی قومی شاہراہ‎‎ |
| Type: | Roads |
| Length: | 12,600 km (7,800 mi) |
| Maintained By: | National Highway Authority |
| Formed: | 1988 |
| West Zone: | N-10 Coastal Highway & N-25 RCD Highway |
| N-5 South Zone: | GT Road N-5 Rahim Yar Khan to Karachi |
| N-5 Centeral Zone: | GT Road N-5 Lahore to Rahim Yar Khan |
| N-5 Nourth Zone: | GT Road N-5 Peshawar to Lahore & IMDC |
| Moterway Zone: | M-1, M-2, M-3 , M-4 |
| police Fax #: | Fax: +92 51 9334551 |
| Police #: | 130 |
| Kohala – Muzaffarabad: | 40 km |
| Nowshera – Chitral (N-45 National Highway): | 309 km |
| Karachi – Chaman (N-25 National Highway): | 813 km |
| Karachi – Gwadar (N-10 National Highway): | 653 km |
| Sibi – Sukkur (N-65 National Highway): | 385 km |
| Karachi – Torkham (N-5 National Highway): | 1819 km |
| Pakistan's national highways include : | Grand Trunk Road, Indus Highway, Karakoram Highway and Makran Coastal Highway |
| Website: | http://nhmp.gov.pk/ |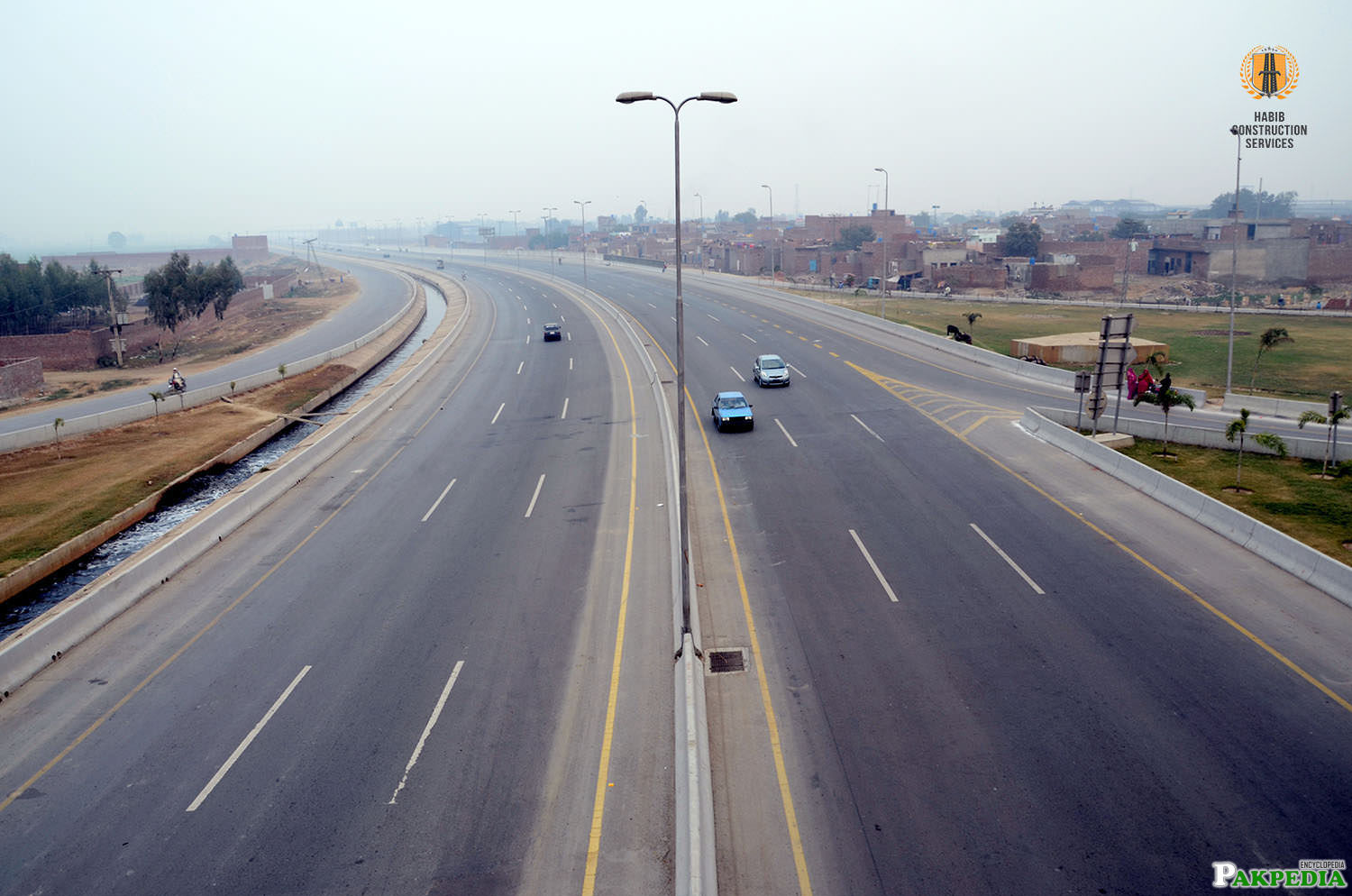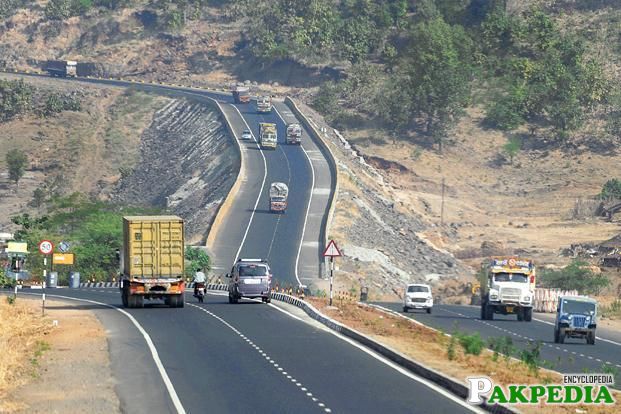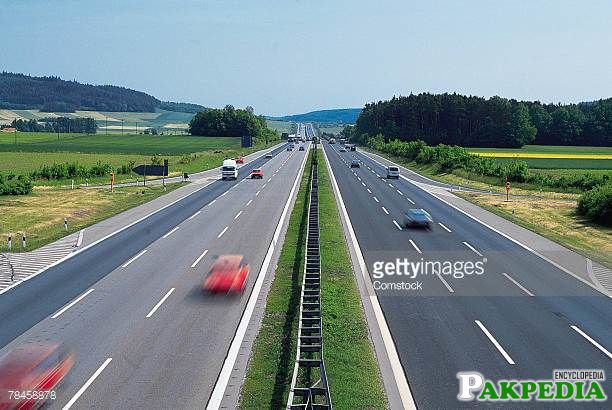 National Highway Authority

The National Highway Authority (NHA) was created, in 1991, through an Act of the Parliament, for planning, development, operation, repair and maintenance of National Highways and Strategic Roads specially entrusted to NHA by the Federal Government or by a Provincial Government or other authority concerned. NHA is custodian of 39 national highways / motorways / expressway / strategic routes having a total length of 12,131 kms. It is 4.6% of total national road network i.e. 263,775 kms, however, it carries 80% of commercial traffic and N-5 which is blood-line of Pakistan, carries 65% of this load in the country.
Being custodian of Highway assets of Pakistan's road network, NHA is committed to provide safe, modern and efficient transportation system. As the cornerstone of Highway network, National Highways functions as the backbone of Pakistan's transportation system, plays an important role in the development of micro and macro economy and also enhances the national integration by increasing the social and economic dependence among the Provinces.[1]NHA INTRO
National Highway Moterway Police
Details
In the Year 1997, reforms were brought in the history of policing in Pakistan and a modern, proficient and efficient police force was raised for traffic management and order on the Motorways (M-2). There were more critics than supporters because of the failure of previous attempts made in this regard. The professional policemen believed that it was not possible to improve the working of practicing Police.This emerging new force was a u-turn and a complete transformation of police culture, therefore the pleasant change in no time earned the respect and appreciation of the public. Initially there were no fresh recruitment and all the officers were taken from the police setups of different provinces and were put under intensive training and motivational programs. All efforts were made to mould this force as true public servant. The result of this great venture astounded everyone. Another surprising change observed that the same officers, who were involved in heinous malpractices in the provinces, became noble, honest and efficient. It was thus concluded that through proper training, guidance, by providing compatible working conditions and taking care of some basic human needs, this miracle was possible.
Motorway Police Patrolling the roads
The government in recognition of excellent performance of Motorway Police, decided to expand its network to National Highways, which initially operated on the Peshawar-Karachi National Highway (N-5). Thus the nomenclature of the department was changed from Pakistan Motorways Police to National Highways And Motorway Police (NH&MP). This decision again brought out criticism and certain orthodox statements. Critics visualized certain failures of this new department regarding policing on N-5. The apprehensions were logical when taken into consideration the complexity of the traffic, attitude of drivers and behavior of the pedestrians, on the highways of Pakistan. Again the task was a difficult one and the hard earned, goodwill and pride, was at stake. NH&MP commenced policing on N-5, with effect from June 2001 but despite of all fears it proved to be successful. With this success, the government further decided to handover all the federal highways of Pakistan to NH&MP in phases. Later on, some other highways have also been taken over and presently policing 2695 Kms highways and motorways.
Today, by the grace of Allah, NH&MP is the only institution, whose efficiency is being praised by people from all walks of life. From the very outset, NH&MP has earned support and confidence of general public. Perhaps for the first time in the history of Pakistan, a police force is being lauded for its honesty, integrity, behavior, help and public servic.In the National Accountability Bureau (NAB) report for the year 2002, NH&MP was reported to be the only corruption free department in the country. The then Prime Minister of Pakistan Mr. Shaukat Aziz also declared this force as "The Island of Excellence". Transparency International has included NH&MP among the corruption-free departments of the world.
Now people are demanding that this department may be declared as a model and this experiment may also be replicated to other departments. Initially, the experiment has already been replicated in the shape of Islamabad Model City Traffic Police and Punjab Traffic Wardens, who have been trained by NH&MP. [2]NHA POLICE
Vision Mission of NH Moterway Police
Service above self to ensure a safe and secure driving environment on highways & motorways. Provide prompt assistance to road users in distress. Ensure courtesy and uphold best ethical values while saving lives and property. Accident reduction through quality driving training. [3] NHA Mission
NHA Background
In 1978, Government of Pakistan (GoP) decided to federalize five important inter-provincial roads named " National Highways" and created the National Highway Board for monitoring the development and maintenance of these federalized roads by provincial Highway Departments.
The National Highway Authority (NHA) was created, in 1991, through an Act of the Parliament, for planning, development, operation, repair and maintenance of National Highways and Strategic Roads specially entrusted to NHA by the Federal Government or by a Provincial Government or other authority concerned. Total length of the federalized roads under NHA now stands at 8780 KMs, account for 3% of the entire road network and 75% of the commercial road traffic in the country.
NHA is custodian of the Highway assets of Pakistan's road network. It is committed to provide a safe, modern and efficient transportation system. As the cornerstone of tomorrow's Highway network, National Highways function as the backbone of Pakistan's transportation system, play an important role in the development of micro and macro economy and also enhance the national integration by increasing the social and economic dependence between the Provinces.[4] NHA Background
List of National Highways
Sign
Course
Length
Lanes
Completion Year
Status
Remarks
N-5
Karachi – Torkham
(N-5 National Highway)
1819 km
6
1952
Operational
Longest national highway in Pakistan.
Continues as Kabul–Torkham Road in Afghanistan.
N-10
Karachi – Gwadar
(N-10 National Highway)
653 km
2
2003
Operational
Known more popularly as the Makran Coastal Highway.
N-15
Mansehra – Chilas
(N-15 National Highway)
240 km
2
–
Operational
–
N-25
Karachi – Chaman
(N-25 National Highway)
813 km
2
–
Operational
Continues as Kandahar–Spin Boldak Road in Afghanistan.
N-30
Basima – Khuzdar
(N-30 National Highway)
110 km
2
–
Operational
–
N-35
Hasan Abdal – Khunjerab Pass
(N-35 National Highway)
806 km
4
1979
Operational
Known more popularly as the Karakoram Highway
Continues as China National Highway 314  in China.
N-40
Quetta – Taftan
(N-40 National Highway)
610 km
2
–
Operational
Continues as Road 84  in Iran.
N-45
Nowshera – Chitral
(N-45 National Highway)
309 km
2
–
Operational
–
N-50
Kuchlak – Dera Ismail Khan
(N-50 National Highway)
531 km
2
–
Operational
–
N-55
Kotri – Peshawar
(N-55 National Highway)
1264 km
4
–
Operational
Runs along the length of the Indus River, providing relief to the N-5.
N-65
Sibi – Sukkur
(N-65 National Highway)
385 km
2
–
Operational
–
N-70
Qila Saifullah – Multan
(N-70 National Highway)
447 km
2
–
Operational
–
N-75
Islamabad – Kohala
(N-75 National Highway)
138 km
4
–
Operational
–
N-80
Islamabad – Kohat
(N-80 National Highway)
146 km
2
–
Operational
–
N-85
Hushab – Surab
(N-85 National Highway)
487 km
2
–
Operational
–
N-90
Khwazakhela – Besham
(N-90 National Highway)
64 km
2
–
Operational
–
N-95
Chakdara – Kalam
(N-95 National Highway)
135 km
2
–
Operational
–
N-105
Larkana – Lakhi
(N-105 National Highway)
61 km
2
–
Operational
–
N-110
Gharo – Keti Bunder
(N-110 National Highway)
90 km
2
–
Operational
–
N-120
Hyderabad – Khokhrapar
(N-120 National Highway)
220 km
2
–
Operational
–
N-125
Taxila – Haripur
(N-125 National Highway)
44 km
2
–
Operational
–
N-155
Larkana – Mohenjo Daro
(N-155 National Highway)
28 km
2
–
Operational
–
N-225
Larkana – Nasirabad
(N-255 National Highway)
34 km
2
–
Operational
–
N-305
Sakrand – Nawabshah
(N-305 National Highway)
35 km
2
–
Operational
–
N-455
Larkana – Shahdadkot
(N-455 National Highway)
50 km
2
–
Operational
–
N-655
Ratodero – Naudero
(N-655 National Highway)
18 km
2
–
Operational
–
List of Strategic Highways
| Name | Course | Length | Lanes | Completion Year | Status | Remarks |
| --- | --- | --- | --- | --- | --- | --- |
| S-1 | Gilgit – Skardu | 167 km | 2 | 1982 | Operational | – |
| S-2 | Kohala – Muzaffarabad | 40 km | 2 | 2016 | Operational | – |
| S-3 | Muzaffarabad – Chakothi | 55 km | 2 | 2010 | Operational | – |
NHA Executive Board
The general direction and administration of NHA and its affairs vest in the Executive Board which may exercise all powers, perform all functions and do all acts and things which may be exercised, performed or done by the Authority.
The Chairman NHA
Inspector General, National Highways & Pakistan Motorway Police (or nominee)
Additional Secretary Finance
Member or Additional Secretary, (Planning & Development Division)
Joint Secretary-II, Ministry of Communications
Senior Chief, NTRC
Vice President, NESPAK
Member(Finance), NHA
Member(Planning), NHA
Functions of Executive Board
To consider and approve proposals, schemes and projects exceeding fifty million rupees but not exceeding one hundred million rupees and to consider and recommend, through the Ministry, to CDWP or ECNEC proposals, schemes and projects exceeding one hundred million rupees.
To consider progress reports of the Authority.
To perform such other functions as may be delegated to it by the NHC.
To recommend for approval the annual budget of the Authority.
National Highway Council
The basic function of the National Highway Council (NHC) is to lay down national policies and guidelines to be followed by NHA in the performance of its functions. The Council has the power to direct and regulate the affairs of NHA.
Composition
The NHC was previously headed by the Prime Minister of Pakistan. In July 2001, the provisions of the NHA Act, 1991 were amended by the GoP and the NHC was re-constituted. The revised composition of the NHC is given below:-
The Minister for Communications, Government of Pakistan President
The Secretary Finance Division, Government of Pakistan Member
The Secretary Planning & Development Division, Government of Pakistan Member
The Secretary Communications, Government of Pakistan Member
A Professional in the field of Highway Construction and Management (nominated by the President) Member
A Professional in the field of Finance & Accounts (nominated by the President) Member
The Chairman NHA Member/Secretary
Functions of Highway Council
To approve five year plans and perspective plans, prepared by the board in consultation with the planning & Development Division, for the construction, development, repair & maintenance of National Highways & Strategic Roads specially entrusted to the Authority by the Federal Government or by Provincial Government or other Authority concerned.
To consider progress reports of the Authority.
To lay down national policies and guidelines to be followed by the Authority in the performance of its functions
To review and reappraise projects