National Database and Registration Authority (NADRA) was established as National Database Organization (NDO), an attached department under the Ministry of Interior, Government of  Pakistan in 1998. NADRA has gained international recognition for its success in providing solutions for identification, e-governance and secure documents that deliver multi-pronged goals of mitigating identity theft, safe-guarding the interests of our clients and facilitating the public. In-depth Research and Development efforts have enabled NADRA to become the trailblazer in the areas of Software Integration, Data Warehousing and Network Infrastructure.[1] National Database & Registration Authority NADRA 
| Title | Description |
| --- | --- |
| Details | |
| Name: | National Database And Registration Authority (nadra) |
| In Urdu: | قومی ڈیٹا بیس اور رجسٹریشن اتھارٹی نادرا |
| Location: | Pakistan |
| Smart NIC Modification: | Normal 400, Urgent 800, Executive 1600 |
| New Smart NIC: | Normal 400, Urgent 800, Executive 1600 |
| CNIC Renewal: | Normal 75, Urgent 300, Executive 1000 |
| CNIC Duplicate: | Normal 1000,Urgent 1000,Executive 1000 |
| CNIC Modification: | Normal 200 ,Urgent 300, Executive 1000 |
| New CNIC: | Urgent 300, Executive 1000 |
| Identity Documents : | National Identity Card Juvenile Card (JV) NIC for Overseas (NICOP) Pakistan Origin Card Child Certificate (CRC) Family Certificate (FRC) |
| Parent department: | Ministry of Interior |
| Agency executive : | Usman Mobin, Chairman |
| Employees : | 17,000 |
| Motto: | Empowerment through Identity |
| Headquarters: | Islamabad, Islamabad Capital Venue |
| Jurisdiction : | Constitution of Pakistan |
| Type: | Government database |
| Formed : | March 10, 2000; 17 years ago |
| Open Hours: | 09:00-17:00 Monday-Friday |
| Tariq Mahmood Khan: | Additional Secretary-II, MOI |
| Navaid H. Malik : | President Adept Private Ltd |
| Professor, KSBL: | Dr. Jawaid A Ghani |
| CEO HBL, Karachi: | Farid Ahmed Khan |
| Chairman EOBI: | M Sualeh Ahmed Faruqui |
| Chairman NADRA: | Usman Y. Mobin |
| Phone: | +92 51 111 786 100 |
| Address: | NADRA State Bank of Pakistan Building, Shahrah-i-Jamhuriat, G-5/2, Islamabad, 44000, Pakistan |
| Website: | https://www.nadra.gov.pk/ |
History

After the independence of  Pakistan , Prime Minister  Liaquat Ali Khan  launched the Personal Identity System (PIS) program to register, manage and issue national identification cards to all the citizens of Pakistan and Muslim refugees settling in Pakistan. Changes were carried out by Election Commission of Pakistan in 1965 for the process of the voter's registration to hold the nationwide 1965 presidential election. In 1969–70, the amendments in the PIS program continue by the Election commission until the election commission supervised the 1970 general elections.
After the 1971 war resulted in East-Pakistan gaining independence as Bangladesh, a new statistical database system was needed to ensure the safety of Pakistan's citizens as well as the national security of the country. In 1973, a new database system was codified under the Second Amendment, §30, of the Constitution of Pakistan to perform and contain the statistical database of the citizens of Pakistan. Registration of Pakistan's citizens and statistic database in government's computer accounts was started in 1973, with the promulgation of the constitution of the country. This new program was visioned and started by then-Prime Minister Zulfikar Ali Bhutto.
In 1973, in a parliamentary session, Bhutto stated in parliament to the people of  Pakistan , "due to the absence of full statistical database of the people of this country, this country is operating in utter darkness". The government started issuing the National Identity Card (NIC) numbers to its citizens and started to establish government databases of the people in the government computers.
National Database and Registration Authority (NADRA) was established on March 10, 2000, by merging Directorate General of Registration Pakistan .
National Identity Card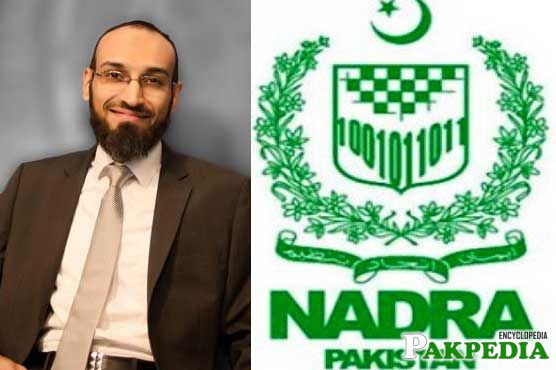 National Identity Card (NIC) is issued to the citizens of  Pakistan . It is a blend of state-of-the-art technology and well-defined business rules to guarantee its authenticity and validity. The unique 13 digit identification number is recognized all over the country. It is the first requirement of individuals as it is mandatory to obtain documents like license, NTN, bank account, passport, cellular connection etc. Every citizen of Pakistan, 18 years and above, is eligible for NIC.[2] National Identity Card
Juvenile Card JV
Juvenile card is an identity card issued to children under the age of 18 years. The chip-based card is distinguished from Child Registration Certificate (CRC) as it is an 'entitled document' with multiple facilities. Child's parents or blood relative holding a valid National Identity Card (NIC) is required to be physically present for providing the biometrics. Please visit any NADRA Registration Center (NRC) to apply for Juvenile card as the online facility is not available.[3] Juvenile Card  JV
National Identity Card for Overseas Pakistanis NICOP
National Identity Card for Overseas Pakistanis (NICOP) is a registration document issued to a eligible citizen of Pakistan  who lives or has reference abroad.
Any citizen of Pakistan can apply for NICOP and can travel to  Pakistan  without requiring a visa in case of dual nationality. Please note that Passport number is a mandatory pre-requisite in case of applying for NICOP of new born babies if they are born abroad.[4]National Identity Card for Overseas Pakistanis (NICOP) 
Pakistan Origin Card POC
Pakistan Origin Card (POC) program endeavors to provide eligible foreigners with unprecedented incentives to get back to their roots; while ensuring that the motherland remains tightly integrated with expatriates worldwide which includes:[5] Pakistan Origin Card (POC) 
Visa-free entry into Pakistan
Indefinite stay in Pakistan
Exemption from foreigner registration requirements
Permission to purchase and sell property
Right to open and operate bank accounts
Child Registration Certificate CRC

Child Registration Certificate (CRC) is a registration document used to register minors under the age of 18 years. It is the fundamental right of a child to get a registration certificate from the place of origin. NADRA has been able to automate and in turn facilitate the process of acquiring Child Registration Certificates. CRC is also known as B-form.
CRC can be taken by providing documented proof of child birth from union council. Parent is required to be a holder of National Identity Card (NIC)/National Identity Card for Overseas Pakistanis (NICOP). You are required to go to any NADRA Registration Center (NRC) to apply for CRC.[6]Child Registration Certificate ( CRC)  
Family Registration Certificate FRC
Family Registration Certificate (FRC) is a mean of being identified with your NADRA's record. This provides the family composition. Please note that the Family Registration Certificate (FRC) helps in Embassy use mostly but cannot be used for any Legal requirement.
You can apply for FRC in the following three categories:[7] Family Registration Certificate (FRC) 
By Birth – The produced certificate will list your family including the details of your parents and siblings.
By Marriage – The produced certificate will list your family including the details of your spouse and children.
By Adoption – The produced certificate will list your family including the details of your guardian.
Operational Management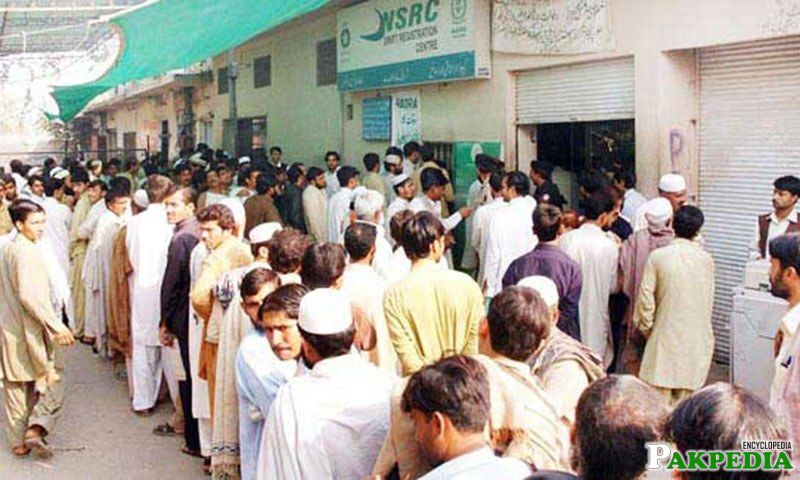 NADRA field operations are controlled through eight Regional Headquarters. Each Regional Headquarter has varying numbers of Zonal offices which are responsible for controlling  NADRA Registration Centers operating in their area of responsibility. Number of Zonal offices and NADRA Registration Centers are dependent on population and size of the area. Each Region is controlled by Director General who is directly reporting to senior management of NADRA. Main responsibility of Regional DGs is to ensure that all applicants are handled with utmost customer care without compromising NADRA's Registration rules/regulations/SOPs.[8] Operational Management
Secure Documents
 National Database and Registration Authority has the expertise in developing enterprise grade solutions in the Identity Management industry with issuance of Secure Documents. It has successfully established ISO certified secure documents production facility capable of producing 65000-100000 cards per day using substrates like Polycarbonate, PVC, Teslin, Paper, Magnetic and Scratch Cards. This secure documents facility is equipped with auto document feeder, digital printers, customized holographic and plain lamination machine, die-cutting machine and automated mailing machine.
Additional security features include security lines, water marks, micro-text, micro-lines, guilloche patterns, rainbow printing, UV duplex printing, holograms with animated covert images, 2D Barcode with encrypted PKI and many more. These features have facilitated the G2P cash disbursement, security and fraud prevention; enabling the Government in the quest for "Good Governance".
E-Governance

NADRA's National Identity Program based on its citizen centric data management strategy. The program has brought in the transparency, trust and ubiquitous reach to millions of Citizens of Pakistan with digital identification enabling secure means to deliver financial and G2P services through National Identity Program. A few of the e-Governance includes:[9] E- Governance
Social Grant Programs
Authentication Applications
Financial Inclusion Programs
Smart National Identity Card
Juvenile Smard Card
Pension Disbursement Program
Deceased Identification
Electoral Roll
Border Management & Passport Issuance System
Disaster Planning and Disaster recovery Site Development
Security Surveillance
NADRA has vast experience in designing, developing and implementing identification systems with Multi-Biometric enhancements. The solutions are designed to facilitate real time monitoring, identification of personnel and vehicles with increased security, scalability and transparency.
Following are the strengths offered in these solutions:
Integration & verification through centralized database.
Completely customizable solution easy to deploy and configure.
Multi-biometric features of Fingerprints and Facial.
Highly flexible, scalable, and upgradeable architecture.
Highly secure, requiring low level of serviceability.
How to Apply for Online CNIC

The journey starts here – http://id.nadra.gov.pk/ – the starting point for Online CNIC registration.[10] Apply for online CNIC
NADRA has made the portal for all sorts of ID Card issues. Some of which are below:
Get a new ID Card (for people who want their ID card for the first time)
Renew your ID Card (in case of expiry of current ID card)
Reprint your ID Card (Handy for making copies or printing out your ID Card)
Get a new Overseas ID Card (for expatriates and oversees Pakistanis)
Modifying your ID Card Details (in case you missed a detail or two when you apply for CNIC Online)
Once you have figured out which option of ID Card creation is relevant for your purposes, then its time to proceed forward. Your 'Application Fee' and 'Supporting Documents' will differ based on the option you choose.
Supporting Documents when you Apply for Online CNIC
NADRA has made its online portal simple and uncomplicated to use. You choose an option for CNIC that suits your purpose and NADRA will provide you with the list of supporting documents it requires for the next step.
Step 1: Check here to see what supporting documents are required: http://id.nadra.gov.pk/know-requirements/
Example 1: An Overseas ID Card will require a PASSPORT COPY and CRC.
Example 2: A Renew ID Card will require Scanned Copy of CNIC (if no modifications are required.
It seems NADRA has made the process easier for everyone. In fact, the website is made for mobile too, making use of responsive web design technology to enhance its use. Changes like these are a good sign that NADRA is looking forward to the 21st century.
Preparing your Documents for Online Processing
NADRA has provided step-by-step guides on preparing all sorts of documents for uploading. Naming conventions, file size limits, picture file formats, etc. You name it, they have clear cut instructions for them, in order to ensure the process goes smoothly.
Suppose that you need to change your picture when your ID card expires or some other situation like that. To upload a proper picture as per NADRA requirements, they got a Photography section detailing the answer to that exact question.
Here are some of the Preparatory Guides NADRA has for supporting documents:
Photo Capture
Fingerprints Capture
Form Filling
Document Upload
http://id.nadra.gov.pk/download-guides/
They even have a video detailing the uploading process for everyone – http://id.nadra.gov.pk/doc-upload-guidelines/
Application Fee for Online CNIC
Depending on where you reside and what kind of Online CNIC option you've opted for, you will be required to deposit an Application Fee. To know how much it would cost you in processing your Online CNIC application, please refer to the rates here – http://id.nadra.gov.pk/fee-details-cnic/
NADRA has laid out the rates for NICOP as well as CNIC both, even including the information about modifying the age, as well as delivery rates for CNICs both within Pakistan  and Overseas.
Concluding Thoughts
We would like to see an Urdu version of this website too in order to appeal to a greater demographic of internet Pakistani users, especially those from rural and far-flung areas. Nonetheless, this is a good step by NADRA to make e-Governance in Pakistan within the common man's reach.
Online CNIC registration and delivery is the need of the hour in this nation of 180 million population level. A laudable development indeed that can take care of the bottlenecks associated with Pakistan's bureaucratic workings.
How to Verify NADRA CNIC through SMS
Send your CNIC number (with or without dashes) to 8008
In return you will get the names of all registered persons in your family.
If you're satisfied with the list, reply the message with 2, but if there is any person registered as your family member you don't know ─ notify the authority by replying with 1.
Family heads, or even if you are not head of a family, can send their NADRA CNIC number to 8008, and in response they will get the names of people with-in their family tree.[11] Verify CNIC through SMS