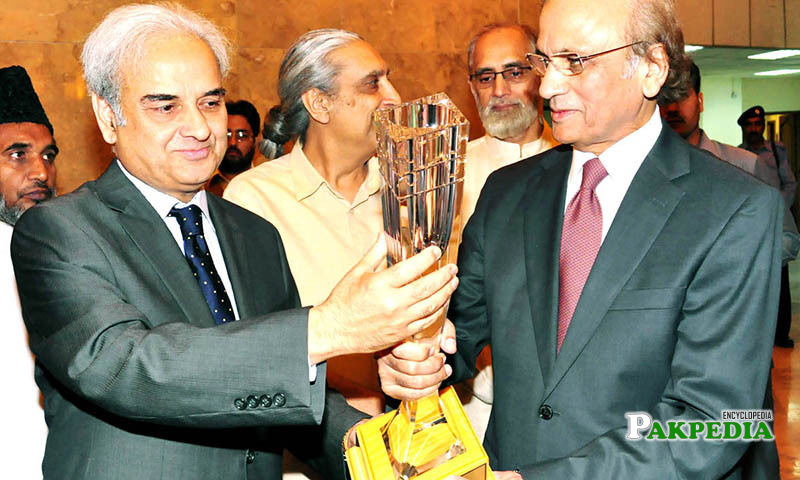 Nasir ul Mulk along with other judges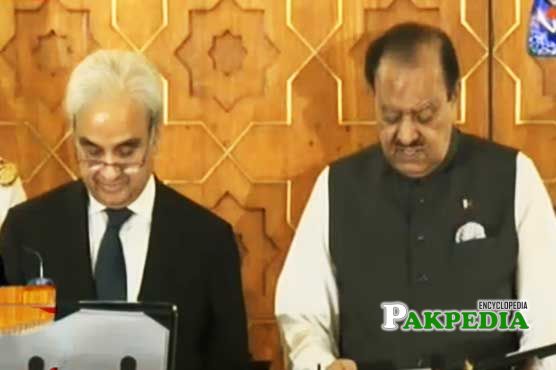 With Mamnoon hussain
Justice Nasir ul Mulk
With Nawaz Sharif
Took oath as a Caretaker
Biography
Nasir-ul-Mulk was born in the most beautiful city of Khyber-Pakhtunkhwa, Swat. He belongs to a wealthy and well known politically family named as Paracha in Swat. His father Kamran Khan was a businessman and politician who served as Senator from 1973 to 1977. His younger brother, Shuja-ul-Mulk, also served as Senator from 2003 to 2009. Nasir's another sibling Rafil-ul-Mulk served as mayor of Swat. His uncle, Chacha Karim Bux (or Baksh) was a prominent social worker.
Education
After completing high school from Swat, Nasir ul Mulk attended the Jahanzeb College where he completed bachelors in Fine Arts (1970). He attained Peshawar University for study law. He showed his hard work well in his law studies, his university professors praised him as "talented and a bright student". In 1972, he completed his LLB degree and for his high studies, Nasir ul Mulk went to the United Kingdom for his LLM degree and qualified as bar-at-law (1976).
Career
Nasir ul Mulk started his early career as a law practiced form Peshawar high court. He served as professor of law at Peshawar university beside practicing. Nasir regarded as the best professor of law by university faculty and students. Nasir ul Mulk practiced law almost 17 years in Peshawar High Court and gained a good and positive reputation in his career. Nasir also served as President of Peshawar High Court Bar in 1990 and 1993. He served as advocate general of Khyber Pakhtunkhwa from 1993 to 1994.
Judicial Career
Nasir ul Mulk qualified as a judge and appointed at Peshawar High Court as a judge from 1994 to 2004. After the judge tenure' Nasir ascended as  Chief Justice of Peshawar High Court form 2004.
Prime Minister of Pakistan
Nasir ul Mulk's name was announced at a joint presser by PM Abbasi and Opposition Leader Khursheed Shah. He is the 7th caretaker prime minister of Pakistan. he also served as the 22nd Chief Justice of Pakistan. He was given the guard of honor here at the Prime Minister house after oath-taking ceremony of his office at the President house. He is caretaker prime minister for conduct free, fair and impartial elections, on till general elections are held on 25 July 2018.