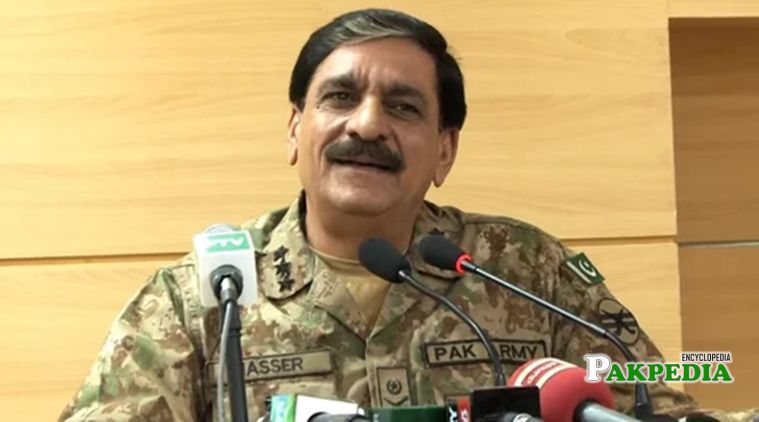 National Security Advisor of Pakistan
President of the National Defence University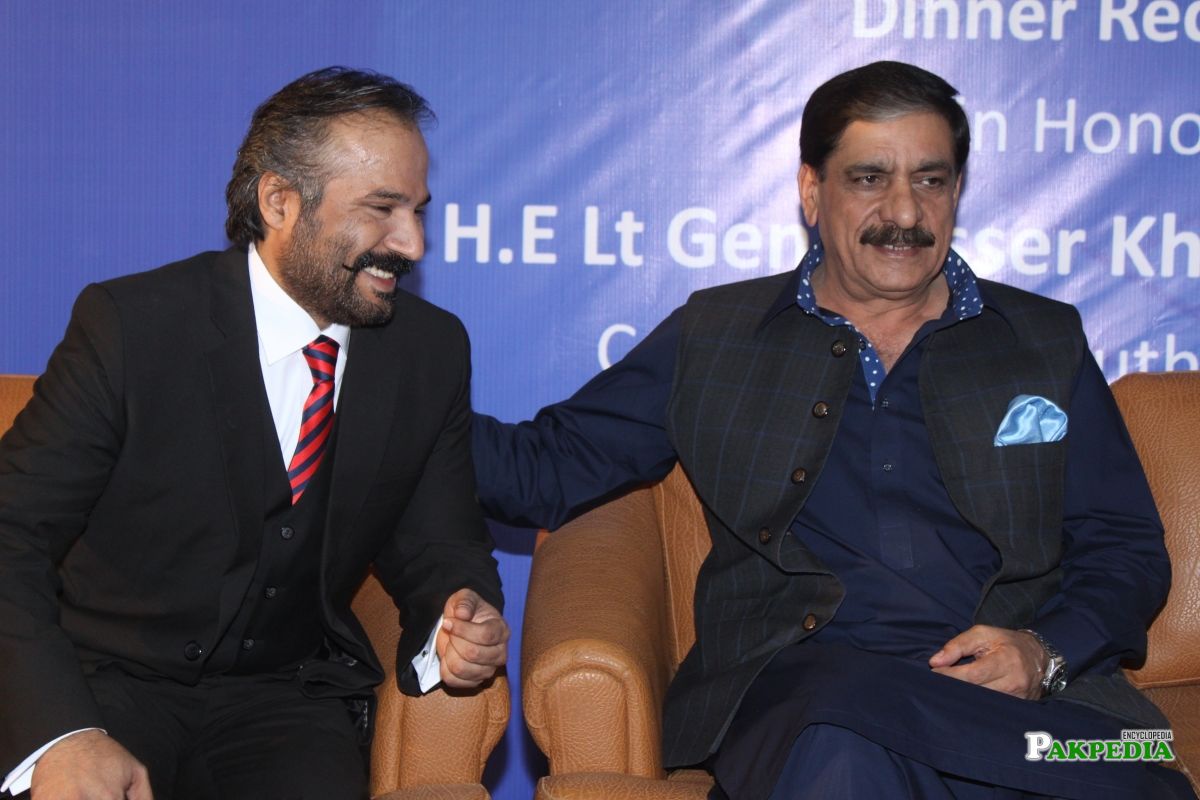 Farewell Dinner
Lieutenant-General
Nasir Janjua
Biography
It was only sensible for Janjua to apply his depth of strategic knowledge and past field experience in Pakistan's largest province
Balochistan
, where an indigenous rebellion aided by foreign sponsorship, primarily by India, has turned into a violent insurgency. General (retd) Ashfaq Parvez Kayani's decision to appoint then Lt Gen Nasir Khan Janjua as Commander 12 Corps was a well-calculated move to strengthen the security architecture there and quell the feelings of discontent among the Baloch populace. His efforts have borne fruit well and Balochistan has witnessed a steep rise in terms of political, economic and social development. Local culture too, has been given considerable exposure thanks to the untiring efforts of 12 Corps and Frontier Corps.
[2]
Biography
Military Service
2005
Brigadier Nasir Janjua was Commander of the Siachen Brigade. He was later appointed Director Military Operations (DMO) under then DGMO Major General Ahmed Shuja Pasha (who was later promoted to Lt Gen as served as the ISI chief). As DMO, he was instrumental in post-earthquake international disaster relief efforts in Pakistan, particularly with the US government, which provided food and aid to affected people in the northern areas.
2007
2007: Major General Nasir Janjua had been appointed the crucial but short-lived slot of DGM O (GHQ) in September 2007 until he was appointed General Officer Commanding (GOC) of 17th Infantry Division in Kharian (Central Command). He oversaw Operation Rah-e-Haq in Swat district between November 2007 and December 2008.
2011
Major General Janjua was serving as Vice Chief of General Staff (GHQ) and was promoted to Lt Gen rank in October and subsequently appointed President of NDU. In the words of renowned Pakistani defence analyst Maj (retd) Ikram Sehgal, Janjua was instrumental "in changing the curricula and the "Lal Kurti" mindset to reflect modernity in warfare, combining the National Security and War Course into one course instead of two overlapping ones".
2013
Then Pakistan Army chief General Ashfaq Parvez Kayani appointed Janjua as Commander 12 Corps / Commander Southern Command in August.
[3]
Military Service
Appointment as National Security Adviser
Nasir Janjua has been appointed national security advisor, Sartaj Aziz deputy chairman of planning commission while Amir Muqam has been given advisor's portfolio as Prime Minister (PM)
Shahid Khaqan Abbasi's
elected his cabinet.
[4]
Appointment as National Security Adviser
 The fresh premier,Abbasi has elected his cabinet that comprises of Nasir Janjua as the national security advisor and Amir Muqam, Sardar Mehtab Abbasi, Irfan Siddique and Jam Mashooq Ali as his advisors.
As DMO at GHQ
It was reported that then Brigadier Nasir Khan Janjua had accompanied his superior, DGMO Major General
Ahmed Shuja Pasha
, for the 10th Round of Defence Secretary Level Talks on Siachen between India and Pakistan on 23 May 2006. His presence there was interesting since prior to his posting in the Military Operations Directorate (MO Dte), Janjua was leading Pakistani forces in Siachen. This relevant past field experience made him a vital inclusion in India-Pakistan talks.
As GOC
17th Infantry Division After Operation Rah-e-Haq, Janjua and his troops were told to immediately revert from Swat back to home ground in Kharian, headquarters of Pakistan Army's 1 Corps (a Strike Corps). His forces were on alert should India dare to carry out any misadventure post the Mumbai attacks.
As Commander 12 Corps
Then Lt Gen Janjua had supervised firsthand counter-insurgency and counter-terrorism operations against a variety of militant groups in the restive Balochistan province. From sectarian militias to Indian-sponsored separatist groups, Janjua had been a witness to some of the most vicious interference in Pakistan.
[5]
Appointment as National Security Adviser
Lt Gen
As Pakistan's new NSA, Lt Gen (retd) Nasir Khan Janjua will be the focal point of reference in all matters of national security and especially improving civil-military coordination against terrorism. In the absence of a dedicated NSA who could look into a multitude of threats simultaneously, Janjua's appointment will tremendously speed up and make significant additions to the progress made by Sartaj Aziz. It was about time the latter (quite elderly) was told to take a break. If the NSA-level talks with India are resumed anytime soon, as were originally planned, Janjua will be sitting in New Delhi facing Indian counterpart Ajit Doval across the table. Janjua as a visionary military strategist and Doval as India's infamous intelligence czar make for a very interesting combination.
Interior Minister
Furthermore, as NSA, Janjua will take off the burden from Interior Minister Chaudhry Nisar Ali Khan's shoulders who has long been holding counter-terrorism talks with UK authorities. In case regional crises worsen and Pakistan is once again pressured into choosing A or B camps, Janjua will play the lead role in deciding whether or not it will be in Pakistan's interest to engage in required roles or not. An NSA is, after all, the combination of Interior Minister and Foreign Minister in one.
[6]
Interior Minister
National Defence University NDU
Lieutenant General Nasir Khan Janjua has been posted as President , National Defence University (NDU),
Islamabad
.He was promoted Lieutenant General on 4 Oct 2011 and appointed Vice Chief of General Staff at GHQ. Lt-Gen Agha Umer Farooq who was earlier President NDU has retired from service on July 21, 2012.
[7]
National Defence University