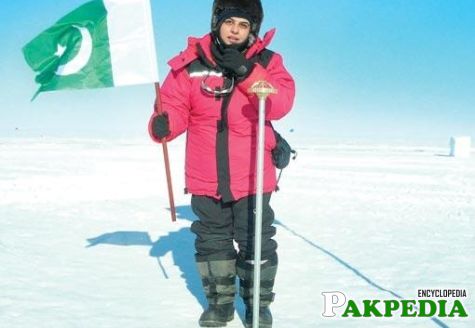 About
Namira the Astronaut
Namira Saleem is a lady of Pakistani origin who has lived most of her life in the United Arab Emirates and Monaco.She is the only Pakistani to have been chosen to be a member of the world's first commercial space liner, Richard Branson's Virgin Galactic. This has given her the distinction of soon to become the first Pakistani to travel to space and also Pakistan's first Astronaut. Namira was among the 100 space tourists that were shortlisted from 44 thousand applicants in 2005.To be a part of this historic journey with Virgin Galactic, Namira has trained and has also qualified for the suborbital spaceflight. The training was conducted under Virgin Galactic's supervision at the NASTAR Center in the United States.Namira is also an artist and has conducted several exhibits under the Patronage of Royalty from the UAE.As a result of her artistic and polar exploits Namira Salim also promotes peace and goodwill for which she has been honored.
[2]
Namira Salim also - promotes peace
South Poles
She had been to the South Pole earlier and now she has become the first Pakistani to reach the top of the world - the Geographic North Pole. She awaits her space flight and is due to become the first Pakistani to travel into space in 2008. She has completed her necessary training in America and now she is ready for her space mission. It is a great Honor as no other Pakistani has ever done this and she surely deserves to be appreciated. Namira said it was her childhood dream to become an astronaut. She will undertake the two-hour long space journey which would take place in this very year of 2008. It will be a sub-orbital flight which will break the boundary between earth and space and she will have the honor and thrill of staying there for 15 minutes. For this, she will receive "Commercial Astronaut Wing" from the US Federal Aviation Authority.
[3]
She had been to the - South Pole
She completed her last term of training in a TS-400 Simulator. During the simulator she experienced weightlessness and other forces which are encountered while being in a space flight and now she is completely ready after enjoying and having learnt from all these experiences.
[4]
she experienced -   weightlessness
North Pole
Her latest experience of being at the North Pole was quite very enriching. She was extremely happy when she conveyed her feelings from a satellite phone. "It is great honor to represent my country as the first Pakistani citizen at the Geographic North Pole during the 'International Polar Year' that marks the challenge of climate change our planet faces", Namira told this from the North Pole through a satellite phone.
[5]
North Pole was quite - enriching
"As I hoist the Pakistan flag at the pinnacle of our planet, I convey a universal message of peace and to assert to the global community that Pakistani nation is peace loving and tolerant nation,
Affiliation
Based in Southern France, Namira has deep affiliation with innovative art and multi-dimensional mixed media, some created around poetry she writes and some are musical she incorporates into songs in her own voice. Her collectibles and decorative art objects also come along her to support global causes. Namira created a specialized line of musical art objects with built-in messages in the voices of renowned altruists, first unveiled at the United Nations in May 2002.
[6]
created a specialized - musical art
Awards
Through all her art exhibits and polar expeditions, Namira Salim has been honored for avidly promoting Peace and goodwill. On 23 March 2011, H.E.
Asif Ali Zardari
, President of Pakistan conferred Namira with one of the country's highest civil decoration Tamgha-e-Imtiaz (Medal of Excellence). She was awarded the Power 100 Trailblazer Award by Pakistan Power 100, in London in September 2013 for her efforts to promote international peace and harmony. Namira Salim also had the distinction of being placed on the Pakistan Power 100's "Women Power 100" list amongst other eminent personalities like former National Assembly Speaker Fahemida Mirza and former Foreign Minister Hina Rabanni Khar.
[7]
www khaleej  -   times.com
[8]
namira salims beyond - the poles
About More
In addition to the above, Ms. Namira has multiple achievements under her belt. Some of these are:
   She is quite an explorer and in April of 2007 she became the first Pakistani to reach the North Pole. Following that, in January 2008 she became the first Pakistani to reach the South Pole. Thus she is the first Pakistani (not Pakistani woman) to have reached the North and South Pole.
   She is also credited for being the first Pakistani (yes, first Pakistani again) and also the first Asian to have sky dived over the tallest mountain in the world, Mount Everest in 2008 during the First Everest Skydives.
   She has the distinction to have been recognized as the first Pakistani Astronaut by the Government of Pakistan when she was officially recognized by our Ministry of Interior.
These achievements of Namira are nothing short of amazing considering her Pakistani origins. Some people argue that she is not really Pakistani as she has never really lived in Pakistan, but in my humble opinion, where ever you live if your origins are Pakistani you are always Pakistani at heart.