Naimatullah Khan was the Mayor of Karachi from August 2001 to June 2005. Naimatullah Khan has been involved with Islami Jamiat-e-Talaba, and is a senior member of Jamaat-e-Islami Pakistan. He is a lawyer by profession. he was also the president of the Al-Khidmat Foundation, biggest NGO of Pakistan.
| Title | Description |
| --- | --- |
| Personal | |
| Name: | Naimatullah Khan |
| Famous As: | Ex- Mayor of Karachi |
| Nationality: | Pakistani |
| Residence: | Karachi, Sindh, Pakistan |
| Education: | He graduated from Punjab University with a Masters in Journalism and a Law Degree from Karachi University |
| Religion: | Islam |
| Profession: | He a is lawyer by profession, but he is also a Politician |
| Social Activities: | He was the President of Al–Khidmat Welfare Society (NGO) |
| Born | |
| Date: | 1 October 1930 |
| Place: | Ajmer, British India (Now India) |
| Family | |
| Spouse: | Tahira Khatoon |
| Children: | He has seven sons and two daughters. All are married |
| Parents: | Father: Abdul Shakoor Khan, Mother: Bismillah Begum |
| Siblings : | He had two elder sisters and two younger brothers |
| Career | |
| Political Party: | Jamat-e-Islami Pakistan |
| Serve As: | Senior Leader |
| Time Period : | 1974 – Present |
| Member of the provincial Assembly | |
| Constituency: | PS-81 (Sindh Assembly) |
| In Office | |
| Role: | Opposition Leader |
| Dates: | 1985 – 1988 |
| Chief Minister: | Ghous Ali Shah |
| Prime Minister: | Muhammad Khan Junejo |
| Political Party: | Jamat-e-Islami |
| In Office 2 | |
| Role: | Mayor of Karachi |
| Dates: | August 14, 2001 – May 2005 |
| President: | General (R). Pervez Musharaf |
| Prime Minister: | Mir Zafarullah Khan Jamali |
| Preceded By: | Farooq Sattar |
| Succeeded By: | Syed Mustafa Kamal |
| Politcal Party: | Jamat-e-Islami |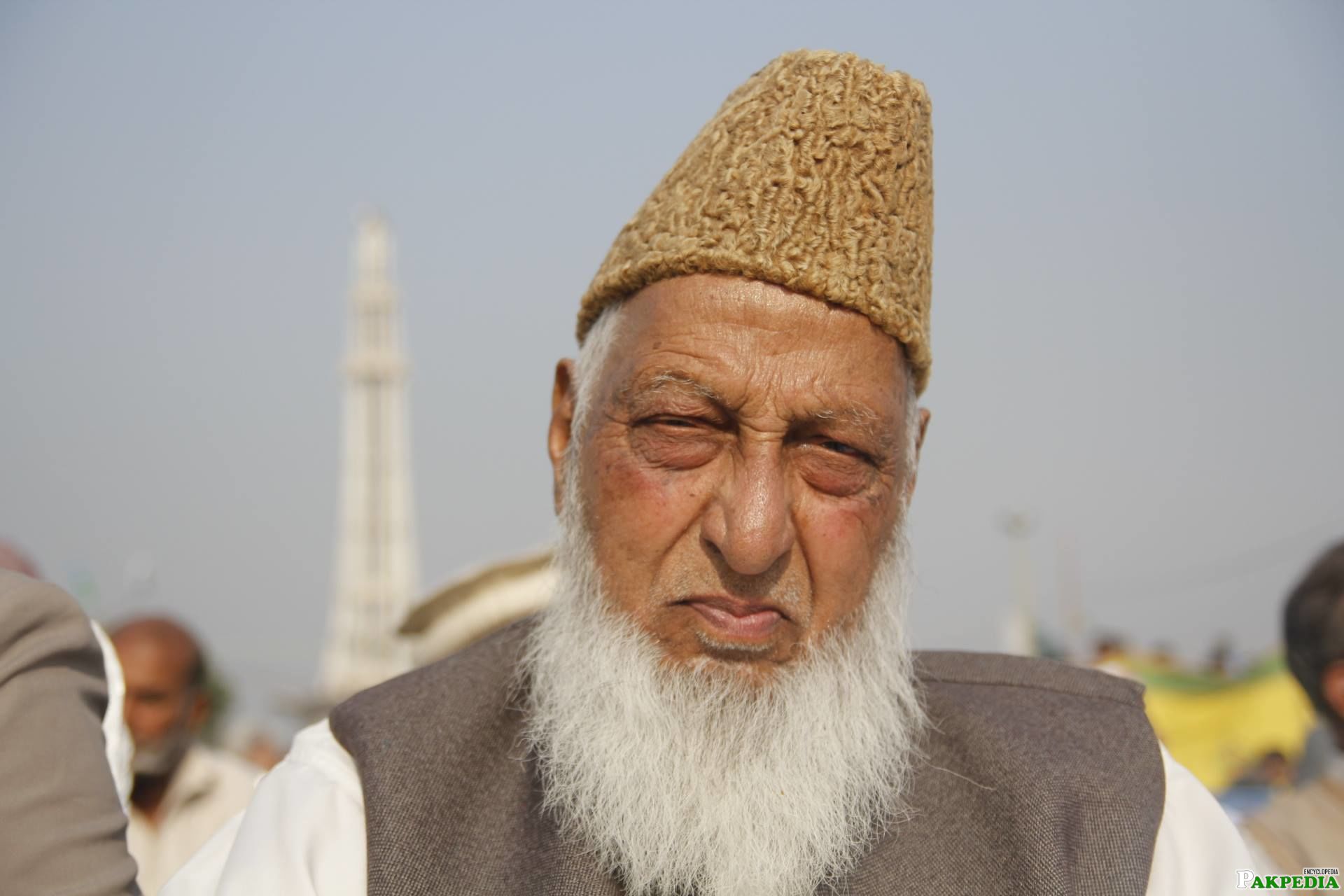 Early Life
Naimatullah Khan was born on October 01, 1930, in Ajmer, Rajasthan, British India, to Abdul Shakoor Khan,a railway postmaster and Bismillah Begum, a housewife. He was the third child of Abdul Shakoor Khan. He had two elder sisters and two younger brothers. In 1940, his father died of tuberculosis. The family then moved to Shahjahanpur, Uttar Pradesh, British India to live with their maternal relatives.
It was July 1947, Khan's departure to newly created  Pakistan  was eminent. One day during clashes with the Hindus, Khan and his friends made fire crackers filled in packs of cigarette and threw them at the opposition.
Police was in search of Khan and his friends and his uncle advised him to leave Ajmer for Karachi. Khan obeyed the orders and thus commenced the journey which would change his and his family's life. He left Ajmer alone for Karachi sometime in July 1947. He took a train which took him directly to Karachi via the Rajhastan desert.
Education
He had the responsibility of feeding his whole family thus he never got time to attend any institution. He enrolled at the Punjab University and just sat his papers. The highlight of his part-time job career was him working as a stenographer for Jamshed Nusserwanjee Mehta. Mehta was the first ever mayor of Karachi. He was currently working as Chairman of Sindh Purchasing Board when Khan worked as his stenographer. Naimatullah Khan later went on to become the mayor of Karachi himself. Khan completed his intermediate, BA, and a double MA in journalism and Persian. He also did his LLB. He then started working in the office of a lawyer. In the meantime Khan and his family become deeply saddened by the demise of Khan's eldest sister who died at a very young age.
[1] Naimatullah Khan biography
Entering Politics

Naimatullah Khan was always inspired by the writings and works of Maulana Maududi, the founder of Jamaat-e-Islami. His enternce into politics started as far back as late 1960s when he helped organise political programs at his own house. He formally joined the party in 1974 while at Hajj in Makkah. Khan worked diligently for the party slowing rising through the ranks.
Naimatullah Khan was jailed
In 1977 Khan was jailed in Sukkur for holding a rally in Karachi at a time when public gatherings were not allowed due to orders by then Prime Minister Zulfiqar Ali Bhutto. Khan spent three months in jail. Khan recalls how he met the infamous General Niazi at the Sukkur jail.
Naimatullah Refused to become Mayor Karachi
Khan was the top most contender to become the mayor of Karachi. Citing personal issues Khan refused to take the office. Khan at that time had nine kids most of whom were very young. Khan realised his children were too young for him to take such an important role. As his replacement Abdul Sattar Afghani was made the mayor who served in the capacity until 1987 after getting re-elected in 1983.
In Office
Member Sindh Assembly
Non political elections were held in 1985 and Khan won the PS-81 constituency from Karachi. He subsequently became the Leader of Opposition of the Sindh Assembly from 1985–88. President Zia-ul-Haq was killed in a plane crash in 1988 and all the prevailing assemblies were dissolved.
Ameer Jamat-e-Islami Karachi
Khan later became the Jamaat-e-Islami Ameer of  Karachi  in 1990. He served in this capacity until 2001 when he had to resign to take the office of the Mayor of Karachi. In the meantime Khan also retired from his law practice in 1991 after a 34-year career.
Mayor of Karachi
He was first Nazim of Karachi after devolution plan. He belongs to Jamaat-e-Islami being inspired from the thoughts of Abul Aala Maududi and Naeem Siddiqui . Naimatullah Khan was elected City Nazim (Mayor) in 2001. Nematullah Khan achieved to get an amount of Rs.2900 Million for reconstruction of Karachi, city council passed various projects such as 18 flyovers, six underpasses, two signal free roads and a huge water supply scheme for the people of Karachi. It was first time in the history of Karachi that all the stake holders in Karachi were incorporated for the developmental works in Karachi.the Karachi development plan comprises signal free main roads, many fly overs underpasses and the replacement of water and sewerage lines.
Views of Ex-Governor Sindh Dr. Ishrat-ul-Ibad Khan about Naimatullah Khan
"I want to give today's representative an example of an honest and visionary mayor Naimatullah Khan with whom I have worked. He was my senior, with his master plans he played a vital role in development of Karachi, but later his successors disappointed the city,"
he said, in a veiled reference to Syed Mustafa Kamal, who remained mayor of Karachi after Naimatullah Khan from 2005 to 2010.
[2]  Governor appreciates role of Naimatullah Khan in Karachi development
Charity work

After retiring from politics in 2005, Khan took the office of the President of Alkhidmat Foundation an NGO. He served in that capacity until 2011 when due to age and illness he just decided to look after the southern region of Alkhidmat Foundation. He has extensively worked in the Thar region of Pakistan since 1997 trying to bring that area out of problems such as acute water shortages and illiteracy.