Singing
Rock Artist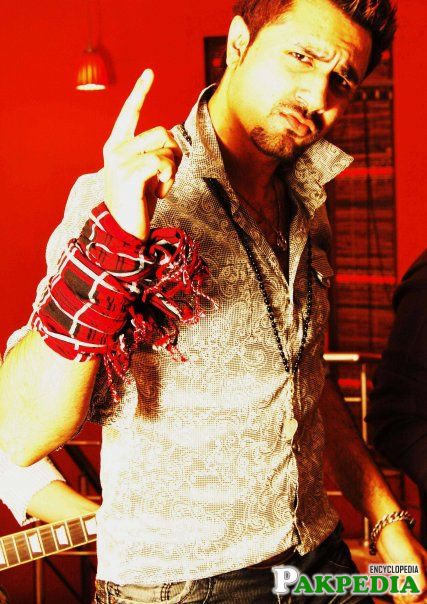 Pakistani Pop Rock
singer-songwriter
Band Leader
Biography
He was the lead vocalist of the rock band Junoon. He later joined
Pakistan Air Force
as a GD Pilot but could not continue because of some reasons. After graduating Mustafa and his friends decided to form the band leader Roxen. He has enjoyed a lot of success since bursting into the public eye in 2006 with his hit single "Tera Mera Rishta". The three songs from Blood Money has already become rage worldwide. Jo tere Sang, Gunah kia and Teri Yaadon Se are said to be one of the best Mustafa Zahids work till today.
[1]
Biography
Early Life and Education
Mustafa was born on 18 December 1984 into a Muslim family in Lahore,
Punjab
, Pakistan. Mustafa Zahid went to Crescent Model School and then did his Pre Engineering from Government College Lahore. He later joined Pakistan Airforce as a GD Pilot but could not continue because of some reasons. Mustafa is an old National College of Arts student as well.
[2]
Early Life and Education
Family Background
Mustafa Zahid family background is humble and he had been encouraged by his parents to nurture his dream and penchant for music. He had done pre engineering from Government College in
Lahore
and was a student of National College of arts. Mustafa Zahid height is around 5 feet and 7 inches approximately and he is blessed with a charming personality such that he captures a lot of attention. This has contributed to a lot of female fans for his band "Roxen".
[3]
Family Background
Married
Famous Pakistani singer and the lead vocalist of Roxen the band, Mustafa Zahid got married. His wife, Jia belongs to
Islamabad
.It is an arranged marriage.The wedding ceremony of Mustafa Zahid and Jia took place on 16th October 2014 at Islamabad. 
[4]
Married
Career
Roxen is the band that Mustafa formed with his friends in 2004. Their debut album titled Roxen-E-Dewaar was released in late 2006 and remained on top of all charts in Pakistan for almost six weeks. In the mid of 2007, he gave two of his chart busters songs for the Bollywood movie Awarapan Although Pritam did the music for the film. After Awarapan, Mustafa in 2009 came out with another Bollywood release 'Khuda Kay Liye' from the film Runway. 2012 saw Mustafa hit back with a massive bang. It was the biggest music deal of his career and his devotion to the songs of the movie is still chronicled everywhere. He has performed in over a 50 cities worldwide including New York, Glasgow.
[5]
Career
Debut Songs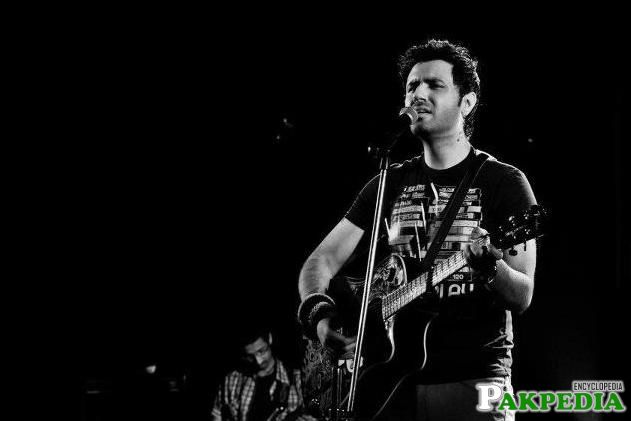 Mustafa Zahid had already become a blue eyes musical artist with his rock band Roxen but he ventured into Bollywood music with the movie "Awarapan". In the middle of year 2007 he stormed B-town with two incredible chart buster songs from the same movie. These songs "Tera Mera Rishta" and "Toh Phir Aao" marked the inception of Mustafa Zahid songs list.
[6]
Debut Songs
Awarapan
After "Awarapan", "Khuda Kay Liye" is another astounding musical blockbuster in Pakistan suing by Mustafa Zahid that was released in 2009 and it garnered him worldwide popularity. This is yet again one of the most cherished and most played Mustafa Zahid Pakistani songs. Thereafter Mustafa Zahid new songs "Jo Tere Sang", "Teri Yaadon Se", etc.; became a massive hit. Later on his Bollywood ventured continued with greater success and his melody "Hum Jee Lenge" from the movie "Murder 3" also banged well with stupendous success.
[7]
Awarapan
Blockbuster Songs
Mustafa Zahid Bollywood songs list got accentuated with songs Junoon from "Shootout at Wadala" and bhula dena from movie "Aashiqui 2". Mustafa Zahid "Bhula Dena Aashiqui 2" song became a musical sensation and people were moved by his powerful voice and amazing lyrics. Mustafa Zahid live performance Bhula Dena also witnessed incredible enthusiastic and overwhelming response of audiences and spectators. He has performed his hit songs in more than 50 cities all across the world.
[8]
Blockbuster Songs
Performed
Mustafa Zahid "Ek Villain" songs and Mustafa Zahid "Zaroorat" song from the same movie has been very well received and he has performed it in many places like New York, Mumbai, Karachi, Dubai, etc. With the success of Mustafa Zahid mtv unplugged songs and his performances in various live concerts people have high hopes on Mustafa Zahid upcoming Bollywood songs. These videos have also been uploaded and several likes and tweets have been received.
[9]
Performed
Cousin
His cousin, Ali Azmat, was the lead vocalist of the band Junoon.
[10]
Cousin
Discography
Bollywood
| | | | |
| --- | --- | --- | --- |
| Year | Song(s) | Film | Music Director(s) |
|  2007 |  Toh Phir Aao |  Awarapan |  Pritam |
|  - |  Tera Mera Rishta |  - |  - |
|  2009 |  Khuda Kay Liye |  Runway |  Shamir Tandon |
|  2012 |  Gunaah |  Blood Money |  Jeet Ganguly & Sangeet Siddharth |
|  - |  Teri Yaadon Se |  - |  - |
|  - |  Jo Tere Sang |  - |  - |
|  2013 |  Hum Jee Lenge |  Murder 3 |  Roxen |
|  - |  Yeh Junoon Mera |  Shootout at Wadala |  Mustafa Zahid |
|  - |  Bhula Dena |  Aashiqui 2 |  Jeet Gannguli |
|  2014 |  Maine Khud Ko | Ragini MMS 2 | Pranay Rijia |
| - | Teray Bina |  Heropanti |  Mustafa Zahid |
|  - |  Zaroorat |  Ek Villain |  Mithoon |
|  - |  Maula Mere |  Dr. Cabbie |  Yann Simhon,Igor Vrabac & Ken Worth |
|  - |  Teri Adaaon Mein |  3 A.M. |  Mannan,Raeth,Bruno & Pranay Rijia. |
Lollywood
| Year | Song(s) | Film | Music Director(s) |
| --- | --- | --- | --- |
| 2016 | Udasiyaan | Zindagi Kitni Haseen Hay | Soch,Udan Khatola & Sohail Haider |
Pakistani Drama Soundtrack
| | | | |
| --- | --- | --- | --- |
|  Year |  Song |  Drama Serial |  TV Channel |
|  2010 |  Tere Liye |  Tere Liye |  ARY Digital |
|  2015 |  Anjaane Raaston Mein |  Mere Khwaab Lauta Do |  - |
Albums
Singles
Turn the Night Up – Enrique Iglesias feat Mustafa Zahid and DJ Aks
Bujh Hay Gaya
Yeh Meri Zindagi Hai
Meray Saathiya
Kaisay Jiyein (also used in Bollywood film Murder 3 as Hum Jee Lenge)
Karam Kar dey (various artist song for flood victims-2010 )
Dil Main Tum (Revised with Bunny)
Na Kar Deewana (also used in Bollywood film Awarapan as Tera Mera Rishta)
Yeh Banday Mitti Kay Banday (A tribute to Pakistan Army - 2015)
Yeh Meri Zindagi (2016)
"'Jo Tere Sang': Roxen returns with Blood Money". 
"Hum Jee Lenge was initially a break-up song: Mustafa Zahid". .
"Mustafa Zahid sings for Tiger Shroff in HEROPANTI". Bollyspice.com. 2014-05-02. 
"Udaasiyan making it to the top on Indian You Tube". The Nation. 2016-08-18. 
"Mustafa Zahid to sing for 'Zindagi Kitni Haseen Hai'". The Express Tribune. 2016-08-11.