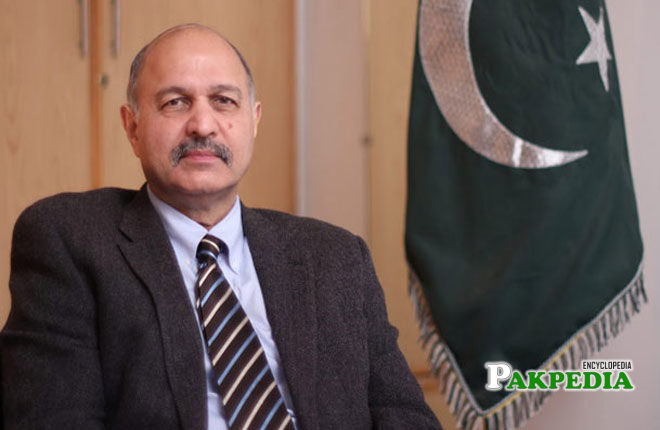 Pakistani Politician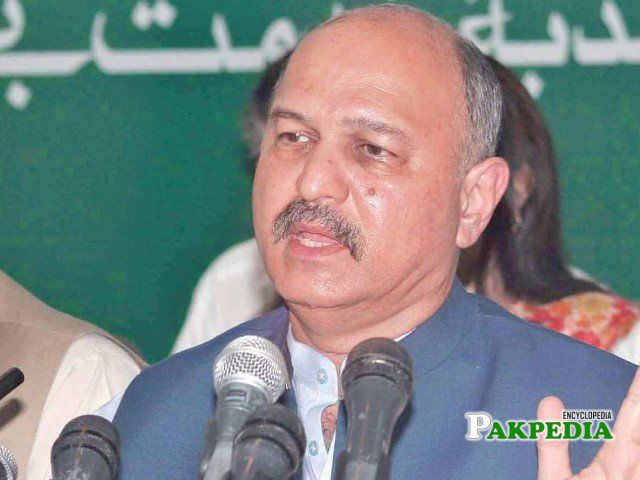 In front of Media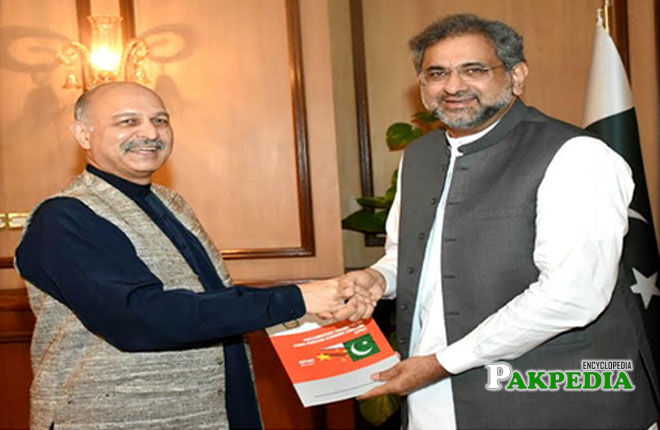 With Prime Minister Shahid Khaqan Abbasi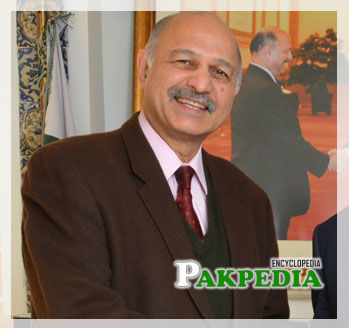 With Smiling Photo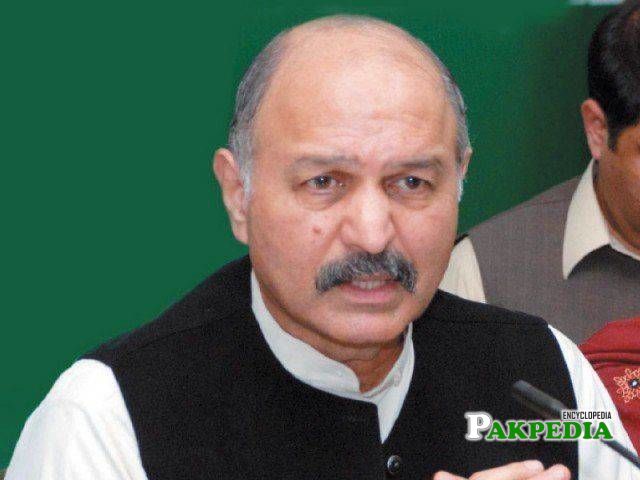 Member of the Senate of Pakistan
Biography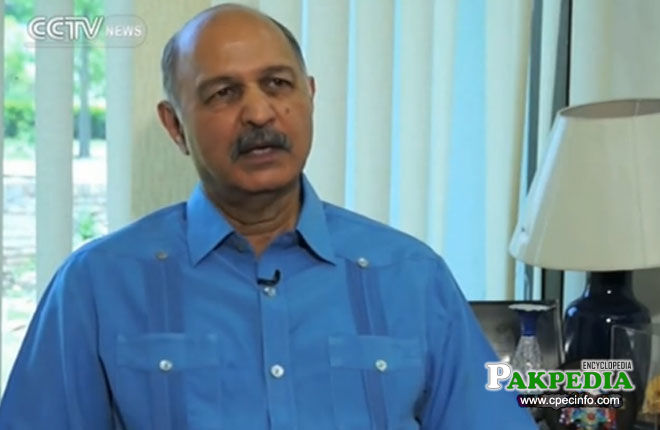 Mushahid Hussain Sayed is a specialist on international, political, and strategic issues. Currently he is serving as the senator, on a Pakistan Muslim League (Q) platform, to Senate of Pakistan. He is also the Secretary-General of the Pakistan Muslim League (Q) and Chairman of the Senate Standing Committee on Defence and Defence Production.
[1]
Biography
Family
Born in
Sialkot
Mushahid was raised in a family of five siblings. His father Col (r) Amjad Hussain Sayed was a prominent veteran of the
Pakistan
struggle and a recipient of the gold medal from the Prime Minister in 1997 for his outstanding services. His mother, Sameen Sayed, belonged to an eminent old family of
Lahore
and was also an activist in the Pakistan Movement.
Education
Hailing from a middle-class background, Mushahid was raised in a progressive and forward looking atmosphere, where quality education and hard work were of central focus. He received his Bachelors degree from Former Christian College, from whereon he went to the United States to pursue a Master's degree from the School of Foreign Service in Georgetown University at Washington. While studying in the US, he was President of the Pakistan Students Association and was awarded a Congressional Internship to work in the United States Congress.
[2]
Education
Career
Returned to Pakistan
After completion of studies in the United States, he returned to Pakistan and became Member, Directing Staff of the country's prestigious training institution for civil servants the Pakistan Administrative Staff College, where he trained new entrants to the Foreign Service. He then joined Pakistan's oldest seat of learning, the
Punjab University
, as Lecturer on International Relations in the Political Science Department.
Became the Youngest Editor
In 1982 at age 29, he became the youngest Editor of a national English daily, The Muslim, published from the capital
Islamabad
, which was respected for its independent positions. The world's leading human rights organization, Amnesty International, declared him a 'Prisoner of Conscience' making him the first such Pakistani to be so honoured for the year 2000.
Specialist
As a specialist on international, political, and strategic issues, he has lectured widely and his articles have been published in various national and international publications including The New York Times, The Washington Post, International Herald Tribune, and Middle East International. He has also authored three books.
Member of Board of Governors
He is a Member of the Board of Governors of Islamabad Policy Research Institute (IPRI), a leading think tank. He was Pakistan's Representative to the Commission of Eminent Persons, set up by the Organization of Islamic Conference (OIC) for its reform in 2004-05.
Vice President
He is also the Vice President of the Centrist Democrat International (CDI) Asia – Pacific Chapter. On 27 Jan 2006, he was awarded the Congressional Medal of Achievement by the House of Representatives of the Republic of the Philippines.
Senate of Pakistan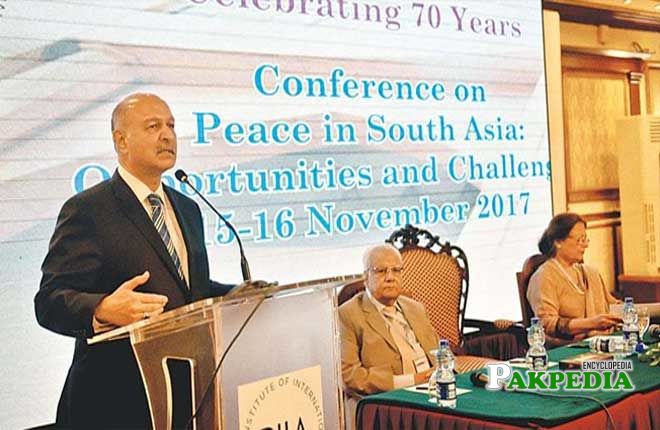 Mr. Mushahid Hussain Syed is Information Secretary of the Pakistan Muslim League. He was elected as a Member of the Senate of Pakistan in March 1997 for a period of six years. He holds the portfolio of the Ministry of Information and Media Development as a Federal Minister and prior to his induction in the Federal Cabinet, he was Advisor to the Prime Minister on Information Tourism, Culture, Sports and Youth Affairs.
[3]
Senate of Pakistan
Special Assistant
He served as Special Assistant to Prime Minister
Nawaz Sahrif
, and in this Cabinet-level position, he was handling External Publicity and Foreign Affairs with special reference to the United States, Central Asia, India and
Kashmir
.
Co-Chairman
Mr. Mushahid Hussain served as Co-Chairman of the conference on the Non-Aligned Medial (NAMEDIA) held in New Delhi in December 1983. He was leader of Pakistan's delegation to the 49th Session of the United Nations Commission on Human Rights which met in Geneva during February-March, 1993.
Award and Honours
Received 2013 Tsinghua University Award for 'Outstanding Contribution to Public Diplomacy' for his role in promoting Pakistan-China people-to-people relations, August 31, 2013.
President Xi Jinping personally conferred the prestigious 'Five Principles of Peaceful Coexistence Friendship Award' at Islamabad on April 20, 2015.
Awarded Congressional internship by the US Congress in Washington, Summer of 1974.
Represented Georgetown University at the prestigious Student Conference on US Affairs (SCUSA), US Military Academy, West Point, November 1973, and the Naval Academy Foreign Affairs Conference (NAFAC), April 1974.
Youngest Editor at age 29, of any major national English daily in the region, as Editor of "The Muslim".
Leader of Pakistan Delegation to the United Nations Human Rights Commission, Geneva, 1993.
Declared 'Prisoner of Conscience' by Amnesty International, world's leading human rights organization as political prisoner without any charge for 440 days.
Awarded the Congressional Medal of Achievement by the House of Representation of the Republic of Philippines, January 2006.
Awarded Honorary Doctorate by the Royal Academy of Cambodia in Political Science, 2010.
Awarded The Star of Achievement for Service to Humanity by the International Conference of Asian Political Parties (ICAPP), 2011.
Received highest Cambodian award, Grand Order of the Kingdom of Cambodia, for contribution to Asian causes, May 2011.[4]  Award and Honours 
Senate Election Results 2018
Independent candidate backed by PML-N
Mushahid Hussain
elected as Senator on Technocrat seat from Islamabad.PML-N-backed independent candidate
Asad Junejo
elected on General seat from Islamabad.PML-N-backed candidate have gained the majority of seats in Senate polls with at least 15 seats to their name. PML-N won majority of its seats from Punjab while 
PPP
 won largely from 
Sindh
, getting 12 seats in total.20 candidates from 
Punjab
 contested the polls for 12 seats reserved in Senate for the province. Governing PML-N won 11 seats through independent candidates in Senate polls held at Punjab Assembly.
[5]
Senate Election Results 2018
Winning candidates are
Ishaq Dar elected on Technocrat seat
Asif Kirmani elected on General seat
Independent candidate  Haroon Akhtar elected on General seat
Sadia Abbasi elected on Woman seat
Nuzhat Sadiq elected on Woman seat
PML-N-backed  Kamran Michael elected on Minority seat
Hafiz Abdul Kareem elected on Technocrat seat
Maqbool Ahmed on General seat
Musadik Malik on General seat
Shaheen Khalid on General seat
PML-N-backed independent candidate  Rana Mehmood-ul-Hassan elected on General seat
Contact Information
Office Number: +92 51 9102509 
Mobile Number: +92 300 500 6056 
Fax Number: +92 51 8319767 
E-mail: mushahid.hussain@gmail.com 
Website: http://www.senatedefencecommittee.com.pk 
Local Address: H.No.175, St-15, E-7, Islamabad 
Permanent Address: H. No. 175, St-15, SectorE-7, Islamabad