Haji Muhammad Yaqub Sheikh
Buisness Man
PML-N
With Shehbaz Sharif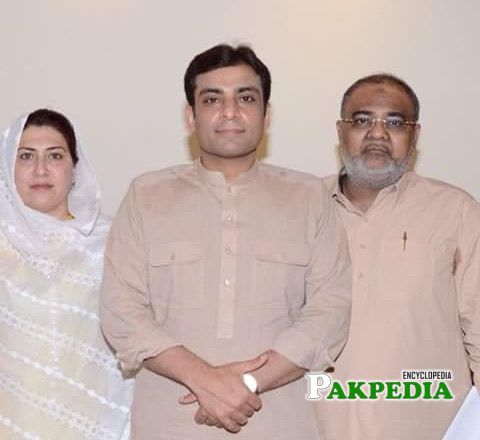 With Hmza Sharif and Rashida Yaqub Sheikh (His Wife)
Biography
Mr Muhammad Yaqub Sheikh son of Mr Muhammad Yousaf Sheikh was born in District
Jhang
.He was graduated form
University of the Punjab
, Lahore in 2007.He is married, his wife name is Rashida Yaqoob Sheikh and 9 children.
[1]
Family
His Brothers include Muhammad Younas Sheikh (Chairman, AM Constructions PVT (LTD)
Pakistan
), Sheikh Ayub (Chairman, MSL Constructions PVT (LTD) Pakistan), Sheikh Kamran (CEO, Husnain Cotex (PVT) LTD), Sheikh Ramzan (CEO, Royal Palm Golf & Country Club), Sheikh Husnain (Chairman, PAMIC Construction Pakistan & Malaysia), Sheikh Adnan (CEO, Harappa Textiles (PVT) LTD).
Political Career
Served as Member of Punjab Assembly during 1983-85
Served as District Naib Nazim during 2002-2005
Served as Tehsil Nazim Jhang during 2006-2008
Served as Member Auqaf & Religious Committee , Punjab during 2010-2012
Served as Member of Punjab Assembly during 2008-2013
Provincial Assembly of the Punjab in general elections 2008[2]  Political Career 
Visited Countries
Sheikh Yaqoob has visited: 
USA
Dubai
UK
Saudi Arabia
Singapore
Turkey
China
Indonesia
Malaysia
Canada
Italy
Brazil
France
Germany
Singapore
Tashkent
USA
Favourite TV Programmes
Capital Talk
Khabar Naak
Meray Mutabiq
Islamabad Tonight
Off The Record
News Hour
News Eye
Faisla Awam Ka
Personal Interests
Reading Novels
Tourism
Horse Dance
Horse Riding
Awards
The Title of "Khadim-e-Jhang" Awarded to Haji Sheikh Muhammad Yaqoob in 2009 by The Anjuman Tajraan Jhang.
The Title of "Dukhtar-e-Jhang" Awarded to Begum Rashda Yaqoob Sheikh in 2013 by The Great Public of Jhang.
Candidates for Senate Elections
According to the ECP, 14 candidates will contest for General seats, eight for women seats and five candidates were in the run for Technocrat seats.It said five candidates on Technocrat seats included Dilawar Khan,
Muhammad Azam Khan Swati
,
Muhammad Yaqoob Shaikh
, Moulana Sami Ul Haq and Nisar Khan.
[3]
Candidates for Senate Elections
Contact Information
Mailing Address
Adda Jhang GTS Session Chowk, Jhang Saddar
Phone #.+92 47 7650578, Fax No. +92 47 7650478
Lahore Residence
141-S, DHA, Lahore
Phone #.+92 42 35896904, 35889114
Public Secretariat
331-S, DHA, Lahore
Phone #,+92 42 5707035
Fax #,+92 42 5707036
Lahore Office
60-E, Ali Town, Thokar Niaz Beig, Lahore
Phone #.+92 42 35291346
Fax #.+92 42 35291259