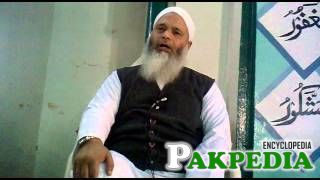 Muhammad Rehmat ullah
During inauguration
With Nawaz Sharif
Resignation of PMLN Law makers
Biography
Maulana Muhammad Rehmat Ullah is a learned religious figure. He has acquired a degree of Shahdat-ul-Amlia in Islamic sciences. He was born in
Pakistan
on 27th January 1935 and is an old man. He has lived a respectable and harmonious married life with his family. He has raised one child who is up to the mark. Maulana Muhammad Rehmat Ullah is a highly respected personality in religious circles due to his deep insight, lectures and religious knowledge. His father Molana Muhammad Zakar was also a pious man of high character who has played an important role in his up-bringing. Maulana Muhammad Rehmat Ullah's permanent contact address is Mouza Karak Muhammadi, PO Same Tehsil Bhowana District Chiniot.  He has been rewarded by his Lord a holy journey to the house of Allah the Ka'ba in Saudi Arabia. He went to perform Hajj and Umrah in 2011 with great religious zeal.
[1]
Biography Biography
Personal Career and Interest
Maulana Muhammad Rehmat Ullah son of Maulana Muhammad Zakar was born in 1935 and has completed Fazal Shahadatul Almia. He is serving as Nazim-e-Omoomi, Jamia Muhammadi Sharif, 
Chiniot
 . A religious teacher, who has served as Member, District Council Jhang during 1983-85; as Member, Majis-e-Shoora during 1981-85; and as Member, National Assembly for three consecutive terms during 1985-93 and then from 1997-99. He has been elected as Member, Provincial Assembly of the Punjab in general elections 2013. He also remained "Justice of Peace" in District Jhang. His father was Member of Punjab Legislative Assembly during 1951-55 and Member
National Assembly
during 1972-76. 
[2]
personal career
Resignation of PMLN Law makers
Five legislators, including MNAs and MPAs, from the ruling Pakistan
Muslim League-Nawaz (PML-N)
have reportedly tendered their resignations from public office on 10 December 2017 at a Khatm-e-Nabuwwat conference organised by Khawaja Hameeduddin Sialvi in Faisalabad. Sialvi, a spiritual leader and custodian of Sial Sharif Shrine of Sargodha, is attending the conference at Dhobi Ghat Ground, Faisalabad. MNAs Dr Nisar Ahmad Jutt and Ghulam Bibi Bharwana, and Punjab MPAs Maulana Rehmatullah, Pir Hameeduddin Sialvi's nephew Ghulam Nizamuddin Sialvi and Khan Muhammad Baloch announced their resignations protesting government inaction against their demand for the resignation of Punjab Law Minister Rana Sanaullah. The lawmakers belong to Punjab's Jhang,
Chiniot
, Faisalabad and Sargodha districts. 
[3]
Resignation Resignation
History of Previous Government positions
| | | |
| --- | --- | --- |
| Official Seat | Status | Duration |
| City Council | Memebr, City Council Jhang | 1983-85 |
| Majlis-e-Shoora | Member | 1981-85 |
| National Assembly of Pakistan | MNA | 1985-1988, 1989-1993, 1997-1999 |
[4]
Government seats
Other Powerful Relatives
| | | | |
| --- | --- | --- | --- |
| Relationship | Name | Assembly | Duration |
| Father | Maulana Muhammad Zakar | National Assembly of Pakistan | 1951-55, 1972-76 |
Out of Place Visits
| | | |
| --- | --- | --- |
| Place | Reason For Visit | Duration |
| Saudi Arabia | Madina, Makah (Hajj), Umrah | 2011 |
[5]
Out of place