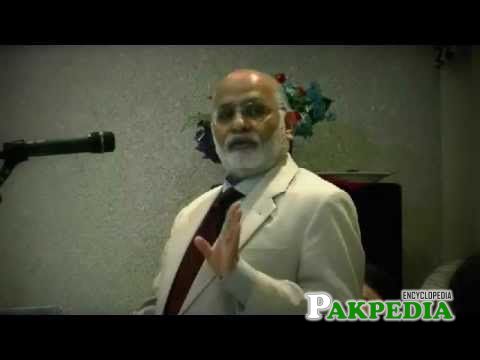 Columnist
Journalist
President Syed Abbas Gillani, Famous Poet Mr. Izhar-ul-Haq and Consul General Abdul Aziz Uqaili book inauguration Kayee Musam Guzar Gaye Muj Per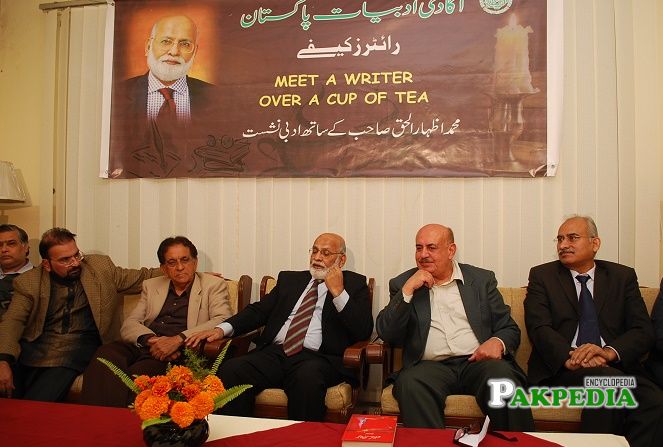 Poets discuss contemporary Pakistani poetry and society - Islamabad Scene
an Inauguration Book Ceremony
Biography
Born in the village Jhendial, in the western most district of
Punjab
,
Attock
, Muhammad Izhar ul Haq got his early education from his grandfather and father. His grandfather, Ghulam Muhammad, was a famous scholar and jurist of his time and was known for teaching Persian literature and language. Muhammad Izhar ul Haq's father , Hafiz Muhammad Zahoor ul Haq Zahoor, also a scholar of high repute, was author of a number of books in Persian and Urdu in poetry as well as prose.During his school and college years, Muhammad Izhar ul Haq continued to study Persian literature and Arabic at home. He topped in government college
Rawalpindi
in graduation examination and won Roll of Honour. He was awarded Federal Government Inter-wing fellowship under which he did his MA Economics from Dhaka University. Later, he did MA in Arabic from
Punjab University
as external candidate and also learnt Uzbek from Afghan Uzbeks.
[1]
Biography
Family
Muhammad Izhar ul Haq has three sons and two daughters, and lives with Zahida Shaheen, his wife, in
Islamabad
and Melbourne.
Career
In 1972, he joined Civil service of Pakistan as a result of Central superior Services Competitive examination. He ascended to the highest echelon of the Bureaucracy. Having worked as Military Accountant General of Pakistan, and later, as Additional Secretary Military Finance, he retired in 2008 as Additional Auditor General of Pakistan, a post equivalent, in rank, to Federal Secretary.
Modern Poet
Muhammad Izhar ul Haq is considered a trend-setter in modern Urdu ghazal. His first book, Diwaar-e-aab (1982) won Adam Jee award, the highest literary distinction at that time in the country. His two subsequent books in Urdu poetry, Ghadr and Paree-zaad hit the stalls in 1986 and 1995 respectively. His fourth book, Paani peh Bichaa Takht, was conferred yet another honor,
Allama Iqbal
award, in 2003.An established poet with a unique diction and ideological stance, he has been writing weekly columns in an Urdu daily since 1992. He remains a witty commentator on socio-political and literary issues.
[2]
Modern Poet
Columns
Muhammad Izhar ul Haq has been writing columns on socioeconomic, political and literary issues in major dailies of the country. He writes in English with equal ease. His columns are published in Daily Nation, Daily The News, The Bangladesh Today, and Holiday International Dhaka. He also contributes occasionally to Australian print media. His articles are published in The Age and Eureka Street.
Award
On 23rd March 2009, Muhammad Izhar ul Haq was awarded Pride of Performance in literature by the president of Pakistan.
Memorable Evening
The Urdu Society of Australia incorporated organized an evening with an eminent poet from Pakistan Izhar ul Haq on Saturday, 24 July 2010 at Hurstville Community Centre. Muhammad Izar ul Haq is considered as one of the famous modern
Urdu
poet in South Asian literary circle. He has received international recognition for his contribution to Urdu literature. He is a senior bureaucrat and also a well known journalist who writes for popular Urdu news papers in Pakistan. He has four books of Urdu poetry in his credit and two of them awarded highest poetry award in Pakistan.
[3]
  Memorable Evening in Austrailia 
List of Books
Diwaar-e-aab (winner of Adamjee Award for Literature 1982) 
Ghadr (1986) 
Paree-zaad (1995) 
Paani peh Bichha Takht (winner of Allama Iqbal Award 2003 ) [4]  List of Books 
National Language Authority
Izhar ul Haq has also contributed in the research for implementation of Urdu in
Pakistan
, with the National Language Authority. In addition, he has also contributed with the National Language Authority as one of the compilers of the Qaumi English-Urdu Dictionary.Widely travelled, he has explored following countries:
Philippines
Singapore
Malaysia
Uzbekistan
China
Australia
India
Qatar
Saudi Arabia
Jordan
Turkey
Somalia
Morocco
Italy
Spain
Britain
Belgium
Holland
Canada
USA
Mexico
List of Columns
Zindagi Ki Sab Se Bari Ghalti
Mandi Main Ronaq Hai
Hamare Pas In Kamon Ke Lye Waqt Hi Kahan Hai?
Wikipedia Se Horse Trading Tak
Ye Fulan Ka Admi Hai
Mathon Se Nikalne Wale Bicho Aur Saanp
Totay Ka Watan Aur Bandaron Ka Dada
Tarkeen Watan Khaai Ke Kinare Per
Muskurahaton Aur Aansuon Ko Bhi Tola Jayega
Drama (2)
Tarkeen Watan Sher Ki Sawari Ker Rahe Hain
Waham Ki Chaar Tangain Aur Sufaid Rang
Parsai Ke Paikar
Kitne Shireen Hain Tere Lab Ke Raqeeb
Kya Punjab Sirf Aik Shehar Ka Naam Hai[5]  List of Columns