PM Nawaz felicitates Ishaq Dar for being declared South Asia's finance minister of 2016
Pakistani Federal Minister for Finance Senator Mohammad Ishaq Dar President of Islamic Development Bank Ahmad Mohamed
Pakistan Government Employees salary further enhanced
ISLAMABAD: The government of Republic of Panama has tendered its apology to Finance Minister Senator Muhammad Ishaq Da Mohammad Ishaq Dar With Nawaz Sharif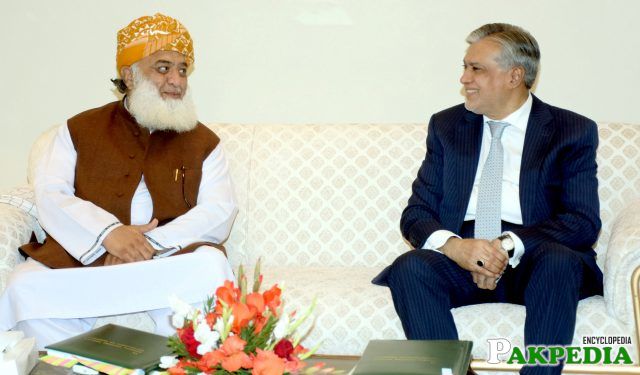 JUI-F Chief, Maulana Fazal ur Rehman called on Finance Minister, Senator Mohammad
Early Life and Education
Muhammad Ishaq Dar was born on 13 May 1950 in
Lahore
, Punjab. He completed his education at Government College (now Government College University), Lahore and Hailey College of Commerce, Punjab University, Lahore (1966–69). He was awarded two gold medals and an honour roll after obtaining the first position in Bachelor of Commerce (honours) at the University of Punjab. After completing his higher education, Dar trained as a chartered accountant with the Institute of Chartered Accountants in England and Wales (ICAEW) in 1970, and became an associate member (ACA) in 1974. He also became an associate member with the Institute of Chartered Accountants of Pakistan (ICAP) in 1975. Later he earned a fellowship membership (FCA) with ICAEW in 1980 and with ICAP in 1984. He also became a fellow of the Pakistan Institute of Public Finance Accountants (PIPFA) in subsequent time. Dar now holds a life membership of ICAEW as of January 2012.
[3]
Early Life and education ishaq dar
B.Com (Hons) Hailey College of Commerce, University of Punjab, Lahore.
Distinction: Awarded two Gold Medals and a Roll of Honor for First position in the University of Punjab in B. Com (Hons).
Fellow Member (F.C.A) Institute of Chartered Accountants in England and Wales.
Fellow Member (F.C.A) Institute of Chartered Accountants of Pakistan.
Fellow Member (F.P.A) Institute of Public Finance Accountants of Pakistan.
Career Start as
Making a career start as a Trainee Chartered Accountant with the Institute of Chartered Accountants in England and Wales (ICAEW) in 1970, he became an Associate Member (ACA) of ICAEW in 1974, and of Institute of Chartered Accountants of Pakistan (ICAP) in 1975.
[4]
Career Start as
Post-Qualification Professional Experience
His post-qualification professional experience earned him Fellowship (FCA) of ICAEW in 1980 and of ICAP in 1984. Subsequently, he also became a Fellow Member (F.P.A) of the Institute of Public Finance Accountants of Pakistan. Currently, Senator Dar has been bestowed Life Membership of ICAEW in January 2012. After having worked as Director Finance of a British Textiles Group in London during 1974-76, Senator Dar accepted an offer in 1976 of the Government of Libya, and joined as Senior Auditor in the Auditor General Department at Tripoli.
Muhammad Ishaq Dar Political Career
Dar has served as a parliamentarian for the last 20 years, and is currently serving his fifth term as a member of the parliament. He was elected as a member of the National Assembly twice (1993–96 and 1997–99) and was also elected as a senator for three consecutive years subsequently. After being appointed the parliamentary leader from
Pakistan Muslim League (N)
(PML-N), he served as a leader of the opposition in the Senate in 2012. His current term as a senator expires in March 2018.
Finance Minister of Pakistan
Muhammad Ishaq Dar is the former Finance Minister of Pakistan and Minister for Economic Affairs and Statistics in the PM
Yousaf Raza Gillani
cabinet. He also served as the Commerce and Finance Minister in the Nawaz Sharif cabinet of 1997-1999. Ishaq Dar was assigned the finance ministry when Sartaj Aziz was posted as the Foreign Minister of Pakistan in 1998. Dar continued on the post till the Sharif government's overthrow by the military coup of General Pervez Musharraf.
[5]
Finance Ministerof Pakistan and minister for economic affairs and statistics
Parliamentary Leader of PML-N Senate
Ishaq Dar is also a central leader of PML-N and the parliamentary leader of PML-N in the current Senate session of March 2006 to March 2012 . He was elected for the only time in the National Assembly in the 1997 general elections, when he won the NA-97 Lahore-VI general seat.
[6]
Parliamentary leader of PML-N Senate
Relation with Nawaz Sharif
Ishaq Dars elder son Ali Dar is married to Nawaz Sharif"s daughter.
Ishaq Dar Served as
Parliamentary Leader (PML-N) Senate of Pakistan
President, International Affairs, Pakistan Muslim League (N)
Former President Lahore Chamber of Commerce and Industry
Former Federal Minister for Finance Commerce, Industries, Investments, Production, Revenue and Economic Affairs
Ambassador of Japan H. E. Horishi Oe
The Ambassador of Japan H. E. Horishi Oe, called on Federal Minister for Finance, Senator Mohammad Ishaq Dar in his office. The Finance Minister on the occasion said that Pak-Japan friendship is deep rooted and based on mutual respect and co-operation. Both the countries are of the firm view that this friendship will get further strengthened with every passing day. Japan has always extended cordial support to Pakistan and is a development partner in its progress. Japan is sponsoring several development projects in Pakistan including Karachi Circular Railway Project and people of Pakistan value this assistance. The Finance Minister further said that the present democratic regime under the leadership of Former Prime Minister
Mian Mohammad Nawaz Shairf
has declared revival of economy as its top priority. The Budget 2013-14 is an important milestone in this direction. Budget 2013-14 has sent the message around the world that this government is quite serious about revival of economy. Business and investment oriented polices are being devised to attract investment from across the globe. The Ambassador of Japan H. E. Horishi Oe, on the occasion said that Japan is happy to see business and investment friendly government in Pakistan. The policies of the present democratic government are sure to attract more investment in Pakistan and Japan would like to be a major investor. The Ambassador further said that he is happy to see changing Pakistan with his own eyes.The Ambassador of Japan H. E. Horishi Oe, thanked the Finance Minister for his cordiality
[8]
Embassador of Japan H.E. Horishi Oe Called on federal minister for finance
Economic policy achievement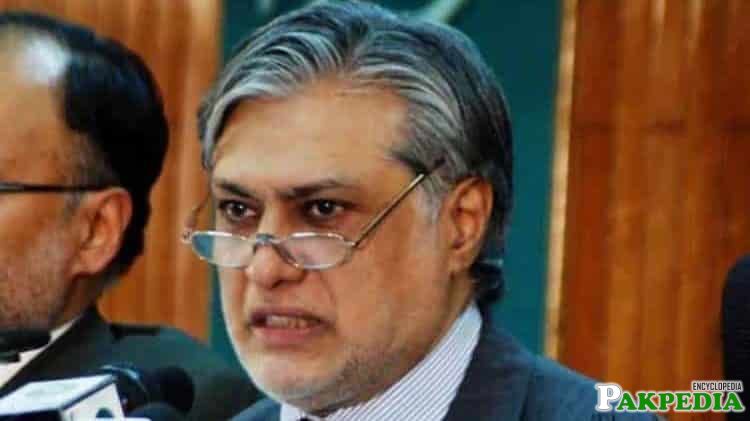 Dars economic policy achievement in the Sharif government was export-led growth as a cornerstone of economic strategy. Being made the finance minister in November 1998, he negotiated an IMF rescue package to meet an economic crisis triggered by sanctions over nuclear tests in May that year. The head of a state-run bank later proclaimed that Whether you call it voodoo economics or Darnomics, he has moved things,referring Darnomics as the unique working of Ishaq Dar when he refused to accept a devaluation or a rise in utility charges or tax rates.
[9]
Economic Policy achievement
Finance Minister held a meeting
The present democratic government of PML-N wants to create a business and investment friendly environment in the country. Senator Mohammad Ishaq Dar, the Federal Minister for Finance is therefore trying to take all business and investment enterprises on board to make them partners in progress and prosperity of Pakistan. In pursuance of this policy, the Finance Minister held a meeting with the representatives of Telecom and LDIs Companies in his office today. 
Finance Minister
The Finance Minister on the occasion said that the present democratic government under the leadership of Prime Minister Mian Mohammad Nawaz Sharif is determined to put the economy of the country on the right track. Establishing fiscal discipline is the top priority of the government. The Federal budget for 2013-14 is practical manifestation of handling the economy in a quite professional way. That's why this government's effort to revive the economy is being praised internationally. The telecommunication sector has been significantly contributing to national exchequer. 
Telecommunication Sector
The Finance Minister further said that this government wants to see the telecommunication sector in Pakistan to grow further.The representatives of the telecommunication and LDI companies on the occasion said that it is encouraging to see business friendly government that is sensitive to needs of all sections including telecom sector. The telecommunication sector wants to contribute more positively to the economy of Pakistan. The process of consultation started by the current regime will restore investor's confidence. Our voices will now be listened and our issues will be addressed. Telecommunication sector is quite willing to be part of journey to prosperity of Pakistan. The Finance Minister assured the delegation that all their issues will be addressed and constituted a committee to look into all matters.The delegation departed with words of thanks for the Finance Minister.
[10]
Finance  minister held a meeting with the representatives of telecom and LDI Companies
ChairmanChief Executive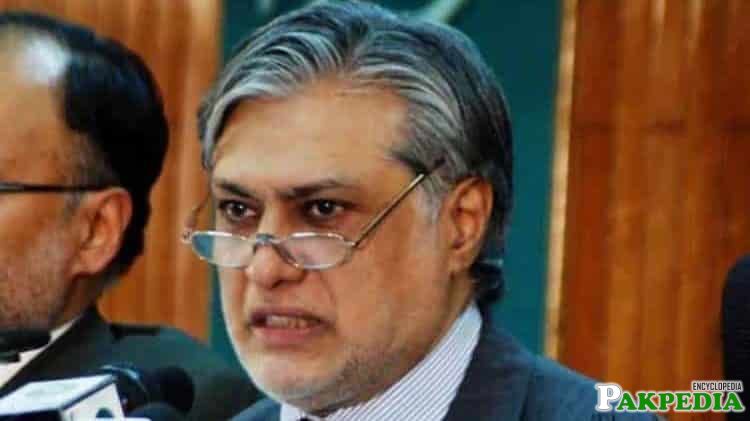 From 1989 till 1997 (except when a Minister), Senator Dar acted as Chairman/Chief Executive and/or Director of a Non-Banking Financial Institution (Public-Listed) in Pakistan. From February 2002 till March 2008, he acted as Financial Advisor to a Member of the Ruling Family of the United Arab Emirates. In addition, he has also served till date as Director of World Bank, Asian Development Bank and Islamic Development Bank.
[11]
Chairman/Chief Executive
Finance Ministe 2008
He was slated to become the Finance Minister in the coalition government of
PPP
, PML-N, ANP and JUI-F formed after 2008 elections. Naveed Qamar, on the other hand, will be the new Minister for Privatization and Investment, with additional portfolio of Minister for Ports and Shipping.
[12]
Finance Ministe 2008
Senator Dar also Holds
Senator Dar also holds the unique distinction of being the biggest individual donor who provided assistance to the victims of the cataclysmic earthquake that devastated the northern areas of Pakistan in 2005, and also to those Internally Displaced Persons (IDPs) affected by the ravaging flash floods that swept through the country in 2010 and 2011.
[13]
Senator Dar also Holds
Praiseworthy Contributions
Senator Dar's praiseworthy contributions to the social sector are rooted in his humanitarian and philanthropic zeal and commitment, which is the driving force behind the two charitable trusts that he heads and runs in the name of Hajveri Trust and Hajveri Foundation. While the former is widely known as a shelter home for over 100 orphans, who are being provided complete boarding, lodging and educational facilities for the last many years; the latter institution has been actively involved in arranging pool marriages of destitute couples, helping needy students through scholarships and financial assistance, and providing medical assistance to non-affording patients requiring dialysis and other medical treatment.
[14]
 Praiseworthy Contributions 
Former President
He is a former President of Lahore Chambers of Commerce and Industry and former Vice-President/Council Member of ICAP. Currently, he is Chairman of Board of Governors, University of Health Sciences, Punjab, which has been ranked Number 2 among top medical universities in Pakistan by the
Higher Education Commission
.
[15]
Former President
Member of the Parliamentary Committee
He is also a Member of the Parliamentary Committee on the Judges Appointment in the Superior Courts as well as Parliamentary Committee on National Security. In Senate, Senator Dar has held the important portfolio of Chairman, Standing Committee on Industries and Production, in addition to working as Member of a few Standing Committees, including Finance, Revenue, Economic Affairs, Statistics and Planning and Development, Commerce and Investment.
[16]
Member of the Parliamentary Committee
Experience
Senator Dar's professional acumen and remarkable understanding of complex financial, economic, social, trade, investment and industrial issues are his forte, which not only earned him wide acknowledgment, but also helped him earn his spurs as a through professional.He has 42 years of professional experience in audit profession, financial advisory, management consultancy, business, commerce and industry, both in private and public sectors, in Pakistan and abroad.
[17]
Experience
Accolades and Achievements
His commitment to national interests, democracy, rule of law, profession, and humanitarian pursuits, combined with impeccable knowledge of finance, economy, trade and industry, has resulted in numerous accolades and achievements during his career.
[18]
Accolades and Achievements
Personal life
Dar is considered an old loyalist of the Sharif family which goes back to the time when Dar, as a young clerk, began working in the Ittefaq Group owned by the Sharif family. In 2004 Dar's eldest son married Nawaz Sharif's daughter Asma Nawaz in Jeddah, Saudi Arabia.Dar runs two charitable organisations as well. These trusts reportedly work to provide shelter to the homeless, help financially deprived students, and arrange mass marriage events for needy couples.
[19]
Personal life
bAccountability Court b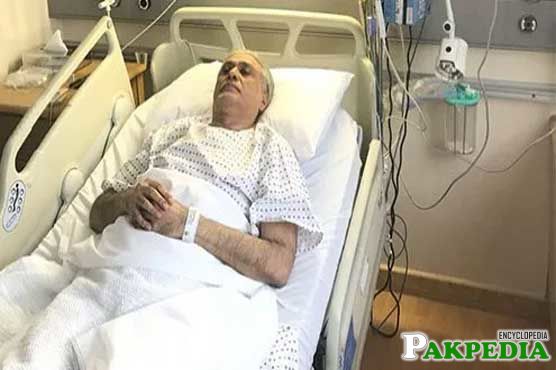 Accountability Court Wednesday 2017 warned Finance Minister Ishaq Dar to appear before the court within ten days otherwise, he would be declared a Proclaimed Offender.The warning advertisement has been put on the notice board of the court against Ishaq Dar over his continuous absence in the hearing of the case regarding assets beyond known sources of income. The ad warns Dar to appear before the court within 10 days or he will be declared a Proclaimed Offender.
[20]
Accountability Court
The court directed to issue the advertisement on November 21,2017 for Ishaq Dar, against whom the court has issued warrants.  He could not attend the court hearing before because Finance Minister Ishaq Dar has been admitted to a West London hospital and will be undergoing a heart procedure on Friday.He has not resigned yet .    
[21]
Hospital london 
Senate Election Results 2018
PML-N-backed candidate have gained the majority of seats in Senate polls with at least 15 seats to their name. PML-N won majority of its seats from Punjab while 
PPP
 won largely from 
Sindh
, getting 12 seats in total.20 candidates from 
Punjab
 contested the polls for 12 seats reserved in Senate for the province. Governing PML-N won 11 seats through independent candidates in Senate polls held at Punjab Assembly.
[22]
Senate Election Results 2018
Winning candidates are
Ishaq Dar elected on Technocrat seat
Asif Kirmani elected on General seat
Independent candidate  Haroon Akhtar elected on General seat
Sadia Abbasi elected on Woman seat
Nuzhat Sadiq elected on Woman seat
PML-N-backed  Kamran Michael elected on Minority seat
Hafiz Abdul Kareem elected on Technocrat seat
Maqbool Ahmed on General seat
Musadik Malik on General seat
Shaheen Khalid on General seat
PML-N-backed independent candidate  Rana Mehmood-ul-Hassan elected on General seat
bContact Infob
Home Number: +92 42 35881594 
Mobile Number: +92 321 8478603 
Fax Number: +92 42 35881521 
E-mail: mohammad.ishaq.dar@senate.gov.pk 
Local Address: Aprtment No.18, Minister's Enclave, Islamabad. 
Permanent Address: 7-H, Gulberg-III, Lahore.
Ishaq Dars Assets to Auction off
The Court has reserved its verdict in the matter of auctioning off the Assets of Ishaq Dar who failed to appear before the court even after continuous notices from the court for almost more than 6 months. According to NAB, his assets include three flats in Dubai, a house in Lahore's Gulabahar, four plots in Islamabad, six cars, including luxury vehicles and also has 3 foreign companies. Currently, he is in London and is under treatment.